Last summer, the StarTribune reported that the number of houses on the market for sale would rise and days on market would increase. But in fact, the exact opposite has occurred.
According to the most recent report by the Minneapolis Area Realtors, sales prices are rising, days on market are declining, and the inventory of homes for sale is hitting all-time lows. The biggest reason for the strong performance of the housing market in Minneapolis may have to do with a change in city zoning.
Recently, Minneapolis became the first large city in the U.S. to end single-family zoning. The city now allows small multifamily property to be built on single-family lots, which could end up increasing the demand for people who want to live in a traditional house.
Minneapolis is located in southeastern Minnesota, along the banks of the Mississippi River near the Wisconsin border. Minneapolis, along with neighboring St. Paul, make up the Twin Cities metropolitan area, the 3rd-largest economy and populated region in the Midwest.
Minneapolis is the main business center between Chicago and Seattle and is home to a diverse economy of commerce, finance, transportation, healthcare, and technology. The Twin Cities has the 5th-highest concentration of major corporate headquarters and receives consistently high rankings as a great city to live, work, and play.
Read on to learn what makes the Minneapolis real estate market worth considering in 2020.
>>Explore Roofstock's Minneapolis investment properties here.
Population Growth
Slower growth in Minnesota will be the new norm, but that's not necessarily a bad thing for Minneapolis or real estate investors, as the StarTribune reports. That's because metro-area counties including those in and around Minneapolis-St. Paul will grow faster than the state in the next 10 years.
Key Population Stats:
City of Minneapolis is home to more than 425,000 residents with about 3.6 million people living in the Minneapolis-St. Paul Twin Cities region.
Minneapolis is the largest city in Minnesota and the 46th-largest in the U.S.
Twin Cities is the 3rd-largest economy and population center in the Midwest, just behind Chicago and Detroit.
Forbes reports Minneapolis had a net inbound migration of 3,600 people last year.
Population of the Minneapolis-St. Paul region is projected to grow by 12% over the next ten years.
Generational shift is taking place in the working age population, with the number of Generation Z workers increasing nearly 3X state-wide by 2030.
Minneapolis is home to a labor pool of nearly 2 million people.
Median age in Minneapolis is 31.7 vs. U.S. median age of 37.4 years.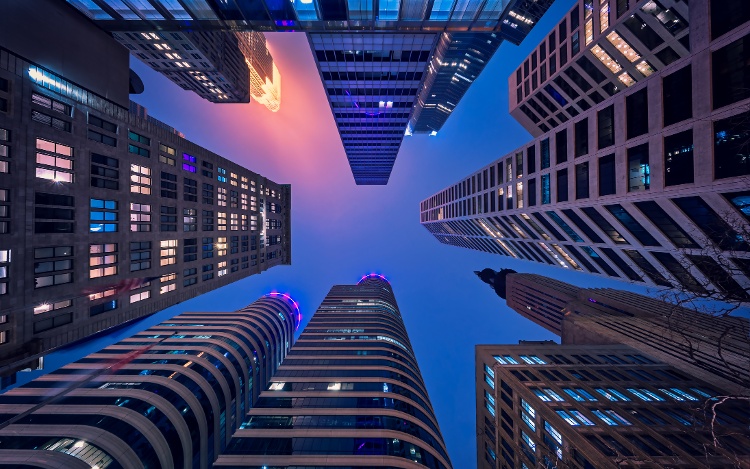 Job Market
Most of the state's job growth last year was concentrated in the Twin Cities metro area. Job growth in the Minneapolis area last year was 1.1%, according to Forbes. Although the rate of job growth is expected to slow, the decline is caused by a tight labor market, where demand for workers is outpacing the supply.
Key Employment Stats:
GDP of Minneapolis-St. Paul-Bloomington, MN-WI MSA is more than $237 billion, according to the Federal Reserve Bank of St. Louis, and has grown by nearly 20% since 2010.
Job growth in Minneapolis last year was 1.7%.
Kiplinger expects job growth in the state will be 0.7% this year, with much of the employment gains coming from the Minneapolis metro area.
Unemployment rate in Minneapolis is 2.7%, with a labor force participation rate of 71.6% vs. U.S. rate of 63.2%.
Over the last five years, manufacturing jobs have grown by 8.3%, finance and insurance jobs by 7.0%, and computer and IT jobs by 11.2%.
Top industry sectors in Minneapolis are health and life sciences, food and water, headquarters and business services, financial services and insurance, and advanced manufacturing and technology.
Minneapolis-St. Paul is home to 16 Fortune 500 company headquarters, including UnitedHealth Group, Target, Best Buy, 3M, General Mills, Ecolab, Xcel Energy, and Thrivent Financial.
Major employers in the Minneapolis area include U.S. Bancorp, Ameriprise Financial, Wells Fargo, RBC Wealth Management, CenturyLink, and the Federal Reserve Bank of Minneapolis.
Major colleges and universities in the Minneapolis region include University of Minnesota, Augsburg University, Minneapolis Community and Technical College, and Metropolitan State University.
89.7% of the Minneapolis residents have a high school degree or higher, while 49.4% hold a bachelor's degree or advanced degree.
Several interstate highways pass through Minneapolis, including I-94, I-494, and I-694.
Burlington Northern Santa Fe and Canadian National are two of the largest freight rail operators in the Twin Cities.
Minneapolis-St. Paul International Airport (MSP) is the 17th busiest airport for passengers and the 12th busiest for aircraft operations, and is the second largest hub for Delta Airlines.
Real Estate Market
Recently the StarTribune published an article predicting that the housing market in the Twin Cities could shift to buyers. So far, that hasn't happened.
The Annual Housing Market Report from the Minneapolis Area Realtors Association shows that since 2015 new listings and inventory of homes for sale is consistently trending downward, while average sales prices have hit 5-year highs.
Key Market Stats:
The median listing price of a house in Minneapolis is $309,650 while the median selling price is $271,100 according to Zillow (as of January 2020).
Square foot listing price in Minneapolis is $261 vs. $202 per square foot in the Minneapolis-St. Paul-Bloomington metropolitan area.
Home values in Minneapolis increased by 3.3% last year and by more than 75% since February 2012 based on the Zillow Home Value Index.
Average days on market is 76.
During the listing period 11.4% of the houses for sale in Minneapolis have a reduction to the listing price
6.3% of the homes in Minneapolis have a negative equity vs. 8.2% nationally.
0.5% of the homes in Minneapolis have a delinquent mortgage vs. 1.1% U.S. average.
Neighborhoods in Minneapolis with the highest home values include Downtown East and Elliot Park.
Midtown Phillips and Whittier are two neighborhoods in Minneapolis with the lowest home values.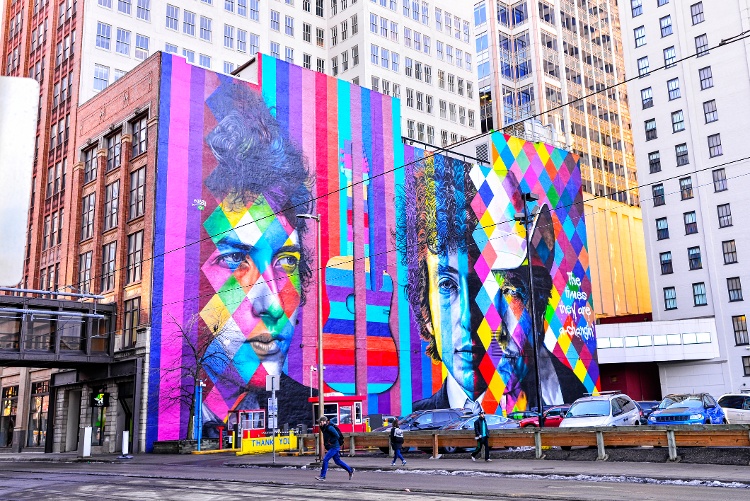 Attractive Renters' Market
Housing inventory in Minneapolis has declined by nearly 15% month-over-month while median sales prices have increased by more than 4%.
This is making it difficult for entry-level home buyers to find an affordable house, according to the StarTribune. In fact, some sellers are simultaneously listing their home for sale and for rent, taking the attitude that "Whoever signs first wins."
Key Market Stats:
Median rent in Minneapolis is $1,771 per month vs. $1,790 per month for the metropolitan area.
Rents in Minneapolis increased by an average of 3% over the past year, according to RENTCafé.
36% of the housing units in Minneapolis rent for between $1,001 and $1,500 per month, while 47% rent for more than $1,501 per month.
55% of the households in Minneapolis are renter-occupied.
Neighborhoods in Minneapolis with the lowest rents include Cleveland, Folwell, and McKinley where rents average $830 per month.
Neighborhoods in Minneapolis with the highest rents include St. Anthony East, St. Anthony West, and Nicollet Island – East Bank where average rents range from between $1,870 and $1,895 per month.
Historic Price Changes & Housing Affordability
Two of the most important metrics real estate investors can use when analyzing housing markets are historic price changes and housing affordability. Changes in housing prices are an indicator of potential appreciation, while housing affordability data can help indicate how good a market is for rental property investment.
Each quarter the FHA releases up-to-date data on the change in home prices for all markets across the U.S. The most recent FHA 2019 Q3 House Price Index report for the Minneapolis-St. Paul-Bloomington, MN-WI MSA shows:
Since Q1 1991 homes prices have increased by 206.92%
Over the past five years home prices have increased in Minneapolis by 33.99%
Over the past year prices have increased by 4.29%
Over the last quarter home prices in Minneapolis have increased by 0.97%
Housing affordability research compares the median family income in an area to the median price of a single-family resale home. Using this ratio, housing markets are assigned a HAI – or housing affordability index – number that ranks how much income a family has to purchase a home, using a conventional mortgage with a 20% down payment.
The Housing Affordability Index from the National Association of Realtors uses 100 as a baseline affordability index number. The greater a market's HAI is above 100, the more affordable a market is, everything else being equal.
Based on the NAR's latest report, the HAI for the Minneapolis-St. Paul-Bloomington MSA was 184.1 in 2018, the most recent year available. This means that the median family has less than twice the income needed to purchase a median priced, single-family resale home in the Minneapolis metro area.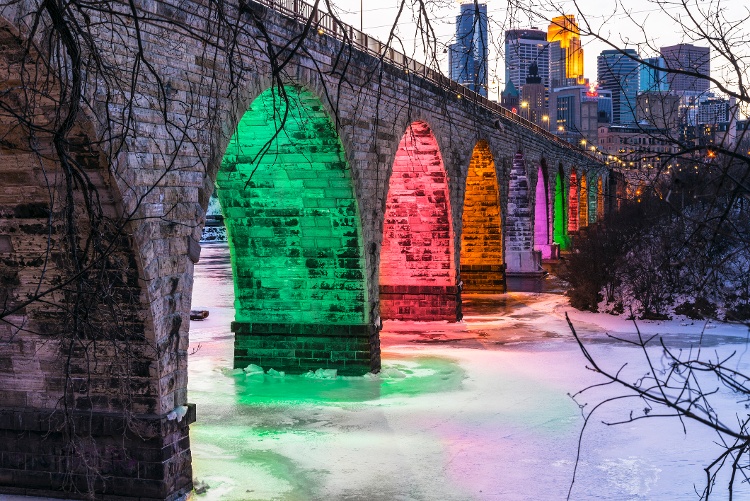 Quality of Life
There are so many good things about living in Minneapolis that it's hard to know where to begin. There's the riverfront skyline, art and theatre practically around every corner, year round festivals, and the infamous Juicy Lucy cheeseburger.
Key Quality of Life Stats:
Forbes ranks Minneapolis #21 in education, #32 as one of the best places for business and careers, and #104 for job growth.
Patch.com reports that Minneapolis-St. Paul is ranked #6 among America's largest metro areas.
Minneapolis is one of the top 25 cities where millennials are moving to find good jobs and make more money, according to Business Insider.
In fact, WalletHub ranks Minneapolis as the 44th-best city to find a job.
Despite the abundance of jobs and culture, cost of living in the Twin Cities is only 3% above the national average.
Climate in Minneapolis is humid continental, with warm to hot humid summers and cold snowy winters.
The number of parks in Minneapolis-St. Paul make people oh so nice, as the New York Times recently observed.
Minneapolis was recently ranked as the 2nd fittest city in the U.S. and the 7th best city for runners, with more than 200 miles of trails.
Minneapolis Farmers Markets are open year round to bring fresh foods in from the nearby country farms.
Minneapolis Institute of Art has one of the most comprehensive collections in the world, and The Walker Art Center is one of the "big five" art museums in the U.S.
University of Minnesota Medical Center in Minneapolis, Mercy Hospital, and Mayo Clinic in nearby Rochester are rated as three of the best hospitals in the Minneapolis-St. Paul region.
NBA Minnesota Timberwolves, MLB Minnesota Twins, and NFL Minnesota Vikings are three of the championship-winning professional sports teams in the Twin Cities.
Get Out the Map
Where to begin your search? Roofstock created a heat map of Minneapolis based on our Neighborhood Rating, a dynamic algorithm that enables you to make informed investment decisions by measuring school district quality, home values, employment rates, income levels and other vital investment criteria.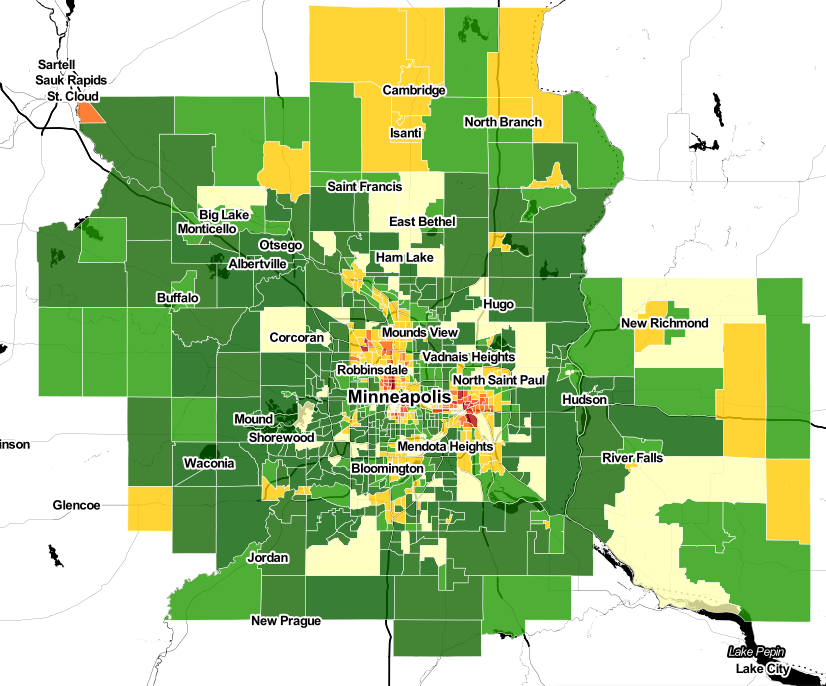 DARK GREEN: 4-5 star neighborhood
LIGHT GREEN: 3.5-4 star neighborhood
YELLOW: 2.5-3 star neighborhood
ORANGE: 2 star neighborhood
RED: 1 star neighborhood
Ready to invest in the Minneapolis housing market? If you haven't already done so, create your free Roofstock account and set up alerts. We'll notify you when we have a Minneapolis investment property that matches your search criteria.