Last updated on December 29, 2020
The balance between supply and demand is a fundamental factor that determines how successful real estate investments are. Based on this simple rule, rental property investors in Mobile, Alabama might very well have a banner year as the city battles the pandemic and weathers the recession.
According to the Alabama Center for Real Estate, the months of supply of houses on the market (as of November 2020) was just 1.4, an indication of how strong the sellers market in Mobile currently is. A housing market balance between buyers and sellers normally has about a 6 month supply, with anything less tipping in favor of sellers.
Climate, culture, economy, job growth and an affordable cost of living are some of the reasons why so many people and businesses are investing in this Gulf Coast city located between New Orleans and St. Petersburg, Florida.
Founded back in 1702, Mobile is the oldest city in Alabama and has always played a significant role in the state's economic growth.
Today, the metro area is home to industry growth sectors such as aerospace, transportation, and retail. Mobile is often called a miniature melting pot, thanks to the dynamic mix of French, Spanish, British, Creole, Greek, and African cultures.
Read on to learn why investing in rental property in Mobile, Alabama is looking very attractive in 2021.
>>Explore Roofstock's Mobile Investment Properties here.
Population Growth
With about 413,000 residents, the population of Mobile County has stayed more or less the same over the past five years. Predictability is a factor that all real estate investors look for, and Mobile definitely delivers. Even though population growth in Alabama is slowing down, inbound international migration to coastal counties like Mobile is on the rise.
Key Population Stats: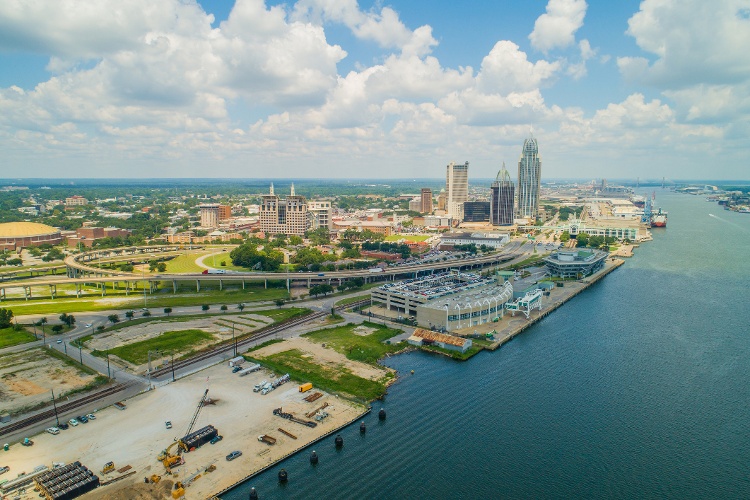 Job Market
Mobile is home to a skilled workforce in a right-to-work state. Job mobility combined with a low cost of living and doing business are three of the reasons why more than 50 companies from 20 different countries are located in the City of Mobile and Mobile County.
Key Employment Stats:
Real Estate Market
A recession isn't supposed to increase the demand for real estate, but that's exactly what's happening in Mobile, Alabama. According to the Alabama News Center, the housing market in Mobile is red hot as prices surge and inventory plummets.
Key Market Stats: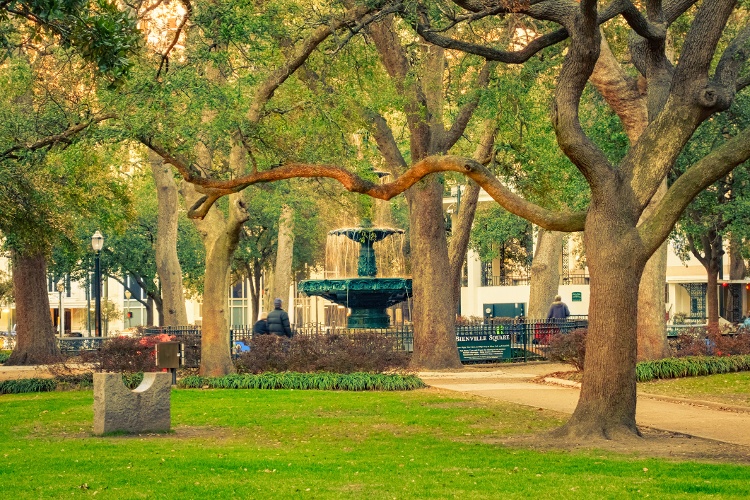 Attractive Renters' Market
Mobile is ranked as one of the best places to rent in the U.S. by WalletHub. The city receives high markets for rental market affordability and quality of life, helping to explain why the demand for good rental property in Mobile is so strong.
Key Market Stats:
Historic Price Changes & Housing Affordability
Each month Freddie Mac publishes the Freddie Mac House Price Index (FMHPI) tracking the historic price changes for housing across the U.S.
The most recent House Price Index report for Mobile, Alabama shows that home prices have increased by more than 34% over the last five years. Over the last 12 months, homes prices in the Mobile metropolitan area have increased by 11.9%, and by 1.9% compared to the previous month.
In addition to analyzing short- and long-term pricing trends, real estate investors also consider the affordability of housing in the market to help forecast the demand for rental property. Affordability compares the cost median cost of housing to the percentage of income needed to purchase a home in Mobile.
Recent research on housing affordability in Mobile from the Alabama Center for Real Estate noted that Mobile is one of the most affordable metropolitan areas in Alabama to buy a home. Mobile has an AHA Index Score of 222.0, meaning that the average household has a little more than twice the median family income needed to qualify for a loan based on current interest rates and home prices.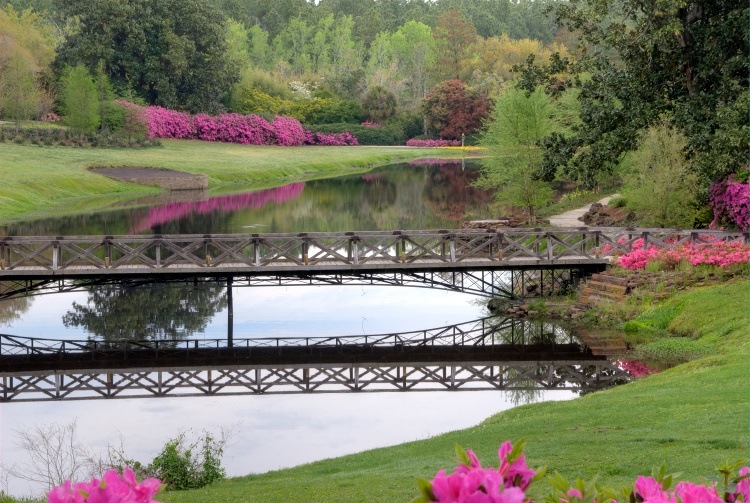 Quality of Life
Mobile's pro-business government combined with a laid-back waterfront lifestyle make the city feel like a little New Orleans. In fact, Downtown Mobile is considered by many to be the social, economic, and creative hub of the entire Gulf Coast.
Key Quality of Life Stats:
Get Out the Map
Where to begin your search? Roofstock created a heat map of Mobile based on our Neighborhood Rating, a dynamic algorithm that enables you to make informed investment decisions by measuring school district quality, home values, employment rates, income levels and other vital investment criteria.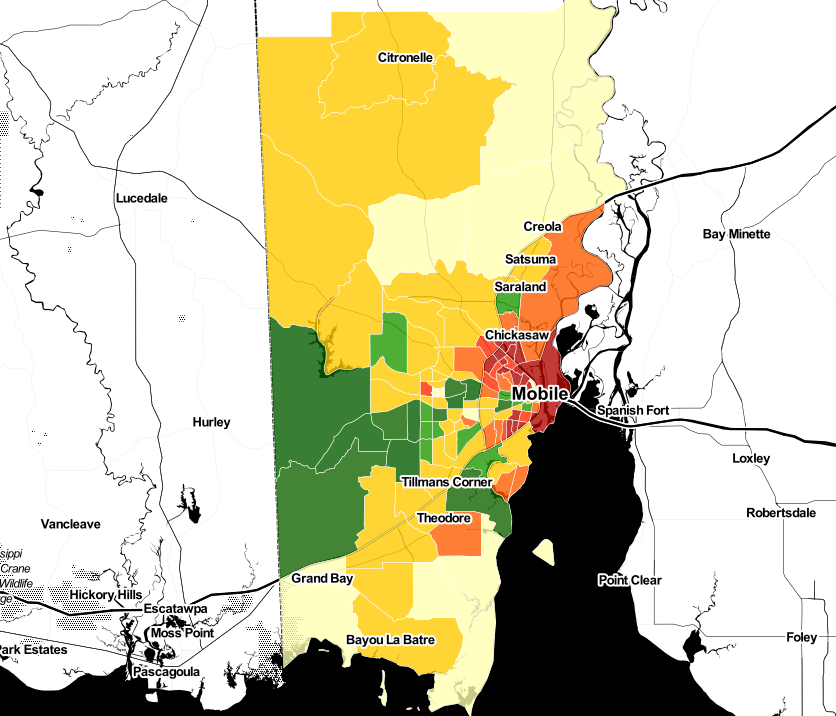 DARK GREEN: 4-5 star neighborhood
LIGHT GREEN: 3.5-4 star neighborhood
YELLOW: 2.5-3 star neighborhood
ORANGE: 2 star neighborhood
RED: 1 star neighborhood
Ready to invest in the Mobile housing market? If you haven't already done so, create your free Roofstock account and set up alerts. We'll notify you when we have a Mobile investment property that matches your search criteria.