Last updated on June 13, 2022
Housing inventory in Montgomery is at an historical low, with the months of supply at just 1.1 (as of April 2022), according to the Alabama Center for Real Estate (ACRE).
Months' supply refers to the number of months it would take for the current inventory to sell at the given current sales price. The NAR reports that in markets with less than six months of supply, prices tend to rise more rapidly, which is exactly what is happening in Montgomery.
Montgomery is the state capital and is located alongside the Alabama River in south-central Alabama, roughly equidistant between the Gulf Coast city of Mobile to the south and Birmingham to the north.
Industries such as agriculture, defense, manufacturing and education help keep job and population growth stable. The city was also a center of the Civil Rights Movement and is proud of the variety of government and nonprofit civic organizations that call Montgomery home.
Read on to learn more about how the Montgomery, AL real estate market might perform in 2022.
>>Explore Roofstock's Montgomery properties here.
Population Growth
Population growth in the Montgomery metropolitan area has declined by about 1.3% over the past decade, according to the most recent data from the U.S. Census Bureau, matching the rate of population change in Alabama's other large cities of Birmingham and Mobile.
Key Population Stats:
Job Market
Under the brand "Made in Alabama," the state recently set a new record with $8.7 billion in new investment and created 17,000 new jobs. As the capital city of Alabama, Montgomery receives its fair share of economic stimulus and activity.
Key Employment Stats:
Real Estate Market
There is still more demand for homes in Montgomery than supply, although rental property investors may begin to find good deals. According to the Alabama Center for Real Estate, even though inventory is down 21% year-over-year, the demand for homes in Montgomery has declined by 20%.
Key Market Stats:

Attractive Renters' Market
Montgomery is ranked by WalletHub as one of the best cities for renters, and the 50th best area in the country for the rental market and affordability. Montgomery also has one of the best rent-to-income ratios in the U.S., making it very attractive for people to rent where they live instead of looking for a house to buy and a good market for rental property investors.
Key Market Stats:
Historic Price Changes & Housing Affordability
Analyzing historical price changes and the affordability of housing are two metrics real estate investors use to help forecast the potential performance of rental property in a given market.
Every month, the FMHPI by Freddie Mac reports historic price changes for housing markets throughout the United States.
The most recently released FMHPI for Montgomery shows that seasonally adjusted home prices have increased by nearly 39% over the last five years. Over the last 12 months home prices in Montgomery have risen by 16.6% and by 1.3% month-over-month (as of April 2022).
Housing affordability compares the median cost of housing in a given market compared to the median income needed to purchase a home.
The Alabama Housing Affordability (AHA) Index uses 100 as a baseline number to provide an index score by market. The further from 100 the AHA Index score is, the more affordable a housing market is, all other things being equal.
The First Quarter 2021 Alabama Housing Affordability Index report from the Culverhouse College of Business at The University of Alabama gave Montgomery an AHA Index Score of 204, while Mobile received a score of 177 and Birmingham a score of 180. This means that, based on the AHA Index Score, buying a house in Montgomery is more affordable than Birmingham or Mobile.
Quality of Life
Many people moving to Montgomery are amazed by the warm Southern hospitality, low cost of living and high quality of life. The job market is a balanced blend of production and service sectors. World-class culture, vibrant retail and dining, and state-of-the-art healthcare give Montgomery a small-town charm that's hard to find in other cities of similar size.
Key Quality of Life Stats:
Get Out the Map
Where to begin your search? Roofstock created a heat map of Montgomery based on our Neighborhood Rating, a dynamic algorithm that enables you to make informed investment decisions by measuring school district quality, home values, employment rates, income levels and other vital investment criteria.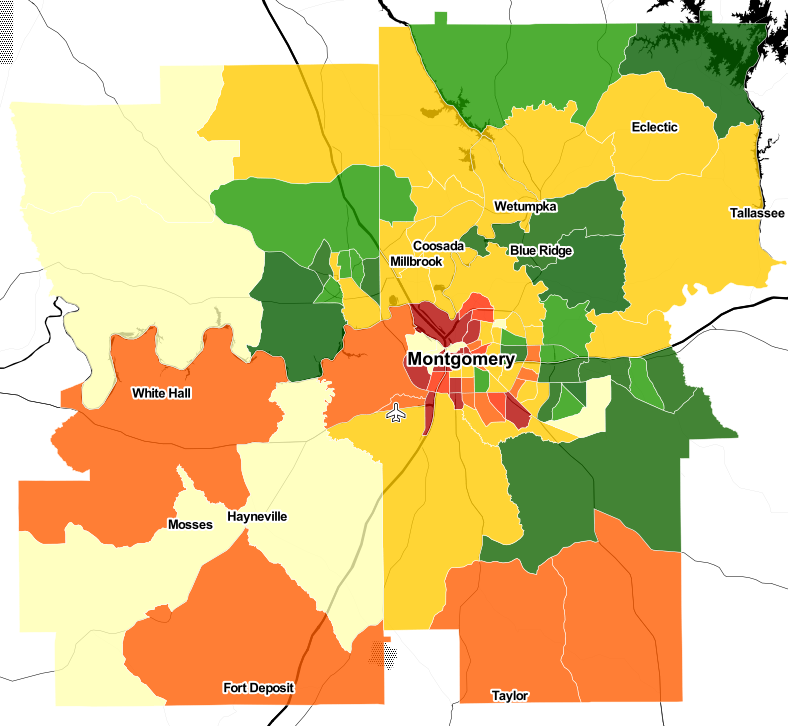 DARK GREEN: 4-5 star neighborhood
LIGHT GREEN: 3.5-4 star neighborhood
YELLOW: 2.5-3 star neighborhood
ORANGE: 2 star neighborhood
RED: 1 star neighborhood
Ready to invest in the Montgomery housing market? If you haven't already done so, create your free Roofstock account and set up alerts. We'll notify you when we have a Montgomery investment property that matches your search criteria.