Last updated on July 2, 2022
Oklahoma City is one of the top 10 markets where first-time buyers are battling investors for homes, because there simply isn't enough supply to meet demand. As Realtor.com reports, investors are buying about 11% of the homes listed for sale, with buyers coming in from both coasts.
Real estate investors buying and holding cash flowing rental property for the long-term may find exactly what they're looking for in Oklahoma City. According to The Oklahoman recently reported, investors spent nearly $1 billion buying apartment complexes in OKC last year, which may indicate a strong demand for single-family rental homes.
Oklahoma City is the capital and largest city in Oklahoma. Government, defense, and the natural resources sectors are the largest economic drivers in the region. Thanks to business-friendly government incentives to grow the job market, the aviation and aerospace, bioscience, financial services and international trade sectors are helping to keep the economy diverse and the housing market robust over the long term.
Keep reading to learn why rental property in Oklahoma City can be an attractive investment in 2022 and beyond.
>>Explore Roofstock's Oklahoma City properties here.
Population growth
The population of Oklahoma City has grown about 3 times as fast as Oklahoma, and almost twice as fast as the U.S. overall. According to the most recent survey by the U.S. Census Bureau, Oklahoma City grew by more than 17% over the past decade. As the mayor notes, the momentum is expected to bring more entrepreneurs, more employers, and more retail to the city.
Key Population Stats:
About 681,000 people live in Oklahoma City, and over 1.4 million people reside in the greater metropolitan area.
Oklahoma City spans more than 620 square miles and is the second-largest city in the U.S. by area just behind Houston, with plenty of room for growth and development.
Population of Oklahoma City has grown by 0.9% year-over-year and by more than 17% over the past decade, according to the most recent census.
Based on an annual population growth rate of 1.55%, the Oklahoma City metropolitan area will be home to 1.52 million people by 2023 and will have nearly 2 million residents by 2040.
Job market trends
The job market in Oklahoma City has grown right along with the population. Over the past 10 years, more than 330,000 new jobs were created in the metropolitan area, while the cost of living is still 14% below the national average.
Key Employment Stats:
GDP of Oklahoma City is nearly $74.4 billion, increasing about 25% over the past 10 years.
Unemployment in Oklahoma City is just 2.5% as of (BLS April 2022), with employment in the financial activities, professional and business services, education and health care, and leisure and hospitality sectors growing the most.
The cost of living in Oklahoma City is 14% below the national average.
Chesapeake Energy and Devon Energy are two Fortune 500 companies headquartered in Oklahoma City.
Major government employers in Oklahoma City include the State of Oklahoma, the Federal Aviation Administration, the City of Oklahoma, and United States Air Force – Tinker AFB.
Major healthcare and biotechnology employers in metro Oklahoma City include Integris Health, University of Oklahoma Health Sciences Center, SSM Health Care, and OU Medicine.
AT&T, Sonic Corporation, The Boeing Company, The Hertz Corporation, United Parcel Service, Johnson Controls, MidFirst Bank, and American Fidelity Insurance are some of the other major corporations and large businesses in Oklahoma City.
Economic sectors in Oklahoma City showing the healthiest annual job gains include oil and gas, administrative support, leisure services, wholesale trade, manufacturing, and business and professional services.
Forbes lists Oklahoma City as the 54th best place for business and careers in the U.S. and among the top 40 cities where the cost of doing business is low.
Major universities and colleges in metropolitan Oklahoma City include the University of Oklahoma, University of Central Oklahoma, and Oklahoma City Community College.
Over 89% of the residents in Oklahoma City are high school graduates or higher, and nearly 32% hold a bachelor's or advanced degree.
Oklahoma City is the hub of the transportation system in the Midwest with Interstate 35, Interstate 40, and Interstate 44 bisecting the metro area.
Will Rogers World Airport provides direct non-stop service to nearly 30 major cities including Atlanta, Charlotte, Chicago, Houston, Los Angeles, Miami, New York, and Seattle.
More than 4.3 million people passed through Will Rogers World Airport in 2018, setting a new passenger record for the second year in a row.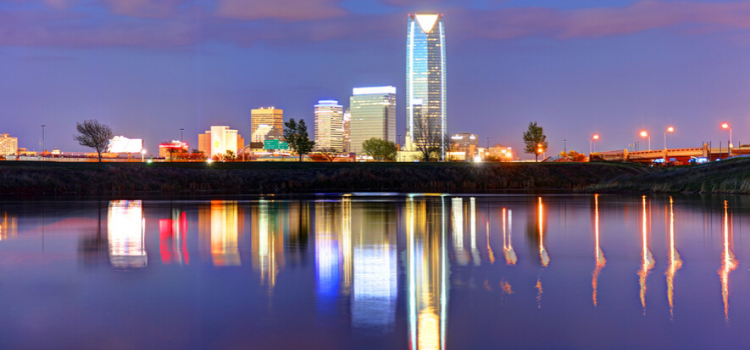 Real estate market
The Oklahoma City real estate market continues to boom, with the number of single-family homes for sale down by nearly 50% compared to last year. According to the Journal Record, out-of-state investors and 1031 exchange buyers from the East and West coasts are purchasing homes to rent them out while getting a hedge against inflation.
Strong sales activity is one reason why WalletHub has ranked Oklahoma City among the best real estate markets. The favorable outlook for the Oklahoma City real estate market is based on the same criteria that real estate investors use, including a healthy real estate market, affordability, and overall economic environment ranking.
Key Market Stats:
Median home value in Oklahoma City is $194,763 according to Zillow (as of May 2022).
Housing prices in Oklahoma City have increased 18.1% over the past year.
Over the past 5 years, home values in Oklahoma City have grown by about 53%.
Median listing price of homes in Oklahoma City is $265,000 and the median selling price is $250,000, according to Realtor.com (April 2022).
The median per-square-foot list price in Oklahoma City is $149.
Median days on market is 37.
Of the 248 neighborhoods in Oklahoma City, Downtown Oklahoma City is the most expensive with a median listing price of $627,300.
CEENA is the most affordable neighborhood, with a median listing price of $153,000.
Strong renters' market
Even though more new homes are being built than in the last seven years, demand for homes in Oklahoma City is still greater than the supply. With prices high and inventory low, over 40% of the households in OKC rent rather than own.
In fact, WalletHub ranks Oklahoma City as one of the top 70 best cities for renters. Factors used to rate the best markets for renters include activity in the rental market, overall affordability of renting, and quality of life.
Another reason the rental market in Oklahoma City and state remains strong is students and job seekers flocking to the metro area. Oklahoma is a very landlord-friendly state, helping to keep the rental market strong over the long term for real estate investors.
Key Market Stats:
Median rent in Oklahoma City is $1,460 per month for a 3-bedroom home, according to the newest report from Zumper (as of June 2022).
Rents in Oklahoma City have increased by 13% year-over-year.
Over the past 3 years, rent for a 3-bedroom place in Oklahoma City has grown by about 24%.
Renter-occupied households account for 44% of the total occupied housing units in Oklahoma City.
Most affordable neighborhoods for renters in Oklahoma City include Carverdale, West 10th, and Musgrave where monthly rents are $695 or less.
Neighborhoods in Oklahoma City with the highest monthly rents include Downtown Oklahoma City, N.W. Oklahoma County, and Copper Creek where rents range between $1,748 and $2,440 per month.
Historic price changes & housing affordability
Reviewing the historic price change of housing and the affordability index are two of the many tools rental property investors in Oklahoma City use to forecast future investment performance.
Each month the Freddie Mac Home Price Index (FMHPI) report reveals the change in home prices for every major metropolitan area in the U.S. According to the most recent FMHPI for the Oklahoma City MSA:
April 2017 HPI: 162.1
April 2022 HPI: 240.7
5-year change in home prices: 48.4%
One-year change in home prices: 17.1%
Monthly change in home prices: 1.3%
Rental property investors can find housing affordability rankings and short-term changes of home prices in Oklahoma City from Kiplinger, one of the leading publishers of business and personal finance information in the U.S. According to the most recent report:
Since the last real estate cycle market peak in May 2006, home prices in Oklahoma City have increased by 34.9%.
Since the last real estate cycle market bottom in March 2012, home prices in Oklahoma City have increased by 35.6%.
Oklahoma City has an affordability index of 2 out of 10, meaning the metro area is one of the most affordable places to own a home in the U.S.
Quality of life
Oklahoma City is one of the best places for home buyers and investors. It's also a perfect location for people looking for a great quality of life, according to News 4 TV in Oklahoma City.
Key Quality of Life Stats:
Get out the map
Where to begin your search? Roofstock created a heat map of Oklahoma City based on our Neighborhood Rating, a dynamic algorithm that enables you to make informed investment decisions by measuring school district quality, home values, employment rates, income levels and other vital investment criteria.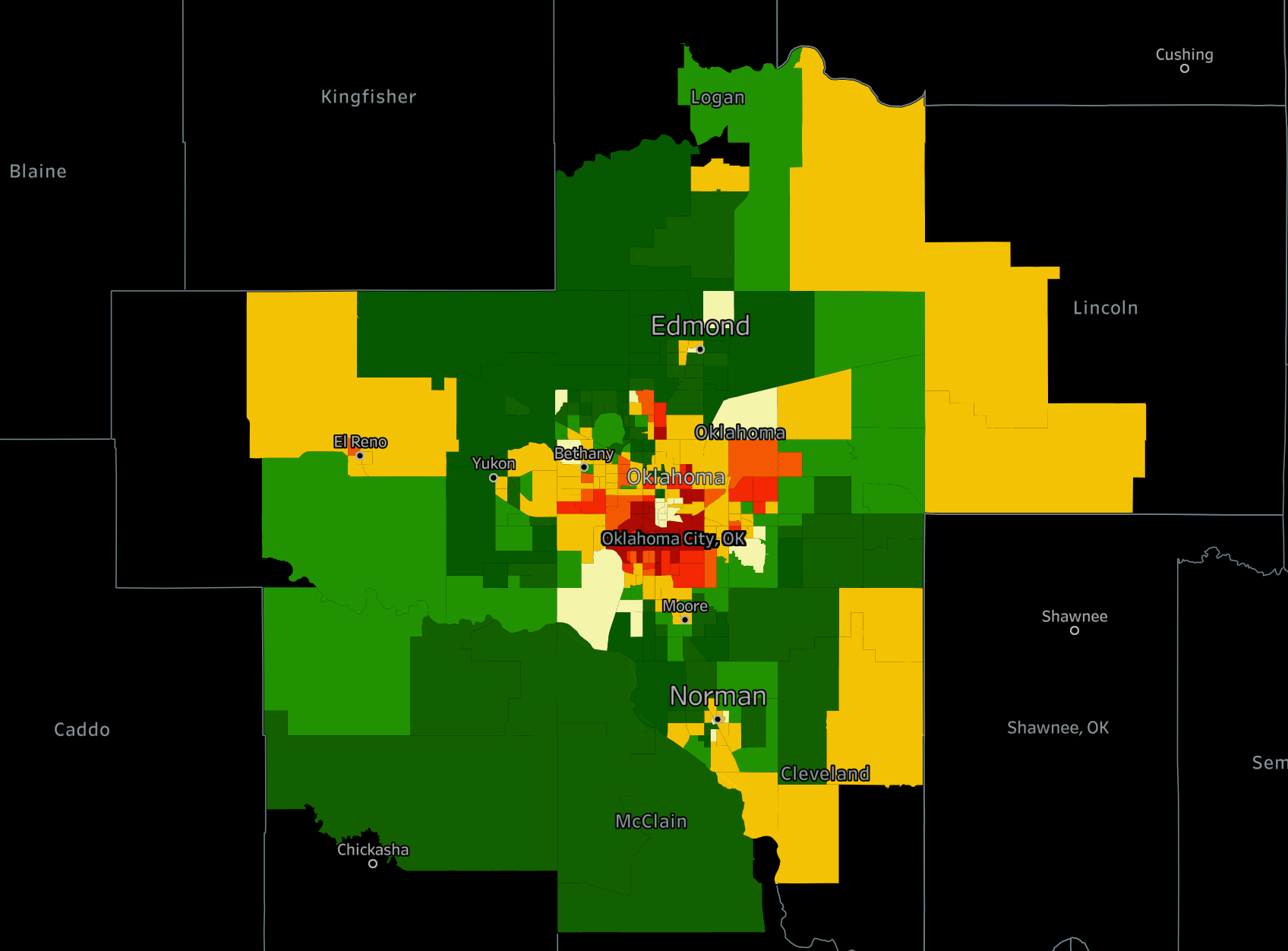 DARK GREEN: 4-5 star neighborhood
LIGHT GREEN: 3.5-4 star neighborhood
YELLOW: 2.5-3 star neighborhood
ORANGE: 2 star neighborhood
RED: 1 star neighborhood
Ready to invest in the Oklahoma City market? If you haven't already done so, create your free Roofstock account and set up alerts. We'll notify you when we have an Oklahoma City investment property that matches your search criteria.