Last updated on December 2, 2021
Sold listings leaving the market in 10 days, median home sales prices rising by a record $40,000 year-over-year, and sales transactions hitting 10-year highs. With statistics like these from the MLS there's a lot for real estate investors to like about the Philadelphia real estate market.
The real estate market in Philadelphia appears to be almost too good to be true, at least as far as real estate investors are concerned. Kiplinger Personal Finance ranks the city as one of the most affordable places in the U.S. to buy a house, even while the percentage of renters keeps growing.
Philadelphia – also known as "Philly" and "The City of Brotherly Love" - is the largest city in Pennsylvania, is the urban center of the 8th largest metropolitan area in the U.S., and is the economic and cultural core of the Delaware Valley. The city was founded in 1682 by William Penn, making Philadelphia one of the oldest municipalities in the country.
The economy of Philadelphia is one of the most diverse in the country, with key business sectors including financial services, biotechnology and health care, information technology, trade and transportation, oil refining, and food processing.
Keep reading to learn why the real estate market in Philadelphia is attracting rental property investors in 2021.
Population Growth
Although population growth in Pennsylvania has begun to slow after two decades of growth, the Philadelphia-Harrisburg corridor continues to grow. Since 2010, the southeastern part of the state where Philadelphia is located has grown overall by 1.8%.
Key Population Stats:
Philadelphia is the largest city in Pennsylvania with a population of nearly 1.6 million people and over 6.1 million residents in the greater metropolitan area.
Population of Philadelphia increased slightly year-over-year and has grown for 12 years in a row.
There are 3.02 million employees in Philadelphia with employment growing 1.64% year-over-year.
Unemployment in Philadelphia is 7.3% according to the most recent report from the BLS.
Median age in the Philadelphia metropolitan area is 38.9 years, with 51% of the population between the ages of 20 and 59.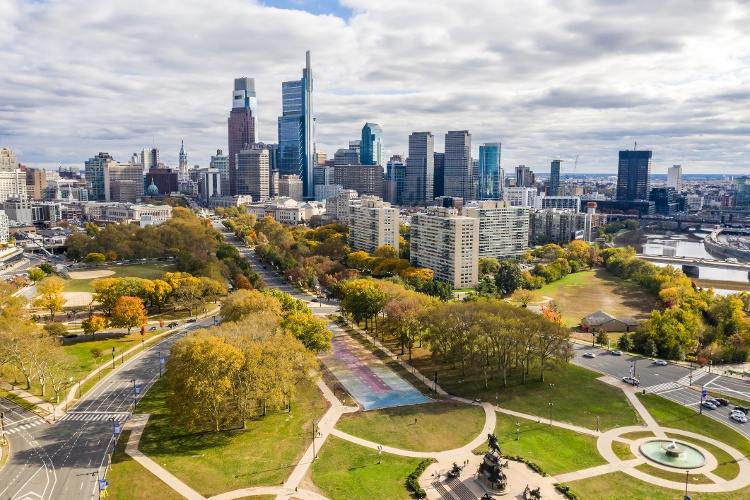 Job Market
Over the last several years the economy in Philadelphia has been expanding, thanks to a growing job market, rising educational attainment, and a strong increase in residential building activity as developers struggled to meet the demand for housing in metropolitan Philadelphia.
As the economy and job market began growing again, the U.S. Bureau of Labor Statistics reports that the job sectors showing the fastest signs of rebounding include the trade and transportation, financial activities, and education and health services sectors.
Key Employment Stats:
GDP of the Philadelphia-Camden-Wilmington MSA is over $454.6 billion, according to the Federal Reserve Bank of St. Louis, and has grown by more than 37% over the last ten years.
Job growth rate in Philadelphia is 1.64% year-over-year with median household incomes growing by 3.17% over the same time period.
Median household income in Metro Philadelphia is $74,533 while per capita income is $40,930.
Forbes ranks Philadelphia #88 as the best place for business and careers.
With over 3.4 million workers, Philadelphia has the 7th largest labor force in the U.S.
Key industry sectors in Philadelphia include financial and professional services, energy, information technology, life sciences, and logistics.
Largest employers in the Philadelphia region include the University of Pennsylvania and Health System, Thomas Jefferson University and Jefferson Health, ACCU Staffing, and Comcast Corporation.
Philadelphia is also home to the Philadelphia Stock Exchange, Comcast, Cigna, Colonial Penn, food services firm Aramark, GlaxoSmithKline, Pep Boys, and The Vanguard Group.
Greater Philadelphia has nearly 100 colleges and universities, including the University of Pennsylvania (Wharton), Princeton University, University of Pennsylvania, and three of the top 30 liberal arts colleges in the U.S.
Over 91% of the residents in Philadelphia are high school graduates or higher, while nearly 39% hold a Bachelor's degree or postgraduate degree.
Philadelphia is a key location located midway between New York City and Washington, D.C.
About 40% of the U.S. population is located within a one-day drive of Philly, and 60% of the population of the U.S. and Canada is within a two-hour flight.
The Philadelphia metropolitan region is home to six international airports, UPS's second-busiest shipping hub, the Port of Philadelphia, three major Interstate Highways, and the New Jersey and Pennsylvania Turnpikes.
Real Estate Market
Investors focusing on workforce housing rental property may find Philadelphia to be the perfect match. As recent research from The Pew Charitable Trusts notes, housing prices and rents in Philly have historically been lower than other big cities.
But over the last few years, prices have been moving up, with more people deciding to rent instead of own. Over one-third of renters surveyed by Pew say renting in Philadelphia is more affordable than owning, with less hassle and stress.
Key Market Stats:
Zillow Home Value Index (ZHVI) for Philadelphia is $227,259 as of October 2021.
Homes values in Philadelphia have increased by 11.7% over the last year.
Over the past five years home values in Philadelphia have increased by more than 57%.
Median list price of a single-family home in Philadelphia is $265,000 according to the most recent research from Realtor.com (as of October 2021).
Median listing price per square foot for a home in Philadelphia is $202.
Days on market (median) is 62.
Median sold price for a single-family home in Philadelphia is $252,600.
Sale-to-list price ratio is 100%, meaning that on average homes in Philadelphia are selling for approximately the full asking price.
Of the 152 neighborhoods in Philadelphia, Rittenhouse is the most expensive with a median listing price of $675,000.
Most affordable neighborhood in Philadelphia to buy a home is Olney where the median listing price is $160,000.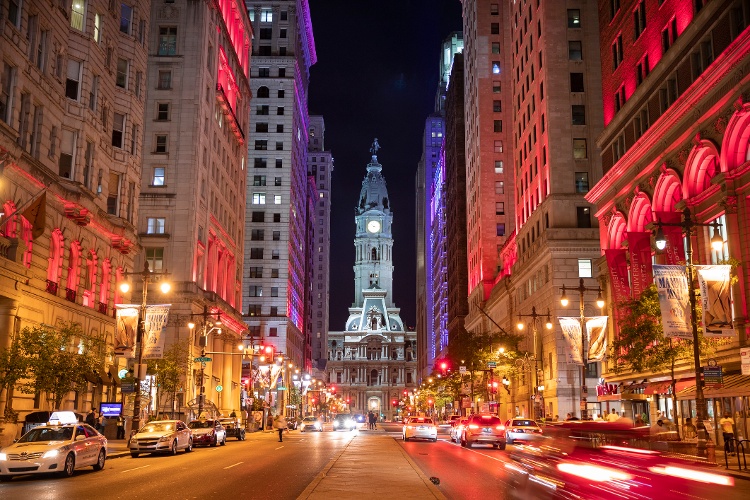 Attractive Renters' Market
Philadelphia is ranked as one of the top 100 best cities for renters by WalletHub. The ranking is based on key criteria real estate investors use including activity in the rental market, affordability, and quality of life.
Key Market Stats:
Average rent in Philadelphia is $1,712 according to the most recent report by RENTCafé (as of June 2021).
Rents in Philadelphia have increased by 3% on average year-over-year.
37% of the rental units in Philadelphia rent for between $1,001 and $1,500 per month.
Renter-occupied households in Philadelphia account for 45% of the total occupied housing units in the metropolitan area.x
Neighborhoods in Philadelphia with the highest rents include Saunders Park, University City, and West Powelton where rents average $2,519 per month.
Cheapest neighborhoods for renters in Philadelphia include Frankford, Frankford Valley, and Kensington where rents average $823 per month.
Most popular neighborhoods in Philadelphia for renters are City Center West, Rittenhouse Square, and Washington Square West.
Historic Price Changes & Housing Affordability
Two key housing market statistics that real estate investors can analyze to help determine the present and future demand for rental property are the trend in home prices and the affordability of buying a house versus renting.
The Freddie Mac House Price Index (FMHPI) measures the change in housing prices for real estate markets in the U.S. The report assigns December 2000 with a benchmark of 100 and then compares the monthly change in housing prices in every city and major metro area in the nation.
The most recent FMHPI from Freddie Mac for the housing market in the Philadelphia-Camden-Wilmington MSA:
October 2015 HPI: 163.8
October 2020 HPI: 226.2
5-year change in home prices: 38.1%
One-year change in home prices: 16.5%
Monthly change in home prices: 1.5%
Housing affordability is another statistic real estate investors review to determine the potential demand for rental property.
As a rule of thumb, markets where it is more expensive to buy a house usually see a higher percentage of renters. However, even though houses are affordable in Philadelphia, there is still a high percentage of renter households. That may be due in part to the high percentage of single people (66% single vs. 34% married).
The most recent housing affordability report from Kiplinger's Personal Finance surveyed home prices in the 100 largest metro areas in the country. The survey uses an affordability scale of 1 to 10, with 1 being the more affordable market to buy a home in and 10 being the least affordable.
The affordability index report for Philadelphia shows:
Since the last real estate cycle market peak in May 2006, home prices in Philadelphia have increased by 5.5%.
Since the last real estate cycle market bottom in March 2012, home prices in Philadelphia have increased by 37.5%.
Philadelphia has an affordability index of 1 out of 10, meaning that Philadelphia is one of the most affordable markets to buy a home.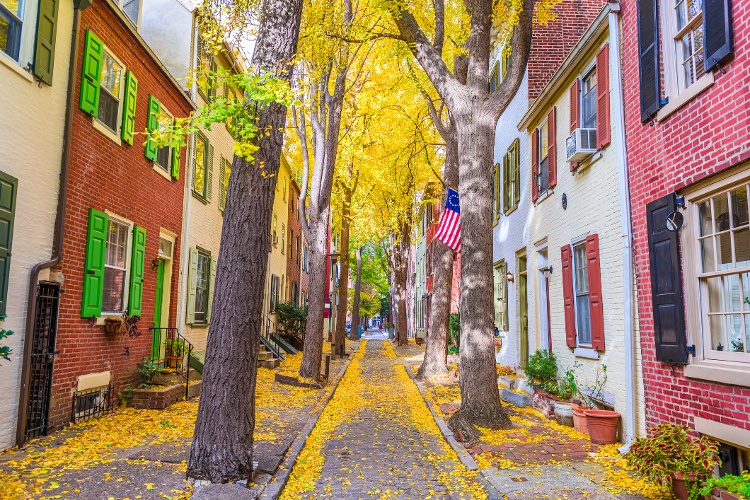 Quality of Life
Philadelpia consistently ranks as one of the best places to visit in the U.S., and judging from the population, job growth, and unrivaled amenities in the metro area, it appears that once people come to Philly they decide to stay.
Key Quality of Life Stats:
Cost of living in Philadelphia is 3% below the national average, according to Forbes.
Niche.com ranks Philadelphia as the 32nd best place for young professionals in America, giving the city high scores for family living, diversity, and nightlife.
39% of the residents in metropolitan Philadelphia are between the ages of 20 and 49, making the market perfect for millennials.
Philadelphia has more affordable housing, and a lower cost of doing business than neighboring high-priced cities such as Boston, New York, and Washington, D.C.
Philadelphia is the first and only world heritage city in the U.S., and played a key role during the American Revolution and served as the meeting place for the signing of the Declaration of Independence.
Philly is home to 30 public gardens, including Bartram's Garden, the oldest still-living botanical garden in North America.
The Circuit Trails runs for 300 miles with interconnected hiking trails in nine counties in southeastern Pennsylvania and southern New Jersey.
Philadelphia is one of the few U.S. cities to have all four major league sports teams.
Climate in Philadelphia is humid subtropical, with hot and muggy summers and moderately cold winters.
U.S. News & World Report ranks the Philadelphia metro area as one of the best places to live in Pennsylvania, the 43rd best place to retire in the U.S.
Get Out the Map
Where to begin your search? Roofstock created a heat map of Philadelphia based on our Neighborhood Rating, a dynamic algorithm that enables you to make informed investment decisions by measuring school district quality, home values, employment rates, income levels, and other vital investment criteria.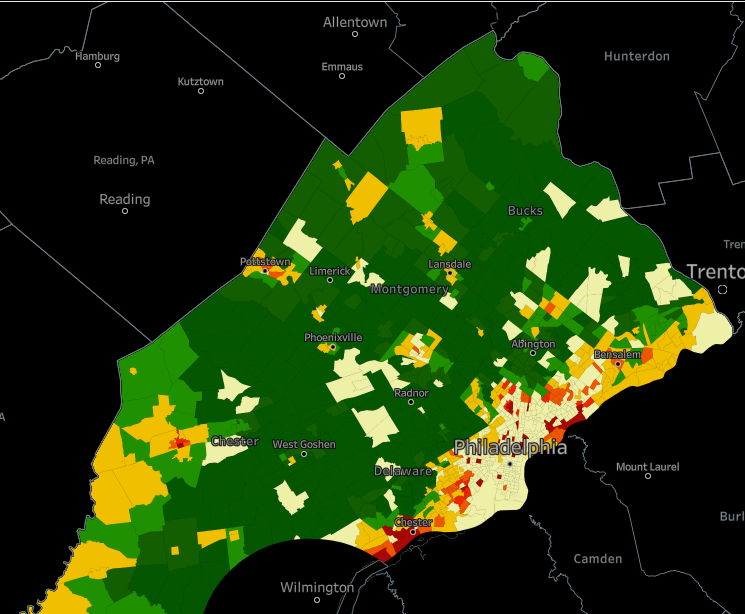 DARK GREEN: 4-5 star neighborhood
LIGHT GREEN: 3.5-4 star neighborhood
YELLOW: 2.5-3 star neighborhood
ORANGE: 2 star neighborhood
RED: 1 star neighborhood
Ready to invest in the Philadelphia housing market? If you haven't already done so, create your free Roofstock account and set up alerts. We'll notify you when we have a Philadelphia, Pennsylvania investment property that matches your search criteria.