Last updated on June 29, 2022
A joint report from the Wall Street Journal and Realtor.com ranks Raleigh as one of the top 10 emerging housing markets for investors and homeowners alike, based on important metrics such as economic vitality, housing market, and quality of life. As the report notes, investing in Raleigh real estate (and other parts of the country) is a major store of wealth that is more widely held than stocks.
This southern metropolis is the capital of North Carolina and also the second-largest city in the state. Raleigh is home to world-class technology and life science institutions, artists who thrive on the area's rich cultural history, and one of the tastiest food scenes in this part of the U.S.
Raleigh is one of those forward-thinking cities that's able to balance business and development-friendly policies while creating a high quality of life for the people who live, work, and play here. In fact, Raleigh was recently named one of the top convention centers in all of North America.
>>Explore Roofstock's Raleigh properties here.
Population growth
The Raleigh-Cary metro area is the fastest-growing city in North Carolina, with a population growth rate more than double that of the state. Over the past 10 years, the population grew by 25.6% compared to 11.2% for North Carolina. Raleigh is becoming increasingly cosmopolitan, with a population density that's similar to Atlanta and Austin.
Key population stats:
Raleigh is home to nearly 468,000 people in the city and 1.4 million in the metropolitan area, making it the second-largest city in North Carolina.
Population of the city of Raleigh has grown by 0.30% year-over-year and, according to the most recent U.S. Census, by 15.8% over the past 10 years.
Raleigh and Durham are ranked as one of the fastest-growing places in the country, with university grads electing to stay while others come to the city for job opportunities.
The population of Raleigh is projected to grow by nearly 125,000 people over the next 15 years.
Job market
Raleigh is forecast to gain over 9,700 net new jobs per year between now and 2028, boasting an annual job growth rate of 0.9%. According to the NC Department of Commerce, Raleigh - along with Charlotte and Wilmington - are projected to show the fastest job growth rates across all industries over the next 6 years.
In fact, Raleigh is ranked as one of the best metro areas for STEM (science, technology, education, mathematics) professionals by WalletHub. The determine the best markets for STEM professionals, the report looked at key metrics such as per-capita job openings for STEM graduates and median wage growth for STEM jobs.
That's important to real estate investors, because tech jobs pay a median annual income that's significantly higher than non-tech jobs, based on a recent report from Pew Research Center.
Key employment stats:
GDP of Raleigh is more than $95.3 billion, and has increased by more than 72% over the past 10 years.
Job growth in Raleigh decreased by 2.4% during the pandemic, but is forecast to grow by nearly 1% per year over the next 6 years.
Median household incomes in Raleigh have increased by 6.56% year-over-year, while the poverty rate has declined by 6.6%.
Unemployment in Raleigh is down to 2.9% according to the most recent report from the BLS (April 2022).
Major employers in Raleigh include the State of North Carolina, WakeMed Health and Hospitals, North Carolina State University, UNC Rex Healthcare, and Duke Energy Progress.
Other major companies based in the Raleigh metro area include Capitol Broadcasting Company, First Citizens BancShares, and multinational software company Red Hat.
Raleigh is part of North Carolina's Research Triangle, one of the largest high-tech and biotech research parks in the world.
Forbes has ranked Raleigh #3 as the best place for business and careers in the U.S.
Major universities in Raleigh and North Carolina include North Carolina State University, Duke University, and University of North Carolina at Chapel Hill.
48% of Raleigh residents hold a bachelor's degree or higher, compared to just 33% nationwide.
Interstate 40 is one of the major highways passing through Raleigh, and the Amtrak train station in Raleigh is one of the busiest in the southern U.S.
Passenger growth at Raleigh-Durham International Airport (RDU) recently set an all-time high prior to the pandemic, and FedEx and UPS provide cargo service at the airport.
With more than 9,000 acres of parkland, Raleigh is the perfect place for outdoor activities like biking, hiking, or kayaking year-round.
The North Carolina Museum of Art is one of the five must-see art museums in Raleigh, and sports fans can watch the NHL Carolina Hurricanes in action at the PNC Arena.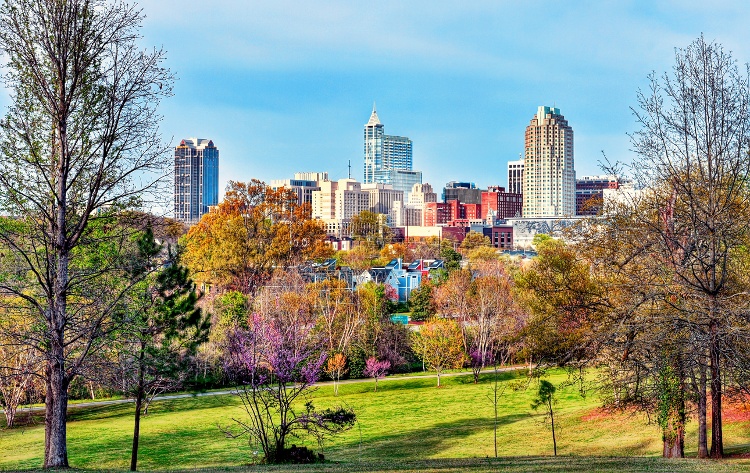 Real estate market
Northeast Raleigh is home to one of the hottest zip codes in the country for buying and selling homes. Zip code 27616 encompasses Triangle Town Center and the northern campus of Wake Technical Community College, with homes going under contract an average of just 5 days after being listed for sale.
Raleigh-Durham was also ranked as the #1 large market for housing construction growth last year as more people moved to the metro area. Raleigh is also ranked as the 10th best emerging housing market for investors, based on key criteria such as housing market activity and economic vitality.
Key market stats:
Zillow Home Value Index (ZHVI) is $459,151 for Raleigh as of May 2022.
Home values in Raleigh have increased by 35.7% over the last year.
Over the past 5 years home values in Raleigh have increased by nearly 86%.
Median listing price for a home in Raleigh is $400,000 based on the most recent research from Realtor.com (as of April 2022).
Median listing price per square foot is $218.
Days on market (median) is 50.
Sales-to-list price ratio in Raleigh is 100%, which means that homes are selling for approximately the asking price on average.
Of the 71 neighborhoods in Raleigh, Glenwood is the most expensive with a median listing price of $1,500,000.
Most affordable neighborhood to buy a home in Raleigh is Atlantic, where the median listing price is $275,000.
Attractive renters' market
Raleigh is listed by WalletHub as one of the best cities for renters in the U.S., based on key metrics such as share of renters and rental vacancy, rent-to-price ratio, and historical rental-price changes. Nearly 50% of the households in Raleigh are occupied by renters, with rents growing 13% year-over-year.
Key market stats:
Median rent in Raleigh is $1,920 per month for a 3-bedroom home, according to the most recent report from Zumper (June 2022).
Rents in Raleigh have increased by 13% year-over-year.
Over the past 3 years, average rent for a 3-bedroom place in Raleigh increased by about 32%.
Renter-occupied households in Raleigh make up 49% of the total occupied housing units in the metropolitan area.
Most affordable neighborhoods for renters in Raleigh include Bedford at Falls River, King Charles, and Southwest Raleigh where average rents run less than $1,750 per month.
Most expensive rental areas in Raleigh are Oakwood, Brier Creek Country Club, and Hedingham where rents range between $1,865 and $2,295 per month.
Historic price changes & housing affordability
Real estate investors employ a variety of analytical tools to determine whether or not Raleigh is good for investing in rental property. Historical price changes of homes provide both a long- and short-term pricing trend, while affordability is one way to determine the potential demand for rental property in Raleigh.
Every month, Freddie Mac publishes a house price index that tracks the price changes of housing over the recent quarter and year, as well as historical pricing trends. According to the latest Freddie Mac House Price Index (FMHPI) report for the Raleigh MSA:
April 2017 HPI: 155.1
April 2022 HPI: 276.5
5-year change in home prices: 78.2%
One-year change in home prices: 30.9%
Monthly change in home prices: 2.4%
Kiplinger, one of the leading publishers of business forecasts and personal finance advice, uses ATTOM Data Services to compile home price changes and housing affordability of the top 100 U.S. markets.
Affordability ratings range from 1 to 10, and the lower the number the more potentially affordable a home is to purchase. However, investors should note that even in the most affordable markets many people choose to rent rather than own.
Since the last real estate cycle market peak in May 2006, home prices in Raleigh have increased by 37.9%.
Since the last real estate cycle market bottom in March 2012, home prices in Raleigh have increased by nearly 54.4%.
Raleigh has an affordability index of 6 out of 10, meaning the metro area is one of the more expensive places to own a home in the U.S.
Quality of life
Raleigh consistently ranks as one of the best places to live, work, and play in the U.S. In fact, local news channel ABC 11 recently reported that for three years in a row Raleigh made the list of top three cities in the world for the best quality of life.
Key quality of life stats:
Get out the map
Where to begin your search? Roofstock created a heat map of Raleigh based on our Neighborhood Rating, a dynamic algorithm that enables you to make informed investment decisions by measuring school district quality, home values, employment rates, income levels, and other vital investment criteria.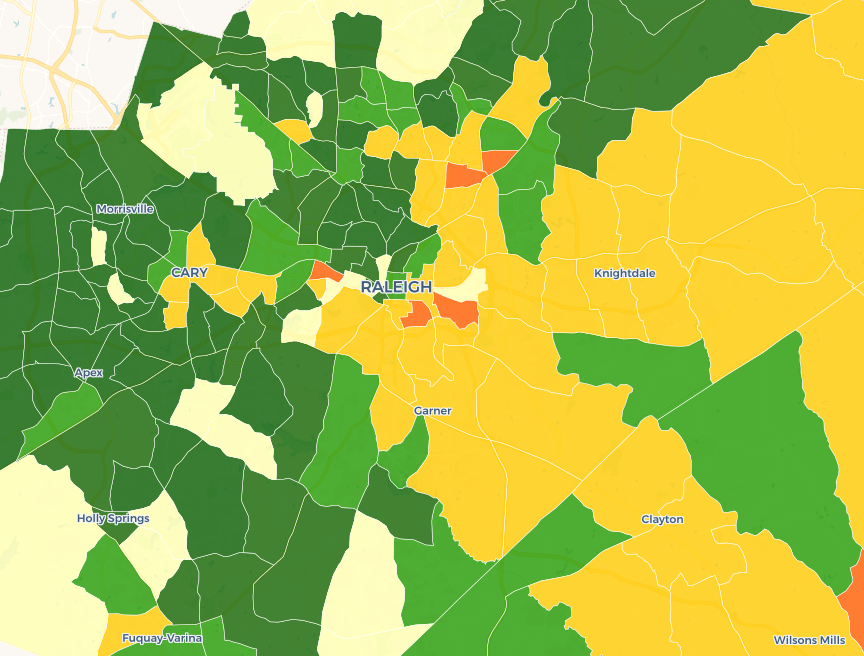 DARK GREEN: 4-5 star neighborhood
LIGHT GREEN: 3.5-4 star neighborhood
YELLOW: 2.5-3 star neighborhood
ORANGE: 2 star neighborhood
RED: 1 star neighborhood

Ready to invest in the Raleigh market? If you haven't already done so, create your free Roofstock account and set up alerts. We'll notify you when we have a Raleigh investment property that matches your search criteria.