Last updated on October 19, 2021
Raleigh is emerging as a top rental market for next year, due in part to the high-tech job opportunities in North Carolina's Research Triangle. That's good news for real estate investors in Raleigh, but that's not all.
According to Realtor.com, Raleigh is becoming a buyer's market, giving investors an opportunity to acquire affordable rental property in a market where jobs are once again becoming plentiful and population growth is strong.
This southern metropolis is the capital of North Carolina and also the second-largest city in the state. Raleigh is home to world-class technology and life science institutions, artists who thrive on the area's rich cultural history, and one of the tastiest food scenes in this part of the U.S.
Raleigh is one of those forward-thinking cities that's able to balance business and development-friendly policies while creating a high quality of life for the people who live, work, and play here. In fact, Raleigh was recently named one of the top convention centers in all of North America.
>>Explore Roofstock's Raleigh investment properties here.
Population growth
With about 475,000 people in the City of Raleigh and more than 2.2 million people in the Raleigh-Durham combined statistical area, Raleigh has a population density that's similar to Atlanta and Austin. Diversity in the city is increasing, while Raleigh's high percentage of baby boomers and millennials help keep the job and housing market strong.
Key population stats:
Raleigh has a metropolitan population of nearly 1.4 million, making it the second-largest city in North Carolina.
Population of Raleigh has grown by 2.06% year-over-year.
Raleigh ties for second place with Orlando as one of the fastest-growing large metro areas in the U.S.
The population of Raleigh is projected to grow by nearly 125,000 people over the next 15 years.
27% of the population of Raleigh are between the ages of 20 and 39.
Raleigh has become more diverse since 2000, with African-Americans and Hispanics accounting for a growing percentage of the population.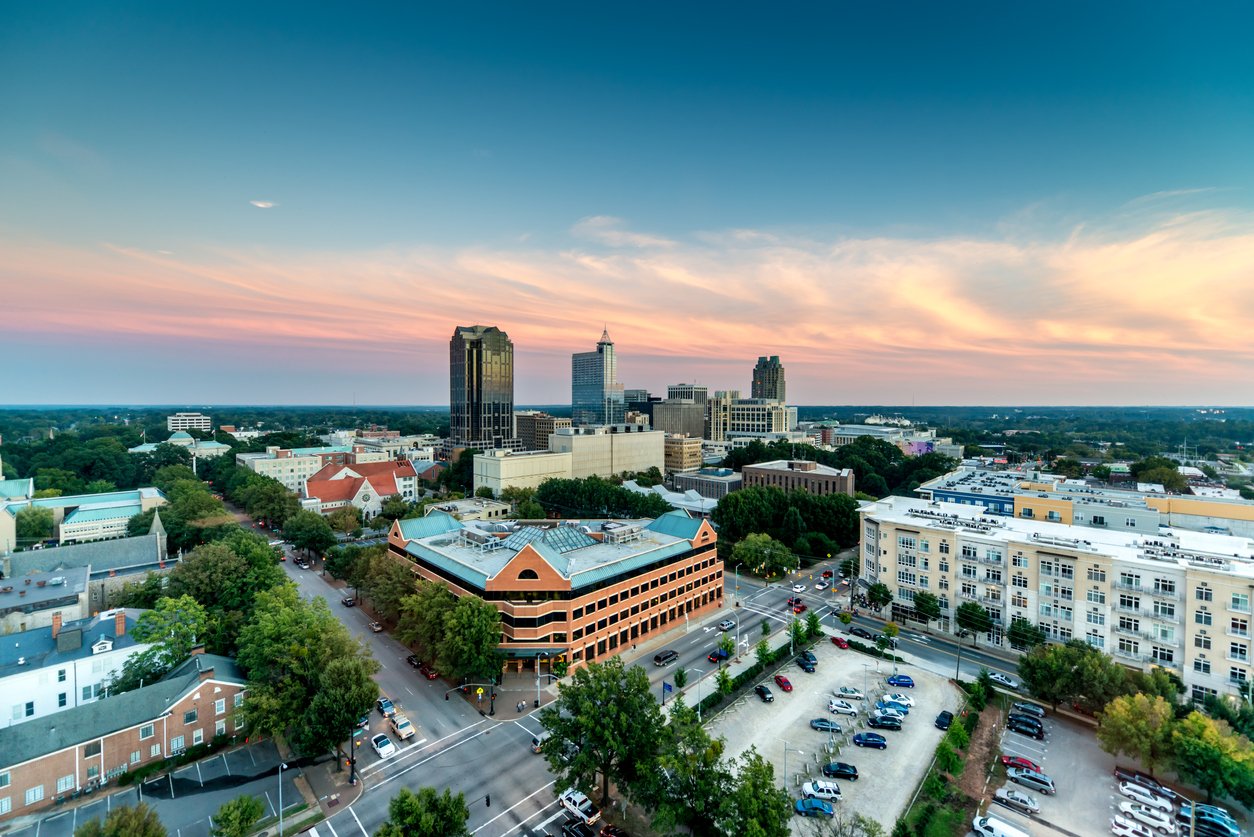 Job market
Raleigh is one of the cities where STEM (science, technology, education, mathematics) jobs are on the rise, according to a recent story in USA Today. In fact, Raleigh beats out traditional high-tech powerhouse cities such as San Francisco and Boston for STEM job creation, biotech, and high-tech employment.
That's important to real estate investors, because tech jobs pay a median annual income that's significantly higher than non-tech jobs, based on a recent report from Pew Research Center.
As the economy in Raleigh begins to recover, the U.S. Bureau of Labor Statistics (BLS) reports that employment sectors showing the fastest signs of growth include construction, trade and transportation, information technology, financial activities, and professional and business services.
Key employment stats:
GDP of Raleigh is more than $94.8 billion, and has nearly doubled over the past 10 years.
Job growth in Raleigh increased by 3.51% year-over-year while median household incomes grew by 3.57%.
Unemployment in Raleigh is down to 5.3% according to the most recent report from the BLS (Oct. 2020).
Major employers in Raleigh include the State of North Carolina, WakeMed Health and Hospitals, North Carolina State University, UNC Rex Healthcare, and Duke Energy Progress.
Other major companies based in the Raleigh metro area include Capitol Broadcasting Company, First Citizens BancShares, and multinational software company Red Hat.
Raleigh is part of North Carolina's Research Triangle, one of the largest high-tech and biotech research parks in the world.
Forbes has ranked Raleigh #3 as the best place for business and careers in the U.S.
Major universities in Raleigh and North Carolina include North Carolina State University, Duke University, and University of North Carolina at Chapel Hill.
48% of Raleigh residents hold a bachelor's degree or higher, compared to just 33% nationwide.
Interstate 40 is one of the major highways passing through Raleigh, and the Amtrak train station in Raleigh is one of the busiest in the southern U.S.
Passenger growth at Raleigh-Durham International Airport (RDU) recently set an all-time high, and FedEx and UPS provide cargo service at the airport.
With more than 9,000 acres of parkland, Raleigh is the perfect place for outdoor activities like biking, hiking, or kayaking year-round.
The North Carolina Museum of Art is one of the five must-see art museums in Raleigh, and sports fans can watch the NHL Carolina Hurricanes in action at the PNC Arena.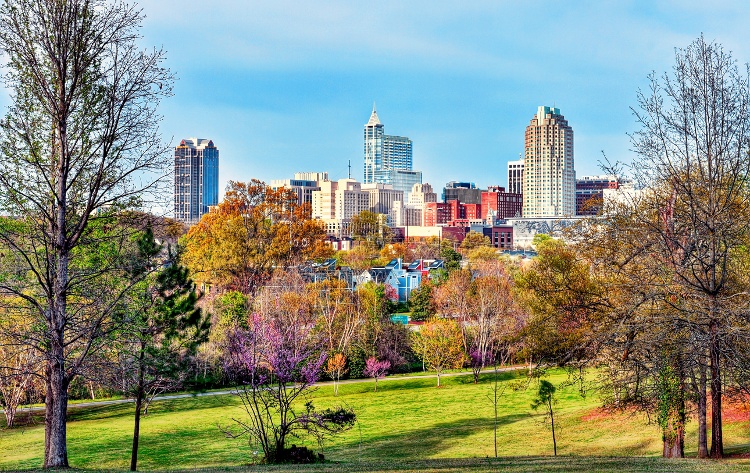 Real estate market
Raleigh-Durham is ranked as the #1 large market for housing construction growth next year as more people move to the metro area. WalletHub also ranks Raleigh among the best real estate markets to buy in, based on key criteria such as activity in the marketplace, housing affordability, and strength of the local economy.
Looking at the real estate market stats of Raleigh, it's easy to understand why.
Key market stats:
Zillow Home Value Index (

ZHVI

) is $381,977 for Raleigh as of May 2021.
Home values in Raleigh have increased by 14.5% over the last year.
Over the past 5 years home values in Raleigh have increased by more than 56%.
Median listing price for a home in Raleigh is $341,000 based on the most recent research from

Realtor.com

(as of May 2021).
Median listing price per square foot is $173.
Days on market (median) is 44.
Of the 76 neighborhoods in Raleigh, Glenwood is the most expensive with a median listing price of $1.3M.
Most affordable neighborhood to buy a home in Raleigh is Avent West, where the median listing price is $148,900.
Attractive renters' market
Raleigh is listed by WalletHub as one of the fastest growing cities in the U.S. That's important, because population growth is one of the key statistics rental property investors look at when choosing a market to invest in, along with an affordable cost of living.
More than 70% of the land in Raleigh is zoned for residential use, which is one reason why Raleigh has been more affordable for housing than Austin, Atlanta, and Charlotte, according to the City of Raleigh.
Key market stats:
Average rent in Raleigh is $1,287 according to the most recent report from RENTCafé (as of May 2021).
Rents in Raleigh have increased by an average of 3% year-over-year.
63% of the rental units in Raleigh rent for between $1,001 and $1,500 per month.
Renter-occupied households in Raleigh make up 43% of the total occupied housing units in the metropolitan area.
Most affordable neighborhoods for renters in Raleigh include Abbington Ridge, Anderson Pointe, and Antelope Point where average rents run $1,027 per month.
Most expensive rental areas in Raleigh are Worthington, Wynford Place, and Wynstone where monthly rents are currently averaging $1,591.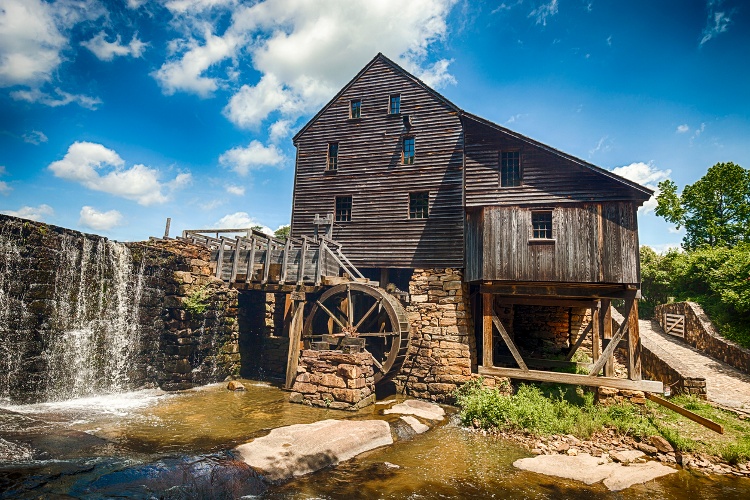 Historic price changes & housing affordability
Real estate investors employ a variety of analytical tools to determine whether or not Raleigh is good for investing in rental property. Historical price changes of homes provide both a long- and short-term pricing trend, while affordability is one way to determine the potential demand for rental property in Raleigh.
Every month, Freddie Mac publishes a house price index that tracks the price changes of housing over the recent quarter and year, as well as historical pricing trends. According to the latest Freddie Mac House Price Index (FMHPI) report for the Raleigh MSA:
May 2016 HPI: 144.4
May 2021 HPI: 212.5
5-year change in home prices: 47.2%
One-year change in home prices: 16.1%
Monthly change in home prices: 1.5%
Kiplinger, one of the leading publishers of business forecasts and personal finance advice, uses ATTOM Data Services to compile home price changes and housing affordability of the top 100 U.S. markets.
Affordability ratings range from 1 to 10, and the lower the number the more potentially affordable a home is to purchase. However, investors should note that even in the most affordable markets many people choose to rent rather than own.
Since the last real estate cycle market peak in May 2006, home prices in Raleigh have increased by 30.1%.
Since the last real estate cycle market bottom in March 2012, home prices in Raleigh have increased by nearly 39%.
Raleigh has an affordability index of 6 out of 10, meaning the metro area is one of the more expensive places to own a home in the U.S.
Quality of life
Raleigh consistently ranks as one of the best places to live, work, and play in the U.S. In fact, local news channel ABC 11 recently reported that for three years in a row Raleigh made the list of top three cities for the best quality of life.
Key quality of life stats:
Get out the map
Where to begin your search? Roofstock created a heat map of Raleigh based on our Neighborhood Rating, a dynamic algorithm that enables you to make informed investment decisions by measuring school district quality, home values, employment rates, income levels, and other vital investment criteria.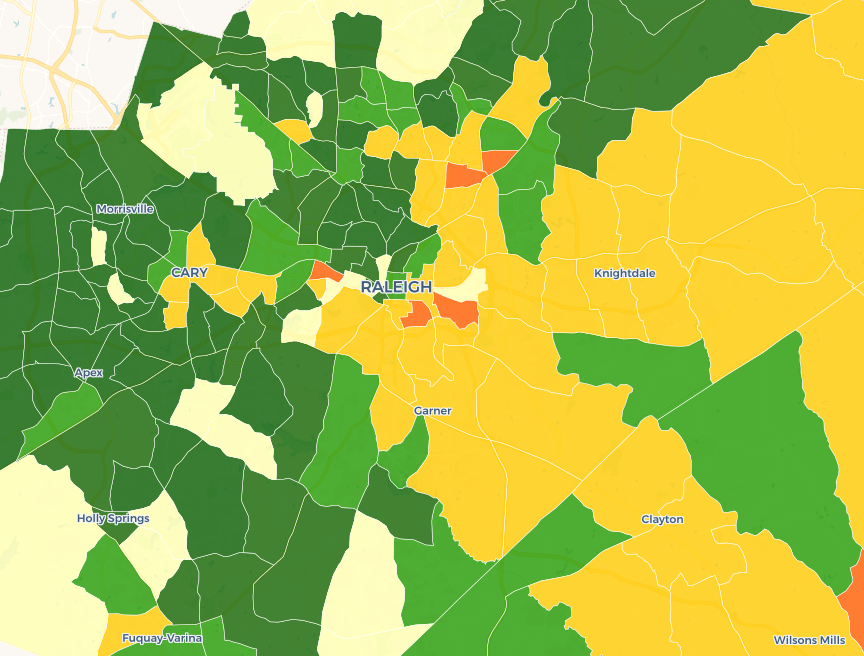 DARK GREEN: 4-5 star neighborhood
LIGHT GREEN: 3.5-4 star neighborhood
YELLOW: 2.5-3 star neighborhood
ORANGE: 2 star neighborhood
RED: 1 star neighborhood

Ready to invest in the Raleigh market? If you haven't already done so, create your free Roofstock account and set up alerts. We'll notify you when we have a Raleigh investment property that matches your search criteria.