"Gobbling them up left and right" is the way local TV station ABC 8 News recently described the real estate market in Richmond, Virginia. The city continues to be a seller's market, with nice property at a decent price point generating multiple offers.
Richmond is the capital of Virginia and the 3rd-most populous metropolitan area in the state. Nicknamed the "River City", Richmond was originally founded as a trading center in 1609 by English colonists and played a key role in the Revolutionary War and the American Civil War.
Today, Richmond has a thriving diverse economy driven by the financial, law, and government sectors. One of 13 Federal Reserve Banks and a U.S. Court of Appeals are located in Richmond.
The Richmond region has a well-deserved reputation as a great place to raise a family, start a business, and grow a career. The city was recently rated as one of the best small cities in North America. Atlantic beaches, the Blue Ridge Mountains, and Washington D.C. are all within a two-hour drive of Richmond, Virginia.
Keep reading to learn why you should consider investing in the Richmond real estate market in 2020.
Population Growth
Richmond is growing twice as fast as the state and the nation, according to The Virginia Gazette. Over the past 10 years, Richmond gained nearly 24,500 new residents, with most of the growth coming from people moving to the region from other parts of the U.S. and from other countries around the world.
Key Population Stats:
Richmond is the 4th-largest city in Virginia with a population of over 230,000 in the city and nearly 1,304,000 in the Richmond metropolitan area.
Metro area of Richmond includes the cities of Richmond, Colonial Heights, Hopewell, and Petersburg, along with the counties of Charles City, Chesterfield, Dinwiddle, Goochland, Hanover, Henrico, New Kent, Powhatan, and Prince George.
Over the last 10 years, the population of Richmond has grown by 12%.
Unemployment in Richmond is 3.1% while job growth last year was nearly 1.2%.
Median age in the Richmond metropolitan area is 38.8 years with 63% of the population between the ages of 18 and 64.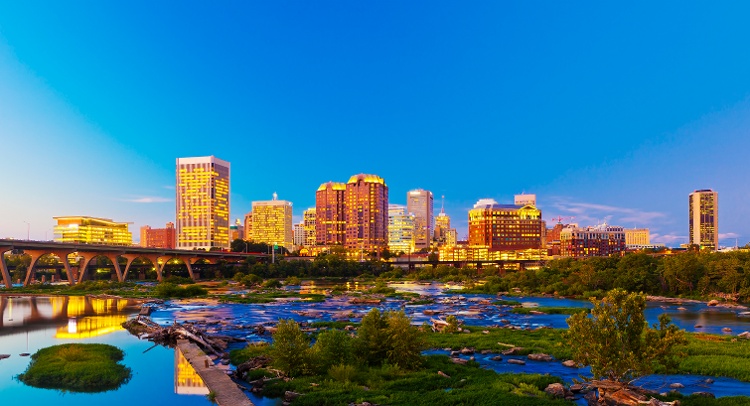 Job Market
Richmond – also known as the "River City" – is flowing with job opportunities, according to one local news station. The city ranks as the 69th-best place to find a job in the U.S. this year and is one of the five best cities in Virginia for employment.
Key Employment Stats:
GDP of the Richmond MSA is over $75.5 billion, according to the Federal Reserve Bank of St. Louis, and has grown by more than 13% over the last ten years.
Job growth rate in Richmond was 1.15% last year.
Median household income in the Richmond Metro area is $67,700 while per capita income is $35,400.
Forbes ranks Richmond #55 as the best place for business and careers in the U.S.
Key industries in Richmond include advanced manufacturing, creative & knowledge-based businesses, finance and insurance, real estate, green technology, health & life sciences, and transportation & logistics.
Richmond is ranked as a top 10 city for global trade by Global Trade Magazine.
Dominion Energy, WestRock, Universal Corporation, and NewMarket Corporation are four Fortune 500/1000 companies headquartered in Richmond.
Top private employers in Richmond include Capital One Financial Corporation, VCU Health System, Dominion Virginia Power, SunTrust Banks Inc., Amazon.com, United Parcel Service, and the Federal Reserve Bank of Richmond.
Major colleges and universities in Richmond include Virginia Commonwealth University, University of Richmond, Virginia Union University, and J. Sargeant Reynolds Community College.
Nearly 90% of the residents in Richmond are high school graduates or higher, while over 38% hold a Bachelor's degree or postgraduate degree.
Richmond is within a one-day drive of 55% of the nation's population.
Four major Interstate Highways and several major railroads pass through the Richmond metro area.
The Central Business District is within 10 minutes of the Port of Richmond and the Richmond International Airport.
Richmond International (RIC) served nearly 4.4 million passengers last year with major airlines such as American, Delta, United, Southwest, and JetBlue.
Real Estate Market
Sales activity in Central Virginia – including the Richmond real estate market – has remained relatively steady compared to last year, according to NBC 12. However, while sales volume declined by a little more than 1%, Virginia Realtors reports that median sales prices for houses in Richmond have increased by 5.5%.
As with many other real estate markets in Virginia, the reason for rising prices is that there's simply not enough supply to meet the growing demand for property in the Richmond metropolitan area.
Key Market Stats:
Median listing price of a house in Richmond is $265,000, according to Zillow (as of May 2020).
Square foot listing price of a home in Richmond is $170 vs. $146 per square foot in the Richmond Metro area.
Homes values in Richmond have increased by 8.5% last year and by over 54% since December 2012, based on the Zillow Home Value Index.
Average days on market is 32, according to Virginia Realtors.
Median selling price of a home in Richmond is $235,900, according to Zillow.
8.9% of the homes in Richmond have a negative equity vs. 8.2% U.S. average.
1.0% of the homes in Richmond have a delinquent mortgage vs. 1.1% nationally.
Westover Hills, Forest Hill, and Carillon are three neighborhoods in Richmond with the highest median Zillow Home Value Index.
Neighborhoods in Richmond with the lowest Zillow Home Value Index include Reedy Creek, Maymont, and Randolph.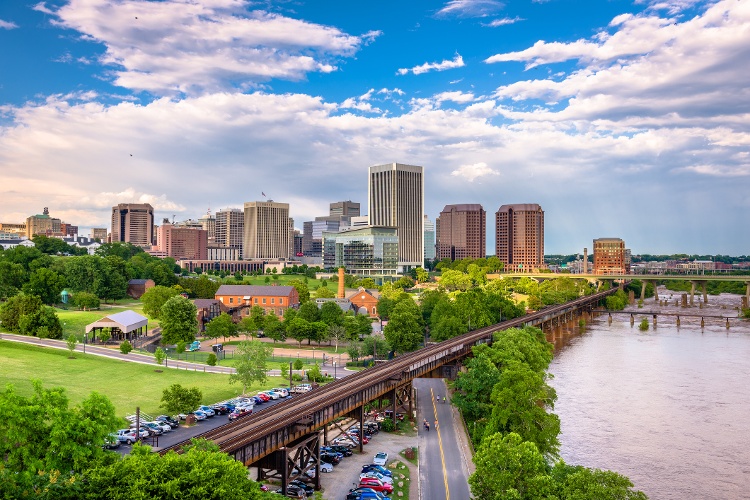 Attractive Renters' Market
Even though Richmond is in the middle of a strong seller's market, many homeowners are deciding to keep what they have and rent instead. As one suburban Richmond newspaper reports, people are becoming real estate investors instead by turning their homes into rental property that cash flows, so "they don't have the need or desire to sell that property."
Key Market Stats:
Median rent in Richmond is $1,350 per month vs. $1,395 in the Richmond Metro area.
Rents in Richmond increased by 2% last year, according to RENTCafé.
55% of the households in Richmond rent rather than own.
50% of the rental units in Richmond have monthly rents of between $1,001 and $1,500.
Neighborhoods in Richmond with the highest rents include Gambles Hill, Richmond City Center, and The Fan where rents range between $1,470 and $1,060 per month.
Cheapest neighborhoods for renters in Richmond include Austin Heights, Austin Park, and Brookland Park where rents average $791 per month.
Most popular neighborhoods in Richmond for renters are Shockoe Bottom, Richmond City Center, The Fan, Manchester, and Monroe Ward.
Historic Price Changes & Housing Affordability
Tracking the change in housing prices and monitoring the housing affordability index are two statistics real estate investors can use to forecast the potential performance of income property.
Every month Freddie Mac publishes a house price index (FMHPI) that measures the change in home prices for real estate markets in the U.S. The report assigns December 2000 with a benchmark of 100 and then compares the monthly change in housing prices in each state and metro area to 100.
The most recent FMHPI from Freddie Mac for the Richmond housing market shows:
House Price Index for the Richmond metro area is 197.45 through April 2020
One year ago, the HPI for Richmond was 188.18
Year-over-year home prices in the Richmond metro area have increased by 5.5%
Housing affordability is another metric real estate investors use to help decide how good a market is for rental property.
As a rule of thumb, markets where it is more expensive to buy a house – such as Richmond - usually see a higher percentage of renters.
The most recent report from Kiplinger's Personal Finance surveyed home prices in the 100 largest metro areas. The survey uses an affordability scale of 1 to 10, with 1 being the more affordable market to buy a home in and 10 being the least affordable.
The affordability index report for Richmond shows:
Since the last real estate cycle market peak in May 2006, home prices in Richmond have increased by 16.9%.
Since the last real estate cycle market bottom in March 2012, home prices in Richmond have increased by 55.1%.
Richmond has an affordability index of 7 out of 10, meaning that Richmond is one of the least affordable markets to buy a home.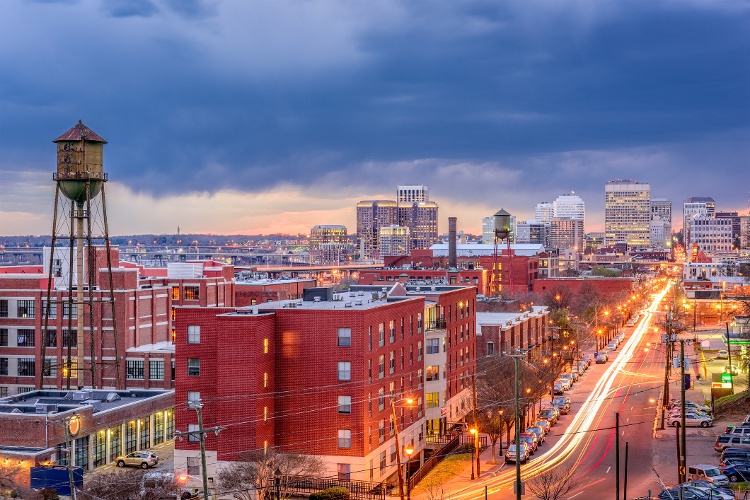 Quality of Life
Richmond is ranked by U.S. News & World Report as among the best places to live and retire in the country. The Richmond metro area receives high ratings for value, desirability, job market, and overall quality of life.
Key Quality of Life Stats:
Cost of living in Richmond is 6.1% below the national average, according to the Greater Richmond Partnership.
Richmond receives high rankings from Niche.com for family living, diversity, and nightlife.
Inc.com lists Richmond as one of 13 "Major U.S. Cities Where You Can Live Well on Less Than $50,000 a Year."
Richmond is the #2 city to which Millennials are moving, according to Time.
Wide variety of lifestyle and housing options in Richmond include city and suburban living, renovated warehouse apartments, historic townhomes, and waterfront communities.
Climate in Richmond is humid subtropical with hot, humid summers and moderately cold winters.
Virginia Museum of Fine Arts, Richmond Symphony, and the American Civil War Museum are just a few of the countless cultural attractions in Richmond.
Richmond is just a short drive to the University of Virginia, Washington D.C.-Baltimore, and Hampton Roads along the Virginia Coast.
Get Out the Map
Where to begin your search? Roofstock created a heat map of Richmond based on our Neighborhood Rating, a dynamic algorithm that enables you to make informed investment decisions by measuring school district quality, home values, employment rates, income levels, and other vital investment criteria.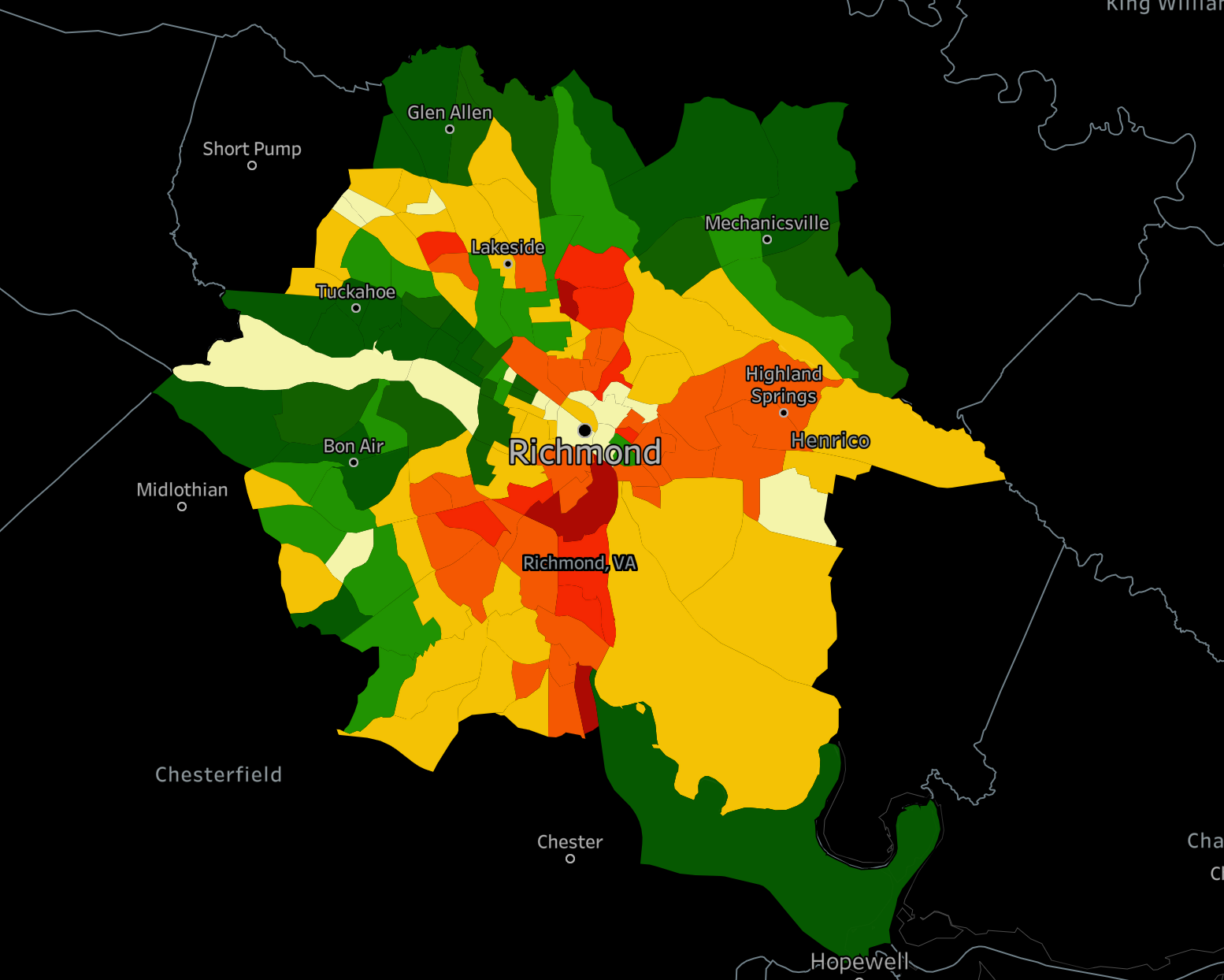 DARK GREEN: 4-5 star neighborhood
LIGHT GREEN: 3.5-4 star neighborhood
YELLOW: 2.5-3 star neighborhood
ORANGE: 2 star neighborhood
RED: 1 star neighborhood
Ready to invest in the Richmond housing market? If you haven't already done so, create your free Roofstock account and set up alerts. We'll notify you when we have a Richmond, Virginia investment property that matches your search criteria.