Save Yourself a Flight and Fact-Finding Mission: Roofstock Evaluates the Neighborhood for You
There's an abundance of criteria to consider when browsing potential investment properties. But how do you "comparison" shop? If a three-bedroom rental home in Denver is the same price as a similar rental home in Jacksonville, how do you determine which option is the right one for you?
Understanding the attributes of a neighborhood helps buyers weigh the potential risks and benefits of purchasing in that area, which is why we created the Roofstock Neighborhood Rating. This powerful algorithm normalizes neighborhood data across markets, enabling rental home investors to compare properties on an even footing. Read on for insight on using this first-of-its kind resource.
The Importance of Neighborhood Attributes
Five stars speaks for itself, right? Well, yes and no.
Let's start with the literal side. Our 5-star neighborhoods are what you think: beautiful homes located in high-income areas. Purchasing a property here is also what you might think: more expensive, but generally with lower risk. Yield might be slow, but steady. There's also more options to explore, as the number of 1-star neighborhoods are relatively few on the Roofstock marketplace compared to 5-star neighborhoods.
But five stars doesn't necessarily mean "best" for all buyers interested in single-family rentals. While a 3-star neighborhood isn't as posh, it might be perfect for an investor seeking to balance cost, risk and yield. Other buyers, alternatively, might welcome the higher risk and rewards of 1- or 2-star neighborhoods that have older homes and greater renter instability, but stronger potential for higher yields if all goes well.
These factors are why it's important to select both the right home and the right neighborhood that align with your investment goals. The Roofstock Neighborhood Rating index guides you through the neighborhood evaluation process quickly and easily.
Prefer to start browsing properties now? Let's go:
How to Comparison Shop With the Roofstock Neighborhood Rating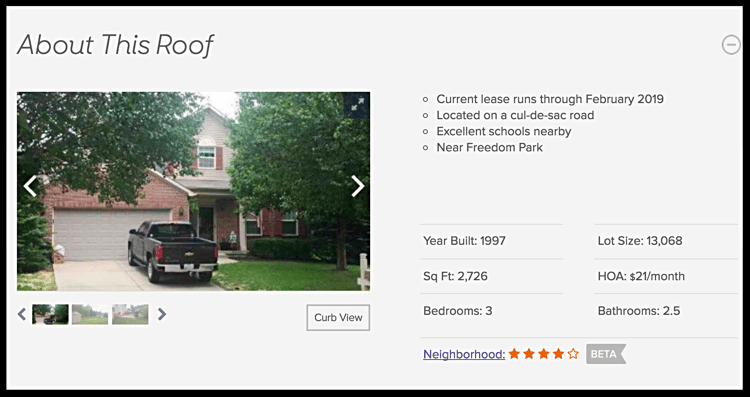 The Roofstock Neighborhood Rating normalizes neighborhood data across markets, making it especially powerful for side-by-side property comparisons.
Further reading: Roofstock's Neighborhood Ratings Measure Real Estate Investment Risk
Example one: A 2-star neighborhood in Indianapolis will typically have similar socio-economic characteristics as a 2-star neighborhood in Orlando. Both neighborhoods will likely have a greater number of rental properties for sale, and a potential for higher yields. Since the Roofstock Neighborhood Rating is the same for either house, you can focus on other differentiators that influence purchase decision, such as list price, potential cash flow, estimated capital expenditures, house condition, current leasing conditions, tenant performance, etc.
Example two: You're evaluating two rental properties in the Atlanta metropolitan area—one in Lawrenceville and one in Conyers. Both homes are checking a lot of the right boxes for you: The list price is within budget, inspection reports look good, estimated turn costs are low, and unlevered cash flow is promising. However, one home is located in a 3-star neighborhood, and the other is in a 4-star neighborhood. Using the Roofstock Neighborhood Rating, you can factor in the potential risks and benefits of each neighborhood to help inform your purchase decision.
Behind the Stars: How Our Ratings Work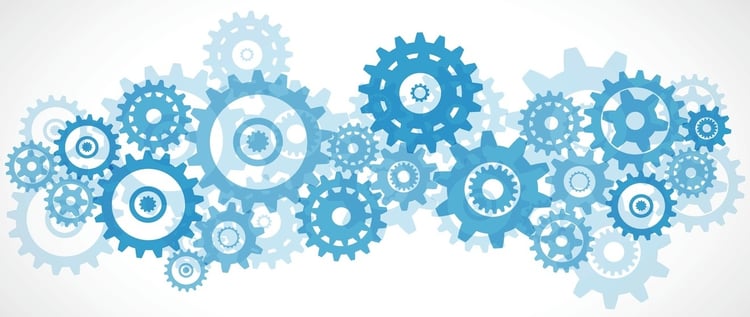 Investors have been grading rental property for years, but the industry has lacked a single consistent scale for side-by-side home comparisons. The new Roofstock Neighborhood Rating solves this by normalizing neighborhood data across markets, enabling buyers to easily compare rental properties on an even footing and make informed decisions.
Additionally, investors need to know what's happening in their corner of the city. Whereas indexes at MSA, county, or even ZIP code-level don't provide enough information to make an informed decision, the Roofstock Neighborhood Rating is computed at the census tract level, providing investors with an added layer of localized insight when measuring the risk vs. reward trade-off.
Valid inter and intra-market comparisons are central to building a universal SFR neighborhood rating. While the Consumer Price Index (CPI) is commonly used as the basis of comparison for incomes or home values between areas, CPIs are not true cost-of-living indexes and should not be used for place-to-place comparisons. Two distinct weaknesses of the CPI are the omission of public goods (education, schools, services, low crime rates, etc.) and lack of geographical coverage. The Roofstock Neighborhood Rating uses a novel hierarchical machine learning framework, essentially developing a constant quality standard of living normalization that addresses both of these issues.
By analyzing data across 72,000 U.S. census tracts—each composed of approximately 1,500 homes—the Roofstock Neighborhood Rating algorithm provides a uniform view of neighborhoods nationwide based on dozens of factors, including:
Home values
Income levels
Employment rates
Educational attainment
Percent of owner-occupied homes
Elementary, middle, and high school district ratings
What the Ratings Mean: A Quick Snapshot
5-Star: Very high employment rates. Above average income levels and school district ratings. Newer properties above the average home value and mostly owner-occupied.
4-Star: High employment rates. Average income levels and school district ratings. Average home values. Slightly older properties than in 5-Star neighborhoods, but generally high quality and mostly owner-occupied.
3-Star: Good employment rates. Slightly below average income, with decent school districts. Home values slightly below average. Properties are a mix of new/old, with slightly more owned than rented.
2-Star: Below average employment, income levels, school district ratings and property values. Homes are an equal mix of rented and owned.
1-Star: Lowest employment rate compared to higher-rated neighborhoods. Low income levels, school district ratings and home values. Properties are older, with more rented homes than owner-occupied.
At Roofstock, we're continuously striving to make the leap from "browser" to "buyer" as seamless and hassle-free as possible. The Roofstock Neighborhood Rating provides an added layer of insight, so put it to work in the decision-making process. When you're ready, a Roofstock team member will be standing by to provide consultation and prepare you to push that "buy" button with confidence.
Ready to get started? Create your Roofstock Account today and start browsing homes: