Last updated on December 22, 2022
At first glance, Roofstock and HomeUnion appear to have a lot of similarities.
Both are technology-driven marketplaces, focusing on creating efficiency in real estate investing. Both companies boast a broad reach and big ambitions: Roofstock recently crossed the milestone of $1 billion in transactions on its marketplace, and HomeUnion has proprietary technology that has analyzed over 100 million homes.
However, when you scratch below the surface, substantial differences become apparent. Particularly when you compare their approach to transactions, fees and property management.
This article will help you navigate how you can make the optimal choice for your investment portfolio.
Market Coverage
Both companies are determined to grow quickly into an increasing number of markets. As of May 2019, Roofstock offers investment properties in more than 50 markets in 30 states. With HomeUnion, you can invest in eight cities in eight states.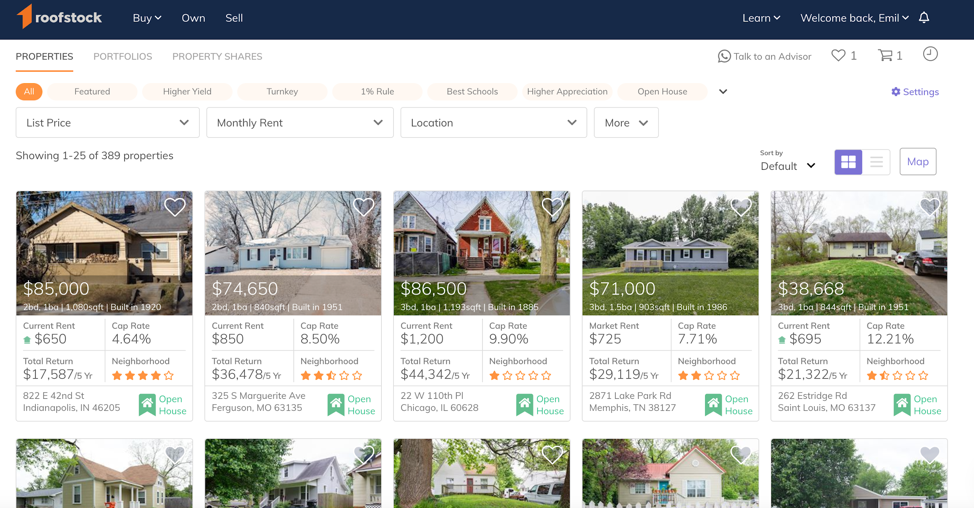 This distinction is worth noting as part of the goal of investing with fewer geographical restrictions is to diversify into differing markets. Roofstock's broader coverage increases your chances of finding more properties that match your investment goals, whether it's high cash flow or high appreciation potential (or a mix of both).
Property Types
HomeUnion works with single-family rental homes as well as multi-family units (up to four). Roofstock, on the other hand, focuses exclusively on single-family rental homes.
The market has shown a preference in single-family rental homes and the number of single-family renters has grown steadily year over year. According to U.S. Census Bureau estimates reported on RENTCafé, "the number of single-family rentals (SFR) in the U.S. grew by 31% in the ten year period immediately following the housing crisis (2007 to 2016), while multifamily rentals (MFR) grew by 14%."
Fees
HomeUnion's fees differ for every deal and they do not provide upfront pricing expectations.
Roofstock, however, is dedicated to reducing the cost of buying and selling rental properties, and that commitment is reflected in its transparent approach to fees.
Unlike traditional brokers who charge 6% of the sale price, Roofstock only charges the seller a listing fee of 2.5% of the sale price or $2,000 (whichever is greater). The buyer pays either 0.5% of the contract price or $500 (again, whichever is greater). In addition, unlike the traditional sales process, there is no need to have the tenant vacate the property and the owner can continue receiving rental income while the property is being marketed.
Property Management
Roofstock Property Management
When it comes to property management, Roofstock aims to give investors options. Roofstock does not own the properties listed on the marketplace or provide property management services. This allows Roofstock to remain a platform and double down on streamlining all aspects of the investing and selling process.
It partners with local preferred property managers to allow buyers to separate owning from operations. All Roofstock property managers are vetted and monitored for ongoing performance.
This distinction keeps Roofstock's fees low and gives investors more property management options.

HomeUnion Property Management
Aiming for a more comprehensive turnkey solution, HomeUnion builds property management into their model from day one. The company will provide and handle the property management setup for you, including rent collection, repairs and maintenance, and contractor hiring. The advantage is you don't have to think about it, but the drawback is higher upfront costs and less flexibility and choice.
Finding Tenants
All Roofstock Certified Properties are tenant-occupied, meaning investors can rest assured that they'll be receiving rental income from day one.
In addition, Roofstock Certified Properties include:
a property inspection conducted by an experienced property inspection firm, unless an inspection contingency is applicable

an estimate of the cost of major repairs necessary and "turn" costs

a valuation analysis of the property and market conditions in the local rental market

review and summary of the lease terms

a review of the tenant's payment history
As part of their suite of property management services, HomeUnion will also screen and find tenants. The main difference is the process begins after the investor has purchased the property.
Which Platform Should You Use to Invest in Real Estate?
At a high level, Roofstock and HomeUnion are filling a similar need. They both enable real estate investors to easily buy properties in markets around the U.S. and earn passive income.
When you're ready to choose between the two, remember the key differences we outlined above and think about which is the better fit for your investment style. Do you want broad geographic coverage or are you okay with narrowing your search to eight cities? When it comes to the buying and selling process, is flexibility a priority, or do you prefer to have someone else make decisions for you?
The single-family rental market is continuing to expand and investing is only getting easier. Both Roofstock and HomeUnion are viable options, so don't get stuck in analysis paralysis. If you're ready to check out what Roofstock has to offer, start browsing properties now.