Last updated on July 6, 2022
San Antonio is ranked by the National Association of Realtors (NAR) as one of the top 10 "hidden gem" housing markets for 2022.
Despite the fact that single-family home prices in San Antonio are up about 16% year-over-year, and the average home price exceeded $393,000 for the first time ever, the NAR believes prices are still undervalued relative to underlying market fundamentals.
San Antonio has also been ranked as one of the most stable markets for rental activity in the nation, according to a 2020 year-end report from RENTCafé. As home sales continue to surge in San Antonio, prices are rising and inventory is tightening making rental property in San Antonio an increasingly popular investment.
Located in South Central Texas, San Antonio is about a one hour drive from Austin and three hours from Houston. Originally founded as a Spanish colonial outpost back in 1718 and home to The Alamo, the city has rapidly grown over the past few decades.
San Antonio sits at the southwestern corner of the Texas Triangle, an urban megaregion consisting of the San Antonio, Austin, and New Braunfels metropolitan areas. The economy in the region is as diverse as the city is old, with the manufacturing, military and defense, health care, financial services, and oil and gas sectors helping to keep job growth strong and rental property in demand.
Here's what investors should know about the San Antonio real estate market in 2022.
>>Explore Roofstock's San Antonio properties here.
Population growth
San Antonio is one of the top 10 major metros with the biggest population gains between 2010 and 2020. According to Culture Map San Antonio, the metropolitan area ranks #7 in terms of population growth over the past decade, just behind Austin, Houston, and Dallas-Fort Worth.
The truth is that the Alamo City has been booming for quite some time. As local news station KENS 5 reported back in 2020, people from all over the country are moving to San Antonio, attracted by the area's low tax rates and low cost of living. In fact, an average of 66 people are moving to the metropolitan area each day, which is why San Antonio is one of the fastest-growing cities in the U.S.
Key Population Stats:
City of San Antonio is home to more than 1.4 million residents with nearly 2.6 million people living in the metropolitan area.
According to the U.S. Census Bureau, San Antonio added over 107,000 residents in the past 10 years.
San Antonio is the 2nd most populated city in Texas and the Southern U.S.
San Antonio-New Braunfels metropolitan area consists of Bexar County (where San Antonio is located), Medina and Comal counties.
Bexar County is projected to be one of the five fastest-growing counties in Texas, with more than 1.6 million new people moving to the area by 2050.
Job market
San Antonio is becoming known as a center for high-tech employment, with tech force migration into the metro area increasing by 24% year over year. Over the past several years, San Antonio has focused on supporting the growth and development of the regional tech center. Today, nearly 47% of the high-wage jobs in the economic development pipeline are in the IT and cyber operations sectors.
As the Federal Reserve Bank of Dallas notes, economic indicators in San Antonio are largely positive. The business cycle index accelerated, jobs are being added at a steady pace, and unemployment is lower than in Texas overall.
Key Employment Stats:
GDP of San Antonio-New Braunfels MSA is over $132.1 billion, according to the Federal Reserve Bank of St. Louis, and has grown by more than 58% since 2010.
Job growth in San Antonio was 3.1% between December 2020 and November 2021, according to the Federal Reserve Bank of Dallas.
Median household incomes have increased by 8.67% year-over-year, while property values have grown by 8.57%.
Unemployment rate in San Antonio is currently 3.3% (as of April 2022) and prior to the recession was approaching a 20-year low.
Target industry sectors in San Antonio include information technology and cybersecurity, new energy, life science and healthcare, aerospace and aviation, military and defense, financial services, and advanced manufacturing.
Port San Antonio is a 1,900-acre technology and innovation campus just southwest of Downtown San Antonio.
H-E-B supermarket chain, financial services and insurance company USAA, Rackspace, CPS Energy, Toyota Motor Manufacturing, Valero Energy, and Clear Channel Communications are just a few of the companies with corporate headquarters in San Antonio.
Major employers in the San Antonio region include Lackland Air Force Base, Fort Sam Houston-U.S. Army Base, H-E-B, USAA, Methodist Healthcare System, City of San Antonio, Wells Fargo, JP Morgan Chase, and Bill Miller BBQ.
The San Antonio area is home to 15 colleges and universities with a total student population of more than 160,000, including Texas State University, Texas A&M University-San Antonio, and the Alamo Community College District.
Over 82% of San Antonio residents have a high school degree or higher, while nearly 27% hold a bachelor's degree or advanced degree.
Several interstate highways serve the San Antonio region, including I-10, I-35, and I-37.
Union Pacific Railroad provides freight rail service in San Antonio.
San Antonio International Airport (SAT) provided service to more than 10.3 million passengers last year and moved more than 277 million pounds of air cargo, setting a 10-year record.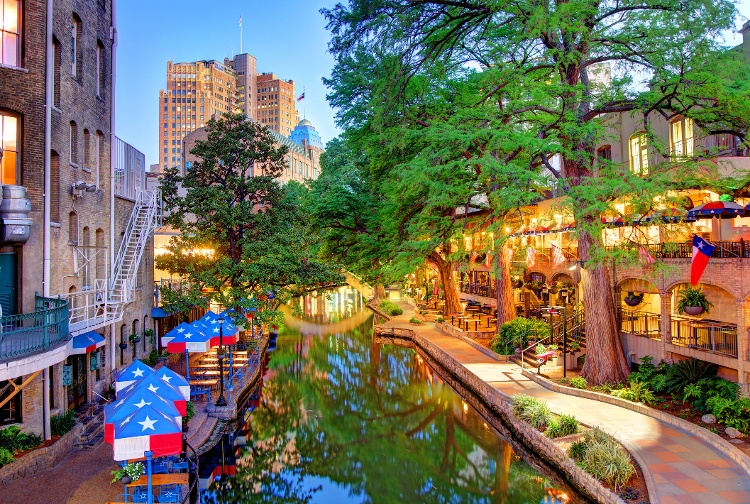 Real estate market
The San Antonio real estate market is predicted to outperform other Texas cities in 2022, with home prices predicted to rise by 3.5% by year-end. A couple of years ago, Curbed listed San Antonio as one of the top 5 cities where homes could make a good investment in 2020.
Twenty four months later, it looks like Curbed's prediction of the San Antonio real estate market outperforming was right on target. According to the San Antonio Board of Realtors (SABOR), the median price of a single-family home in San Antonio increased by 16% over the past year (as of May 2022) while the days on market is down to 27 vs. 34 the same time last year.
Key Market Stats:
Zillow Home Value Index (ZHVI) for San Antonio is $298,626 through May 2022.
Home values in San Antonio have increased 24.8% over the last year.
Over the past five years home values in San Antonio have increased by nearly 67%.
Median listing price of homes in San Antonio are $295,000, according to the November 2021 data from Realtor.com.
Price per square foot of a single-family home listed for sale in San Antonio is $164.
Of the 177 neighborhoods in San Antonio, Realtor.com reports that Downtown San Antonio is the most expensive neighborhood with a median listing price of $699,000.
Most affordable neighborhood in San Antonio to buy a home is Prospect Hill where the median listing price is $147,800.
Attractive renters' market
Rent prices are rising in San Antonio, with median rent for a 3-bedroom home increasing by 12% year-over-year. According to MYSA, rent hikes are due to a combination of factors, including relocation within the city, in-migration from other parts of Texas and the U.S., and a low supply of inventory.
San Antonio is known as one of the most stable markets for rental activity in the U.S., according to the San Antonio Business Journal. About 60% of the rental applications came from renters moving from somewhere else within the city.
Strong performance of the rental market in San Antonio is one reason why WalletHub ranks San Antonio as one of the best cities for renters. The report analyzed more than 180 rental markets using the same key measures real estate investors use, including activity in the real estate market, cost of living, and growth in the job market.
Key Market Stats:
Median rent in San Antonio is $1,779 for a 3-bedroom home, according to the most recent research from Zumper (June 2022).
Rents in San Antonio have increased by 12% year-over-year.
Over the past 3 years, rent for a 3-bedroom place in San Antonio has increased by about 26%.
Renter-occupied households in San Antonio make up 39% of the total occupied housing units in the metropolitan area.
Most affordable neighborhoods in San Antonio for renters include Quintana, Salado Valley, and Sunny Slope where average rents are less than $900 per month.
Most expensive neighborhoods in San Antonio for renters are Forest Crest, King William, and Downtown San Antonio where average rents range between $3,065 and $4,500 per month.
Historic price changes & housing affordability
Long-term real estate investors look for property that appreciates in value over time while generating consistent cash flow during the holding period.
Analyzing the historic change in housing prices can provide an indication of potential future value increases, while the affordability of housing is one indicator of the demand for rental property.
Each month Freddie Mac releases up-to-date data on the change in home prices for all markets across the U.S. The most recent Freddie Mac House Price Index (FMHPI) report for the San Antonio-New Braunfels, TX MSA shows:
April 2017 HPI: 194.5
April 2022 HPI: 316.4
5-year change in home prices: 62.6%
One-year change in home prices: 22.4%
Monthly change in home prices: 2.1%
The Housing Affordability Index (HAI) report is used to rank each market in the U.S. compared to a baseline HAI of 100.
In markets where housing is unaffordable, the index may be near 100 or even less than 100. On the flip side, the higher a HAI is above 100, the more affordable a market is to purchase a home. When compiling the affordability index scores, researchers look at the median price of a single-family resale home and compare that cost to the median family income in the market.
The most recent HAI for the San Antonio-New Braunfels MSA is 135 as of July 2021. This means that the families in the market buying a home have a little more than 1.3X the median income needed to purchase a median priced, single-family resale home in the San Antonio metro area. Investors can opt to look for a hard money lender in San Antonio too.
Quality of life
San Antonio is the place to be inspired, curious, hungry, and adventurous. The city is home to The Alamo, the San Antonio River Walk meanders through five miles of Downtown San Antonio, and SeaWorld and Six Flags Fiesta Texas are just a short car drive north of the city.
Key Quality of Life Stats:
Forbes ranked San Antonio 44th in the nation for job growth, the 48th best place for business and careers, and 55th for the cost of doing business.
Cost of living in San Antonio is just 2% above the national average.
WalletHub ranks the San Antonio metro area among the top best cities in the country for jobs.
San Antonio receives a top grade from Niche.com with high scores for public schools, housing, and nightlife.
The metro area is ranked by U.S. News & World Report as the 83rd best place to live and the 73rd best place to retire in the country.
CultureMap describes San Antonio as a place that "offers big-city amenities and world-renowned attractions coupled with a relaxed and inviting atmosphere."
Climate in San Antonio is a mixture of humid subtropical and semi-arid, with very long hot humid summers and mild to cool winters.
Kayaking at Confluence Park, visiting the Farmers Market in The Pearl District, and wandering through the La Villita Historic Arts Village are just a few of the cool things to do in San Antonio.
Methodist Hospital-San Antonio and Baptist Medical Center are two of the best hospitals in San Antonio, Texas.
The NBA 5-time world champion San Antonio Spurs play out of the AT&T Center on the east side of the city.
Get out the map
Where to begin your search? Roofstock created a heat map of San Antonio based on our Neighborhood Rating, a dynamic algorithm that enables you to make informed investment decisions by measuring school district quality, home values, employment rates, income levels and other vital investment criteria.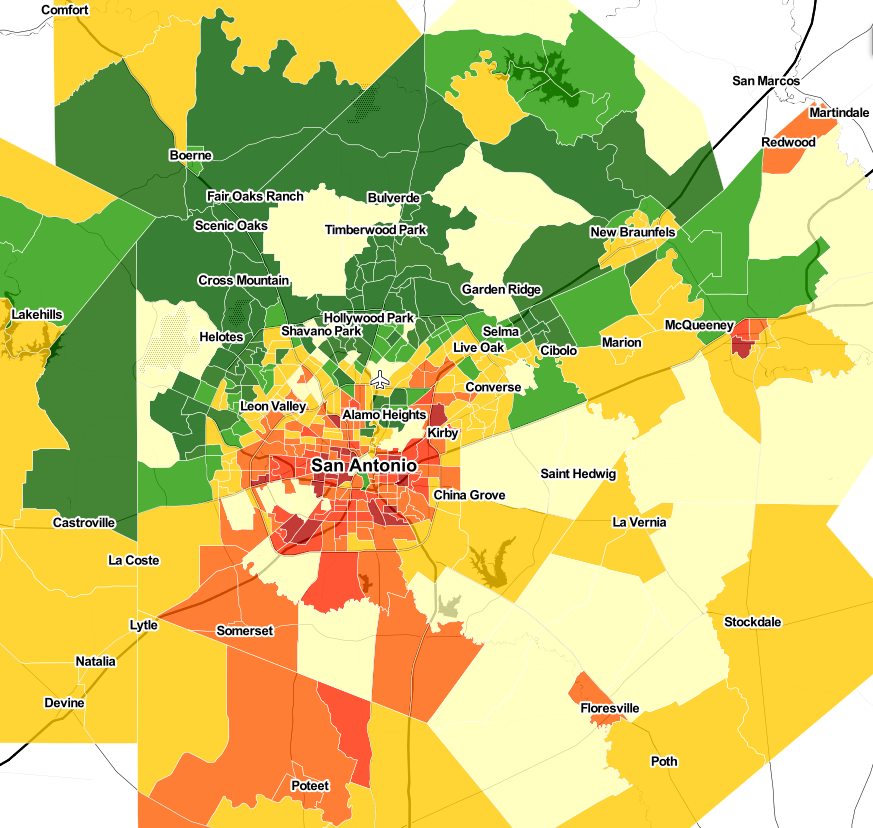 DARK GREEN: 4-5 star neighborhood
LIGHT GREEN: 3.5-4 star neighborhood
YELLOW: 2.5-3 star neighborhood
ORANGE: 2 star neighborhood
RED: 1 star neighborhood
Ready to invest in the San Antonio housing market? If you haven't already done so, create your free Roofstock account and set up alerts. We'll notify you when we have a San Antonio investment property that matches your search criteria.