A year ago, real estate experts in South Bend were optimistic the market would remain strong and robust for the foreseeable future, according to the South Bend Tribune.
Fast forward to today, and it turns out the experts were absolutely right. With less than six weeks of inventory on the market, median sales prices for homes in South Bend have increased by nearly 7% as fewer new listings come to market.
South Bend, Indiana is located in St. Joseph County along the banks of the St. Joseph River. The metro area is home to Notre Dame University and is the cultural and economic hub of Northern Indiana.
The city is business-friendly and boasts a diverse economy powered by the education, healthcare, high tech, and service industry sectors. Metropolitan South Bend ranks as one of the best places for business and careers and is family-friendly with a cost of living well below the national average.
Keep reading to learn about what makes South Bend's real estate market attractive in 2021.
>>Explore Roofstock's South Bend investment properties here.
Population Growth
Population growth in South Bend is steady and manageable, allowing public officials to meet the demands for schools, public safety, parks and recreation, and other essential services. South Bend-Mishawaka will be among the small number of counties responsible for Indiana's growth over the next few years.
Key Population Stats:
City of South Bend is home to about 102,000 residents with more than 322,400 people living in the South Bend–Mishawaka metropolitan area.
Population of the South Bend metro area has grown by about 0.19% year-over-year.
Between now and 2050 population growth is projected to be 0.9%.
South Bend–Mishawaka is the 4th largest city in Indiana.
St. Joseph County in Indiana and Cass County in Michigan make up the South Bend MSA.
About 50% of the residents in the region are between the ages of 18 and 59.
Median age in South Bend is 38.4.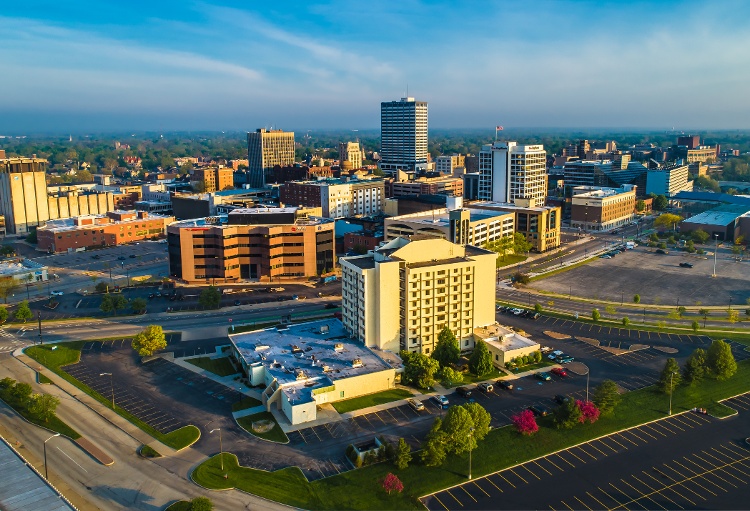 Job Market
The economy in South Bend-Mishawaka is beginning to recover, with the unemployment rate less than half of what it was just a few months ago. The industry mix in South Bend is diverse, so as businesses begin to grow again there should be modest employment gains in 2021.
Key Employment Stats:
GDP of South Bend–Mishawaka is over $16 billion, according to the Federal Reserve Bank of St. Louis, and has grown by about 47% over the past ten years.
Employment growth in metropolitan South Bend was 2.92% last year.
Industry sectors in South Bend showing the fastest signs of recovery include trade and transportation, financial activities, and education and health services, according to the BLS.
Unemployment rate in South Bend is 5.8% as of October 2020.
Industry sectors with the largest number of employees include trade and transportation, private education and health services, government, manufacturing, and professional business services.
Major employers in South Bend include University of Notre Dame, supermarket operator Msm Holdco, Saint Joseph Regional Medical Center and Beacon Medical Group, military and commercial vehicle manufacturer AM General, Air Wisconsin Airlines, and Honeywell International.
Ignition Park and Innovation Park make up Indiana's first two-site state-certified technology park for manufacturing and support services in the high tech industry.
Institutions of higher learning in the South Bend area include Notre Dame University, Saint Mary's College, Holy Cross College, and Indiana University South Bend.
87.6% of the residents in metro South Bend have a high school diploma or higher, while 25.3% hold a bachelor's degree or advanced degree.
Interstate highways I-80, I-90, and the Indiana Toll Road connect South Bend to state and national highway systems.
Port of Indiana – Burns Harbor is 50 miles from South Bend and within a one-day drive of 70% of the U.S. market.
Freight railway carriers in South Bend include CSX and Norfolk Southern, while passenger railway service is provided by Amtrak and South Shore Railroad.
South Bend International Airport (SBN) provides non-stop service to 13 cities including New York, Charlotte, Orlando, Atlanta, Dallas/Fort Worth, Phoenix, and Las Vegas.
Real Estate Market
A shortage of inventory is helping to drive the demand for houses in South Bend, according to a recent article in the South Bend Tribune. The paper notes that 97.4% of the well-maintained homes that are priced right sell for full asking price in St. Joseph County, where South Bend is located.
Key Market Stats:
Zillow Home Value Index in South Bend is $112,308 (as of November 2020).
Homes values in South Bend have increased 11.4% year-over-year and are projected to grow by another 11.3% over the next 12 months.
Over the past five years home values in South Bend have grown by over 46%.
Median listing price of a single-family home in South Bend is $134,900 based on the most recent report from Realtor.com (Nov. 2020).
Median per square foot listing price of a house in South Bend is $87.
Median sales price of a home in South Bend-St. Joseph County is $155,000, according to the Indiana Association of Realtors (thru November 2020).
Sale-to-list price ratio is 98.3% with only 1.4 months supply of inventory on the market.
Of the 32 neighborhoods in South Bend, the most expensive neighborhood is Harter Heights with a median listing price of $399,000.
Most affordable neighborhood in South Bend is LaSalle Area with a median listing price of $30,500.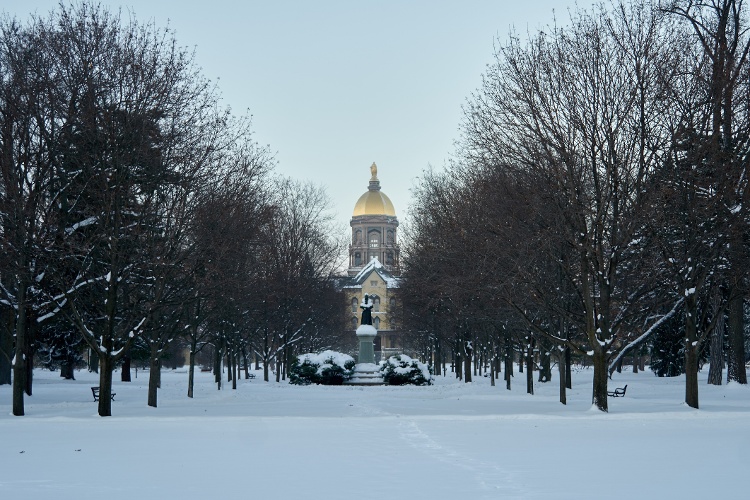 Attractive Renters' Market
When a big national player invests in the South Bend real estate market, it's a sign that remote real estate investors should give the area serious considerations as well.
Recently, a new residential development just outside of South Bend, Indiana, changed hands. The investors note that the demand for rental property real estate South Bend remains strong with limited new competition.
Key Market Stats:
Median rent in South Bend is $986 per month based on the most recent research from

RENTCafé

(October 2020).
Rents have increased in South Bend by 4% year-over-year.
Renter-occupied homes represent 40% of the total occupied housing units in the South Bend metropolitan area.
57% of the housing units in South Bend rent for between $701 and $1,000 per month.
Most affordable neighborhoods in South Bend for renters include Bercliff, East Jefferson, and Edison where rents average $752 per month.
Northeast South Bend, River Point, and Wooded Estates are the most expensive areas in South Bend for renters with monthly rents averaging $1,594.
Some of the most popular neighborhoods for renters in South Bend are Navarre, Council Oak, and Howard Park - East Bank.
Historic Price Changes & Housing Affordability
The monthly house price index report from Freddie Mac is a free online data source real estate investors can use to analyze the historic changes in home prices in markets throughout the U.S. Analyzing price changes is one way of forecasting potential property appreciation over both the short- and long-term.
The most recent Freddie Mac House Price Index (FMHPI) report for the South Bend-Mishawaka MSA shows:
October 2015 HPI: 117.86
October 2020 HPI: 164.84
5-year change in home prices: 39.9%
One-year change in home prices: 10.2%
Monthly change in home prices: 0.9%
A Housing Affordability Index, or HAI, is a data set real estate investors can review to help determine the amount of demand for rental property in a given market.
The HAI from the National Association of Realtors (NAR) compares the median income a family needs to qualify for a median priced single-family resale home, assuming they use a conventional mortgage with 20% down. The NAR uses 100 as the baseline index. So, the greater the HAI is above 100 the more income a family has to buy a home.
Based on the NAR's report, the HAI for the South Bend-Mishawaka MSA was 260.5 in 2018, the most recent year available. This means that the median family has more than 2.5 times the income needed to purchase a median priced, single-family resale home in South Bend.
Of course, other economic factors and lifestyle preferences can affect the potential demand for rental property in a market. For example, some demographic groups such as millennials simply prefer to rent rather than own. Others, such as retiring baby boomers, may have sufficient funds but do not want to be burdened with the responsibilities of owning a home.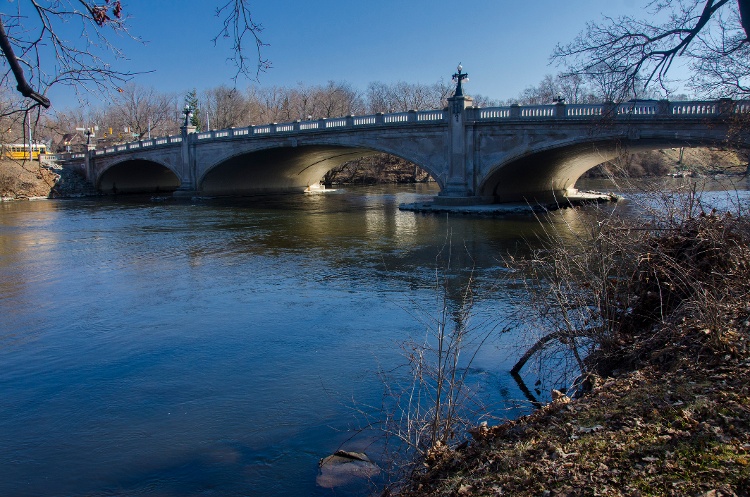 Quality of Life
South Bend is where natural beauty meets metropolitan style, according to the area's Regional Partnership. The "Michiana Region" along the coast of Lake Michigan is home to vast beaches, orchards, breweries, performing arts centers, vibrant downtowns and safe, family-friendly neighborhoods.
Key Quality of Life Stats:
Forbes ranks South Bend, Indiana as one of the best places for business and careers and #26 in the country for the cost of doing business.
Cost of living is 12% below the national average.
South Bend is about 1 ½ hours by car to Downtown Chicago, and a 2 ½ drive to Indianapolis.
Niche.com ranks South Bend as the 6th-best place to live in Indiana, with high ratings for housing, diversity, nightlife, and family living.
Average commute time in Sound Bend is under 20 minutes each way.
Festivals like the South Bend Jazz Festival and Riverlights Music Festival attract local, regional, and national artists each year.
South Bend is home to dozens of museums, galleries, and must-visit places such as the South Bend Museum of Art, Studebaker National Museum, and South Bend Chocolate Company factory.
University of Notre Dame is located in suburban South Bend.
Memorial Hospital of South Bend is ranked as the 2nd-best hospital in Indiana by U.S. News & World Report.
Get Out the Map
Where to begin your search? Roofstock created a heat map of South Bend based on our Neighborhood Rating, a dynamic algorithm that enables you to make informed investment decisions by measuring school district quality, home values, employment rates, income levels and other vital investment criteria.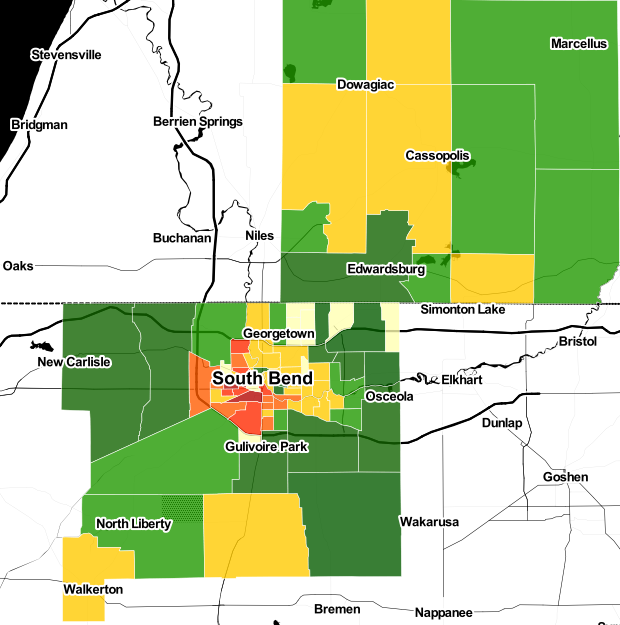 DARK GREEN: 4-5 star neighborhood
LIGHT GREEN: 3.5-4 star neighborhood
YELLOW: 2.5-3 star neighborhood
ORANGE: 2 star neighborhood
RED: 1 star neighborhood
Ready to invest in the South Bend housing market? If you haven't already done so, create your free Roofstock account and set up alerts. We'll notify you when we have a South Bend investment property that matches your search criteria.