Last updated on June 28, 2022
Springfield is rated as one of the best markets for renters in the U.S. based on factors such as rental market activity, affordability, and a great quality of life. That helps to explain why rents for a 3-bedroom home in Springfield have surged by nearly 37% over the past three years.
Nicknamed "Queen City of the Ozarks" and the "Birthplace of Route 66," Springfield is located in Southwestern Missouri along the Ozark Mountain Range, and only a few hours drive from Kansas City, St. Louis, and Tulsa.
For a small city of its size, Springfield boasts a robust economy. Industry sectors powering growth in the region include healthcare, manufacturing, education, and tourism. This energetic metropolitan area has a growing job market, expanding population, and a very affordable cost of living that's well below the national average.
Keep reading to learn more about Springfield's real estate market for 2022.
>>Explore Roofstock's Springfield properties here.
Population growth
Metropolitan Springfield is among the fastest-growing areas in Missouri, with the population of the city of Springfield increasing by 6% over the past 10 years, according to the most recent census. Suburban counties around Springfield have experienced above average growth, with Christian County and nearby Greene and Taney counties posting the strongest annualized population gains, as reported by KY3 TV.
Key Population Stats:
City of Springfield is home to more than 169,000 residents with about 475,000 people in the metropolitan area.
Springfield is the 3rd largest city in Missouri and has grown by 6.1% over the past decade, according to the US Census Bureau.
Springfield MSA is a five-county region consisting of Greene, Christian, Webster, Polk, and Dallas counties.
Over the past 10 years, the population of Christian County has grown by 16.5% and Webster County by 10%.
About 700,000 people live within a 50-mile radius of Springfield.
Population growth in the Springfield metro area was 0.8% last year, a greater growth rate than any other within the state.
Metro Springfield population is projected to reach over 492,000 in the next few years, growing by about 17,000 people.
Job Market
Last year the job market in Springfield declined by about 0.10%. However, the economy looks to be recovering. According to the most recent data from the U.S. Bureau of Labor Statistics (BLS April 2022), employment in Springfield is down to just 1.9%. Sectors in Springfield showing the most robust growth include manufacturing, trade and transportation, leisure and hospitality, and education and health services.
As business continues to recover, it's likely that people in nearly every industry can find a job in Springfield. That's because the region is the econoic hub of a 27-county area spanning across Missouri and Arkansas and encompassing more than 1 million people.
Key Employment Stats:
GDP of Springfield MSA is more than $18.2 billion, according to the Federal Reserve Bank of St. Louis, and has grown by 11% over the last ten years.
Employment growth in Springfield declined about 0.1% last year but grew by 1.7% the previous year, as reported by Forbes.
Springfield unemployment rate is just 1.9% as of April 2022, about the same rate as it was pre-pandemic.
About 95% of businesses in Springfield have fewer than 50 employees.
Healthcare industry in Springfield employs about 17% of the total workforce.
Other key industry sectors in Springfield include distribution and logistics, advanced manufacturing, call centers and back office support, technology and innovation, corporate office, and data centers.
Largest employment sectors include education and health services, government, retail trade, leisure and hospitality, professional business services, and manufacturing.
3M, Burlington Northern Santa Fe, Expedia, JPMorgan Chase, Kraft Foods, and T-Mobile are a few of the many well-known companies in the Springfield metropolitan area.
Major employers in Springfield include CoxHealth and Mercy Hospital Springfield, Walmart, Springfield Public Schools, State of Missouri, Bass Pro Shops/Tracker Marine, O'Reilly Auto Parts, City of Springfield, and Chase Card Services.
Colleges and universities located in Springfield include Missouri State University, Ozarks Technical Community College, Drury University, and Southwest Baptist University.
91.6% of the Springfield residents have a high school degree or higher, while 28.7% hold a bachelor's degree or advanced degree.
Interstate and U.S. highways passing through Springfield include I-44 connecting the city to St. Louis and Tulsa, and the Kansas Expressway going north to Kansas City.
Atlanta, Denver, Detroit, Chicago, and Dallas are all within 1,000 miles or less of Springfield.
Burlington Northern Santa Fe provides freight rail service in Springfield.
Springfield-Branson National Airport (

SGF

) provides non-stop service to 12 destinations served by Allegiant, American, Delta, and United.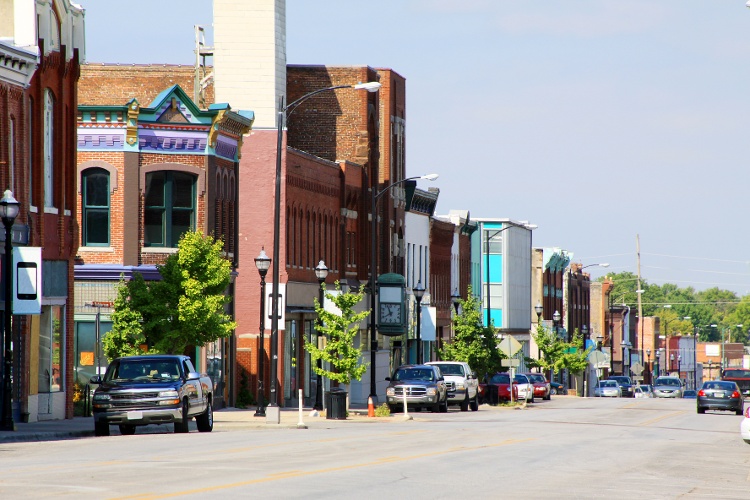 Real estate market
Springfield is ranked as one of the eight best housing markets for real estate investing. According to DoughRoller, homes in Springfield may be undervalued compared to historic income and home price data. This means that rental property in Springfield could provide investors with an extra bonus due to appreciation in addition to recurring cash flow.
Key Market Stats:
Zillow Home Value Index (ZHVI) for a home in Springfield is $215,094 based on market data through May 2022.
Home values in Springfield have increased by 23.4% over the last year.
Over the last five years home values in Springfield have increased by nearly 70%.
Median listing price of a single-family home in Springfield is $214,900 according to the most recent report from Realtor.com (April 2022).
Median listing price per square foot of a home for sale in Springfield is $128.
Average sales price of a home in Springfield is $214,900 as of May 2022 according to the Greater Springfield Board of Realtors (GSBOR).
Days on market (average) from the time a home is listed to when it goes under contract is 12.
Of the 46 neighborhoods in Springfield, Lake Springfield is the most expensive with a median home listing price of $335,000.
Most affordable neighborhood in Springfield to buy a home is Woodland where the median listing price is $89,900.
Attractive renters' market
The Springfield housing market is rated by WalletHub as one of the best cities for renters. The ranking uses key criteria including activity in the rental market, affordability, and the quality of life.
Historically, Springfield has been ranked as one of the top 10 cities with the country's biggest monthly rent increases, according to the Springfield News-Leader. The city was also ranked 8th for the least expensive rents in the U.S., indicating the potential for future annual rent increases.
Key Market Stats:
Median rent for a 3-bedroom home in Springfield is $1,300 per month according to Zumper (as of June 2022).
Rents in Springfield have increased by 4% year-over-year.
Over the past 3 years, rent for a 3-bedroom place in Springfield has increased by more than 92%.
Majority of rental housing in Springfield rents for between $1,000 and $2,000 per month.
Renter-occupied households make up 52% of the occupied housing units in Springfield.
Most affordable neighborhoods in Springfield for renters include Walnut Street, Webster Park-Shady Dell, and Southern Hills.
Neighborhoods with the highest rents in Springfield include Southeast Springfield, Rountree Area, and West Central.
Historic price changes & housing affordability
Real estate investors analyze markets on a macro level to help prioritize when and where to invest. Two readily-available statistics for all real estate markets across the U.S. are the historic changes in housing prices and the affordability of homes.
Reviewing data on price changes can help forecast potential property appreciation over the long term, while housing affordability statistics are one indicator of how strong or weak the demand for rental property may be in a given area.
Each month Freddie Mac releases its Home Price Index (FMHPI) report with up-to-date data on the change in home prices for all markets across the U.S. The most recent FMHPI from Freddie reveals how home prices in Springfield have been increasing over the last several years:
April 2017 HPI: 136.5
April 2022 HPI: 230.5
5-year change in home prices: 68.9%
One-year change in home prices: 20.5%
Monthly change in home prices: 1.9%
To analyze housing affordability in a market, investors often turn to the Housing Affordability Index (HAI). The HAI uses 100 as a baseline HAI, then compares the housing affordability in each market to the HAI baseline.
When assessing the affordability of housing, researchers consider the amount of median family income needed to purchase an existing single-family home using a conventional mortgage with a 20% down payment.
Based on the latest report from Home Town Locator (July 2021), the HAI for the Springfield MSA was 154. This means that the median family has a little more than one and one-half times the income needed to purchase a median priced, single-family resale home in the Springfield, Missouri metro area.
Quality of life
Springfield is nicknamed the "Queen City of the Ozarks" for very good reasons. It's a place where living is easy, the job market is growing, with cultural and entertainment options similar to those found in a much bigger city.
Key Quality of Life Stats:
Forbes ranked Springfield #50 in cost of doing business, #94 in best places for business and careers, and gives the city high ratings for job growth and education.
Cost of living in Springfield is 9% below the national average.
U.S. News & World Report rates Springfield as the 104th-best place to live and the 82nd-best place to retire.
Springfield has received national recognition as a great place to live and work from Matador Network, Kiplinger as one of the 25 cheapest cities to live in, Forbes, Go Banking Rates, and many more.
Niche.com gives Springfield high ratings for nightlife, housing, and public schools.
Springfield is home to more than 900 restaurants and is rated as the 6th best city in the nation for BBQ.
Climate is humid subtropical with hot humid summers and cold winters, with the most varied weather in the U.S.
Springfield-Greene County boasts 120 parks, 100 miles of trails, and is home to four national parks and forests.
Downtown Business Improvement District in Springfield is the perfect place for entrepreneurs, foodies, and art lovers.
Mercy Hospital Springfield is ranked as the 3rd best hospital in Missouri by U.S. News & World Report.
Springfield hosts NCAA college teams from Missouri State University and Drury University, while the Missouri Sports Hall of Fame celebrates Olympic athletes and teams who trained in the city's Olympic Development Program.
Get out the map
Where to begin your search? Roofstock created a heat map of Springfield based on our Neighborhood Rating, a dynamic algorithm that enables you to make informed investment decisions by measuring school district quality, home values, employment rates, income levels and other vital investment criteria.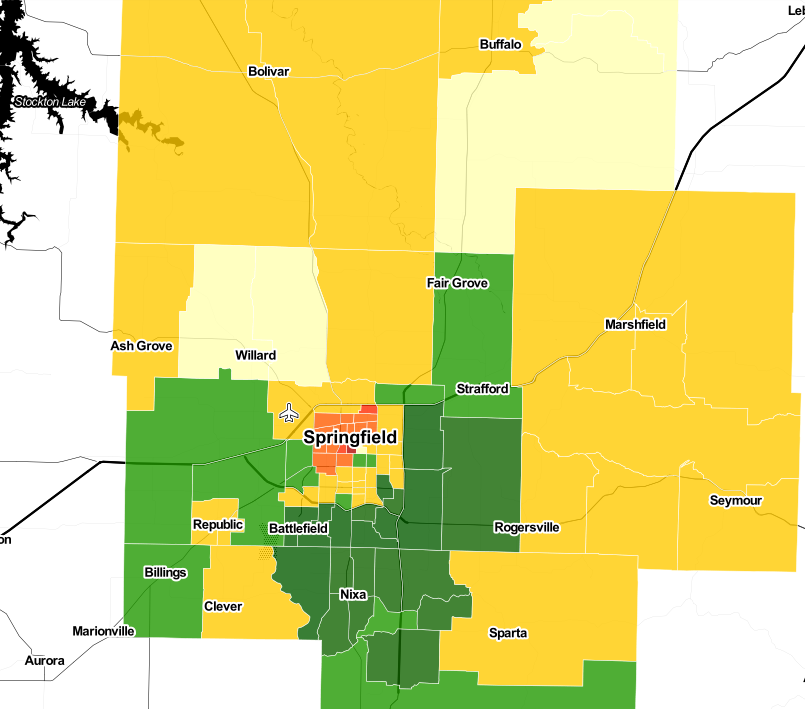 DARK GREEN: 4-5 star neighborhood
LIGHT GREEN: 3.5-4 star neighborhood
YELLOW: 2.5-3 star neighborhood
ORANGE: 2 star neighborhood
RED: 1 star neighborhood
Ready to invest in the Springfield housing market? If you haven't already done so, create your free Roofstock account and set up alerts. We'll notify you when we have a Springfield investment property that matches your search criteria.