Nestled on the banks of the Mighty Mississippi River, just below its confluence with the Missouri River, sits the vibrant and storied Gateway to the West, St. Louis.
Known for beer, barbecue, and the Blues, this town boasts the kind of appeal that makes it an ideal real estate investment market.
With a growing population working in the tech and creative sectors, and anchored by established brands like Anheuser-Busch, Boeing, and Emerson Electric, St. Louis seamlessly blends the new economy with powerhouse Fortune 500 entities. All of those companies translate into a highly skilled and educated workforce with money to spend.
We've put together your guide to the St. Louis real estate market, including both the current investment scene and future potential over the next year. You may just find that St. Louis is exactly the growth opportunity you've been looking for.
>>Explore Roofstock's St. Louis investment properties here.
What attracts investors to St. Louis real estate?
An influx of creative and tech workers fleeing the more expensive coastal cities is expected to translate into steady growth for the Saint Louis metro area over the next several years. This increase, along with new corporate campuses in the city center, is expected to result in a significant rental market and increasing property appreciation.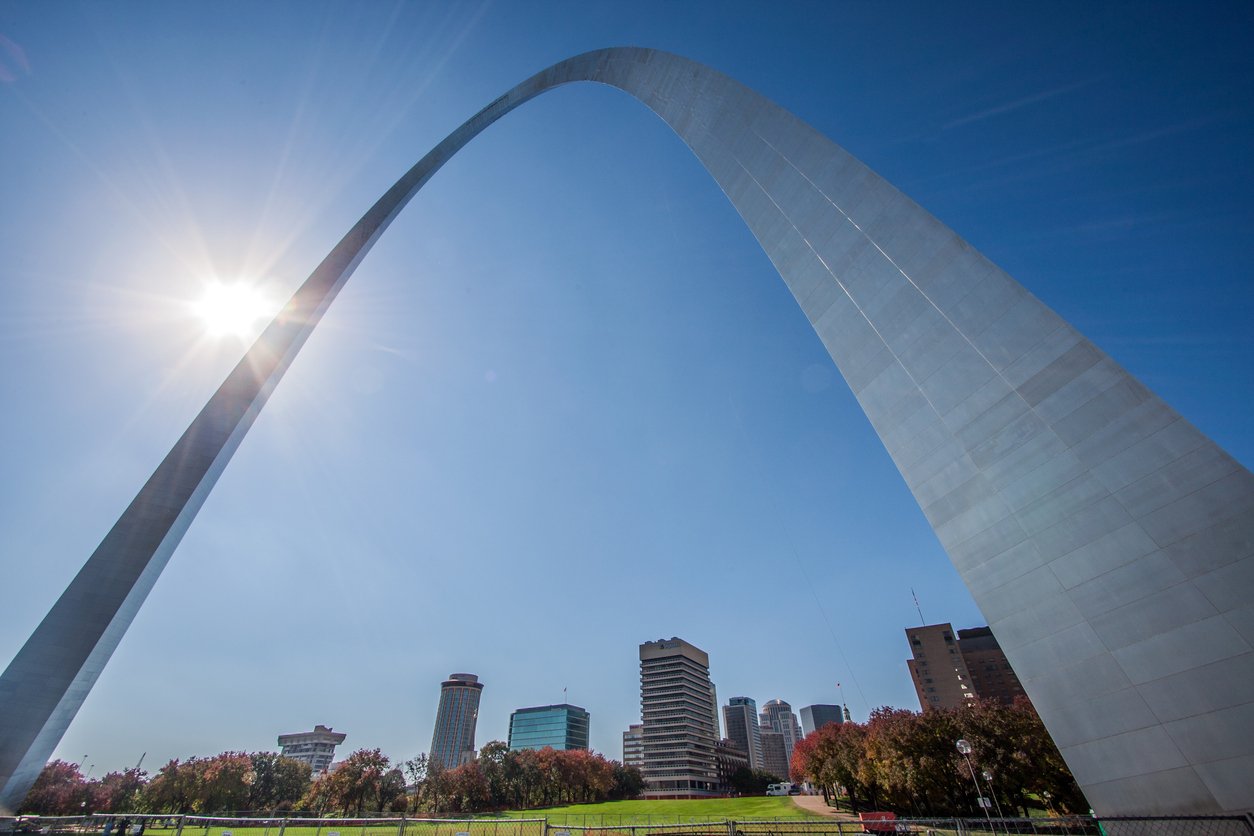 1. Housing Affordability and Growing Development
With high home prices keeping investors out of markets all over the US, the St. Louis housing market remains one of the more affordable cities in the country ($157,900 median list price according to Zillow as of Sept. 2019). Here you can get a single family home for well under the national average, translating into solid ROI.
What areas do we project hold significant investment potential? Based on development projects and job growth, we see promise in the following neighborhoods:
Ballpark Village, Phase Two: Located near Busch Stadium and the Arch Riverfront, Ballpark Village is an ongoing development project that promises to continue adding value to the surrounding area for decades to come. Featuring dining, shopping, hospitality, and more, this project brings welcome energy and infrastructure to the city center.
Cortex Innovation District: This 200-acre complex located in the Midtown district is a hub for the growing medical, tech, and biotech community near Washington University medical campus, St. Louis University, and Barnes-Jewish Hospital, one of the country's best hospitals and the larges hospital in Missouri.
Washington University's East Campus: Ongoing development of WU's Danforth Campus, including multi-use spaces, classroom buildings, and greenspace, promises to bring even more residential renewal to the surrounding area. This, in turn, suggests a growing population of tenants from students, faculty, and staff of the university.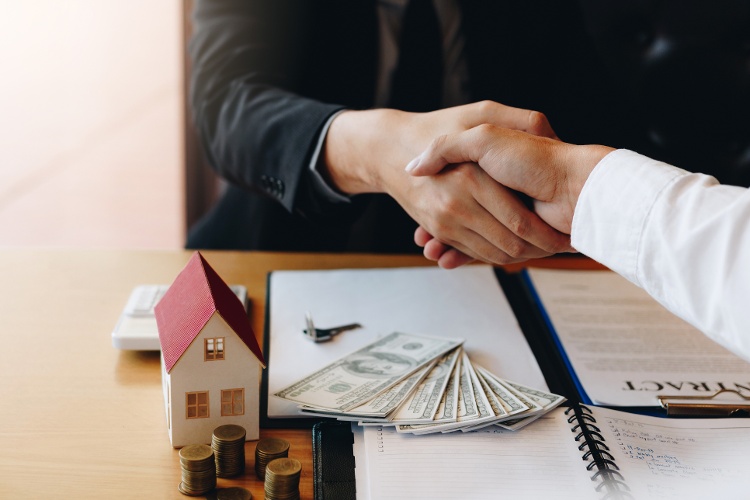 2. Landlord-Friendliness
It would be wonderful if all tenants paid their rent on time and behaved themselves impeccably in your investment property. Unfortunately, there are always a few bad apples in any market. When choosing an area for your investment, it is important to consider the laws governing landlords and tenants in order to ensure that your rights are being taken into consideration.
Fortunately, Missouri is a very friendly state for investors, offering a variety of fast-acting remedies in order to ensure that a bad tenant is soon sent packing. Like some of our other landlord-friendly states, Missouri offers landlords the ability to terminate a lease or file for an eviction quickly, preserving the property and ensuring that unpaid rents do not become a long-term burden.
In addition, it is possible to get immediate eviction in Missouri when there is a court order. Thus, bad behavior or even non-payment of rent can have a swift resolution, allowing you to move on to a tenant who is a better fit for your property.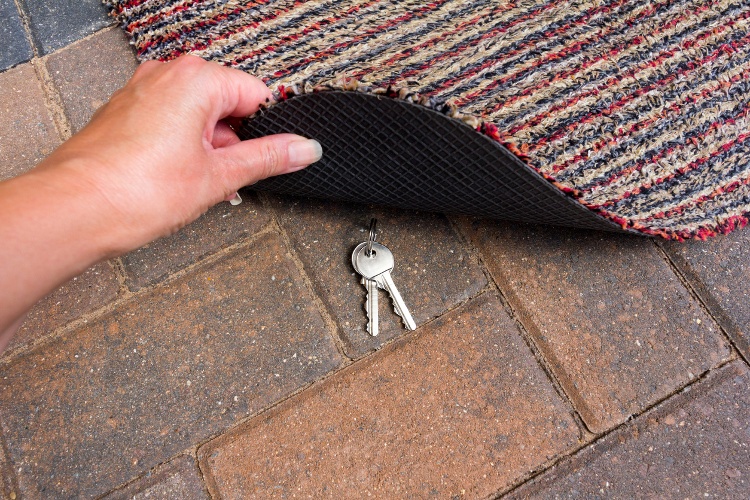 3. Short-Term Rental Market
If your investment strategy includes short-term rentals, St. Louis is an ideal location for you. As the largest Airbnb market in Missouri and a tourist mecca, there is no shortage of demand for accommodations. St. Louis has been recognized as among the strongest vacation rental markets in the country.
Here too, those favorable landlord laws work for you. While other markets have put a variety of regulations and restrictions in place for short term rentals, St. Louis does not enforce any Airbnb regulations. This suggests growth in the hospitality sector for investors who plan to invest in areas close to the city's many tourist attractions.
Current economic data shows growth in St. Louis's leisure and hospitality sector outstripping that of the US at large. Along with the city's already low unemployment, this suggests a growing reputation as a tourism center, making those short term vacation rentals an ever-expanding segment of the market.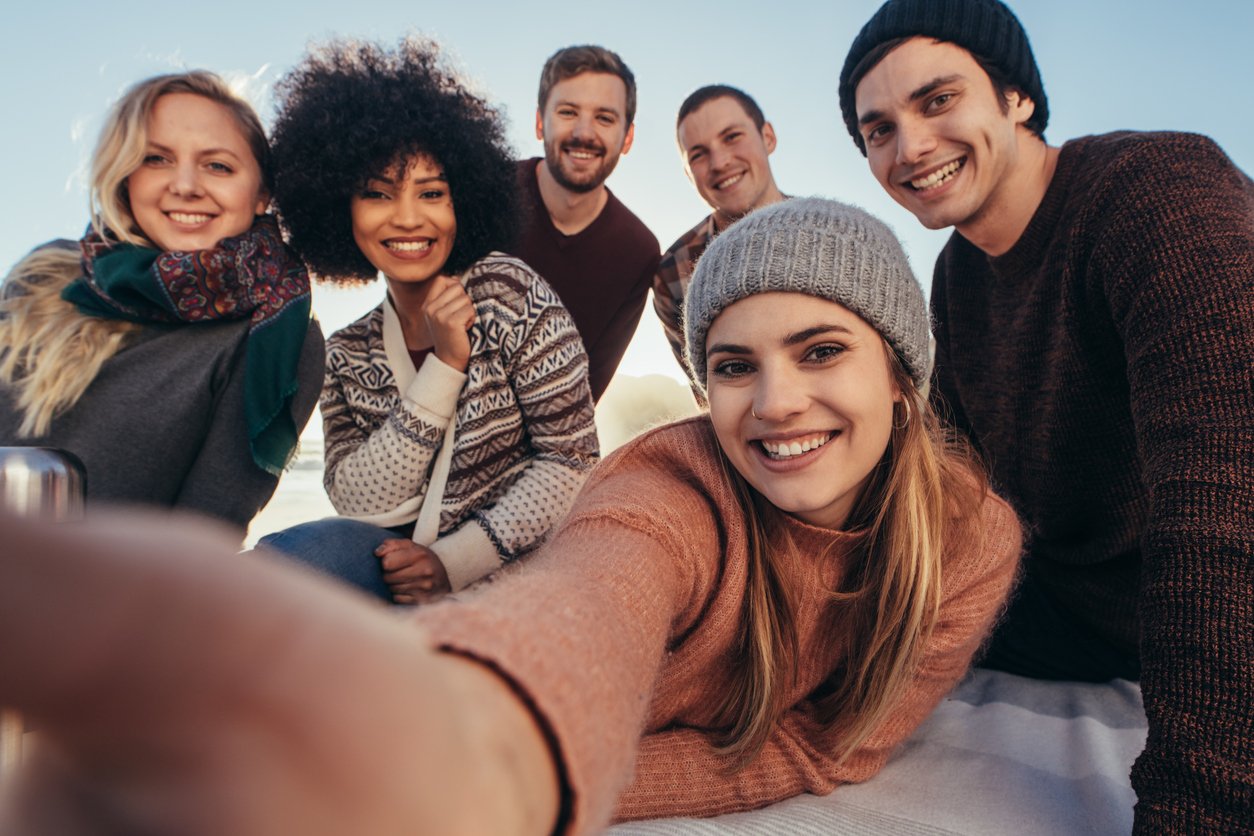 4. Rental Culture
With a reputation as one of the country's best markets for recent college graduates, St. Louis promises to be a winner with young, educated professionals with high income potential. The growth of the tech and biotech industries here, alongside the already-established corporate infrastructure, offers an appealing place for these well-heeled Millennial and Gen-Z grads to put down roots.
In addition, as development continues to expand throughout the city's central corridor, many of these young professionals will delay home buying in order to decide which part of the city they want to settle in. Along with their natural tendency to delay marriage, home purchases, and other major life changes, this means a growing group of potential tenants for the savvy investor.
The large university population here is another large market predominantly made up of renters. With almost 20 colleges and universities located in and around the city, there is a perpetual need for quality rental housing.
Here are some of the best St. Louis rankings for 2019:
Livability.com named St. Louis to its Top 100 list of Best Places to Live.
St. Louis ranked second only to Washington DC on the list of Cities with the Most Freebies. With the nation's #1-ranked zoo, greenspace, and a host of museums all free of charge, this is even more good news for the growing hospitality sector and vacation rental market.
With an ever-growing community of breweries and micro-breweries, St. Louis has been named America's number one beer scene for two years running in USA Today's annual poll. Their annual Microfest brings thousands to the area to sample its iconic brews.
For many years, St. Louis has been named to a variety of best lists as Best Sports City in America. Fans here are passionate and turn out to support their home teams in record numbers.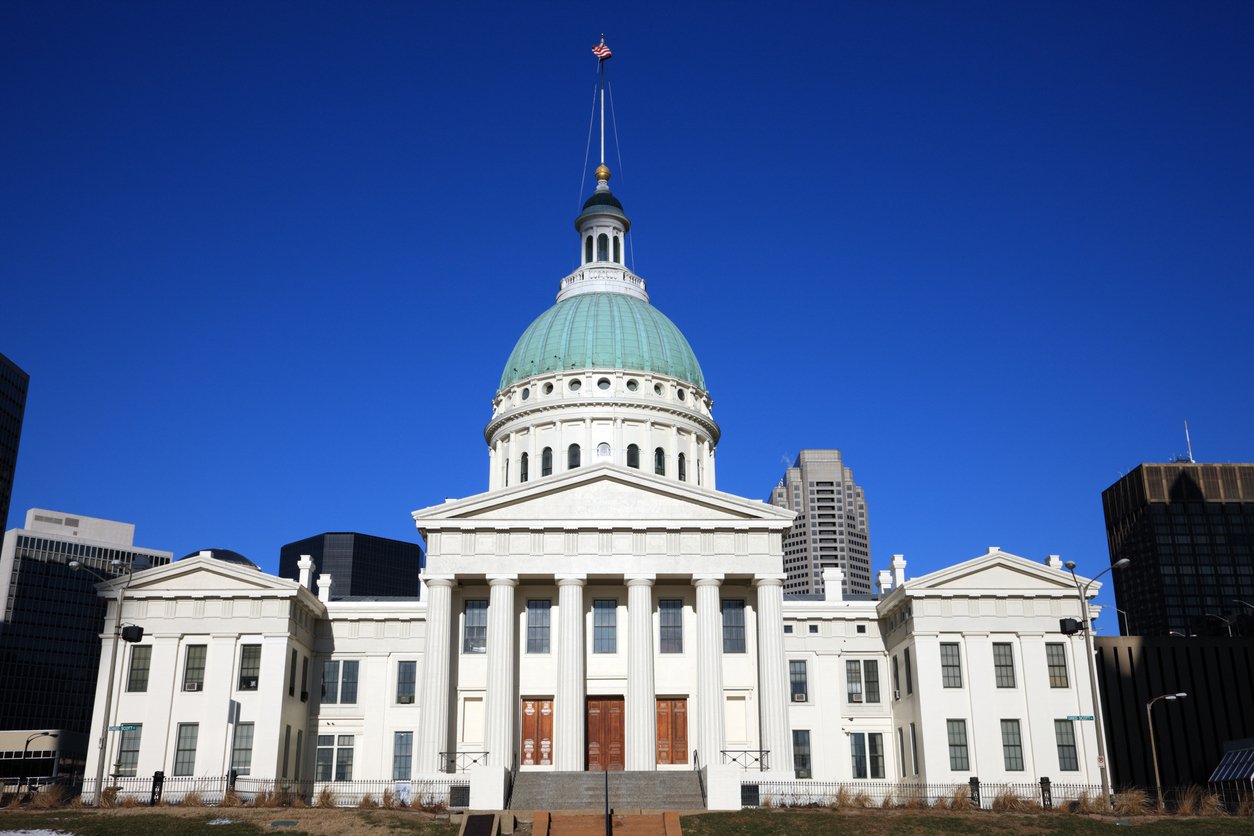 5. Engaged Civic Leadership
Upon taking office in 2017, St. Louis Mayor Lyda Krewson embarked on a bold initiative to take on the problem of abandoned and vacant buildings in St. Louis, clearing the way for development and improving the appearance of neighborhoods. Her efforts have resulted in improved code enforcement, sales of hundreds of buildings and lots, and the support of dozens of private and public organizations.
Land Reutilization Authority (LRA) initiatives have included deconstruction and demolition projects, greenspace development, garden lease and community cleanup programs, and stabilization projects for buildings of particular architectural or historic interest.
All of these strategies serve to improve neighborhoods, raise home values, and attract new businesses and residents to previously underutilized downtown areas. In addition, they improve public safety, increasing the city's appeal for residents and tourists alike.
Here are a few of St. Louis's most successful civic initiatives:
If you are looking for a city with a young, exciting, and diverse population, fantastic nightlife, exceptional amenities, and iconic views, you'll love St. Louis -- and so will your tenants. This is a market with tremendous, long-term potential for increasing rental and property appreciation plus the kind of growth that will keep those properties filled for years to come.
Check the map
Ready to start looking in the St. Louis investment market? The Roofstock marketplace has a variety of vetted, single-family rental properties in the St. Louis area and new properties are being added all the time. Our heatmap color-codes areas of the city according to the Roofstock Neighborhood Rating, which helps you evaluate the risk and return potential of neighborhoods (learn more about Roofstock's Neighborhood Rating here).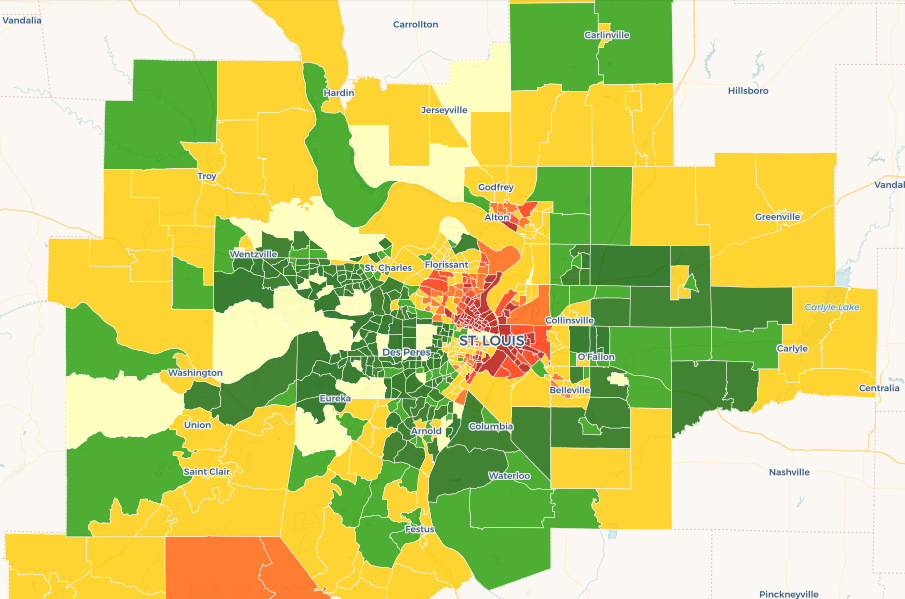 DARK GREEN: 4-5 star neighborhood
LIGHT GREEN: 3.5-4 star neighborhood
YELLOW: 2.5-3 star neighborhood
ORANGE: 2 star neighborhood
RED: 1 star neighborhood
Ready to invest in the St. Louis market? Start by creating your free Roofstock account. We'll notify you when we have a St. Louis investment property that matches your search criteria.