Last updated on September 15, 2021
Tucson is in the midst of an "extreme seller's market" according to local new station KOLD 13. Homes are turning over in one month or less (as of May 2021), with an uptick in out-of-state buyers looking for an affordable place to live and invest.
A growing number of people are working remotely, and now realize there's no need to work in a sprawling metro area like New York City when they can live in Tucson instead.
Tucson is the 2nd-most populated city in Arizona, right behind Phoenix, and is home to just over one million people in the metropolitan area.
Located about two hours southeast of Phoenix and one hour north of the U.S. – Mexico border, the economy in Tucson is driven by a diverse blend of private and public business sectors including education, aerospace, biotech, defense, information technology, and international trade.
With a near-perfect climate, plenty of industry, and countless outdoor activities, Tucson is a great alternative to living, working, and investing in a big city. Keep reading to learn more about Tucson and why the real estate market in the Southwestern Arizona city is seeing so much demand.
Population Growth
Although Tucson isn't one of the fastest-growing cities in Arizona, it may be one of the smartest-growing, based on the demand for rental property in the Tucson metropolitan area. Over the past 10 years, Tucson has grown by about 5%, with a net migration of over 3,100 in 2018 alone.
Key Population Stats:
Tucson is the 2nd-largest city in Arizona with a population of about 550,000 in the city and just over one million residents in the Tucson metropolitan area.
Population growth in Metro Tucson was 1.59%, with population growth projected to be about 1% over the next several years.
Cities outside of the Tucson metropolitan area include Benson, Catalina, Oracle, and Green Valley.
Unemployment in Tucson is 7.9% according to the BLS, while the number of employees grew by 3.3% last year.
Median age in Tucson is 39 years, with 59% of the population between the ages of 18 and 64.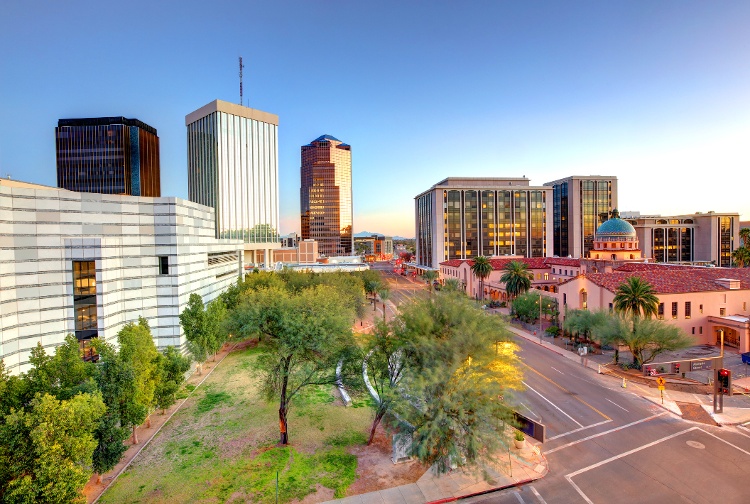 Job Market
After taking a breather this year, the University of Arizona Economic and Business Research Center (EBRC) forecasts nonfarm employment in the Tucson MSA will grow by 3.4% next year, and an average of 1.4% per year between 2022 and 2024.
Key Employment Stats:
GDP of the Tucson MSA is over $42.1 billion, according to the Federal Reserve Bank of St. Louis, and has grown nearly 19% over the last ten years.
Job growth rate in Tucson was 3.3% last year.
Median household income in the Tucson Metro area is $56,169 while per capita income is $31,004.
Forbes ranks Tucson 107th as the best place in the nation for business and careers.
Key growth industries in Tucson include aerospace and defense, optics, and renewable energy.
Tucson is home to six Fortune 500 companies including Citigroup, IBM, Oracle, and Raytheon and emerging technology companies such as NP Photonics and DILAS Diode Laser.
The 345 acre UA Tech Park in Tucson has almost two million square feet of high tech office and R&D facilities
UA Tech Park at The Bridges accommodates up to three million square feet of mixed-use development including biotechnology office and laboratory space, a regional shopping center, and residential development.
Top Tucson employers and businesses include the University of Arizona, Raytheon Missile Systems, Davis-Monthan Air Force Base, the State of Arizona, Wal-Mart Stores, and the U.S. Border Patrol.
The University of Arizona is ranked among the top 20 public research universities nationwide, while Pima Community College is one of the largest multi-campus community colleges in the U.S.
Over 88% of residents in Metro Tucson are high school graduates or higher, while more than 32% hold a Bachelor's degree or postgraduate degree.
Interstate 19 and Interstate 10 connect through Tucson, providing direct access to the east and west coasts of the U.S. and the deep-water ports of Mexico.
Tucson International Airport (TUS) is served by eight airlines providing nonstop service to 19 destinations including San Francisco, Dallas, Denver, Chicago, and Atlanta.
Real Estate Market
The real estate market in Tucson is thriving despite the pandemic and economic recession. According to Inside Tucson Business the Tucson real estate market is experiencing an economic boom as an influx of out-of-state buyers are creating bidding wars where multiple offers and fast home sales are increasingly commonplace.
Over the past six months alone, the median home price has increased by nearly $30,000 and risen by 14.8% year-over-year. With very little inventory on the market, many first-time homebuyers are opting to rent instead, making the market a good choice for remote real estate investors looking for rental property to buy.
Key Market Stats:
Median sales price for a single-family home in Tucson is $342,000, according to the most recent report from the

Tucson Association of Realtors

(June 2021)

.
Houses in Tucson are selling for 101.9% of the listing price, while the new listings for single-family homes in Tucson have increased by 14.9% year-over-year.
Days on market until sale is 12, compared to 37 days the same time last year.
Home values in Tucson have increased by 20.6% year-over-year, based on the

Zillow Home Value Index

(as of May 2021)

.
Over the past five years home values in Tucson have grown by over 61%.
Months supply of single-family home inventory in Tucson is 0.7 month, compared to about 1.3 months this time last year.
Tortolita, Oro Valley, and Catalina are three of the most expensive neighborhoods in Tucson.
Neighborhoods in Tucson with relatively affordable home prices include South Tucson, Benson, and Green Valley.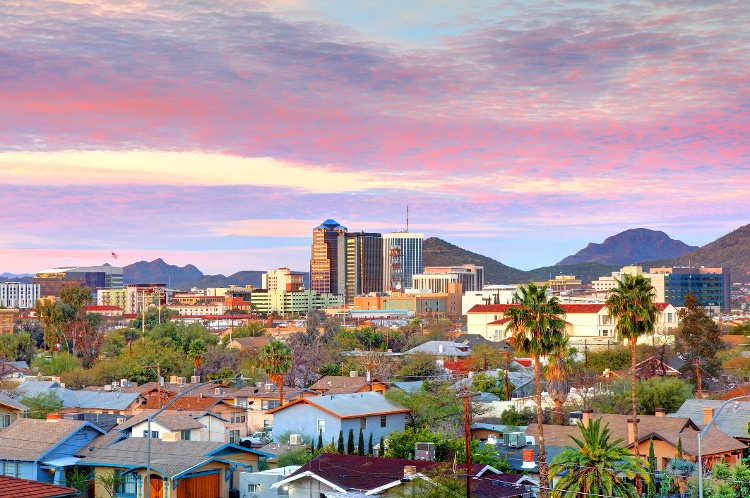 Attractive Renters' Market
The demand from tenants for good rental property in Tucson is so strong that vacant property stays on the market about 15 days before being rented to a tenant. The Tucson Association of Realtors (MLSSAZ) reports that the one-year change in rental units has increased by just 1.1% while average rental costs have gone up by 6.8% year-over-year.
Key Market Stats:
Median rent for a single-family home in Tucson is $1,769 per month (as of June 2021), an increase of 13.8% over last year.
Despite the increase in rents, the average rent in Tucson is over 29% below the national average, according to RENTCafé.
45% of the households in Tucson are occupied by renters.
Neighborhoods in Tucson with the highest rents include Armory Park, Barrio Viejo, and El Presidio.
Most affordable neighborhoods for renters in Tucson include Cherry Avenue, Drexel-Alvernon, and Mortimore.
Most popular neighborhoods in Tucson for renters are Desert Palms, Rancho Perdido Estates, and Campus Farm.
Historic Price Changes & Housing Affordability
Two of the biggest factors affecting the demand for rental property are the cost and relative affordability of housing.
Each month Freddie Mac publishes a house price index (FMHPI) that monitors the change in home prices for virtually every real estate market in the U.S. The report uses December 2000 with a benchmark of 100 and then compares the monthly change in housing prices in each real estate market to 100.
The most recent FMHPI from Freddie Mac for the Tucson housing market shows:
House Price Index for the Tucson metro area is 231.4 through May 2021
One year ago, the HPI for Tucson was 191.7
Year-over-year home prices in the Tucson metro area have increased by 20.7%
In addition to home prices, real estate investors also analyze housing affordability to help determine the future demand for rental property.
Once a year, Kiplinger's Personal Finance surveys the home prices in the 100 largest metro areas in the country. The survey uses an affordability scale of 1 to 10, with 1 being the more affordable market to buy a home in and 10 being the least affordable.
The affordability index report for Tucson shows:
Since the last real estate cycle market peak in May 2006, home prices in Tucson have decreased by 4.0%.
Since the last real estate cycle market bottom in March 2012, home prices in Tucson have increased by 74.8%.
Tucson has an affordability index of 6 out of 10, meaning that Tucson is one of the more expensive markets for owner-occupants to buy a home.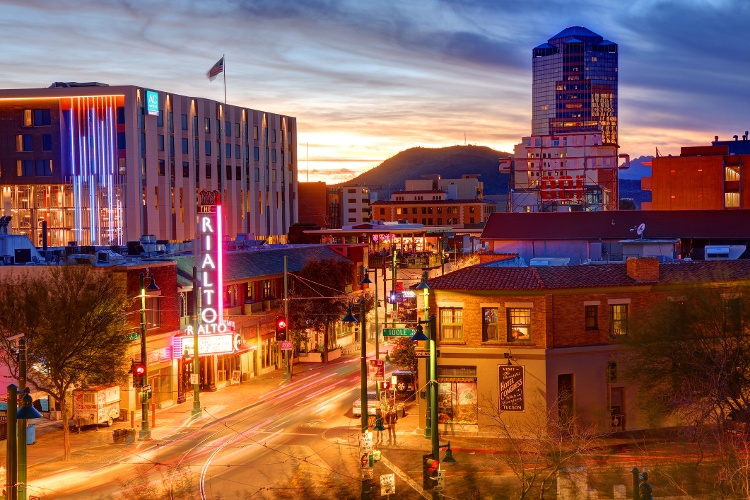 Quality of Life
Tucson ranks as the 113th best place in the country to live and the 87th best place to retire, according to U.S. News & World Report. Metropolitan Tucson receives high ratings for desirability, job market, and quality of life.
Key Quality of Life Stats:
Cost of living in Tucson is 1% below the national average, according to Forbes.
Niche.com gives Tucson an A- overall grade, with high marks for diversity, family living, public schools, and nightlife.
Nearly 40% of the residents of Metro Tucson are between the ages of 20 and 49, making the market perfect for millennial renters.
Tucson is ranked by Livability.com as one of the top 100 best places to live, with plenty of great outdoor activities and natural amenities like Tanque Verde Falls.
Air quality in Tucson is one of the best in the nation, ahead of prime nature spots like Honolulu and Colorado Springs.
Climate in Tucson is semi-arid, with hot summers and mild winters.
Old Tucson Studios, DeGrazia Gallery in the Sun, the Arizona-Sonora Desert Museum, and the Pima Air & Space Museum are just a few of the seemingly endless places to visit in Tucson and the surrounding area.
Get Out the Map
Where to begin your search? Roofstock created a heat map of Tucson based on our Neighborhood Rating, a dynamic algorithm that enables you to make informed investment decisions by measuring school district quality, home values, employment rates, income levels, and other vital investment criteria.
DARK GREEN: 4-5 star neighborhood
LIGHT GREEN: 3.5-4 star neighborhood
YELLOW: 2.5-3 star neighborhood
ORANGE: 2 star neighborhood
RED: 1 star neighborhood
Ready to invest in the Tucson housing market? If you haven't already done so, create your free Roofstock account and set up alerts. We'll notify you when we have a Tucson, Arizona investment property that matches your search criteria.