Last updated on July 2, 2022
Tulsa was once known as the world's oil capital and has since grown and diversified into a modern metropolitan area that's attracting a lot of attention from real estate investors. Tulsa is ranked as one of the top 10 markets to buy a home by Money Crashers, based on key criteria such as median home price, appreciation, and average time on market.
Situated in the "Green Country" region of Oklahoma, Tulsa lies along the Arkansas River between the foothills of the Ozark Mountains and the Osage Hills.
Although the economy in Tulsa has traditionally been driven by the oil and energy industries, major industries now include aerospace, finance, manufacturing, and high tech. In 2019, Google announced a new investment in the Tulsa metro area, and Amazon recently opened a new 600,000 square-foot fulfillment center in Tulsa, with plans now underway to build an additional Amazon facility.
Quality of life and a low cost of living and doing business are just three of the many reasons attracting investors to the Tulsa real estate market this year and next.
>>Explore Roofstock's Tulsa properties here.
Population growth
The population of the Tulsa area has topped 1 million for the first time, adding over 7,000 new residents in the last year alone. Median household incomes and property values are on the rise, two fundamentals that help to make rental property a good investment in Tulsa.
Key Population Stats:
The population of Tulsa is over 413,000 with more than 1 million residents in the metropolitan area and it is the second-largest city in Oklahoma.
More than 25% of the population of Oklahoma lives in the Tulsa MSA (metropolitan statistical area).
Metro Tulsa spans across seven counties, including Tulsa, Rogers, Pawnee, and Creek counties.
Population growth in metropolitan Tulsa has grown by 8.3% since 2010.
Job market
The job market in Tulsa was ripe with successes in 2021, with Amazon opening its 3rd fulfillment center in Tulsa and electric vehicle maker Canoo building a $400 million plant and creating 2,000 new jobs.
In fact, the job market in Tulsa continued to grow through all of last year, with the economy now just beginning to recover. Low rents, energy costs, and taxes help to make the cost of doing business in Tulsa 11% less than the U.S. average.
Key Employment Stats:
GDP of the Tulsa MSA is more than $53.6 billion, according to the Federal Reserve Bank of St. Louis, and has grown by nearly 29% over the last ten years.
Unemployment rate in Tulsa is at 2.9% as of April 2022.
Median household income as of 2020 in Tulsa is $57,341 while per capita income is $33,780.
In 2019, Forbes ranked Tulsa as one of the best places for business and careers.
Target industries in Metro Tulsa include advanced manufacturing, aerospace and defense, energy, and transportation and logistics.
Key employment sectors in Tulsa include health care and social services, retail, and manufacturing.
Major employers in Tulsa with more than 1,000 workers include AAON, AT&T, Baker Hughes, BlueCross BlueShield of Oklahoma, OSU Medical Center, QuikTrip, and Target.
University of Tulsa, Oklahoma State University, the University of Oklahoma, and Oral Roberts University are among the largest universities and colleges in the Tulsa metropolitan area.
Nearly 90% of the residents in Tulsa are high school graduates or higher, while almost 28% hold a bachelor's degree or advanced degree.
The transportation network around Tulsa includes two mainline railroads serving major industrial parks such as the Tulsa Port of Catoosa, and Interstate Highways I-44, I-40, and I-35.
Tulsa International Airport (TUL) offers direct connections to 17 cities in the U.S. and is served by three freight carriers.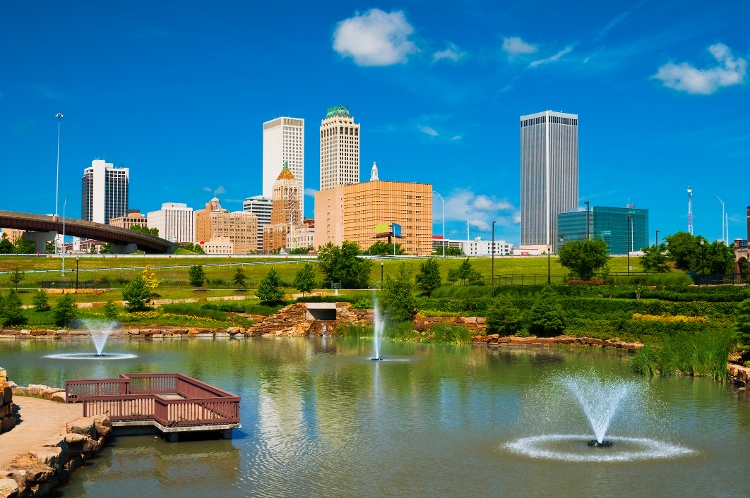 Real estate market
A quick look at the most recent statistics from the Greater Tulsa Association of Realtors show how hot the Tulsa real estate market really is. The median days on market from listing to contract is 4, while the median sales price is up 16.84% year-over-year, and homes in Tulsa are selling for the full asking price.
Key Market Stats:
Zillow Home Value Index (ZHVI) for Tulsa is $183,997 as of May 2022.

Home values in Tulsa have increased by 20.0% over the last year.
Over the last five years home values in Tulsa have increased by more than 53%.

Median list price for a home in Tulsa is $225,000 according to the most recent report from Realtor.com (as of April 2022)

Median listing price per square foot for a home in metropolitan Tulsa is $126.
Median sold price for a single-family home in Tulsa is $225,000.
Sale-to-list price ratio is 100%, meaning that homes in Tulsa are selling for approximately the full asking price.
Tulsa is a seller's market, which means there are more buyers than sellers in the real estate market.
Of the 120 neighborhoods in Tulsa, Maple Ridge Historic District is the most expensive with a median listing price of $687,500.
Most affordable neighborhood to buy a home in Tulsa is Charles Page where the median listing price is $86,500.
Attractive renters' market
As Time points out, cities such as Tulsa are proactively offering remote workers thousands of dollars to relocate to the metro area via the Tulsa Remote program.
Key Market Stats:
Median rent in Tulsa is $1,295 per month for a 3-bedroom home, based on the most recent report from Zumper (as of June 2022).
Rents in Tulsa have increased by 4% year-over-year.
Over the past 3 years, rent for a 3-bedroom place in Tulsa has grown by about 30%.
Renter-occupied households in Tulsa account for 44% of the total occupied housing units.
Single-family housing makes up 73% of the housing units in Tulsa.
Most affordable neighborhoods for renters in Tulsa include Sequoyah, Suburban Acres, and Carriage Trail where rents are $735 per month or less.
Most expensive neighborhoods for renting in Tulsa include Maplewood, Stone Creek Farms, and Sunrise Terrace where rents range between $1,650 and $2,011 per month.
Historic price changes & housing affordability
Two key data sets that real estate investors use to analyze potential markets for rental property investment are the historic change in house prices and the affordability of housing.
The monthly house price index report from Freddie Mac (FMHPI) measures the change in home prices for every MSA in the country. Using December 2000 as a baseline of 100, the report compares the monthly change in home prices in each market.
As of April 2022, the FMHPI index from Freddie Mac for the Tulsa, Oklahoma metropolitan area shows:
April 2017 HPI: 141.5
April 2022 HPI: 216.9
5-year change in home prices: 53.2%
One-year change in home prices: 19.4%
Monthly change in home prices: 1.6%
Housing affordability is another key criterion that real estate investors use to help predict the future demand for rental housing in the market.
In January 2021, Kiplinger published its report of home prices in the 100 largest metro areas to show how affordable housing is based on an affordability index of 1 to 10, with 1 being the most affordable and 10 the least affordable. Affordability is based on the percentage of annual income required to buy a median-priced home last year.
The housing affordability index of the Tulsa metropolitan real estate market is 2, making the region one of the most affordable places to own a home. Since the last real estate peak, home prices in Tulsa have increased by 23.4% and have grown by 37.8% since the last market bottom.
Based on the S&P CoreLogic Case-Shiller National Home Price Index, Kiplinger predicts that house prices will likely continue to rise steadily as surging demand puts more pressure on home values in the U.S.
Quality of life
Tulsa ranks among the top 100 best places to live, ranking higher than 1,000 other cities with populations of less than 1 million residents. Tulsa World notes the city is an affordable, under-the-radar city with a historic downtown and art scene that rivals cities twice its size.
Key Quality of Life Stats:
Cost of living in Tulsa is 7% below the national average, according to Forbes (October 2019).
Niche.com gives Tulsa an A- overall grade, with high rankings for public schools, housing, and nightlife.
Tulsa is ranked #82nd on the U.S. News & World Report's best places to live and to retire in the U.S., with many Tulsans proud to be lifelong residents.
The Tulsa Remote program is offering remote workers $10,000 to relocate to Tulsa, with perks including cash, space in a top coworking community, and specials on downtown rental housing units.
Tulsa has the nation's second-fastest commute for a big city, with an average time of just 20 minutes.
Climate in Tulsa is humid subtropical, with wet springs, dry summers, and temperate winters.
Tulsa is situated in the "Green Country" region of Oklahoma, along the Arkansas River and at the foothills of the Ozark Mountains.
Get out the map
Where to begin your search? Roofstock created a heat map of Tulsa based on our Neighborhood Rating, a dynamic algorithm that enables you to make informed investment decisions by measuring school district quality, home values, employment rates, income levels and other vital investment criteria.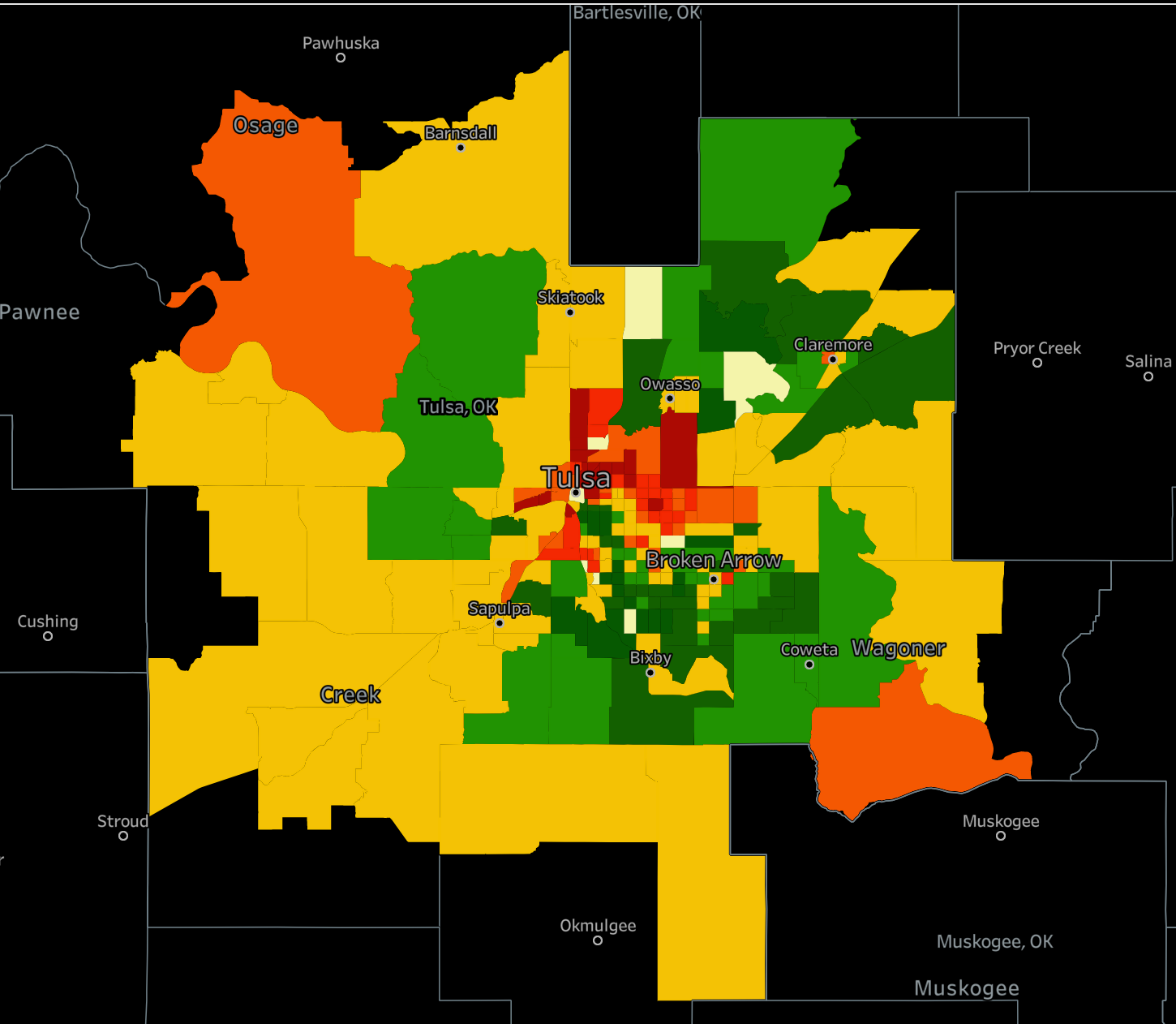 DARK GREEN: 4-5 star neighborhood
LIGHT GREEN: 3.5-4 star neighborhood
YELLOW: 2.5-3 star neighborhood
ORANGE: 2-star neighborhood
RED: 1-star neighborhood
Ready to invest in the Tulsa housing market? If you haven't already done so, create your free Roofstock account and set up alerts. We'll notify you when we have a Tulsa, Oklahoma investment property that matches your search criteria.