Last updated on January 8, 2021
If the performance of the rental real estate market in Winston-Salem is anything like last year, 2021 should be great for investors.
Last year, the Triad of Winston-Salem and Greensboro was the 4th-best market for rent increases, according to the Triad Business Journal. Rents in Winston-Salem are still continuing to rise, with the average rent up 5% year-over-year.
The region's dynamic economy, growing population and job market, and strong demand from tenants are just a few of the factors driving the rental property market in Winston-Salem.
Winston-Salem is located in Forsyth County in the north-central part of North Carolina. The metro area lies along the Carolina Core in the heart of North Carolina, running between Winston-Salem, Greensboro, High Point, and Fayetteville.
Industry sectors include agriculture and textiles, manufacturing, nanotech and biotech, and numerous corporate headquarters. Cost of living is well below the national average, and median home values in Winston-Salem are some of the most affordable in this part of the country.
Keep reading to learn investors are considering Winston-Salem in 2021.
>>Explore Roofstock's Winston-Salem investment properties here.
Population Growth
Although the rate of population growth in the city is 5th in the state, the number of new residents moving to Winston-Salem is very impressive. According to the Winston-Salem Journal, about 16,700 new people moved to the area over the last eight years, while last year the population in Winston-Salem grew by 0.56%.
Key Population Stats:
City of Winston-Salem is home to about 250,000 residents with more than 676,000 people living in the metropolitan area.
The Triad of Winston-Salem/Greensboro is home to more than 1.7 million residents and the 2nd-largest urban area in North Carolina, just behind Charlotte.
Population of Winston-Salem has grown 0.56% year-over-year.
Population growth in Winston-Salem was 7.3% over the last eight years, with more than 1,100 new residents moving to the city last year alone.
Between now and 2038 the population of Forsyth County (where Winston-Salem is located) is expected to grow at an annualized rate of just under 1%.
Median age in Winston-Salem is 35 years vs. North Carolina median age of 38.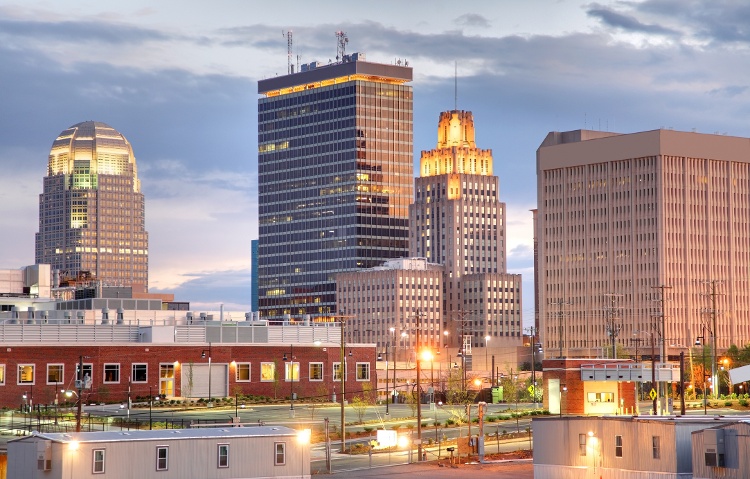 Job Market
Winston-Salem was projected to be in a four-way tie for the 6th-best city for net job creation this year, according to Spectrum News. As the economy begins to recover, that could still very well be the case.
According to the U.S. Bureau of Labor Statistics (BLS) employment sectors in Winston-Salem showing the biggest signs of growth include information technology, trade and transportation, financial activities, and government.
Key Employment Stats:
GDP of Winston-Salem MSA is nearly $36.3 billion, according to the Federal Reserve Bank of St. Louis, and has grown by more than 28% since 2010.
Job growth in Winston-Salem declined by 0.04% year-over-year, while growing by 1.3% the previous year.
Unemployment rate in the Winston-Salem MSA is currently 6.0% based on the most recent information from the BLS (Oct. 2020).
Target industry sectors in Winston-Salem include advanced manufacturing, logistics and distribution, healthcare and life sciences, financial services, and data centers.
Innovation Quarter is a mixed-use district in Downtown Winston-Salem focused on education, information technology and biomedical research, and residential living.
Largest employment sectors in Winston-Salem/Forsyth County include education and health services, manufacturing, professional and business services, retail trade, construction, and transportation and distribution.
Wake Forest Baptist Medical Center, Novant Health, Winston Salem/Forsyth County Schools, BB&T/Truist, and Wells Fargo are the top five major employers in Forsyth County.
Major colleges and universities in Winston-Salem include Forsyth Tech, Piedmont International University, Salem College, Wake Forest University, and Winston-Salem State University.
87.7% of the Winston-Salem residents have a high school degree or higher, while 27.1% hold a bachelor's degree or advanced degree.
The Winston-Salem metro area has access to several interstate highways including I-40, I-81, and I-95 and is equidistant from Washington D.C. and Atlanta.
Three freight railways serve the Winston-Salem Region and FedEx Ground recently opened a 400,000 square foot facility in nearby Kernersville.
Deep water shipping ports in Wilmington and Morehead City, North Carolina, are a three to four hour drive from Winston-Salem.
Piedmont Triad International Airport (GSO) provides non-stop service to major cities like Atlanta, Chicago, Dallas, Miami, New York, and Washington D.C.
Passenger enplanements increased by nearly 7% year-over-year while cargo volume grew by almost 13%.
Real Estate Market
About a year ago, the NAR's chief economist Lawrence Yun said that "Southern cities should once again do better than most other markets" in new and existing home sales. Fast forward to today, and by most measures Winston-Salem has done exceptionally well.
In fact, WalletHub recently ranked Winston-Salem among the best places to buy a house based on key criteria such as real estate market activity, affordability, and economic environment.
Key Market Stats:
Zillow Home Value Index (ZHVI) for Winston-Salem is $165,277 as of November 2020.
Homes values in Winston-Salem have increased by 10.4% year-over-year and are forecast to grow another 10.9% in the next 12 months.
Over the last five years home values in Winston-Salem have increased by 39%.
Median listing price of a single-family home in Winston-Salem is $209,950 based on the most recent research from Realtor.com (Nov. 2020).
Median listing price per square foot is $100 for a home in Winston-Salem.
Days on market (median) is 48.
Median sold price for a single-family home in Winston-Salem is $206,425.
Sale-to-list ratio is 100%, meaning that homes in Winston-Salem are selling for approximately the asking price on average.
Of the 162 neighborhoods in Winston-Salem, Greenbrier Farms is the most expensive with a median listing price of $599,500.
Most affordable neighborhood in Winston-Salem to buy a home is Union Ridge where the median listing price is $10,000.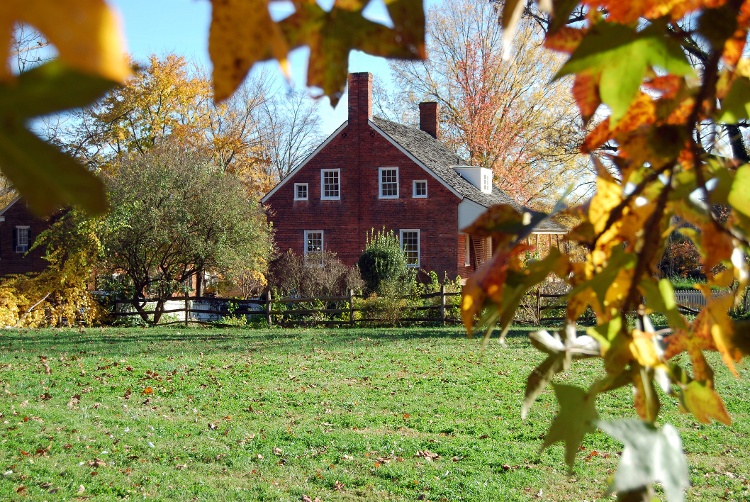 Attractive Renters' Market
Winston-Salem is rated by WalletHub as one of the best cities for renters in the U.S. The metro area comes in at #54 on the list of best rental markets based on investment criteria such as rental market activity, affordability, and quality of life.
Key Market Stats:
Average rent in Winston-Salem is $928 per month based on the most recent report from RENTCafé (as of Oct. 2020).
Rents in Winston-Salem have increased by 6% year-over-year.
Over the past three years average rents in Winston-Salem have grown by a total of nearly 17%.
Almost 50% of the rental units in Winston-Salem have rents of between $701 and $1,000 per month.
Renter-occupied households make up 36% of the total occupied housing units in Winston-Salem, representing plenty of potential growth in the rental market.
Neighborhoods in Winston-Salem with the lowest rents include Bowen Park, Cardinal Acres, and Castle Heights where rents average $673 per month.
Neighborhoods in Winston-Salem with the highest rents include Old Salem, Reynoldstown, and South Marshall where rents run $1,341 per month.
Historic Price Changes & Housing Affordability
Understanding the historical trend of home price changes in a market helps real estate investors to more accurately forecast potential appreciation. Housing affordability compares median incomes to median housing prices and is one way of predicting the possible demand for rental property.
Each month the Freddie Mac Home Price Index (FMHPI) report shows the most up-to-date data on the change in home prices for all markets across the U.S. The most recent FMHPI from Freddie Mac for the Winston-Salem MSA shows:
October 2015 HPI: 114.55
October 2020 HPI: 153.92
5-year change in home prices: 34.4%
One-year change in home prices: 9.0%
Monthly change in home prices: 1.1%
The HAI (housing affordability index) is used by investors to identify markets that may be good for rental property. The Index compares median family income to median single-family resale home prices in a market to determine how affordable it is to buy a home.
However, the HAI doesn't take into account lifestyle preferences of people preferring to rent or the general availability of housing. So, even though a market may have an affordable index, that doesn't necessarily mean that more people will buy than rent.
The Housing Affordability Index from the National Association of Realtors uses 100 as a baseline affordability index number. The greater a market's HAI is above 100, the more affordable a market is, everything else being equal.
Based on the NAR's latest report, the HAI for the Winston-Salem MSA was 195.0 in 2018, the most recent year available. This means that the median family has a little less than twice the income needed to purchase a median priced, single-family resale home in the Winston-Salem metro area.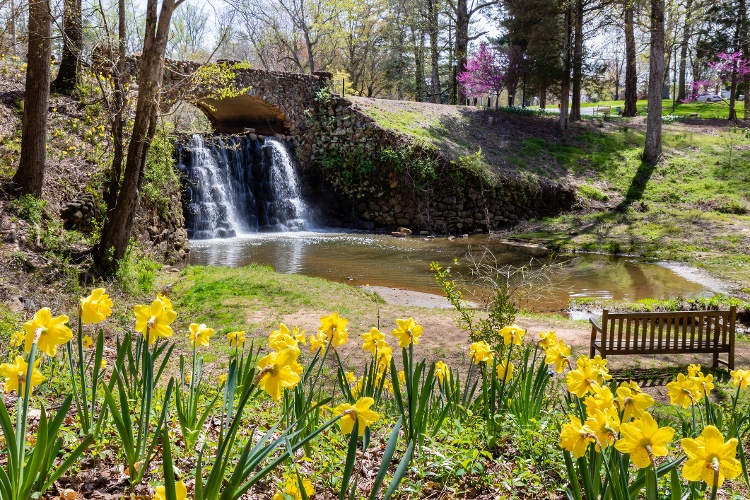 Quality of Life
Winston-Salem has managed to steadily grow over the years while still maintaining its Southern charm and friendliness. The city is located between the Blue Ridge Mountains and the Atlantic Ocean, and is the perfect place for entrepreneurs, professionals, seniors, and retirees.
Key Quality of Life Stats:
Forbes ranks Winston-Salem as one of the best places for business and careers, job growth, and a low cost of doing business.
Niche.com gives Winston-Salem excellent and above-average ratings for public schools, housing, family living, nightlife, and diversity.
Winston-Salem is one of the top 10 retirement locations in the U.S.
Cost of living in the Winston-Salem metro area is 9% below the national average.
Climate is humid subtropical with hot humid summers and cool to moderately cold winters.
U.S. News & World Report rates Winston-Salem as the 59th-best place to live in the U.S. with high scores for desirability, value, job market, and overall quality of life.
The Triad is home to over 45 wineries in the Yadkin Valley, hundreds of dining establishments, art galleries and museums, and over 12 golf courses.
The Diggs Gallery on the campus of Winston-Salem State University is billed as the cultural center of the city.
Wake Forest Baptist Medical Center is ranked as one of the top hospitals in North Carolina.
Sports fans will love watching the Winston-Salem State University Rams and Wake Forest play their home games in the Triad.
Get Out the Map
Where to begin your search? Roofstock created a heat map of Winston-Salem based on our Neighborhood Rating, a dynamic algorithm that enables you to make informed investment decisions by measuring school district quality, home values, employment rates, income levels and other vital investment criteria.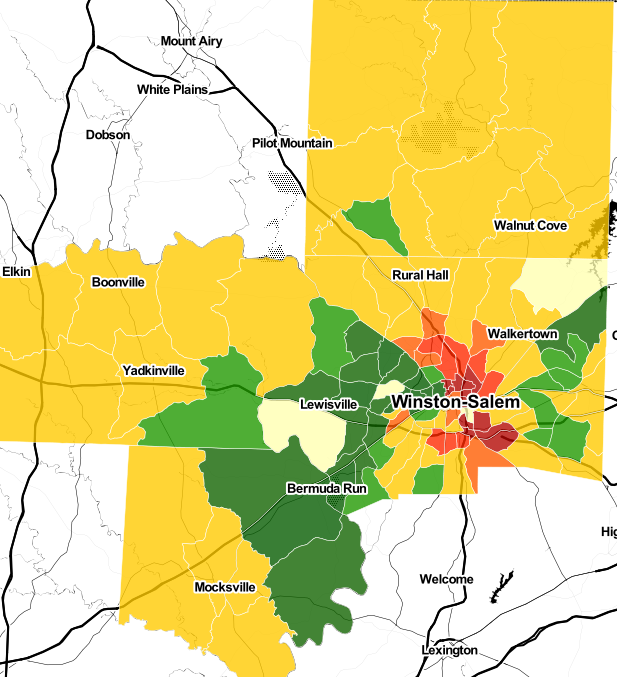 DARK GREEN: 4-5 star neighborhood
LIGHT GREEN: 3.5-4 star neighborhood
YELLOW: 2.5-3 star neighborhood
ORANGE: 2 star neighborhood
RED: 1 star neighborhood
Ready to invest in the Winston-Salem housing market? If you haven't already done so, create your free Roofstock account and set up alerts. We'll notify you when we have a Winston-Salem investment property that matches your search criteria.