Favorite Roofstock Features
~ Ability to manage all offers in one easy dashboard and negotiate without a middleman
~ Overall hands-off process for the seller
~ Faster sale than anticipated
Properties Sold
House 1
Estimated savings by selling on Roofstock: $11,000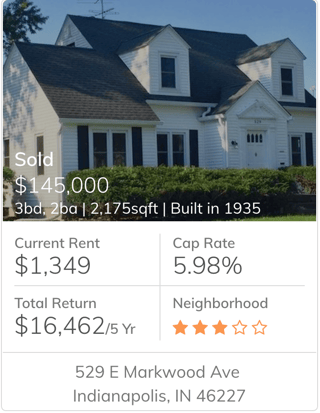 Market: Indianapolis
Asking price: $145,000
Sale price: $145,000
Days on market: 21
---
House 2
Estimated savings by selling on Roofstock: $7,000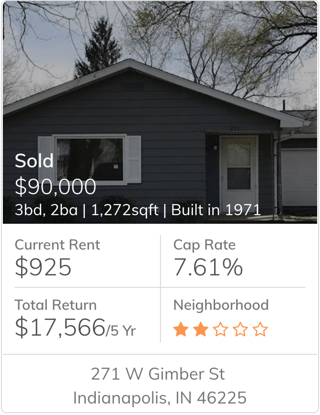 Market: Indianapolis
Asking price: $90,000
Sale price: $88,000
Days on market: 11


---
Background
A financial analyst by day, Nate had always been interested in real estate as way to generate extra income outside of his 9-5 job. He originally purchased two single-family rental properties in Indianapolis, IN, and learned a lot during this period as a new investor.
Nate eventually decided it was time to sell and continue building his real estate portfolio. He and his wife were also planning to adopt their fourth child, which fueled Nate's decision to cash out of his initial investments.
"Adopting is really expensive," he laughed. "I wanted to get some money for the adoption first, and start investing from scratch after that."
Solution
Nate found out about Roofstock through Facebook and decided to give it a shot.
"I had tenanted properties and needed to sell quickly," he explained. "It was a good option. From a hands-off standpoint, it's been very helpful."
The big kicker, Nate said, was that he didn't want to pay double commission. Whereas traditional broker fees average around 6%, Roofstock only charges 2.5%. Nate also didn't have the time or experience to sell on his own to another investor.
Another thing Nate appreciated was the initial kickoff call between Roofstock and Nate's property managers. Roofstock's seller services team made sure the property managers were aligned on the process, including how to handle tenant communications and routine inspections that needed to take place.
Just being on the line and hearing the communication between Roofstock and the property managers was helpful, "especially because I really didn't have to say anything," Nate recalled.
"I've actually recommended Roofstock to three people. It was definitely a good experience."
Roofstock's certification process, in which the seller's home undergoes a due diligence checklist before going live on the marketplace, also impressed Nate.
"I would say from a seller's perspective it's to my benefit to go through as much as possible," he pointed out. "I also put myself in the buyer's shoes. If I'm going to buy a property and someone's certifying that they've done all the due diligence. I think that's fantastic. I liked it."
Once Nate's listings were live on the Roofstock marketplace, one was under contract in 11 days and the other in 21—much faster than he anticipated. The fact that Roofstock actively markets to the right audience, both nationally and internationally, really sets it apart, Nate remarked.
Nate was also one of the first sellers to beta test Roofstock's offer management tool, which allowed him to easily negotiate on his own with the buyer.
"I didn't need a middleman to say 'yes' or 'no' on a purchase price," he said. "Just being able to do all that digitally was really awesome."
Bottom Line
Roofstock gave Nate a practical, hands-off solution for selling two investment properties without having to displace the current tenants. Rather than paying commissions for both the listing and buying agents, Nate saved money by listing on Roofstock and only paying a 2.5% marketplace fee.
"Honestly the whole process went pretty smooth," Nate said. "I've actually recommended Roofstock to three people. It was definitely a good experience."
Save time and money by listing your rental property for sale on Roofstock. Get started now or schedule a call with one of our advisors:
---
Read More Roofstock Customer Stories
---
How Roofstock helps sellers save money
No lost rental income:

Lost rental occurs when tenants move out to get the property ready for sale. Traditionally a seller can expect three months of lost rent, but selling through Roofstock does not require displacing tenants.
No improvement costs:

This includes all potential costs incurred to get the property ready for sale and new tenants. We estimate an approximate cost per square foot of $1.75. Selling through Roofstock does not require any improvements & staging.
Roofstock fees:

Roofstock charges a transaction fee to the seller for marketing the property to investors and assisting with closing. The fee is charged upon successful closing of the transaction and is calculated as the greater of 2.5% of sales price or $2,000. Traditional broker fees average around 6%.
More from the Roofstock blog