Last updated on December 31, 2020
Athens is ranked as one of the fastest-growing cities by WalletHub. That's one of several key metrics that rental property investors look for when choosing the best real estate markets to invest in.
Home values are getting hotter in Georgia, and Athens is no exception. One reason values keep rising is the strong demand for rental property in the market.
Athens-Clarke County has been placed in the top 10 cities in the U.S. with the biggest increases in rents. Other places making the list included Thousand Oaks and Santa Clara, California; Wilmington, North Carolina; and Birmingham, Alabama.
Athens is about a one hour drive from Downtown Atlanta, and is part of the Athens-Clarke County MSA and home to the University of Georgia, the state's renowned public university and research center. Established and new technology startups help drive the economy, along with biotechnology firms and manufacturing, and the tourism industry.
The city is also known as the birthplace of several well-known alternative rock and new wave performers such as R.E.M., The B-52s, Indigo Girls, and Matthew Sweet. Climate in Athens is similar to much of Georgia and the Southeastern U.S., with hot and humid summers and short, cool winters.
Here's more of what investors need to know about investing in Athens, Georgia in 2020.
>>Explore Roofstock's Athens investment properties here.
Population Growth
Athens-Clarke County is ranked by WalletHub as one of the fastest-growing areas in the U.S. The firm analyzed 17 key measures of growth and decline for 515 cities in the country, reviewing data sets such as population growth, unemployment rate decrease, and growth in regional GDP. Athens has a higher growth rate than cities such as Columbus and Albany, Georgia, and Springfield, Illinois.
Key Population Stats:
City of Athens is home to about 126,000 people with nearly 485,000 residents within a 45-minute drive of Downtown Athens.
Population growth in Athens is 1.24% year-over-year.
Over the last 10 years the population has grown by more than 9%.
Athens gained 500 new residents last year and is projected to reach a population of nearly 130,000 in the next few years.
Median age in Athens-Clarke County is 32.6 years vs. 37.2 years for the State of Georgia.
Just north of Athens, Jackson County was the 10th fastest-growing county in the U.S., adding more than 2,700 new residents between 2017 and 2018, according to the Atlanta Journal-Constitution.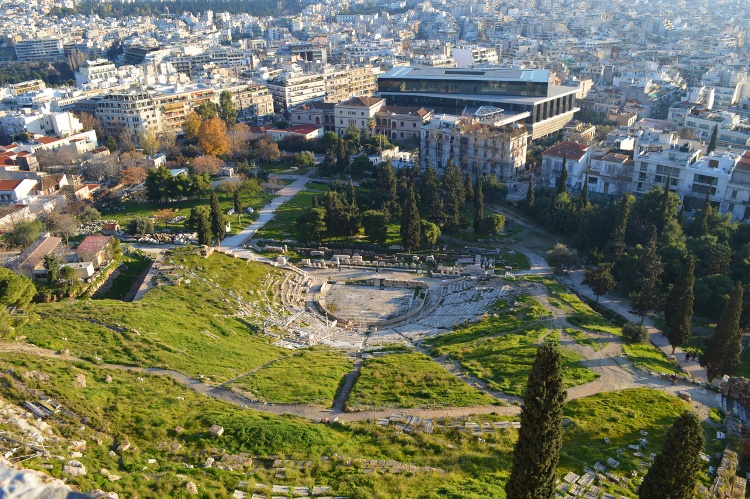 Job Market
Employment growth in Athens-Clarke County was 3.1% over the last year. The BLS reports that as the economy begins to recover, industry sectors showing the fastest rebound include trade and transportation, professional and business services, and leisure and hospitality.
Key Employment Stats:
GDP of the Athens-Clarke County MSA is more than $10.6 billion, according to the Federal Reserve Bank of St. Louis, and has grown by more than 51% over the last 10 years.
Unemployment rate in the Athens metro area is down to 3.7% (as of Oct. 2020)
Athens is ranked by Forbes as the #6 best small place for business and careers, #20 in cost of doing business, and #28 in job growth.
Aerospace machining, advanced materials manufacturing, and heavy equipment manufacturing are three of the target industry sectors in Athens.
14% of the labor force in Athens is employed in the manufacturing sector.
Largest private employers in Athens include Piedmont Athens Regional Healthcare, Caterpillar Athens Plant, Pilgrims poultry products, DialAmerica, transport refrigeration equipment maker Carrier Transicold.
University of Georgia and Clarke County School District are two of the largest public employers in the Athens-Clarke County MSA.
Technology companies based in the Athens area include Roundsphere, Cogent Education, Partner Software, and Digital Insight.
Pharmaceutical and biotechnology companies in Athens include Merial, Janssen Pharmaceuticals, Inc., and several biotechnology research centers hosted by the University of Georgia.
Athens Technical College, Augusta University, University of Georgia, and Piedmont College are all in the Athens metropolitan area.
42.4% of the residents in Athens have a bachelor's degree or higher, while 89.7% are high school graduates or higher.
Five U.S. Highways pass through Athens, including U.S. Route 29 running between Alabama and South Carolina and U.S. 129 to the Florida state line.
Interstate Highways I-20, I-75, and I-85 are within 68 miles or less of Athens.
Port of Savannah is four hours from Athens.
CSX, Norfolk Southern, and Athens Line TAL provide rail service through the Athena Industrial Park.
Ben Epps Airport in Athens provides commercial charter service, while Hartsfield-Jackson International Airport in Atlanta is a 1 ½ hour drive away.
Real Estate Market
There's limited land in Athens where new single-family and multifamily housing can be built, which is one of the reasons why real estate prices in Athens keep rising.
Although tiny Athens, Georgia is only about 118 square miles in size, the city boasts a population density of over 850 people per square mile. A second reason why home prices keep going up is that Athens is a college town, and students from the University of Georgia have the luxury of using their parents' money to pay for off-campus housing.
Key Market Stats:
Zillow Home Value Index

for Athens is $218,143 as of November 2020.
Home values in Athens, Georgia increased by 11.3% last year and are projected to grow by another 10.2% over the next 12 months.
Over the past five years home values in Athens have gone up by more than 50%.
Median list price of a single-family home in Athens is $259,950 based on the most recent report from

Realtor.com

(November 2020).
Median price per square foot of a home for sale in Athens is $137.
Median sales price of a single-family home in Athens is $238,950.
Days on market (median) is 54.
Sales-to-list price ratio is 100%, meaning that homes in Athens are selling for the full asking price.
Of the 28 neighborhoods in Athens, Rock Springs is the most expensive with a median home listing price of $995,000.
Most affordable neighborhood in Athens is Carrs Hill with a median home listing price of $112,000.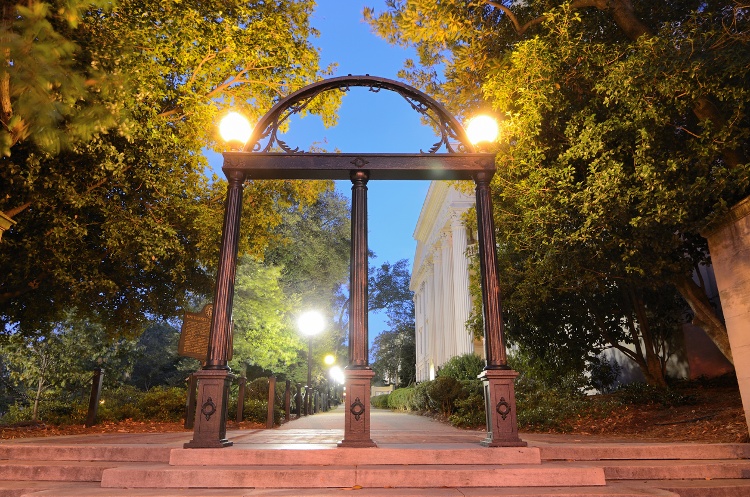 Attractive Renters' Market
The mayor-elect in Athens recently observed that there has been a lack of focus from developers on family workforce housing, creating a supply shortage. Also driving the rental market in Athens are students from the nearby University of Georgia who often opt for renting two-to-four bedroom houses rather than living on-campus.
Key Market Stats:
Fair market rent in Athens

for a 3-bedroom home is $1,150.
Rents in Athens-Clarke County increased by more than 8% last year.
Single-family homes make up 61% of the housing units in Athens, with this lower percentage making a house an attractive rental option.
48% of the housing units in Athens are occupied by renters.
Median age in Athens is 32.6, with 30% of the population between the ages of 20 - 39 years old, a key demographic for rental property investors.
Historic Price Changes & Housing Affordability
Analyzing historic home price changes and the affordability of housing in a market are two ways that real estate investors can forecast the current and potential future demand for rental property.
When researching price change data, one good resource to use is the Freddie Mac House Price Index report. The most recent monthly FMHPI released for the Athens-Clarke County MSA reveals:
October 2015 HPI: 125.21
October 2020 HPI: 192.82
5-year change in home prices: 54.0%
One-year change in home prices: 14.5%
Monthly change in home prices: 1.7%
Tracking the affordability of housing in a market can also offer an idea of how many people will choose to rent rather than own.
The Housing Affordability Index (HAI) compares median family incomes to prices of median resale single-family homes. Of course, other factors may cause people to rent rather than own, such as lifestyle choices or a short supply of available housing.
HAIs use 100 as a baseline index number. The greater the affordability index is above 100, the more affordable a market is, and vice versa.
Based on the most recent HAI data through July 2020, the housing affordability index in Athens is 126. This means that Athens is one of the less affordable places in Georgia to own a home, which could indicate a strong demand for rental housing in Athens.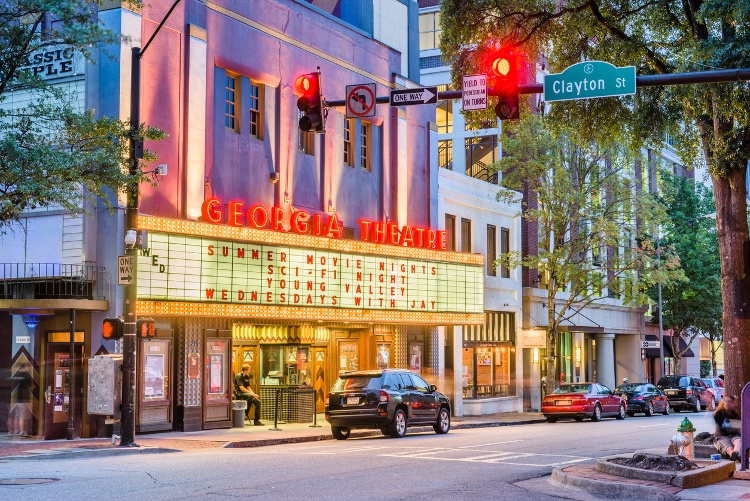 Quality of Life
Athens is ranked by Niche.com as the #3 best place to live in Georgia, receiving top grades for nightlife, diversity, family living and public schools with a cost of living that's 5% below the national average. The city is known for great music, fantastic food, and the Georgia Bulldogs.
Key Quality of Life Stats:
Get Out the Map
Where to begin your search? Roofstock created a heat map of Athens based on our Neighborhood Rating, a dynamic algorithm that enables you to make informed investment decisions by measuring school district quality, home values, employment rates, income levels and other vital investment criteria.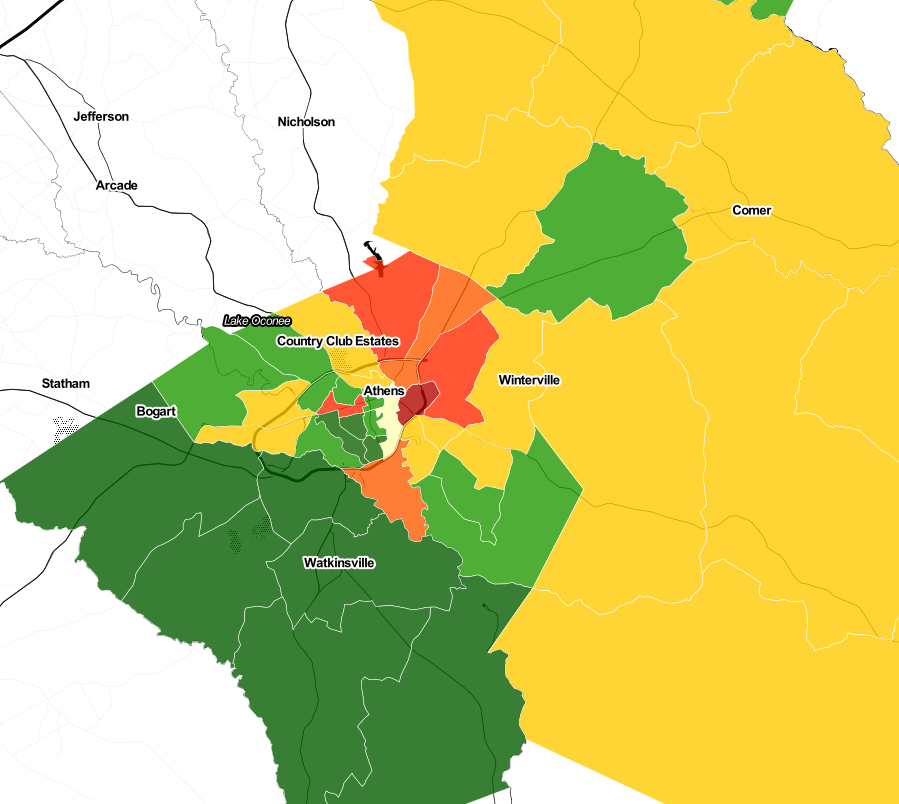 DARK GREEN: 4-5 star neighborhood
LIGHT GREEN: 3.5-4 star neighborhood
YELLOW: 2.5-3 star neighborhood
ORANGE: 2 star neighborhood
RED: 1 star neighborhood

Ready to invest in the Athens housing market? If you haven't already done so, create your free Roofstock account and set up alerts. We'll notify you when we have an Athens investment property that matches your search criteria.