Last updated on June 16, 2022
The Atlanta real estate market remains on a roll, with median home sales prices up 20.3% (April 2021 vs April 2022). Job growth, a growing population, and housing affordability should make Atlanta an attractive market for investing in rental property throughout 2022, especially when 50% of the households in the metro area rent rather than own.
As the marketing officer for the Georgia MLS observes, "Atlanta is such a transient town – there are always people moving in who need housing."
When it comes to thriving metropolitan areas with relatively reasonable home prices, Atlanta is a serious contender. Boasting a strong economy, tree-lined neighborhoods, vibrant culture and urban walkability, Georgia's state capital is a place where newcomers put down stakes and locals never leave.
When looking at Atlanta through a real estate lens, the numbers come up big. It's a city with an incredible amount of upside and an attractive real estate market for investors looking for a winning combination of cash flow and appreciation.
>>Explore Roofstock's Atlanta properties here.
Population growth
Although the growth rate has slowed down compared to previous decades, metropolitan Atlanta is still booming and growing at a much healthier pace. As the Atlanta Regional Commission (ARC) reports, the biggest driver of growth is jobs, with the housing market struggling to keep up with the influx of new residents.
Key Population Stats:
Atlanta is the capital of Georgia, and home to nearly 500,000 in the city and about 6.1 million residents in the metropolitan area.
Population of Atlanta grew by 1.14% last year and by 18.7% over the past 10 years, according to the most recent census.
Atlanta is the most populous city in Georgia and the 8th-largest metropolitan area in the country.
DeKalb, Gwinnett, Fulton, and Cobb are among the most populated counties in Metropolitan Atlanta.
Over the next 30 years Metro Atlanta is projected to grow by 2.9 million people and reach a total population of over 8.6 million, according to the Atlanta Regional Commission (ARC).
Per capita income in Atlanta is $36,867 and median household income is $71,193.
Job market
The 21-county region of metropolitan Atlanta is projected to add 1.2 million new jobs over the next 30 years. ARC predicts that the largest employment gains will occur in the health care, professional, scientific and technical, and construction industries.
Key Employment Stats:
GDP of the Atlanta-Sandy Springs-Roswell, GA MSA is nearly $370 billion, according to the Federal Reserve Bank of St. Louis, and has grown by more than 31% over the last 10 years.
Employment growth in Atlanta is 1.06% year-over-year with the metro area home to over 3 million employees.
Median household incomes in Atlanta grew by 3.28% year-over-year while median property values increased by 5.78% of the past 12 months.
Unemployment rate in Atlanta is currently 2.4% (as of April 2022) with the leisure and hospitality, information, and professional and business services sectors showing the fastest signs of growth (BLS).
Key industry sectors in Atlanta include bioscience, fintech, technology, and supply chain and advanced manufacturing.
Atlanta is home to 30 Fortune 500/1000 companies who generated aggregate revenues of $438 billion last year.
Largest employers in Atlanta include Delta Air Lines, Emory University and Emory Healthcare, The Home Depot, Northside Hospital, Piedmont Healthcare, Publix Super Markets, The Kroger Co., AT&T, and UPS.
Atlanta is recognized as a thriving innovation hub, with #1 rankings for metro area tech hub and best state of Black entrepreneurs, and among the top 25 global startup ecosystems.
Major colleges and universities in Atlanta include the Georgia Institute of Technology, University of Georgia, and Georgia State University.
90% of the residents of Atlanta are high school graduates or higher, while nearly 40% hold a bachelor's degree or advanced degree.
Atlanta's transportation infrastructure includes three major interstate highways, a heavy rail rapid transit system, multiple freight lines, and several airports.
Hartsfield-Jackson Atlanta International Airport has been the world's busiest airport since 1998 and serves over 150 U.S. destinations and more than 75 international destinations in 50 countries.
Real estate market
Home prices and existing home sales in Atlanta are forecast to increase by more than the national average in 2022. According to Realtor.com, price growth in Atlanta is projected to be 3.5% (vs 2.9% national average) while sales are predicted to grow by 10% year-over-year.
There are three key factors driving the demand for housing in the Atlanta real estate market: growing population, job growth, and affordability, according to a recent post on the BiggerPockets blog.
Key Market Stats:
Zillow Home Value Index (ZHVI) for Atlanta is $390,396 through April 2022.
Home values in Atlanta increased by 19.3% over the last year.
Over the last 5 years home values in Atlanta increased by over 71%.
Median listing price of a home in Atlanta is $412,000 based on the most recent report from Realtor.com (April 2022).
Median list price per square foot for a home in Atlanta is $265.
Days on market (median) is 37.
Median selling price of a home in Atlanta is $410,000.
Sale-to-list price ratio is 101.7%, meaning that homes in Atlanta are selling for slightly more than the asking price on average.
Of the 206 neighborhoods in Atlanta, the most expensive neighborhood to buy a home is Morningside – Lenox Park where the median listing price is $975,000.
Most affordable neighborhood in Atlanta to buy a home is Centennial Hill where the median listing price is $280,000.
Attractive renters' market
Build-to-rent communities in Atlanta are hot, especially in a metro area like Atlanta where 50% of the households rent rather than own.
As the Atlanta Business Chronicle reports, over the last couple of years there hasn't been a lot of entry-level housing to buy. Instead, would-be first time home buyers are looking for single-family homes to rent, making metropolitan Atlanta an ideal choice for rental property investors.
Key Market Stats:
Median rent in Atlanta is $1,30 per month for a 3-bedroom place, based on the most recent research from Zumper (December 2021).
Rents in Atlanta have increased by 23% year-over-year.
Over the past three years average rents in Atlanta have grown by about 27.7%
Renter-occupied households in Atlanta account for 50% of the total occupied housing units in the metropolitan area.
Most affordable neighborhoods in Atlanta for renters include Leila Valley, Carver Hills, and Amal Heights where average rents are $874 per month or less.
Most expensive neighborhoods in Atlanta for renters include South Tuxedo Park, Peachtree Center, and Buckhead Village Hills where rents can go for more than $5,000 per month.
Historic price changes & housing affordability
Two key methods real estate investors use to predict the potential demand for rental property in a specific market are reviewing the historic price changes and the affordability of housing in the metropolitan area.
Each month Freddie Mac publishes a house price index report (FMHPI) that updates the short- and long-term trends of home prices in all major markets in the U.S.
The most recent FMHPI from Freddie for the Atlanta-Sandy Springs-Roswell, GA MSA reveals:
April 2017 HPI: 140.19
April 2022 HPI: 249.23
5-year change in house prices: 77.8%
One-year change in house prices: 24.6%
Monthly change in home prices: 2.0%
Experienced real estate investors in Atlanta also research housing affordability to help forecast the current and future demand for rental real estate. Affordability compares the amount of annual income needed to purchase a median-priced home in Atlanta.
Business forecast and personal finance publication Kiplinger publishes a housing affordability report for the top 100 metropolitan areas in the U.S. The firm ranks affordability on a scale of 1 to 10, with 1 representing the most affordable markets and 10 the least affordable.
Kiplinger's analysis of housing affordability in Atlanta reports:
Since the last real estate cycle market peak in May 2006, home prices in Atlanta have increased by 21.3%.
Since the last real estate cycle market bottom in March 2012, home prices in Atlanta have increased by 115.0%.
Atlanta has an affordability index of 4 out of 10, meaning that housing affordability in the market is mid-range and helps to explain the high percentage of people renting in Atlanta.
Quality of Life
Atlanta recently ranked as the #1 best city for techies, another reason why the demand for rental property in Atlanta is so strong. Livability.com reports that the massive growth in tech job offerings and the numerous high-profile startups in the city are "proof-positive" that Atlanta is the perfect city for the tech-minded.
Key Quality of Life Stats:
Cost of living in Atlanta is nearly 50% less than San Francisco and 60% less than in Manhattan, according to NerdWallet's cost of living calculator.
Forbes ranks Atlanta as one of the best places for business and careers in the U.S.
Atlanta receives an overall "A" grade from Niche.com with high ratings for commuting, public schools, and nightlife.
Atlanta is one of the best places to live and a great place to retire, based on the most recent research by U.S. News & World Report.
Zumper lists Brookhaven, Buckhead, and Cabbagetown as three of the best neighborhoods in Atlanta for long-term renters and first-time buyers.
More than 30 colleges and universities serve the Atlanta metropolitan area.
Atlanta is a primary transportation center and home to Hartsfield-Jackson Atlanta International Airport – the busiest airport in the world.
Pro sports teams in Atlanta include the Atlanta Braves, Atlanta Hawks, Atlanta Falcons, and the Atlanta United FC of Major League Soccer.
Atlanta is home to permanent resident companies in all major performing arts, including opera, ballet, orchestra, and theater.
Get out the map
Where to begin your search? Roofstock created a heat map of Atlanta based on our Neighborhood Rating, a dynamic algorithm that enables you to make informed investment decisions by measuring school district quality, home values, employment rates, income levels and other vital investment criteria.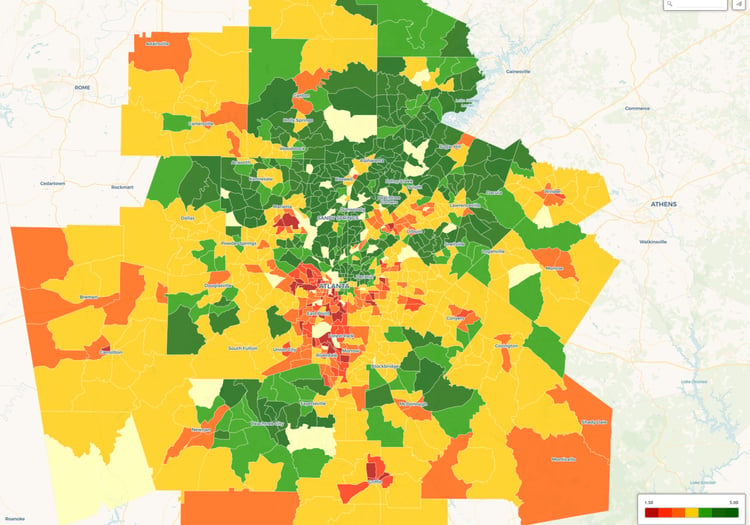 DARK GREEN: 4-5 star neighborhood
LIGHT GREEN: 3.5-4 star neighborhood
YELLOW: 2.5-3 star neighborhood
ORANGE: 2 star neighborhood
RED: 1 star neighborhood
Ready to invest in the Atlanta market? If you haven't already done so, create your free Roofstock account and set up alerts. We'll notify you when we have an Atlanta investment property that matches your search criteria.