When it comes to thriving metropolitan areas with relatively reasonable home prices, Atlanta is a serious contender.
Boasting a strong economy, tree-lined neighborhoods, vibrant culture and urban walkability, Georgia's state capital is a place where newcomers put down stakes and locals never leave.
When looking at Atlanta through a real estate lens, the numbers come up big. It's a city with an incredible amount of upside.
Below are some key reasons Atlanta is a great place to consider investing in a rental property.
>>Explore Roofstock's Atlanta investment properties here.
Population Growth
Driven by a booming economy and an influx of young, diverse professionals, Atlanta is one of America's fastest-growing cities. Already among the nation's 10 most populous metro areas, its population is projected to climb even higher in the next few years.
Key Population Stats:
Job Market
Educated workers flock to Atlanta for steady employment and corporations move here for the educated workforce. As the Atlanta Business Chronicle points out, "It's a self-fueling development cycle that has made Atlanta one of the hottest residential and labor markets in the country."
Twenty-six Fortune 1,000 companies are headquartered in metro Atlanta. Even more impressive? Sixteen of these businesses are on the elite Fortune 500 list, including Home Depot, UPS, Coca-Cola and Delta Air Lines.
These employers cover a wide range of industries — from healthcare to film to technology — giving Atlanta's economy stability in the event of any industry-specific slumps.
Key Employment Stats:
Real Estate Market
Despite of all these glowing numbers, Atlanta is still a place where you can find real estate deals. Real estate forecasters say what used to be a strong "seller's market" in Atlanta is shifting the other way. While not a full-on "buyer's market," analysts believe it's still relatively easy to find quality homes at good prices.
Some real estate experts say that if you're going to enter this market, 2019 is the year to get it done.
Key Market Stats:
The average Atlanta home price is about $16,000 less than the national average.
According to

Zillow, the average home value in Atlanta is $259,700, which is 9.7% higher than last year. Zillow projects another 3.9% increase within the next year.
Zillow

found that the average listing price in Atlanta is $339,500, while the average sales price is $230,400, indicating that real estate investors should be weary of submitting offers that are too high.
Attractive Renters' Market
Which demographic is moving to Atlanta for work? For the most part, young and educated. This is great news for owners of rental properties in the greater metropolitan area.
While home prices in Atlanta are lower than the national average, they're still out of reach of many millennials. And as home prices and interest rates continue to rise in 2019, the city's millennial newcomers — a group mostly unable or unwilling to buy at the moment — will further increase rental demand across the area.
Key Market Stats:
Nearly a quarter of its residents are

between 28 and 38

years old.
A

Rent.com survey

found that nearly eight out of 10 renters between the ages of 18 and 34 don't plan on trading their rentals for purchased homes anytime soon.
According to John Burns Real Estate Consulting, homeowners pay 14% more per month than home renters in the area.
Quality of Life
People love living in Atlanta. It's a large metropolitan area, but the city has plenty of trees, walkable space and entertainment, while the suburbs are pleasantly situated outside the hustle and bustle.
When compared to other big U.S. cities like San Francisco and New York, the cost of living is reasonable, resting right at the national average for its population size.
Key Quality of Life Stats:
With major professional sports teams, a vibrant music scene, numerous restaurants and bars — not to mention the largest indoor aquarium in the Western hemisphere — there's something for everyone in Atlanta.
It's one of the few U.S. cities with permanent companies representing all the performing arts: opera, symphony, ballet and theater.
In terms of passenger traffic, the Atlanta airport has been the

world's busiest

since 1998. You can fly direct to

247 destinations

from here.
The city itself is very green (some call it "The City in the Trees"), and public works projects abound.
The

Atlanta BeltLine

project is currently transforming an old railway into a 33-mile multi-use trail and network of 2,000 public parks. Scheduled for completion in 2030, parts of the extensive trail are already in use.
Get Out the Map
Where to begin your search? Roofstock created a heat map of Atlanta based on our Neighborhood Rating, a dynamic algorithm that enables you to make informed investment decisions by measuring school district quality, home values, employment rates, income levels and other vital investment criteria.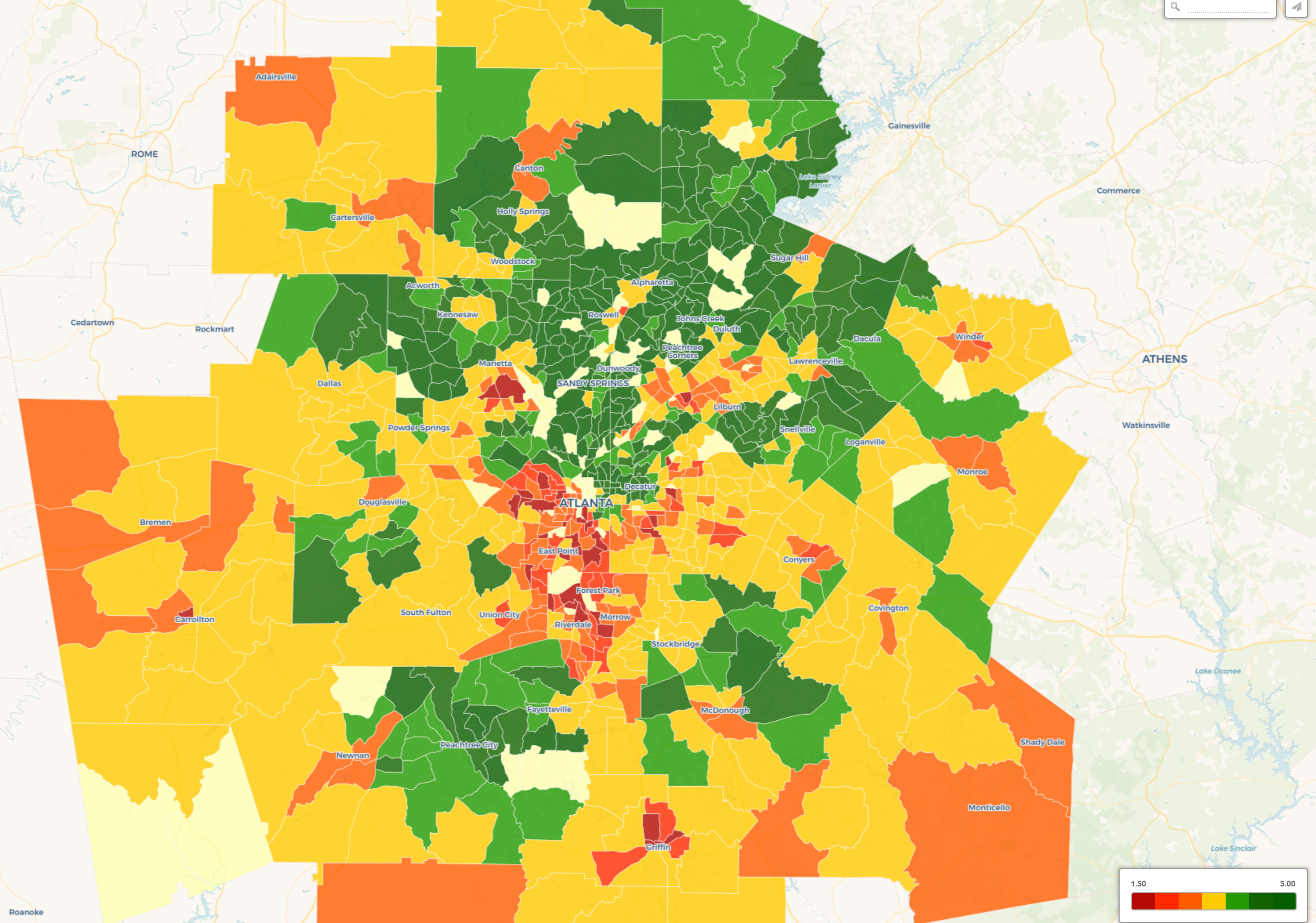 DARK GREEN: 4-5 star neighborhood
LIGHT GREEN: 3.5-4 star neighborhood
YELLOW: 2.5-3 star neighborhood
ORANGE: 2 star neighborhood
RED: 1 star neighborhood
Ready to invest in the Atlanta market? If you haven't already done so, create your free Roofstock account and set up alerts. We'll notify you when we have an Atlanta investment property that matches your search criteria.