Last updated on June 13, 2022
While the first things that come to mind when you think about Illinois may be the skyscrapers in the Chicago Loop, the state is also home to over 1,000 smaller cities, towns, and villages to consider when looking to purchase an investment property.
The city of Chicago is home to nearly 80 unique neighborhoods, and suburban areas include Waukegan near the Illinois-Wisconsin border, the capital city of Springfield in downstate Illinois, and Champaign, home to the University of Illinois Urbana-Champaign and the Research Park.
In Illinois, median home sale prices have increased by 3% year over year, while median rents for 3-bedroom homes in some cities grew by 11% or more over the past 12 months. Here are 10 Illinois rental markets in which to consider investing, including places where renters occupy 44% or more of the households.
---
Key takeaways
Illinois is home to more than 12.8 million people and nearly 1,300 villages, towns, and cities.
Home values in Illinois increased by 3% over the past year, while median rent prices for 3-bedroom homes in some markets have grown by more than 20% year over year.
Some of the cities in Illinois with large percentages of renters include Chicago, Rockford, Springfield, and Champaign.
---
>>Explore Roofstock's Illinois investment properties.
Why consider investing in Illinois?
According to the Housing Price Forecasts 2022 by the University of Illinois, median home prices across Illinois grew less than expected, creating a potential window of opportunity for real estate investors. Over the next 12 months, median prices are forecasted to grow by up to 8%.
The state population declined slightly over the past 10 years. However, some rental markets in Illinois, such as Naperville and Champaign, recorded population growth of 8.2% or more. While median home prices statewide increased by 3% year over year, cities including Springfield and Joliet saw median home prices rise by an average of 10%.
Although there may be short-term challenges, what are considered drawbacks for some investors are opportunities for others. The state has the fifth-largest gross domestic product (GDP) in the country and one of the most diverse economies in the world. There are nearly 1,300 incorporated municipalities to consider for rental property investing, including some where rent prices have increased by more than 20% year over year.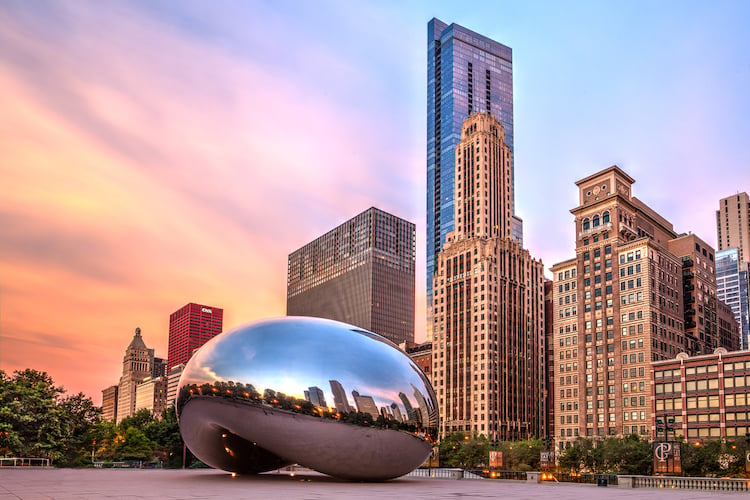 10 great rental markets in Illinois for investment properties
The real estate market in Illinois may be shifting in favor of buyers, according to the most recent data from Redfin.
Home prices rose 3.0% year over year, while the number of homes for sale increased by more than 45% (March 2022). At the same time, it takes 26% longer to sell a home compared to one year ago. So while it may be too soon to tell if Illinois is a buyer's market, investors thinking about purchasing rental property in the Midwest may wish to give the state a closer look.
Here are 10 cities in Illinois to consider for a real estate investment property, using Redfin and Realtor.com for housing market data, Zumper for rent data, CensusReporter for population and income information, and the United States Census Bureau for 10-year population growth.
Chicago
Chicago is the third-most populous city in the U.S., just behind New York and Los Angeles. The city is an international hub for business sectors, such as finance, education, technology, and health care. Chicago is about 8 miles wide and 22 miles long and home to nearly 80 unique neighborhoods within the city limits:
Population: 2,746,388
Population growth: 1.9%
Median sale price: $345,000
Change in sale price (year over year): 0.7%
Days on market: 59
Median rent (3-bedroom home): $2,600
Change in rent price: 18%
Renter-occupied households: 53%
Median household income: $62,097
Aurora
Aurora is located 40 miles west of Chicago and is the second-most populous city in the Chicagoland metro area. The city is home to unique architecture, including buildings by Frank Lloyd Wright, Ludwig Mies van der Rohe, and more than 50 Sears Catalog Homes built by kits sold by Sears, Roebuck, and Company:
Population: 180,542
Population growth: -8.7%
Median sale price: $270,000
Change in sale price (year over year): 22.7%
Days on market: 42
Median rent (3-bedroom home): $2,018
Change in rent price: 13%
Renter-occupied households: 31%
Median household income: $74,659
Rockford
Located 95 miles northwest of Chicago, Rockford is the largest city outside the metropolitan area. Rockford is near the Illinois-Wisconsin border and offers a low cost of doing business and a high quality of life, according to the city's economic development department. Rockford is a regional center for health care, and major employers include Mercy Health, Swedish-American Health System, and OSF Healthcare:
Population: 148,655
Population growth: -2.8%
Median sale price: $123,500
Change in sale price (year over year): 23.5%
Days on market: 14
Median rent (3-bedroom home): $1,200
Change in rent price: 22%
Renter-occupied households: 49%
Median household income: $44,771
Joliet
Joliet is home to major logistics facilities for companies including Amazon, IKEA, Home Depot, and Whirlpool. The city is located 30 miles southwest of Chicago, near the Indiana border:
Population: 150,362
Population growth: 2.0%
Median sale price: $245,000
Change in sale price (year over year): 11.4%
Days on market: 45
Median rent (3-bedroom home): $1,250 (based on limited data)
Change in rent price: Not available
Renter-occupied households: 30%
Median household income: $72,871
Naperville
Naperville is located 28 miles west of Chicago, with easy access to the Loop and surrounding suburban cities, including Aurora and Joliet. The city's historic district in the eastern section of Naperville has nearly 600 buildings listed on the National Register of Historic Places:
Population: 149,540
Population growth: 5.4%
Median sale price: $470,500
Change in sale price (year over year): 8.2%
Days on market: 42
Median rent (3-bedroom home): $2,350
Change in rent price: 0%
Renter-occupied households: 20%
Median household income: $127,648
Springfield
Springfield is the capital of Illinois and is located 200 miles southwest of Chicago. The city is ranked among the best places to live after the pandemic ends and the second-best midsized city to make a living. There are 20 neighborhoods in Springfield and 4 different suburban villages, including Leland Grove and Grandview:
Population: 114,394
Population growth: -1.6%
Median listing price: $131,300
Change in listing price (year over year): 9.5%
Days on market: 9
Median rent (3-bedroom home): $1,214
Change in rent price: 28%
Renter-occupied households: 47%
Median household income: $54,164
Peoria
Located 170 miles southwest of Chicago, Peoria is a major port on the Illinois River with a diverse economy that includes manufacturing, transportation, shipping, and health care. The city is home to various institutions of higher education, including Bradley University and the University of Illinois College of Medicine at Peoria:
Population: 113,150
Population growth: -1.6%
Median listing price: $119,900
Change in listing price (year over year): 14.2%
Days on market: 18
Median rent (3-bedroom home): $683
Change in rent price: -15%
Renter-occupied households: 44%
Median household income: $51,736
Elgin
Elgin is 35 miles northwest of Chicago along the shore of the Fox River. The city is home to more than 5,000 businesses, including JPMorgan Chase and John B. Sanfilippo (Fisher Nuts). In addition, Elgin boasts an architecture and historic preservation district with Sears Catalog Homes built from kits and homes in the Queen Anne style:
Population: 114,797
Population growth: 6.1%
Median sale price: $260,900
Change in sale price (year over year): 6.5%
Days on market: 47
Median rent (3-bedroom home): $2,195
Change in rent price: 31%
Renter-occupied households: 38%
Median household income: $72,999
Waukegan
Waukegan is located along the shores of Lake Michigan, 40 miles north of Chicago and 55 miles south of Milwaukee. The city has one of the Midwest's largest lakefront and downtown redevelopments, including a 1,000-ship marina:
Population: 89,321
Population growth: 0.0%
Median sale price: $185,000
Change in sale price (year over year): 2.8%
Days on market: 50
Median rent (3-bedroom home): $1,400
Change in rent price: 8%
Renter-occupied households: 45%
Median household income: $53,778
Champaign
Located 135 miles southwest of Chicago, Champaign is often referred to as a hub of the Silicon Prairie. The city is home to the University of Illinois Urbana-Champaign and Parkland College, along with well-known technology companies in the Research Park, including Riverbed Technology, Citrix Systems, and Yahoo!:
Population: 88,302
Population growth: 8.9%
Median sale price: $183,250
Change in sale price (year over year): 4.7%
Days on market: 51
Median rent (3-bedroom home): $1,219
Change in rent price: Data unavailable
Renter-occupied households: 44%
Median household income: $49,467