Last updated on March 22, 2022
Rapidly rising home prices throughout the Chicago area are increasing the demand for rental property and driving rent prices up. As the Chicago Tribune reports, when people are unable to buy homes, they are more likely to stay in rentals.
Home values in Chicago have increased by 9.5% year over year, and many of the best neighborhoods in the city have more renters than homeowners. However, unlike coastal gateway cities like Los Angeles and New York, housing prices in the "Second City" are still relatively affordable, creating a window of opportunity for investors looking for rental property in the Midwest.
We recently looked at neighborhoods in and around Chicago in which you can find great investment properties.
---
Key takeaways
Metropolitan Chicago is more than 10,800 square miles in size and home to over 9.6 million residents.
Major cities and suburbs in the Chicagoland area include Joliet, Evanston, and Naperville.
Home prices in Chicago have increased by 9.5% over the past year, while rents on 3-bedroom homes have grown by 5% over the same time period.
Popular neighborhoods in Chicago like Lincoln Park, Logan Square, and Uptown have more renters than homeowners.
Suburbs with larger percentages of renters include West Ridge near Evanston and Zion near the Illinois-Wisconsin border.
---
>>Explore Roofstock's Chicago investment properties.
Why invest in Chicago?
Population growth, a strong job market, and demand for rental property are 3 things that help to make a market conducive for real estate investing, and Chicago ticks all of the boxes.
Chicago is home to the second largest business district in the country and boasts a diverse economy powered by key business sectors, including financial services, transportation and logistics, technology, and manufacturing. Over the next 30 years, the metropolitan area is projected to add about 200,000 new jobs.
With home prices continuing to rise in the metro area, even buyers with good incomes are losing out to investors in bidding wars. Over the past year alone, the value of a middle-price-tier home in Chicago has increased by 9.5%, while rents for 3-bedroom homes have increased by 5% year over year (Zillow through Jan. 31, 2022, and Zumper as of Feb. 14, 2022).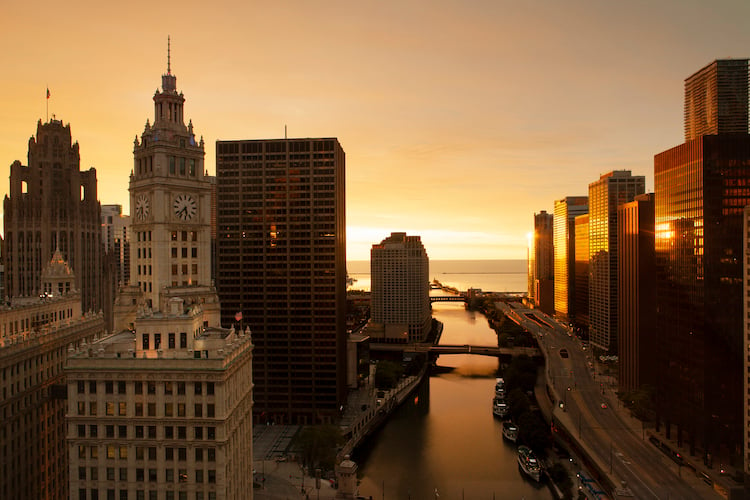 15 great areas in Chicago for investment properties
There are nearly 98 neighborhoods in Chicago and the surrounding suburbs, which can make finding the best areas for investment property a little challenging. To make your research a bit easier, here are 15 areas in and around Chicago where you can look for rental properties to buy. Data at the neighborhood level comes from Niche.com, Realtor.com, and Redfin.
Logan Square
Logan Square is located just west of I-90 and a few minutes from the Lincoln Park neighborhood. The area is a popular neighborhood where most residents rent their homes:
Population: 59,034
Median sale price: $450,300
Change in sales price (year over year): 4.7%
Days on market: 20
Median rent: $1,320
Renter-occupied households: 65%
Median household income: $72,429
ZIP code: 60647
West Town
The West Town neighborhood in Chicago is just south of Logan Square and has a large percentage of renters. West Town has a mixed urban-suburban feel:
Population: 30,368
Median sale price: $531,500
Change in sales price (year over year): 2.8%
Days on market: 29
Median rent: $1,656
Renter-occupied households: 57%
Median household income: $112,331
ZIP code: 60622
Lincoln Park
Lincoln Park receives high grades for nightlife and safety, and more than half of the residents rent their homes:
Population: 47,530
Median sale price: $605,000
Change in sales price (year over year): 1.1%
Days on market: 33
Median rent: $1,727
Renter-occupied households: 55%
Median household income: $126,342
ZIP code: 60614
Uptown
The Uptown neighborhood in Chicago is a few minutes south of Loyola University, just north of Wrigley Field. Uptown has a dense urban feel and a large percentage of renter-occupied households:
Population: 58,979
Median sale price: $305,000
Change in sales price (year over year): 1.2%
Days on market: 34
Median rent: $1,060
Renter-occupied households: 68%
Median household income: $55,255
ZIP codes: 60613, 60640
Lake View
Located just north of Lincoln Park, Lake View is ranked by Niche.com as the ninth best neighborhood in Chicago. Lake View has a dense urban feel, with a lot of bars, coffee shops, and restaurants, and more residents rent than own:
Population: 92,594
Median sale price: $422,500
Change in sales price (year over year): -3.9%
Days on market: 40
Median rent: $1,578
Renter-occupied households: 61%
Median household income: $103,573
ZIP codes: 60613, 60614, 60657
River North
The River North neighborhood is located along the Chicago River, just west of the Loop. River North is rated as one of the best neighborhoods in Chicago, and most residents rent their homes:
Population: 37,832
Median sale price: $430,000
Change in sales price (year over year): 3.6%
Days on market: 50
Median rent: $2,045
Renter-occupied households: 65%
Median household income: $113,469
ZIP code: 60654
Greektown
Known for its nightlife and famous Greek restaurants, Greektown is ranked by Niche.com as the best neighborhood in Chicago for buying a house. Located northwest of the intersections of the Kennedy and Eisenhower Expressways, west of the Loop, Greektown receives an A+ grade, with good marks for public schools, housing, and nightlife:
Population: 6,634
Median sale price: $430,000
Change in sales price (year over year): -16.1%
Days on market: 4
Median rent: $2,469
Renter-occupied households: 40%
Median household income: $167,189
ZIP code: 60607
Loop
The Chicago Loop neighborhood is home to the city's central business district and is bordered by Grant Park, Millennium Park, and the Art Institute of Chicago. The Loop has a dense urban feel and a large percentage of renters:
Population: 35,351
Median sale price: $355,000
Change in sales price (year over year): 3.8%
Days on market: 64
Median rent: $2,204
Renter-occupied households: 66%
Median household income: $113,839
ZIP codes: 60601, 60602, 60603, 60604
Streeterville
Located immediately north of the Chicago River, the Streeterville neighborhood is bordered by Lake Michigan on the east and the Magnificent Mile retail district on the west. Streeterville has a dense urban feel and is ranked as one of the best neighborhoods in Chicago:
Population: 27,179
Median home value: $445,000
Change in sales price (year over year): 5.5%
Days on market: 91
Median rent: $2,071
Renter-occupied households: 54%
Median household income: $117,062
ZIP codes: 60610, 60611
Printer's Row
Printer's Row is located south of the Loop and is home to a large number of warehouses that have been converted into residential lofts. The Printer's Row neighborhood is ranked as the best neighborhood in Chicago by Niche.com and receives high marks for housing, nightlife, and safety:
Population: 9,209
Median sale price: $249,000
Change in sales price (year over year): 2.3%
Days on market: 48
Median rent: $2,156
Renter-occupied households: 68%
Median household income: $109,978
ZIP codes: 60605, 60607
West Ridge
The West Ridge neighborhood is located south of suburban Evanston and west of Loyola University. West Ridge has a mixed urban-suburban feel, and most residents rent their homes:
Population: 78,466
Median sale price: $194,000
Change in sales price (year over year): -7.6%
Days on market: 22
Median rent: $1,153
Renter-occupied households: 52%
Median household income: $55,240
ZIP codes: 60645, 60659
Zion
Suburban Zion is located north of Chicago, near the Illinois-Wisconsin border, and it has a sparse suburban feel:
Population: 23,858
Median sale price: $181,250
Change in sales price (year over year): 30.4%
Days on market: 14
Median rent: $1,013
Renter-occupied households: 43%
Median household income: $51,702
ZIP code: 60099

Glendale Heights
Glendale Heights is located west of Chicago, between Naperville and Schaumburg. The area has a dense suburban feel and receives high grades for housing, public schools, and nightlife:
Population: 34,079
Median sale price: $230,000
Change in sales price (year over year): 9.5%
Days on market: 9
Median rent: $1,272
Renter-occupied households: 36%
Median household income: $68,495
ZIP codes: 60108, 60137, 60139, 60148
Bolingbrook
Bolingbrook is located between Naperville and Joliet, southwest of Chicago. The popular area has a sparse suburban feel:
Population: 74,431
Median sale price: $300,000
Change in sales price (year over year): 15.4%
Days on market: 8
Median rent: $1,386
Renter-occupied households: 19%
Median household income: $91,290
ZIP codes include: 60440, 60517, 60585
Preston Heights
Preston Heights is located south of Joliet and has a sparse suburban feel:
Population: 2,651
Median sale price: $260,000
Change in sales price (year over year): Data not available
Days on market: 24
Median rent: $988
Renter-occupied households: 38%
Median household income: $49,196
ZIP code: 60433