Last updated on June 17, 2022
First-time home buyers in Chicago are being priced out of the market due to rapidly rising prices, which is creating a ripple through the rental market. As the Chicago Tribune recently reported, people who are unable to buy homes are more likely to stay in rentals, driving rental prices up.
Housing prices in the Windy City projected to nominally increase and sales growth predicted to slightly decline. With market conditions like these, investing in rental property in Chicago could be a smart move this year, with more households in Chicago renting instead of owning.
"Gateway" real estate markets like Chicago are an elite group of powerhouse U.S. cities with high liquidity, large economies, influential culture and international brand recognition.
While all are praised for being wise investments, their steep prices make them out of reach for the emerging investor. Except for one.
Property investors looking for an approachable gateway location have a no-brainer option in Chicago. It boasts a powerful economy like coastal markets New York and Los Angeles, though some residents might find it cleaner than the former and kinder than the latter.
Nicknamed Chicagoland and the Windy City, Chicago is the third most populous U.S. city, has the third busiest airport, and is centrally located to all its sister gateways. It also happens to be way more affordable.
Here's a little research into the Chicago market and why it could be a nice nest for your real estate investment dollars.
>>Explore Roofstock's Chicago properties here.
Population growth
The population of the City of Chicago increased by 2% over the past 10 years, according to the most recent census report analyzed in the Chicago Sun-Times. The city is still the 3rd largest in the U.S., right behind New York and Los Angeles.
As with many other urban areas across the country, some suburbs around Chicago are reporting rapid growth. For example, far northwest suburbs in Chicago like Huntley and the Village of Pingree Grove saw their populations grow by between 14% and 128% over the last decade as more people opt for a less dense suburban environment to live and work.
Key Population Stats:
Chicago is home to nearly 2,750,000 people in the city and more than 9.6 million residents in the metropolitan area.
Population of Chicago declined by 1.8% last year but has grown by 2% over the past 10 years.
Chicago is the most populous city in Illinois and the third most populous metropolitan area in the U.S.
Metropolitan Chicago includes Cook, Lake, McHenry, DuPage, Kane, Kendall, and Will counties in Illinois, along with Lake and Porter counties in Indiana.
Population of Chicagoland is projected to reach 10.6 million people by 2050, according to the Chicago Metropolitan Agency for Planning (CMAP).
Per capita income in Chicago is $39,068 and median household income is $62,097.
Job market
Chicago is a major world financial center and home to the second-largest central business district in the U.S. Over the next 30 years, employment growth in metropolitan Chicago is projected to be just below the 5 million mark, adding about 200,000 new jobs.
Key Employment Stats:
GDP of the Chicago-Naperville-Elgin, IL-IN-WI MSA is nearly $693 billion, according to the Federal Reserve Bank of St. Louis, and has grown by nearly 33% over the last 10 years.
Employment growth in Chicago is 0.09% year-over-year with the metro area home to nearly 4.8 million employees.
Median household incomes in Chicago grew by 6.53% year-over-year while median property values increased by 2.42% over the past 12 months.
Unemployment rate in Chicago is currently 4.1% (as of April 2022) with the leisure and hospitality, professional and business services, information manufacturing, and construction sectors showing the fastest signs of growth (BLS).
Key industry sectors in Chicago include business and professional services, food industry, transportation and logistics, life sciences and healthcare, technology, and manufacturing.
Largest employers in metropolitan Chicago include the U.S. Government, Chicago Public Schools, City of Chicago, Advocate Aurora Health, Cook County, and Northwestern Memorial Healthcare.
Major colleges and universities in Chicago include University of Chicago, Illinois Institute of Technology, Loyola University, DePaul University, and Columbia College Chicago.
Nearly 86% of the residents of Chicago are high school graduates or higher, while more than 41% hold a bachelor's or advanced degree.
Chicago is a major transportation hub in the U.S. and the third-largest intermodal port in the world.
Metropolitan Chicago is served by seven interstate highways, numerous long distance and commuter transportation systems, and two international airports.
Port of Chicago consists of several port facilities including the Lake Calumet and Iroquois Landing Lakefront terminals.
Real estate market
The Chicago real estate market is hotter than ever, with prices skyrocketing due to inventory shortages and the high cost of new construction. As The Real Deal reports, even buyers with medium-incomes often lose in bidding wars in less expensive areas like Garfield Park and Humboldt Park, and are more likely to stay in rentals.
Inventory is down to historically low levels, pushing year-over-year prices higher. Median home values in Chicago have increased by nearly 9% throughout the nine-county region, with bidding wars the norm in many popular neighborhoods.
Key Market Stats:
Zillow Home Value Index (ZHVI) for Chicago is $315,196 through April 2022.
Home values in Chicago increased by 8.6% last year.
Over the last five years home values in Chicago increased by over 29%.
Median listing price of a single-family home in Chicago is $349,900 based on the most recent report from Realtor.com (April 2022).
Median list price per square foot for a home in Chicago is $264.
Days on market (median) is 56.
Median selling price of a home in Chicago is $365,000.
Sale-to-list price ratio is 98.6%, meaning that homes in Chicago are selling for approximately the asking price on average.
Of the 78 neighborhoods in Chicago, the most expensive neighborhood to buy a home is Lincoln Park where the median listing price is $594,900.
Most affordable neighborhood in Chicago to buy a home is West Ridge where the median listing price is $177,500.
Strong renters' market
Chicago landlords remain in the driver's seat, with rents rising steadily through 2021. Suburban Chicago cities like Naperville and Arlington Heights have seen double-digit rent increases as people look for more space and a less congested place to live.
Rising home prices in Chicago are likely another reason why more people in the Chicagoland area rent that own where they live. Statistics like these help to make the rental market in Chicago attractive for local and remote real estate investors.
Key Market Stats:
Median rent in Chicago is $2,500 per month for a 3-bedroom unit, based on the most recent research from Zumper (June 2022).
Rents in Chicago have increased by 9% year-over-year.
Over the past three years average rents in Chicago have remained steady.
Renter-occupied households in Chicago account for 53% of the total occupied housing units in the metropolitan area.
Most affordable neighborhoods in Chicago for renters include New City, Pullman, and Brighton Park where rents are $1,200 per month or less.
Most expensive neighborhoods in Chicago for renters include Near North Side, Loop, and Near West Side where rents can go over $6,000 per month.
Historic price changes & housing affordability
Two of the most important factors rental property investors use to analyze the demand for rental housing in a market are the historic price changes and the affordability of housing in the metropolitan area.
Each month Freddie Mac publishes a house price index report (FMHPI) that updates the short- and long-term trends of home prices in all major markets in the U.S.
The most recent FMHPI from Freddie for the Chicago-Naperville-Elgin, IL-IN-WI MSA reveals:
April 2017 HPI: 131.48
April 2022 HPI: 178.78
5-year change in house prices: 35.9%
One-year change in house prices: 12.5%
Monthly change in home prices: 1.2%
Investors considering buying rental property in Chicago can also research housing affordability to help forecast the current and future demand for rental real estate. Affordability compares the amount of annual income needed to purchase a median-priced home in Chicago.
Business forecast and personal finance publication Kiplinger publishes a housing affordability report for the top 100 metropolitan areas in the U.S. The firm ranks affordability on a scale of 1 to 10, with 1 representing the most affordable markets and 10 the least affordable.
Kiplinger's analysis of housing affordability in metropolitan Chicago reports:
Since the last real estate cycle market peak in May 2006, home prices in Chicago have declined by 12.4%.
Since the last real estate cycle market bottom in March 2012, home prices in Chicago have increased by 77.3%.
Chicago has an affordability index of 5 out of 10, meaning that housing affordability in the market is mid-range and helps to explain the high percentage of people renting in Chicago.
Quality of life
The Chicago suburb of Naperville is ranked as the 3rd best U.S. city to live in, according to a recent report from CBS News. In both the city and the suburbs, there's something for everyone in Chicago, from renting a loft in Printers Row to living in a single-family home in Naperville or Evanston.
Key Quality of Life Stats:
Cost of living in Chicago is still relatively affordable compared to other major urban areas.
Chicago is 39% less expensive to live in than San Francisco, and 52% cheaper than living in New York City.
Forbes ranks Chicago as one of the best places for business and careers based on key criteria including household income growth and high-tech employment.
Chicago receives an overall A- grade from Niche.com with strong rankings for outdoor activities, commuting, and nightlife.
Chicago is among the best places to live and one of the best places to retire, based on the most recent research from U.S. News & World Report.
Best neighborhoods to live in the City of Chicago include Printers Row, West Loop, Greektown, and River North.
Most popular suburbs in Chicago include Clarendon Hills, Long Grove, Buffalo Grove, and Naperville.
Landmarks like the Magnificent Mile, Millennium Park, the Art Institute of Chicago, and the Museum Campus in the Windy City blow both visitors and residents away.
Chicago has been named the "Best Sports City" and is home to professional sports teams including the Bears, Bulls, Blackhawks, Cubs, and White Sox.
Get out the map
Where to begin your search? The Roofstock marketplace has dozens of vetted single-family rental properties in the Chicago market and adds new properties every week. We also whipped up this heatmap that color-codes specific areas based on the Roofstock Neighborhood Rating, which helps you evaluate the risk/return potential of investing in a certain neighborhood (learn more about our Neighborhood Rating here).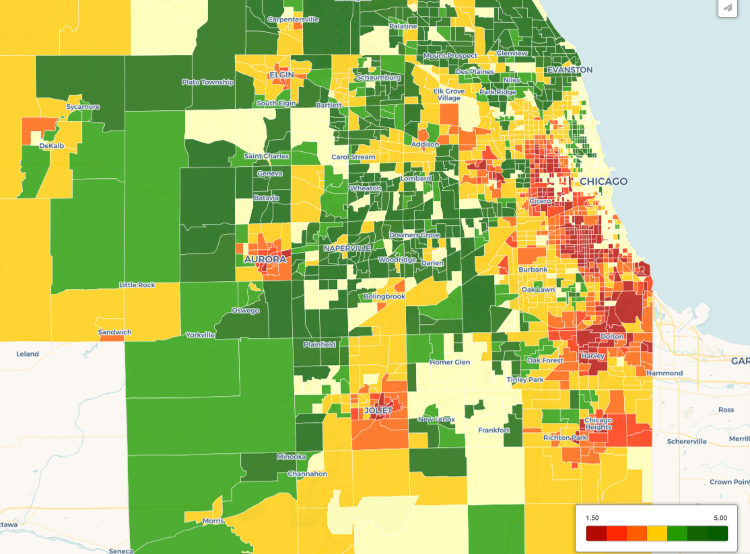 DARK GREEN: 4-5 star neighborhood
LIGHT GREEN: 3.5-4 star neighborhood
YELLOW: 2.5-3 star neighborhood
ORANGE: 2 star neighborhood
RED: 1 star neighborhood
Ready to invest in the Chicago market? If you haven't already done so, create your free Roofstock account and set up alerts. We'll notify you when we have a Chicago investment property that matches your search criteria.