Real estate investors looking for good deals that make sense are finding what they're looking for in Cleveland, Ohio.
Not only does the market favor buyers with sales prices well below listing prices, the diversified economy also helps make the rental market strong in Cleveland. For a city that once relied on the manufacturing industry for growth, Cleveland has done a remarkable job of transforming its economy into a well-balanced blend of service, high tech, blue and white collar employment.
Located along the southern shore of Lake Erie, Cleveland is just across from the Canadian border. The metro area is home to the Rock and Roll Hall of Fame, one of the world's finest orchestras, and major professional baseball, football, and basketball teams.
Here's why Cleveland could be one of the best places to invest in rental property in 2020.
>>Explore Roofstock's Cleveland Investment Properties here.
Population Growth
In its in-depth study, "The Fifth Migration: A Study of Cleveland Millennials", the Cleveland Foundation reports Cleveland ranks among the top 10 U.S. cities for population growth of college-educated millennials. That's great news for rental property investors, because as CNBC recently noted, rental demand across the country is soaring as more millennials say it's cheaper to rent than to own.
Key Population Stats:
Cleveland has a city population of nearly 400,000 and a metropolitan population of more than 2 million, ranking Greater Cleveland as the 33rd-largest metro area in the U.S.
Net migration in Cleveland has remained steady, decreasing by only 870 residents since 2018.
The median age of people in Greater Cleveland is 41, with about 35% of the population between the ages of 18 and 54. In the City of Cleveland, the median resident age becomes more youthful, dropping down to about 36 years.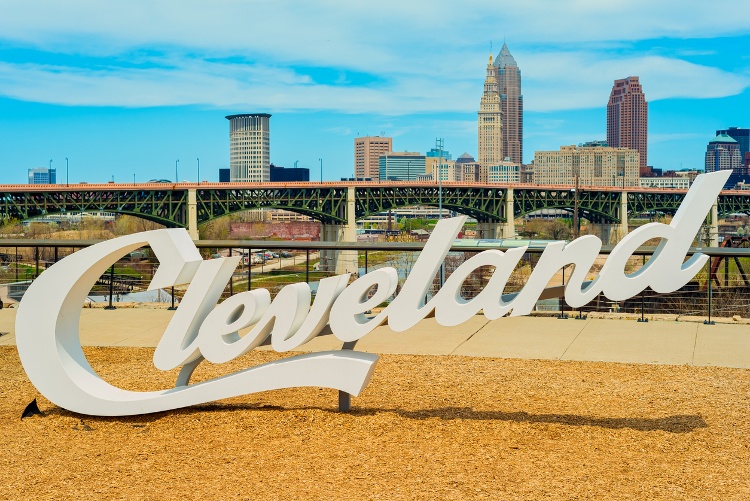 Job Market
While job growth in Cleveland lags behind some of the city's peers, a recent report in Crain's Cleveland Business notes that economic growth in Cleveland surpassed Tulsa, Albuquerque, and Memphis.
The renewed focus on space exploration is good news for the fuel cell industry and the NASA Glenn Research Center in Cleveland. Companies with corporate headquarters in Cleveland include Applied Industrial Technologies, Cliffs Natural Resources, and Sherwin-Williams Company. The Federal Reserve Bank of Cleveland, one of only 12 Reserve Banks in the U.S., is in downtown Cleveland.
Key Employment Stats:
GDP of Cleveland is more than $120 billion, an increase of more than 65% since 2009.
Jobs grew by 0.6% over the past 12 months, a number that the Cleveland Fed expects to increase due to population changes in the metro area.
The healthcare sector is one of the major employers in Cleveland, including the Cleveland Clinic, University Hospitals of Cleveland, MetroHealth, and Medical Mutual of Ohio.
Biotechnology, fuel cell research, and technology are three of the growing employment sectors in Cleveland. In fact, Forbes recently speculated that Cleveland might become the country's next technology hub.
Despite the shift to professional service and high tech business, construction and manufacturing in Cleveland still account for a significant amount of employment growth. Nearly 3,000 new manufacturing jobs were created through June of last year, while the construction industry added more than 1,700 new jobs during the same period.
Since 2009, per capita income in Cleveland has steadily grown to reach $53,019 in 2017.
Nearly 31% of the adults in Cleveland hold an undergraduate degree or higher, an increase of more than 4% over the last 10 years.
Cleveland is served by five Interstate Highways and several freight railroads. The Port of Cleveland is a major bulk freight terminal on Lake Erie.
More than 5.8 million domestic and international passengers traveled through the Cleveland Hopkins International Airport (CLE) through the first half of 2019, while shipping facilities at CLE have handled more than 51,000 tons of cargo over the same time period.
Playhouse Square in Cleveland is the 2nd-largest performing arts center in the country, right behind New York's Lincoln Center, and the Cleveland Museum of Arts is home to more than 40,000 works.
Real estate investors who are pro sports fans will find Cleveland offers a winning combination: Major League Baseball's Cleveland Indians, the NFL's Cleveland Browns, and the NBA's Cleveland Cavaliers.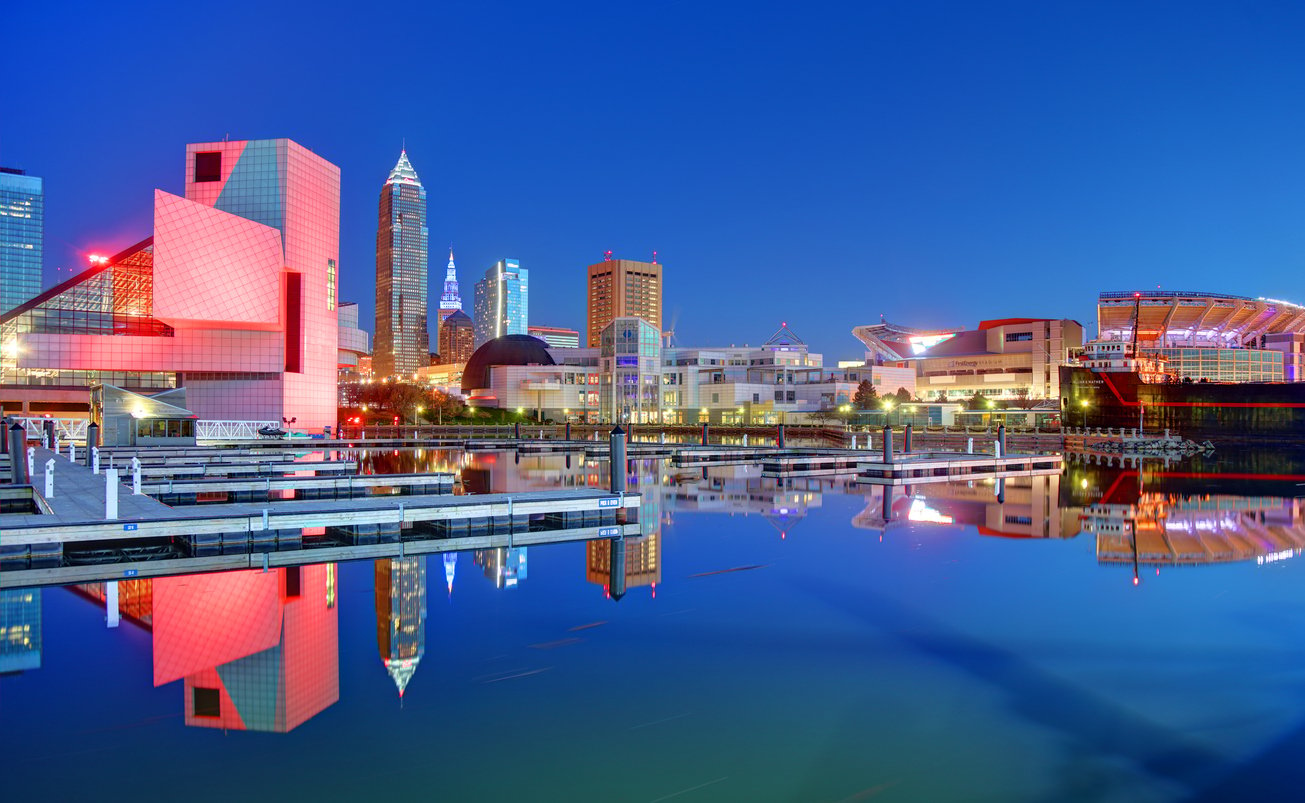 Real Estate Market
Successful real estate investors know how to make money in any market cycle, which is one reason people are investing in Cleveland rental property. Cleveland is one of the most recession-resistant markets in the U.S., according to Crain's Cleveland Business.
When measured by the investment variables of home price volatility, home sales flips, average loan-to-value, and home price-to-income ratio, Cleveland ranks as one of the top four markets with the lowest risk of a real estate dip.
Key Market Stats:
The median home value in Cleveland is $69,000 according to Zillow (as of Sept. 2020).
Over the past 12 months, home values in Cleveland have gone up by 10.3% while the average days on market have steadily declined since 2012.
While the median listing price of a home in Cleveland is $89,900, median sales prices are running about $68,500. The nearly 25% difference between asking and selling price is a sign of great potential deals for real estate investors.
Median list price is $73 per square foot in the City of Cleveland, well below the per-square-foot list price of $109 for the metro area.
Average days on market is 75.
About 15.5% of the home listings in Cleveland have a price cut during that time.
25.9% of the homes in Cleveland have a negative equity vs. 8.2% U.S. average.
2.5% of the homes in Cleveland have a delinquent mortgage vs. 1.1% U.S. average.
These statistics may indicate that there will be a good opportunity for investing in Cleveland rental real estate in 2020 and beyond.
Strong Renters' Market
Costs are soaring in the Cleveland rental housing market, according to the Cleveland Daily Banner, showing just how strong the rental market in Cleveland is as rents increase year-over-year.
Key Market Stats:
Median rent in the City of Cleveland is $900 per month, while median monthly rents in the Cleveland metro area are nearly $1,250.
According to RENTCafé, average rents in Cleveland have increased 3% year-over-year.
Rents are still relatively affordable in Cleveland. In fact, nearly 60% of the housing units rent for less than $1,000 per month, signaling the potential for future annual increases.
50% of the households in Cleveland are occupied by renters.
Most affordable neighborhoods in Cleveland for renters include Kinsman, Woodland Hills, and Union-Miles Park where rents average about $515 per month.
Most expensive areas in Cleveland to rent in include the University, downtown Cleveland, and Industrial Valley neighborhoods where monthly rents range between $1,450 and $1,528.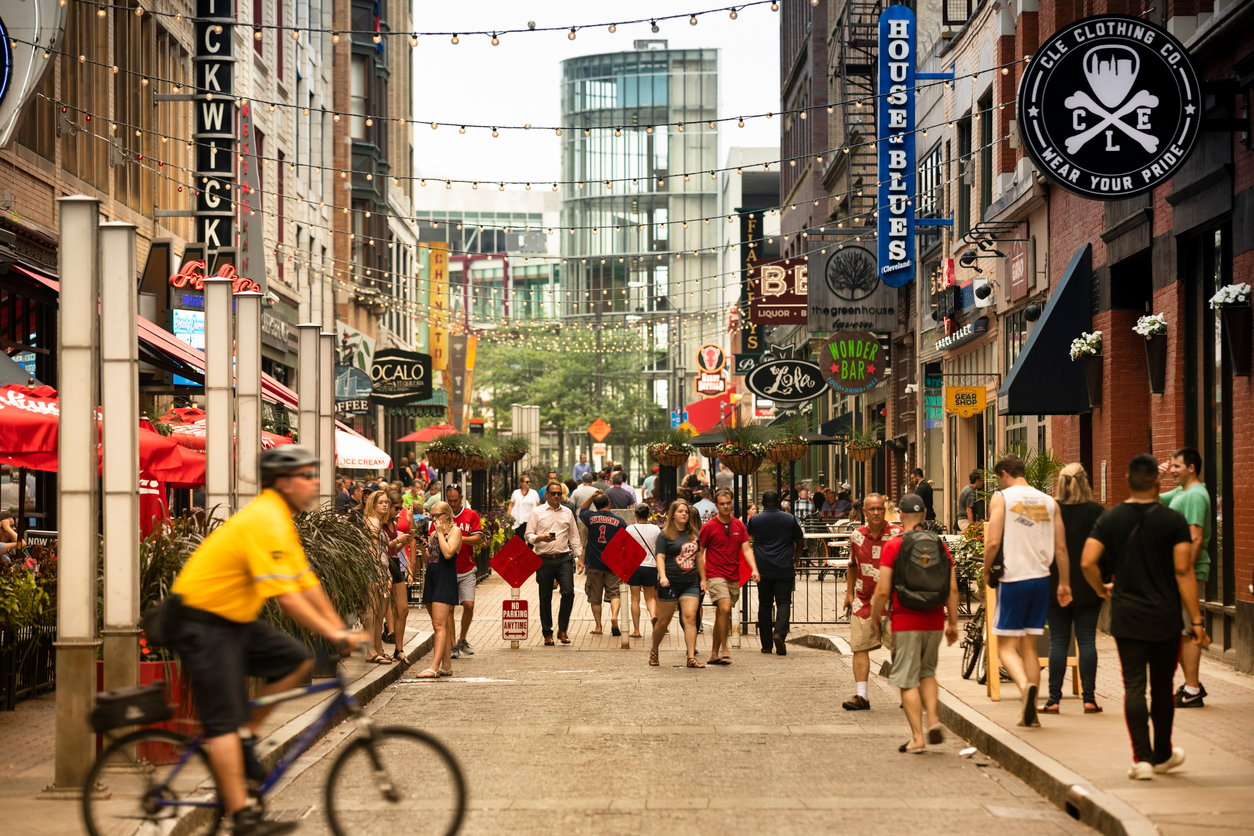 Historic Price Changes & Housing Affordability
Reviewing historic price changes and affordability are two methods real estate investors use to decide whether or not to invest in a specific area. Short- and long-term price changes help guide investment strategy, while affordability is one way to gauge the potential demand for rental housing.
The FHA 2019 Q2 House Price Index reports that:
Home prices in the Cleveland metro area have increased nearly 91% since Q1 1991. Over the past 5 years home prices have increased nearly 28% and decreased by 0.69% from the last quarter.
Using research from ATTOM Data Solutions, Kiplinger conducted a home price and affordability study of the top 100 housing markets in the U.S.:
Since the last real estate cycle market peak in May 2006, home prices in Cleveland have decreased by 18.7%.
Since the last real estate cycle market bottom in March 2012, home prices in Cleveland have increased by 56.1%.
Cleveland has an affordability index of 1 out of 10, meaning the metro area is one of the more affordable places to own a home in the U.S.
Quality of Life
Forbes rates the Cleveland metropolitan area as one of the best places in the U.S. for business and careers. Unemployment is just 4.5%, job growth is positive, and the cost of living is 11% below the national average.
Key Quality of Life Stats:
University Circle in Downtown Cleveland is home to the city's cultural, educational, and medical institutions including the Cleveland Museum of Natural History, Case Western Reserve University, and University Hospitals.
I.M. Pei designed the Rock and Roll Hall of Fame, located along the Lake Erie waterfront, near other popular attractions like the World War II submarine USS Cod and the Great Lakes Science Center.
The Red Line Rapid Train is known as one of the best mass transit systems in the country.
Cleveland Clinic and University Hospitals are renowned for their world-class healthcare services.
Neighborhoods on the east side and west side of Cleveland feature a wide variety of housing options including historic homes, condos, and apartments.
Get Out the Map
Where to begin your search? Roofstock created a heat map of Cleveland based on our Neighborhood Rating, a dynamic algorithm that enables you to make informed investment decisions by measuring school district quality, home values, employment rates, income levels and other vital investment criteria.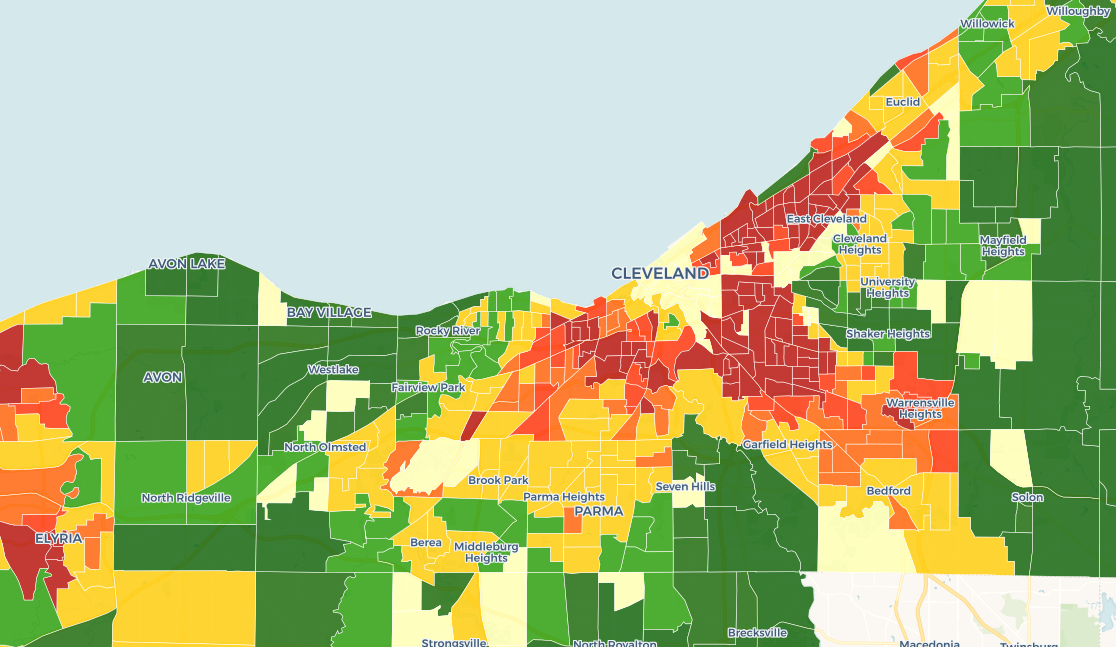 DARK GREEN: 4-5 star neighborhood
LIGHT GREEN: 3.5-4 star neighborhood
YELLOW: 2.5-3 star neighborhood
ORANGE: 2 star neighborhood
RED: 1 star neighborhood
Ready to invest in the Cleveland housing market? If you haven't already done so, create your free Roofstock account and set up alerts. We'll notify you when we have a Cleveland investment property that matches your search criteria.