Last updated on January 12, 2022
The booming real estate market in Central Texas is swiftly creating sprawl in Georgetown, a city that's home to less than 70,000 people. The real estate market in Georgetown is benefiting from the growth in Austin just 30 miles south. Over the past year, the median sales price of a home in Georgetown has increased by 36% with houses staying on the market an average of only 19 days.1
Georgetown is located in Williamson County in Central Texas and is one of the fastest-growing cities in the U.S. Over the past decade, the population of Georgetown has grown by nearly 40%, with both residents and businesses attracted to the area's natural resources and excellent schools.
Although the area may be small in size, the economy of Georgetown and Williamson County is surprisingly diverse. Major industries in the region include advanced manufacturing, clean technology, life sciences, manufacturing, and space technology.
Population growth
Georgetown was ranked as the seventh fastest-growing city in the U.S., among cities with a population of more than 50,000. In fact, between 2010 and 2020, Georgetown's population grew by nearly 42%, with both residents and businesses attracted to the city's small town charm and low tax rates.2
Key population stats:
Georgetown is home to over 67,000 residents with over 609,000 people living in surrounding Williamson County.
The population of the City of Georgetown has grown by 41.7% over the past decade, according to the most recent census.3
Over the last 10 years, Williamson County added over 186,000 new residents for a growth rate of over 44%.
Cities and towns near Georgetown include

Austin

, Pflugerville, Round Rock, Granger, and Liberty Hill.
Georgetown is located 30 miles north of Austin and roughly mid-way between San Antonio and Dallas-Fort Worth.
The median age in Williamson County is 36.9, a little lower than the figure in the U.S.
About 27% of the population is between the ages of 20 and 39, a key demographic that rental property investors look for.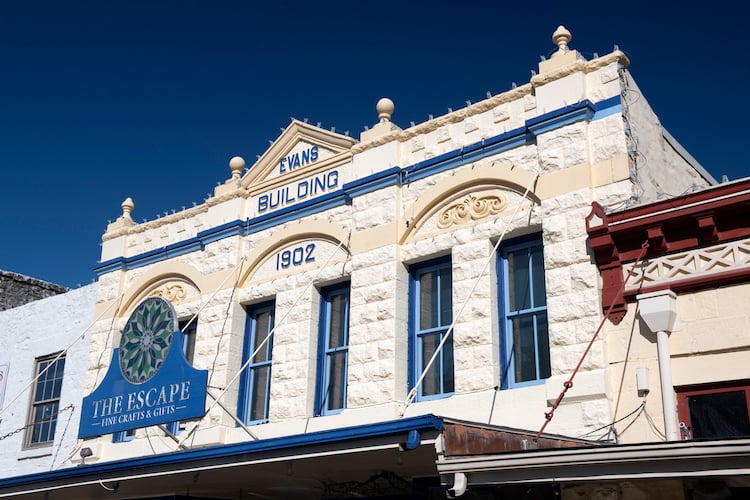 Job market
The employed population of Georgetown has grown by nearly 9.5% year-over-year, while the job market in Williamson County grew by about 8.7% over the same time period. The economy is a diverse mix of healthcare, high tech, and manufacturing employers and more, with an educated workforce that today's employers need.4,5,6
Key employment stats:
The GDP for the Austin-Round Rock MSA (where Georgetown is located) is nearly $168.5 billion, according to the Federal Reserve Bank of St. Louis, and has grown by over 85% over the past decade.7
Unemployment in the MSA is 3.2% (as of November 2021).8
Job sectors showing the fastest signs of growth include leisure and hospitality, professional and business services, trade and transportation, and financial activities.
Key industries in Georgetown and the surrounding area include advanced manufacturing, clean technology, data management, financial services and insurance, and space technology.
Some of the top non-government employers in Williamson County are Dell, Sears Teleserv, Emerson Process Management, Round Rock Premium Outlets, and Scott & White Healthcare.
Georgetown is home to Southwestern University, the oldest university in Texas, and near major universities in Austin such as the University of Texas at Austin and Concordia University.
Nearly 94% of the residents are high school graduates or higher, while almost 42% hold a bachelor's degree or an advanced degree.
Interstate Highway 35 passes through Georgetown, providing easy access to Austin and San Antonio to the south and Dallas-Fort Worth to the north.
Real estate market
The booming Central Texas housing market is driving development and investors to Georgetown. Located just 30 miles north of Austin, demand for housing in Georgetown is growing as remote workers move out of expensive nearby cities, helping to push home prices higher.
A little over one year ago, the median sales price of a home in Williamson County (where Georgetown is located) was just under $280,000. Today, the median sales price for a home in Georgetown is $445,000.9,10
Key market stats:
The Zillow Home Value Index for Georgetown is $494,647 through November, 2021.11
Home values in Georgetown increased by 45.5% over the past year and have grown by more than 65% since 2016.
The median listing home price in Georgetown is $464,900 based on the most recent research from Realtor.com (November 2021).12
The median listing price per square foot of a home in Georgetown is $222.
Although home sales have decreased by 1.0% in Williamson County, sales dollar volume increased by nearly 37%, according to the Austin Board of Realtors (November 2021).13
Homes in Georgetown sell after 19 days on the market on average, which is down slightly since last year.
Of the 27 neighborhoods in Georgetown, Berry Creek is the most expensive with a median listing price of $597,500.
The most affordable neighborhood in Georgetown is Georgian Place, where the median listing home price is $305,500.
Strong renters' market
Georgetown is ranked as one of the 6 best areas of Austin to purchase a rental property. Home prices are rising and entry-level homes are difficult to find, helping to keep rent prices rising and tenant turnover low.14
Key market stats:
The median rent for a 3-bedroom home in Georgetown is $2,305 per month, according to Zumper (as of January 2022.15
Rent prices in Georgetown have increased by 32% year-over-year.
Single-family homes in Georgetown make up 74% of the housing units, helping to make renting a home an attractive option.16
Renter-occupied households account for 32% of the total occupied housing units in Georgetown, TX.17
The median age in Georgetown is 36.9, a little lower than the figure in the U.S.
About 27% of the population of Georgetown is between the ages of 20 and 39, an attractive demographic group for rental property investors.
Historic price changes & housing affordability
The change in home prices and housing affordability are 2 of the many metrics real estate investors analyze when deciding where to invest in rental property. The Home Price Index (HPI) monitors the increase or decrease in home prices over time, while the Housing Affordability Index (HAI) compares the median cost of a home to median family income.
The Freddie Mac House Price Index (FMHPI) tracks the change in home prices for all major metro areas in the U.S. According to the report, home prices in the Austin-Round Rock, TX metro area (where Georgetown is located), increased by over 80% over the past 5 years:18
July 2016 HPI: 202.2
July 2021 HPI: 371.1
5-year change in home prices: 83.5%
1-year change in home prices: 36.0%
1-month change in home prices: 2.2%
The Housing Affordability Index (HAI) compares median family incomes to prices of median resale single-family homes. HAIs use 100 as a baseline index number. Real estate markets with an HAI above 100 tend to be more affordable to buy, while cities with an HAI below 100 tend to be more favorable for renting.
In Georgetown, TX, the housing affordability index is currently 128. This means that buying a median priced home is still affordable for residents with a median household income.19
Quality of life
90% of the residents of Georgetown rank the overall quality of life as good or excellent, according to the most recent survey by the city. People feel safe both in their neighborhoods and downtown, and city services also receive high ratings.20
Key quality of life stats:
Georgetown receives an overall grade of A- from Niche.com, with all-around good scores for housing, crime and safety, family living, public schools, diversity, and nightlife.21
Overall cost of living in Georgetown is 1% higher than the national average, although goods and services, groceries, and health care are more affordable.22
Georgetown is known for having the most beautiful town square in Texas, with farm-fresh dining and historic architecture.
The Economic Development Partnership of Williamson County notes that Georgetown has natural beauty, a small-town community lifestyle, and an abundance of available services.23
Georgetown has numerous city and county parks, and is near Lake Georgetown and Lake Granger where residents can fish, camp, and swim.
Williamson County is home to the AAA minor league baseball affiliate of the Texas Rangers, the AHL hockey affiliate of the Dallas Stars, and the NBA Development League affiliate for the San Antonio Spurs.
Georgetown is about 30 minutes from the best hospitals in Austin, including Ascension Seton Medical Center Austin and St. David's Medical Center.24
Get out the map
Where to begin your search? Roofstock created a heat map of Georgetown based on our Neighborhood Rating, a dynamic algorithm that enables you to make informed investment decisions by measuring school district quality, home values, employment rates, income levels and other vital investment criteria.
DARK GREEN: 4-5 star neighborhood
LIGHT GREEN: 3.5-4 star neighborhood
YELLOW: 2.5-3 star neighborhood
ORANGE: 2 star neighborhood
RED: 1 star neighborhood
Ready to invest in the Georgetown, TX housing market? If you haven't already done so, create your free Roofstock account and set up alerts. We'll notify you when we have a Georgetown investment property that matches your search criteria.
References