Last updated on June 23, 2022
The window of opportunity may be opening for investors interested in purchasing rental property in Jackson. Across the metropolitan area, median prices fell by 2.5% (April 2022) compared to the same time last year, according to the Clarion Ledger. However, home prices in the suburban counties of Rankin and Madison increased by an average of more than 5% over the same period.
Jackson is located along the Pearl River near the south-central part of the state and is the capital of Mississippi. The city is home to more than a dozen colleges and universities, a growing number of socially active professional workers, and some very affordable real estate.
The economy of Jackson is driven by the government, financial services, manufacturing, and agricultural sectors. Gospel, blues, and R&B help make Jackson famous, and the city hosts numerous cultural events each year such as the Crossroads Film Festival and the Mississippi State Fair.
Keep reading to learn more about the Jackson real estate market in 2022.
>>Explore Roofstock's Jackson properties.
Population growth
Although the population of the city is slowly declining, suburban communities around Jackson posted double-digit population growth over the last 10 years. Madison and Rankin counties, suburban communities for Hinds County and the capital city of Jackson, have each seen their populations increase by more than 10% over the past decade, according to U.S. News & World Report.
Key Population Stats:
City of Jackson is home to nearly 154,000 residents with more than 596,000 living in the tri-county metro area.
Jackson MSA consists of Hinds, Madison, and Rankin counties.
Jackson is the capital city of Mississippi, the most populous city in the state, and part of the 93rd largest metro area in the U.S.
Population of Jackson has shrunk by nearly 13% over the last decade, in part due to migration to the suburbs.
Greater Jackson boasts a labor force participation rate of 62.4%, about 5% higher than the entire state.
Job market
There are hundreds of job openings in Jackson, but not enough workers to fill them. As WJTV 12 News reports, some of the hottest jobs in Jackson right now are information technology, utilities, manufacturing, transportation, and tourism. While Mississippi has an unemployment rate of 4.1% (as of April 2022), unemployment in Jackson is down to just 3.3%.
Key Employment Stats:
GDP of Jackson MSA is over $24 billion, according to the Federal Reserve Bank of St. Louis, and has grown by about 2.4% over the past ten years.
Year-over-year job growth in Jackson declined by 0.72%.
Job growth in Mississippi is predicted to be 0.9%, with the state positioned for relatively strong growth.
Unemployment rate in Jackson is 3.3% according to the BLS (as of April 2022).
Top employment sectors in the Jackson MSA include manufacturing, retail trade, health care and social assistance, professional services, and finance and insurance.
Largest employers in Greater Jackson include Nissan North America, Madison County School District, Perco Foods of MS, technical service and document control company Conduent, Vantec Hitachi Transport System, Yates Services, Levi Strauss & Co., and Comcast.
Cal-Maine Foods, EastGroup Properties, and Trustmark Corporation are three publicly traded companies headquartered in the Jackson MSA.
Major colleges and universities in the Jackson area include Jackson State University, University of Mississippi Medical Center, Mississippi College, and Millsaps College.
88% of Jackson residents have a high school degree or higher, while 31% hold a bachelor's degree or advanced degree.
I-55 near Jackson connects with Memphis, St. Louis, Chicago, and New Orleans while I-20 is the major east-west interstate to all major metro areas in the South.
Canadian National Railway and Grenada Railway are two freight rail lines serving the Jackson Region.
Major cargo ports of Vicksburg, Gulfport, and Pascagoula are all within 200 miles or less of Jackson.
Jackson-Medgar Wiley Evers International Airport (

JAN

) provides non-stop service to major metro areas including Atlanta, Chicago, Dallas, Denver, Houston, and Orlando.
Real estate market
In some parts of Jackson, it's common to see 7 buyers bidding for the same property, hoping to be the lucky one, according to an article in the Northside Sun. Some of the neighborhoods in Jackson seeing the hottest action include Northside, Ridgeland, Belhaven, and Eastover. Over the past year, the median price of a middle price tier home in Jackson has increased by nearly 36%.
Key Market Stats:
Zillow Home Value Index (ZHVI) for Jackson is $82,681 as of November 2021.
Home values in Jackson increased by 26.2% over the last year.
Over the past five years home values in Jackson have increased by over 50%.
Median listing price of a home in Jackson is $139,000 according to the most recent report from Realtor.com (April 2022).
Median listing price per square foot is $90.
Of the 9 neighborhoods in Jackson, Woodland Hills is the most expensive with a median listing price of $319,900.
Most affordable neighborhood in Jackson is Fondren with a median listing price of $85,000.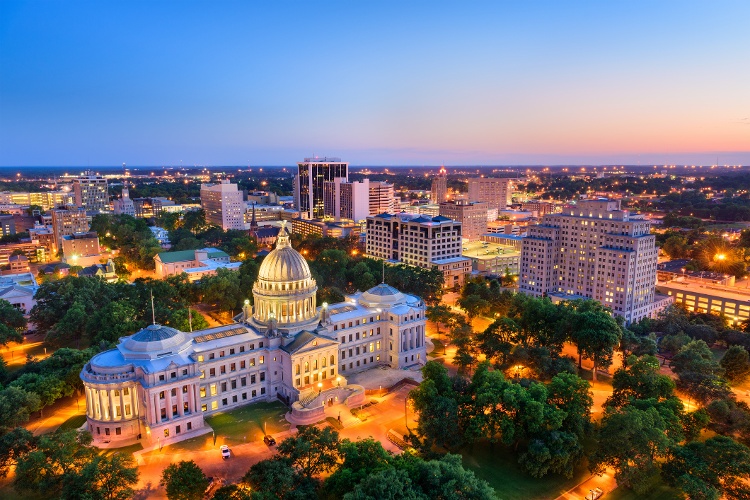 Attractive renters' market
One of the biggest reasons investors buy rental property is because people always need a place to live. Even though some homeowners in the area may be struggling, the demand for rental property in Jackson remains strong. In fact, Jackson was recently listed as one of the smaller cities in the U.S. where rents are rising the most.
Key Market Stats:
Median rent for a 3-bedroom home in Jackson is $1,100 per month, according to the most recent research from Zumper (June 2022).
Rents in Jackson have increased by 11% year-over-year.
Renter-occupied households represent 33% of the total occupied housing units in Jackson.
Neighborhoods in Jackson with the highest rents include Deerfield, Ashbrooke, and Harvey Crossing where rents are $1,850 or less.
Andover, Harvey Crossing, and Ashbrooke are 3 neighborhoods in Jackson most popular with renters.
Historic price changes & housing affordability
Two methods that rental property investors use to analyze markets are reviewing the historic change in housing prices and affordability. Price changes can help forecast possible equity growth over the long term, while the affordability of housing is one indicator of how strong a specific area may be for renters.
Each month Freddie Mac publishes its House Price Index (FMHPI) report with up-to-date data on the change in home prices for all markets across the U.S. The most recent FMHPI from Freddie for the Jackson MSA shows:
April 2017 HPI: 133.35
April 2022 HPI: 182.79
5-year change in home prices: 37.1%
One-year change in home prices: 16.6%
Monthly change in home prices: 1.0%
Housing affordability is calculated by comparing the median family income in a market to the median cost of a single-family home, as the National Association of Realtors (NAR) explains. The higher the HAI of a specific market is above 100, the more affordable it is to purchase a home.
It's important to note that when the NAR calculates affordability, the organization assumes a buyer will use a conventional loan with 20% down to purchase an existing single-family home.
Based on the most recent information from Home Town Locator, the HAI for the Jackson MSA is 177 (as of July 2021). This means that the median family has slightly more than 1.7 times the needed income to purchase a median priced, existing single-family home with a conventional mortgage in the Jackson metropolitan area.
Quality of life
Jackson is described as the "City with Soul" thanks to its Southern hospitality, friendly locals, live music, and the city's pivotal role in the civil rights movement. Newcomers to Jackson are pleasantly surprised to learn that there's much more to the area than meets the eye.
Key Quality of Life Stats:
Forbes ranks Jackson among the best places in the nation for cost of doing business, job growth, and education.
Cost of living in Jackson is 4% below the national average.
Niche.com gives the region strong ratings for cost of living and nightlife, and ranks Jackson one of the best places to retire.
Good economy, parks, nightspots, and college campuses are some of the factors cited by Livability.com that make Jackson a great place to live.
Madison County Public Schools (near Jackson) receives an A+ grade and is ranked #1 for the most star students in Mississippi.
Climate in Jackson is humid subtropical, with rain throughout the year and rare winter snow.
Dining scene in Jackson ranges from smaller mom-and-pop eateries to restaurants with James Beard award-winning chefs.
Cultural organizations in Jackson include Ballet Mississippi, Jackson State University Botanical Garden, Mississippi Civil Rights Museum, and the Mississippi Symphony Orchestra.
Mississippi Braves – the Southern League AA affiliate of the Atlanta Braves – play out of Trustmark Park in nearby Pearl.
U.S. News & World Report ranks Mississippi Baptist Medical Center and St. Dominic-Jackson Memorial Hospital among the best hospitals in Jackson.
Get out the map
Where to begin your search? Roofstock created a heat map of Jackson based on our Neighborhood Rating, a dynamic algorithm that enables you to make informed investment decisions by measuring school district quality, home values, employment rates, income levels and other vital investment criteria.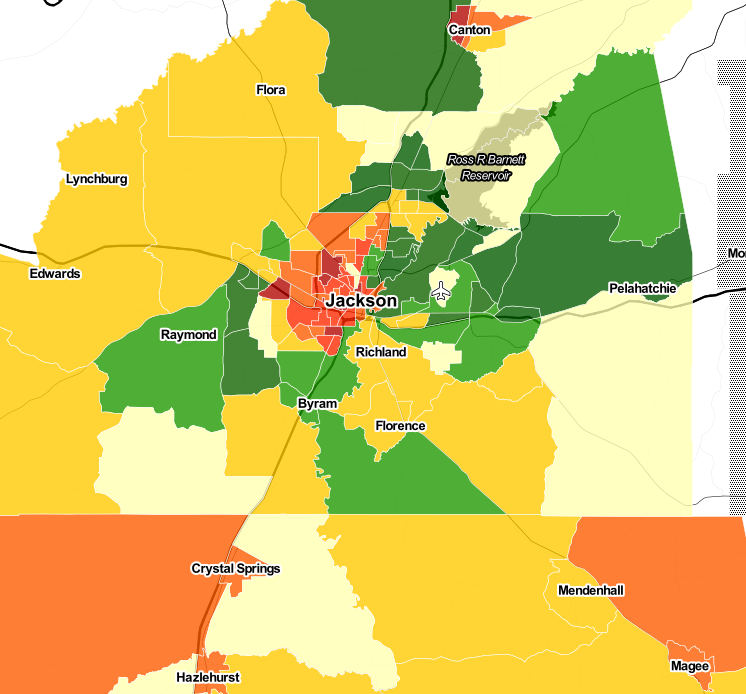 DARK GREEN: 4-5 star neighborhood
LIGHT GREEN: 3.5-4 star neighborhood
YELLOW: 2.5-3 star neighborhood
ORANGE: 2 star neighborhood
RED: 1 star neighborhood
Ready to invest in the Jackson housing market? If you haven't already done so, create your free Roofstock account and set up alerts. We'll notify you when we have a Jackson investment property that matches your search criteria.