Last updated on September 15, 2021
The real estate market in Jacksonville remains a bright spot as the economy begins to recover. As the Jacksonville Business Journal reports, more people are moving to Jacksonville for a more suburban lifestyle in a smaller affordable market instead of crowded urban living in an expensive big city.
Average single-family home values in Jacksonville were up by more than 5.5% in September 2020 from last year's record high, while for-sale inventory is down by nearly 42% compared to the previous year.
Jacksonville (nicknamed "Jax") is located in Northeastern Florida, only 25 miles from the Georgia state line and about 360 miles north of Miami. Jacksonville is the largest city by area in the 48-states and the fourth-largest metropolitan area in Florida. The city lies along the banks of the St. Johns River in the First Coast region of Florida, while Jacksonville's beach communities along the Atlantic Ocean are just a few minutes away.
The city's convenient location, business-friendly government, wonderful year-round climate, affordable cost of living, and excellent quality of life help Jacksonville to lay claim as one of the country's most dynamic and progressive cities.
Here's why you should consider investing in Jacksonville in 2021 and beyond.
>>Explore Roofstock's Jacksonville investment properties here.
Population Growth
Jacksonville is among the nation's fastest growing cities, according to a recent report from the Jacksonville Business Journal. The metro area had the 25th largest growth among the fastest-growing cities in the U.S., adding nearly 60,000 new residents over the last five years alone.
Key Population Stats:
With more than 800,000 residents, the City of Jacksonville is the 14th largest city in the U.S. and home to more than one million residents in the metropolitan Jacksonville area.
Jacksonville's metropolitan area consists of five counties: Baker, Clay, Nassau, St. Johns, and Duval (where Jacksonville is the county seat).
Over the past year the population growth rate in the Jacksonville MSA was 1.97%.
Between 2017 and 2018 the population in Jacksonville expanded by more than 12,000 new residents.
The Bureau of Economic and Business Research (BEBR) at the University of Florida predicts that over the next ten years more than 800,000 new residents will move to the area.
BEBR also forecasts that over the next 25 years the population of metropolitan Jacksonville will more than double to more than two million people.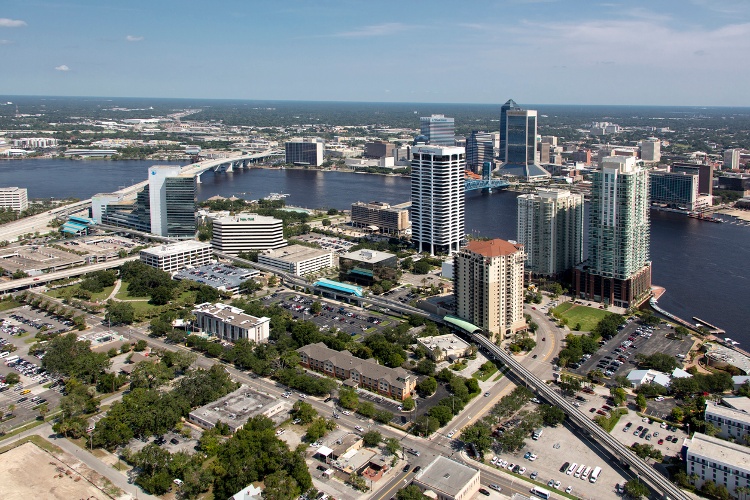 Job Market
Forbes ranks Jacksonville, Florida as the 22nd best place for business and careers and one of the best places for job growth in the entire U.S. The city's business-friendly and pro-development policies strengthen the economy and create opportunities for both workforce and small business creation.
Key Employment Stats:
GDP of Jacksonville is over $87 billion, growing by more than 50% over the last ten years.
Job growth last year in Jacksonville was 2.8% while the unemployment rate has decreased to 5.0%.
Employment sectors in Jacksonville showing positive growth include manufacturing, financial activities, and government, according to the BLS.
Jacksonville is consistently rated as one of the "Hottest Cities in America" for business expansion and relocation due to its stature in the national and international marketplaces.
U.S. News & World Report notes that while average salaries in Jacksonville are a bit lower than the national average, it also costs less to live in Jacksonville.
Jacksonville has one of the largest advanced manufacturing regions in Florida, is the logistics center of America, is known as a global banking and finance powerhouse, and is home to one of three Mayo Clinics.
Fortune 500 companies in Jacksonville are CSX Corporation, Fidelity National Finance, Fidelity National Information Services, and Southeastern Grocers.
Major employers with headquarters in Jacksonville include Bank of America Merrill Lynch, JPMorgan Chase, Johnson & Johnson Vision Care, GATE Petroleum, Miller Electric Company, McKesson, and PGA Tour, Inc.
The IT & Innovation industry in Jacksonville encompasses sectors such as software development, healthcare, logistics, e-commerce, and finance technology.
Jacksonville has a strong pipeline of skilled tech workforce with more than 13,000 IT graduates each year.
Major colleges and universities in the Jacksonville metro area include University of Florida, University of North Florida, Jacksonville University, and Mayo Clinic College of Medicine and Science at its Jacksonville campus.
32.5% of the residents in Jacksonville have a bachelor's degree or an advanced degree, while 91.6% are high school graduates or higher.
Interstate Highways I-10, I-75, and I-95 run through the Jacksonville metro area.
Jacksonville has four seaport facilities, including JAXPORT, providing service to dozens of ocean carriers, hundreds of trucking firms, and freight rail service transporting millions of tons of cargo annually to more than 140 ports in 70 countries.
Jacksonville International Airport (JAX) is expanding to a third concourse to better serve the nearly six million passengers who pass through the airport each year on airlines like Allegiant, American, Delta, JetBlue, and United.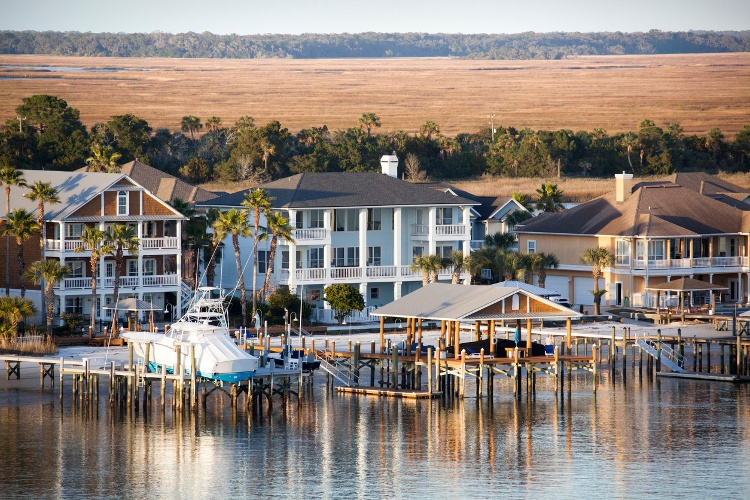 Real Estate Market
The Jacksonville real estate market and all of Northeast Florida is the hottest it's ever been, according to the Florida Times-Union. Decreasing inventory combined with robust demand is expected to drive housing prices even higher in Jacksonville in 2021.
Key Market Stats:
Zillow Home Value Index for Jacksonville is $230,180 (as of May 2021).
Homes values in Jacksonville increased by 14% over the last year.
Median listing home price in Jacksonville is $245,000 based on the most recent report from Realtor.com (May 2021).
Price per square foot on the median listing price is $150.
Median sold price for a home in Jacksonville is $251,000.
Days on market (median) is 48.
Sale-to-list price ratio is 100%.
Of the 176 neighborhoods in Jacksonville, Girvin is the most expensive with a median listing price of $769,000 while Baymeadows is the most affordable neighborhood in Jacksonville with a median listing price of $166,000.
Attractive Renters' Market
Jacksonville has been ranked as one of the best places to buy rental property for 2021. Real estate investors looking for cash flow and equity growth over the long-term should benefit by owning good rental housing in Jacksonville due to the area's strong job and population growth, and affordability.
Key Market Stats:
Average rent in Jacksonville is $1,196 per month, according to RENTCafé (as of May 2021).
Rents in Jacksonville have increased by 8% over the past year.
Only 37% of the housing units in Jacksonville are renter-occupied.
52% of the rental housing units in Jacksonville rent for between $1,001 and $1,500 per month, while 31% rent for $1,000 per month or less.
Areas of Jacksonville that are the most affordable for renters include 29th and Chase, College Gardens, and Edgewood Manor.
Neighborhoods with the highest rents in Jacksonville are Del Rio, Greenland, and Mixon Town where rents go as high as $1,451 per month.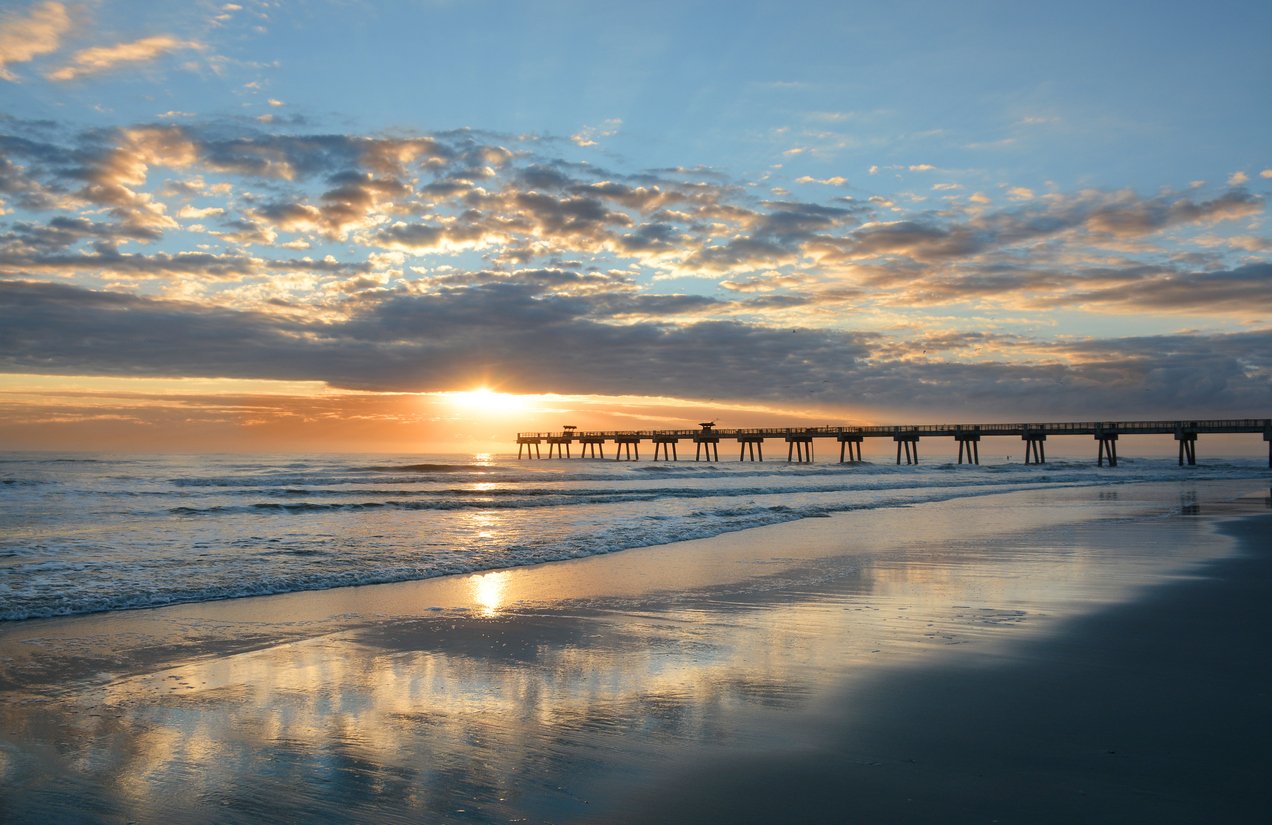 Historic Price Changes & Housing Affordability
Real estate investors considering buying rental property in Jacksonville look at the historical change in home prices and the housing affordability index to help gauge the current and future demand for housing.
The most recent Freddie Mac House Price Index (FMHPI) report for the Jacksonville MSA shows that:
May 2016 HPI: 160.6
May 2021 HPI: 247.9
5-year change in home prices: 54.4%
One-year change in home prices: 18.7%
Monthly change in home prices: 2.0%
Kiplinger recently analyzed the affordability of housing in Jacksonville and other top 100 U.S. markets:
Since the last real estate cycle market peak in May 2006, home prices in Jacksonville have decreased by 9.3%.
Since the last real estate cycle market bottom in March 2012, home prices in Jacksonville have increased by more than 74%.
Jacksonville has an affordability index of 3 out of 10, meaning the metro area is one of the more affordable places to own a home in the U.S.
Quality of Life
Jacksonville receives an overall grade of A- from Niche.com, with high ratings for housing, public schools, family living, diversity, and nightlife. With the nearby beach and warm tropical climate, extensive park system, creative coastal cuisine, and craft beer scene, it's easy to feel like you're always on vacation.
Key Quality of Life Stats:
Jacksonville is only 45 minutes from Orlando, 60 minutes from Atlanta, 2 hours 15 minutes from NYC, and 9 hours from London by airplane.
Jacksonville has the largest urban park system in the U.S., with more than 450 city parks spanning more than 80,000 acres.
More than 22 miles of white sand beaches are waiting just minutes from downtown Jacksonville.
Jacksonville is home to Florida's youngest population that's drawn to the city's historic neighborhoods, colorful street arts scene, and vibrant nightlife.
The NFL Jacksonville Jaguars play at TIAA Bank Field, while the PGA Tour based in Ponte Vedra makes golf a popular outdoor activity in Jacksonville.
Get Out the Map
Where to begin your search? Roofstock created a heat map of Jacksonville based on our Neighborhood Rating, a dynamic algorithm that enables you to make informed investment decisions by measuring school district quality, home values, employment rates, income levels and other vital investment criteria.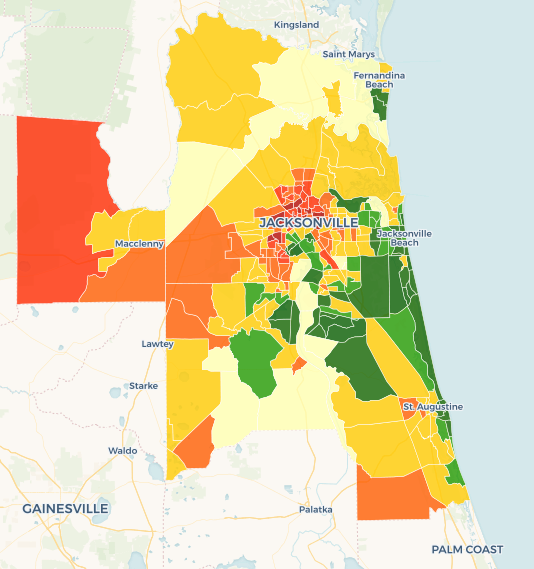 DARK GREEN: 4-5 star neighborhood
LIGHT GREEN: 3.5-4 star neighborhood
YELLOW: 2.5-3 star neighborhood
ORANGE: 2 star neighborhood
RED: 1 star neighborhood
Ready to invest in the Jacksonville market? If you haven't already done so, create your free Roofstock account and set up alerts. We'll notify you when we have a Jacksonville investment property that matches your search criteria.