Last updated on August 4, 2022
At least 79% of the students attending a two- or four-year college live off-campus, according to Urban.org. That's why in many rental markets, there's more demand for student rental property than there is supply.
Renting to students can potentially be very profitable, but it does come with some risks. Keep reading to learn more about renting to college students, including some of the best ways to lower the risk of renting to students.
Is Renting to College Students a Good Idea?
In many real estate markets across the country there's a strong demand for student rental property. Renting to college students can keep occupancy levels higher than average.
Even though students may leave town in the summer, they'll generally sign a long-term lease because they don't want to have to look for another place to rent when the fall semester begins.
Student rental property also can generate higher yields, because students generally aren't as price-sensitive when it comes to rent. That's because their parents or a student loan is used to pay for all or part of the rent.
Oftentimes, when a landlord wonders if it's a good idea to rent to students, what they're really asking about are the benefits and disadvantages. If you're asking the same question, we've put together a list of some of the biggest pros and cons of renting to college students to help you make the right decision:

Pros of Renting to College Students
Demand for student housing is high.
Competition among students to find a place to rent is also high, so landlords may be able to charge a premium rent.
Less time marketing a vacant student rental property because students will come to you.
Students (or their parents) may prepay the rent for the entire semester in advance.
Rental property near colleges and universities can generate higher rents and yields.
Spend less on upgrades and updating since students normally just want a place to live.
Cons of Renting to College Students
Students usually have a limited credit and rental history, or none at all. This often leads landlords to ask for a cosigner, which will typically be the student's parents.
Increased risk of property damage because most students are first-time renters.
More frequent turnover if you rent to a senior who plans on changing schools after graduation.
Students who rent for the short term may cause damage beyond normal wear and tear compared to longer-term renters.
Some schools are known for their party atmosphere, which increases the risk that students or their friends may damage your rental property and have neighbors filing noise complaints
Is it Legal to Only Rent to Students?
If you've decided that renting to students is the way to go, the next logical question to ask is if it is legal to only rent to students.
A landlord is free to set the conditions for renting provided that antidiscrimination laws aren't violated. In other words, a landlord can not decide to rent only to students and reject all other qualified applicants, because anti-discrimination and the Federal Fair Housing Act would be broken.
The Federal Fair Housing Act was passed as part of the Civil Rights Act of 1964 and prohibits discrimination on the basis of:
Race
Color
Religion
National origin
Gender
Age
Familial status (such as having or not having children, or being married or unmarried)
Disability (including a physical disability, alcoholism or past drug addiction)
In addition to the federal government, 49 states and Washington D.C. have adopted their own fair housing laws that expand on the federal law. Many states also prohibit discrimination based on sexual orientation, gender identity, or source of income.
A good place to find fair housing information for each state is The Center for Public Health Law Research at Temple University Beasley School of Law. The Center publishes an online interactive map that identifies and displays the key features of state fair housing laws.
Visit the Temple University Beasley School of Law website
Finding Good Areas for Renting to Students
However, keeping fair housing laws in mind, there are some places that are better than others if you want to focus on renting to students.
One good option is to invest in a rental property in a neighborhood in close proximity to a college or university. You won't be able to control who applies to rent, and you won't be able to turn down a qualified applicant if they're not a student. But the odds are you'll attract student renters because of the location close to a school.
Another good option for renting to students is to buy an investment property in a location that's known as a college town. According to a recent report from Redfin, the 20 best college towns to buy an investment property are:
Binghamton, NY – Binghamton University, SUNY
Syracuse, NY – Syracuse University, SUNY College of Environmental Sciences and Forestry
Buffalo, NY – University of Buffalo
Gainesville, FL – University of Florida
Athens, GA – University of Georgia
Champaign, IL – University of Illinois Urbana – Champaign
Baltimore, MD – John Hopkins University
Tallahassee, FL – Florida State University
Cleveland, OH – Case Western Reserve University
St. Louis, OH – Washington University in St. Louis
Columbus, OH – Ohio State University – Columbus
Pittsburgh, PA – University of Pittsburgh, Carnegie Mellon University
Rochester, NY – University of Rochester
New Haven, CT – Yale University
Provo, UT – Brigham Young University – Provo
West Lafayette, IN – Purdue University – West Lafayette
Philadelphia, PA – Temple University, University of Pennsylvania
Troy, NY – Rensselaer Polytechnic Institute
Albany, NY – University of Albany – SUNY
Lawrence, KS – University of Kansas
How to Rent to College Students
The process for renting to college students is similar to the way you'd rent to other tenants, with just a couple of exceptions:
Advertise at the school and online
Given the fact that student housing is in such strong demand, the only thing a landlord may need to do is market the property for rent at the college or university. If you want to expand your reach, other good places to list a rental property for students include College Pads, Zillow, Apartments.com, Craigslist, Hotpads, MyNewPlace, and the Facebook Marketplace.
Use a standard tenant screening process
Have a standard screening process in place when renting to students or any other prospective tenant. A good screening process should include:
Job history
Income
Credit report
Rental history
Criminal background
Sex offender status
Terror watchlist
Evictions
Consider using an online tenant screening service such as Avail, Cozy, E-Renter, and RentPrep. Most are free for landlords, charge the tenant a small fee to apply, and provide you with tenant screening reports much faster than you could do yourself.

Always require a security deposit
Asking for a refundable security deposit helps to reduce the risk that a student renter will damage your property because they'll want their deposit back when the lease is up. Landlords can use a tenant's security deposit to pay for abnormal damage, but not normal wear and tear.
Some states also allow landlords to collect a nonrefundable move-in fee, but be sure to ask your local property manager or check your state landlord-tenant laws to learn the maximum security deposit you can charge for a student rental property.
Ask for a co-signer on the lease
Many student renters don't have a lengthy credit or rental history because they're young and may be renting for the very first time. Asking for a co-signer on the rental lease – such as the student's parent or guardian – is a good business and adds another layer of protection should the student damage your property or default on the lease.
Online sources for a free lease co-signer form include:
Emphasize the terms and conditions of the lease
Take the extra time and effort to explicitly explain the terms and conditions of the lease agreement your student renter is signing.
It's not that they're dumb, it's just that they probably have never rented a place of their own before and honestly don't know what is expected of them.
Stress responsibilities in the rental agreement such as paying the rent on time, late fees if the rent is paid late, how to perform basic maintenance, utility responsibility, and how the eviction process works.
Require renters insurance
Often called tenants insurance, a renters insurance policy that protects renters living in a house or apartment. Your student rent pays for the renters insurance for coverage including personal property, liability, and additional living expenses.
Requiring a student tenant to have renters insurance helps to minimize the risk that they won't be able to make rent payments if they have to replace stolen personal belongings, and protects you from potential liability if the student's guest has an accident on your property.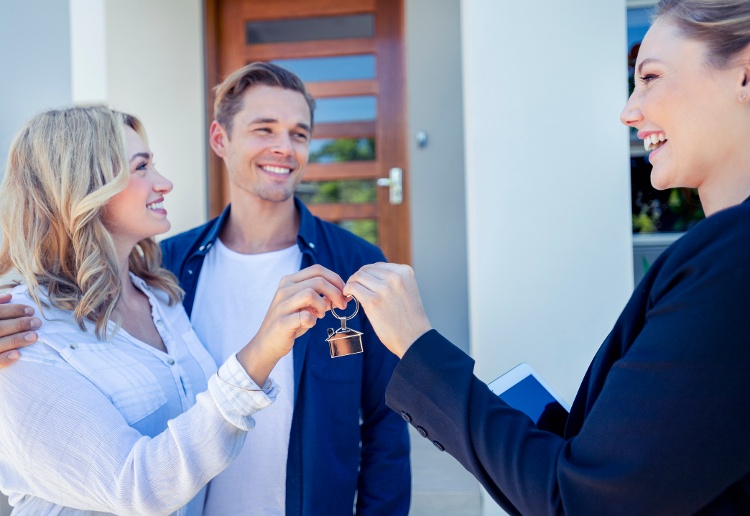 How to Lower the Risk of Renting to Students
Renting to students can be a lucrative source of rental income, but student rental property does come with some risk. To help lower the risk of renting to students, a landlord should always:
Ask for a co-signer or guarantor on the lease agreement.
Screen all roommates and have them sign the lease.
Require a security deposit and move-in fee.
Explain the terms and conditions of the lease, and the student renter's responsibilities, including what happens if the rent is not paid or the property is damaged.
Conduct regular drive-by inspections and routine interior inspections to ensure the property is being cared for.
Can You Refuse to Rent to Students?
For the same reasons a landlord can not only rent to students – discrimination and violation of Federal Fair Housing laws - a landlord can not refuse to rent to students. However, a landlord can refuse to rent to any prospective tenant, including a student renter, for reasons such as a low credit score or insufficient income.
How Much Rent Should a College Student Pay?
The rental rate a college student pays is oftentimes higher than the market rent because student housing can be hard to find, and if the lease term is for less than one year. However, a landlord shouldn't charge a rent that is so high the student will be forced to have numerous roommates or can't afford to pay the rent.
If you're a landlord with a student rental property, you can use Rentometer or Rent Zestimate from Zillow to help determine how much you should charge students for rent.
Final Thoughts on Renting to Students
Renting to college students can be a good option for investors who want to increase rental property yield. Demand for good student rental property is high, and tenant turnover can be low when you rent to students who still have several years to go before they graduate.
However, renting to students does come with some potential risk. Always be sure to conduct a thorough tenant screening process, as for co-signers and a deposit, and do periodic inspections to ensure your rental property stays in good condition.