Last updated on November 26, 2019
At Roofstock, our goal is to make investing in leased single-family rental homes easy, accessible and transparent.
Or, to put it in the words of our CEO and Co-Founder Gary Beasley:
"We're trying to democratize access to an asset class that historically was limited to certain investors. We've built an ability to buy anywhere in the country from anywhere in the world."
As a comprehensive marketplace for buyers and sellers of leased single-family rental homes, Roofstock features several handy, at-your-fingertips resources to find investment properties that fit your search criteria. Here are six of our favorite tools to help power up your real estate portfolio.
1. Meet Your Match: The Search Filter
Why you'll love it: Stay in the know and get notified when investment properties matching your purchase criteria become available.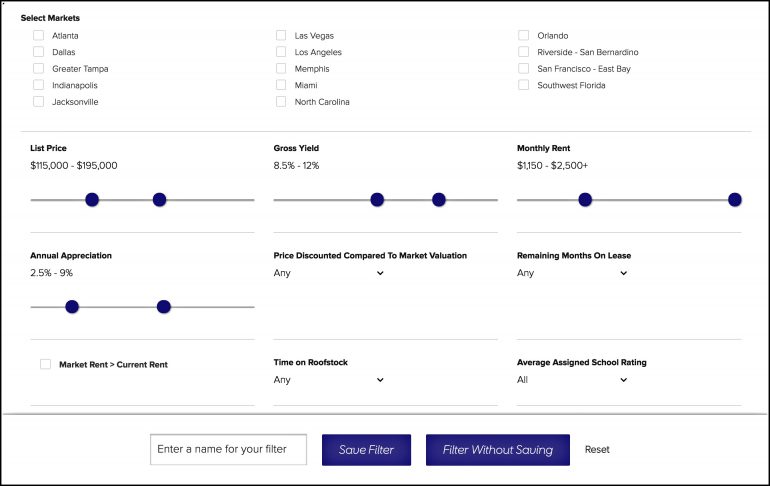 One of our most popular tools, the Roofstock search filter lets you easily find certified investment properties sorted by attributes that matter most to you. Drill down and sort by different investment criteria such as location, list price, gross yield, neighborhood rating, funding type, estimated annual appreciation rate and much more.
To save a custom filter and receive notifications when a great match becomes available, simply create a Roofstock account—it's free and only takes a couple of seconds. New properties are added to the Roofstock marketplace every day.
2. Know the 'Hood: Roofstock Neighborhood Rating
Why you'll love it: The Roofstock Neighborhood Rating normalizes neighborhood data across markets, making it especially powerful for side-by-side property comparisons.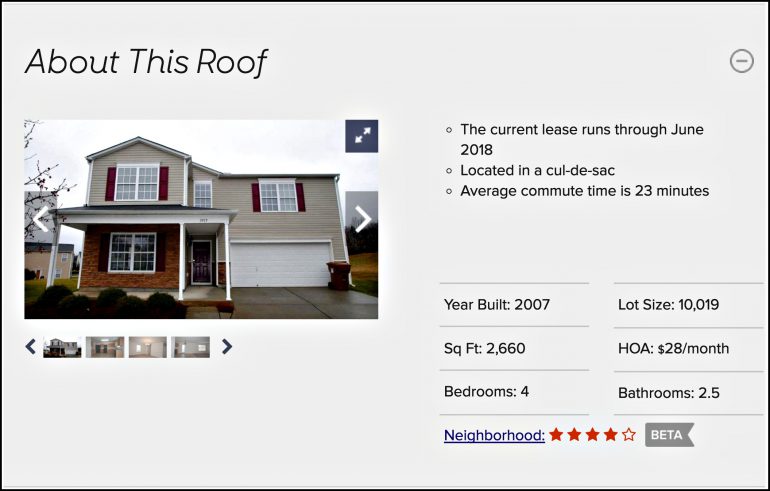 Understanding the attributes of a neighborhood helps buyers weigh the potential risks and benefits of purchasing in a certain area, which is why we created the Roofstock Neighborhood Rating. This powerful algorithm normalizes neighborhood data across markets, enabling rental home investors to find and compare investment properties on an even footing. Use this added layer of insight to evaluate potential risks and benefits of different neighborhoods.
>>Related: Star Power: Put the Roofstock Neighborhood Rating to work
3. Dream Big: Build Your Portfolio of Investment Properties
Why you'll love it: Easily save and access your favorite rental homes, and view aggregate forecasted data for multiple investment properties in a single portfolio.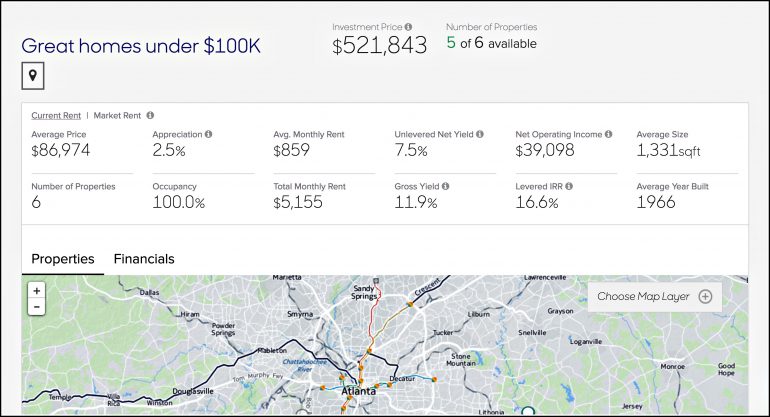 Find a rental home you're interested in? Save it to a portfolio by clicking the purple star icon in the upper right corner of the property card. This allows you to:
Access and organize your saved rental homes.

Create one or multiple portfolios—it's up to you. For example: "Favorite Memphis Properties," "Great buys under $150K," etc.
Get the big financial picture.

Portfolios roll up forecasted aggregate data for your selected rental homes, allowing you to mix and match properties and markets to get an idea of what your total yields could potentially look like over time. Figures such as total purchase price, total monthly rent, average estimated gross yield, average occupancy rate, etc. will automatically adjust as rental homes are added or removed from your portfolio. To save properties to your portfolio, create a Roofstock account:
4. The More You Know: Estimate Your Rate
What to use it for: Estimate your mortgage rate and monthly payment in a matter of seconds.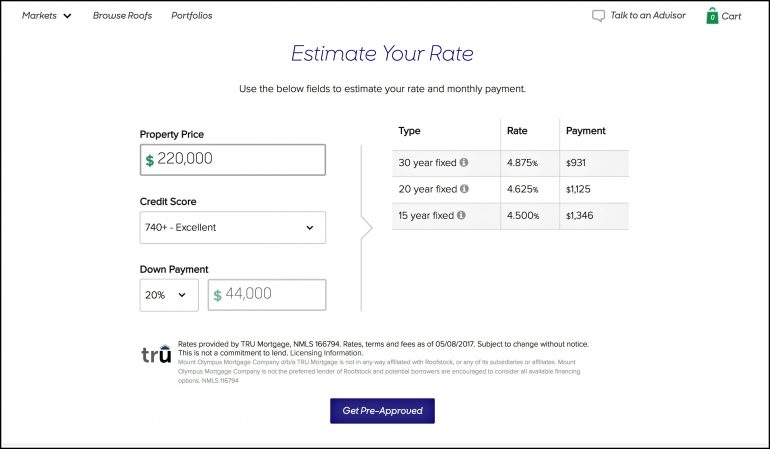 No need to mess around with formulas in Excel or Google Sheets. Simply plug in the property price, your credit score and down payment percentage, and our partners' Estimate Your Rate engine generates projected rates and monthly payments for a variety of loan options. From there, get pre-approved with one of our lending partners who can provide you with a quick approach to closing on your new investment.
>> Try it out: Estimate Your Rate
5. Lay of the Land: Use Our Smart Maps
What to use it for: Get to know the area better. Add layers of data analytics to map views.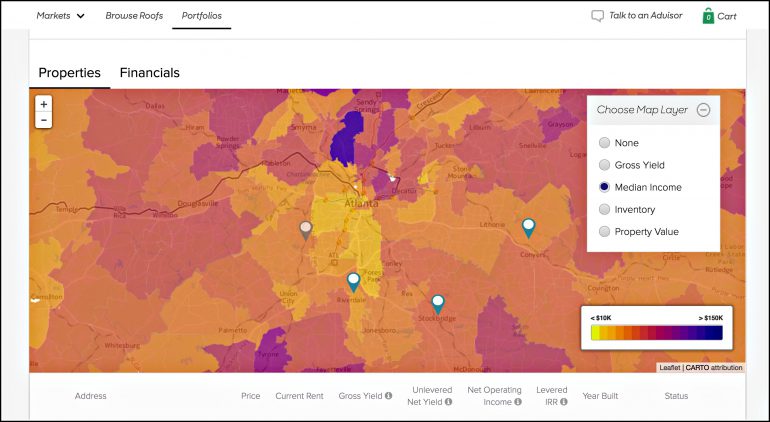 When purchasing property in another town, another state, or all the way across the country, it's nice to have some geographical bearing handy (without having to open another browser window). All of our market pages and market categories have expandable, interactive map layers that make it easy to scope out location and proximity to other Roofstock listings. To browse rental homes directly from a map, simply click on one of the pins and a property card will pop up. To view the full listing, click "see details."
To add data analytics layers for gross yield, median income, inventory or property value, use the dropdown menu in the right corner of the map.
6. The Human Component: Expert Roofstock Specialists are Literally a Call or Click Away
Investing in rental property is no trivial transaction, but it shouldn't be a hassle, either. This is why—in addition to our transparent, easy-to-use online marketplace—Roofstock has a world-class team of account executives to walk you through anything you might need help with, free of charge.
Whether you want insights and tips, or a more guided approach to understanding different marketplaces and tools available to you, our expert in-house team takes the time to understand your objectives and level of familiarity with real estate investing.
*****
All the tools you need to be a savvy rental home buyer are just a few clicks away. Put these helpful resources to work as you shop around for your next investment property.