Investing in single-family rental (SFR) homes is a compelling option for diversification — especially during periods of volatility in the financial markets. Looking at past performance, the SFR asset class has demonstrated an ability to deliver steady performance and strong predictable cash flows. Over the last 15+ years, and even during the last recession, SFR rents continued to grow and generate stable income even as home prices dropped.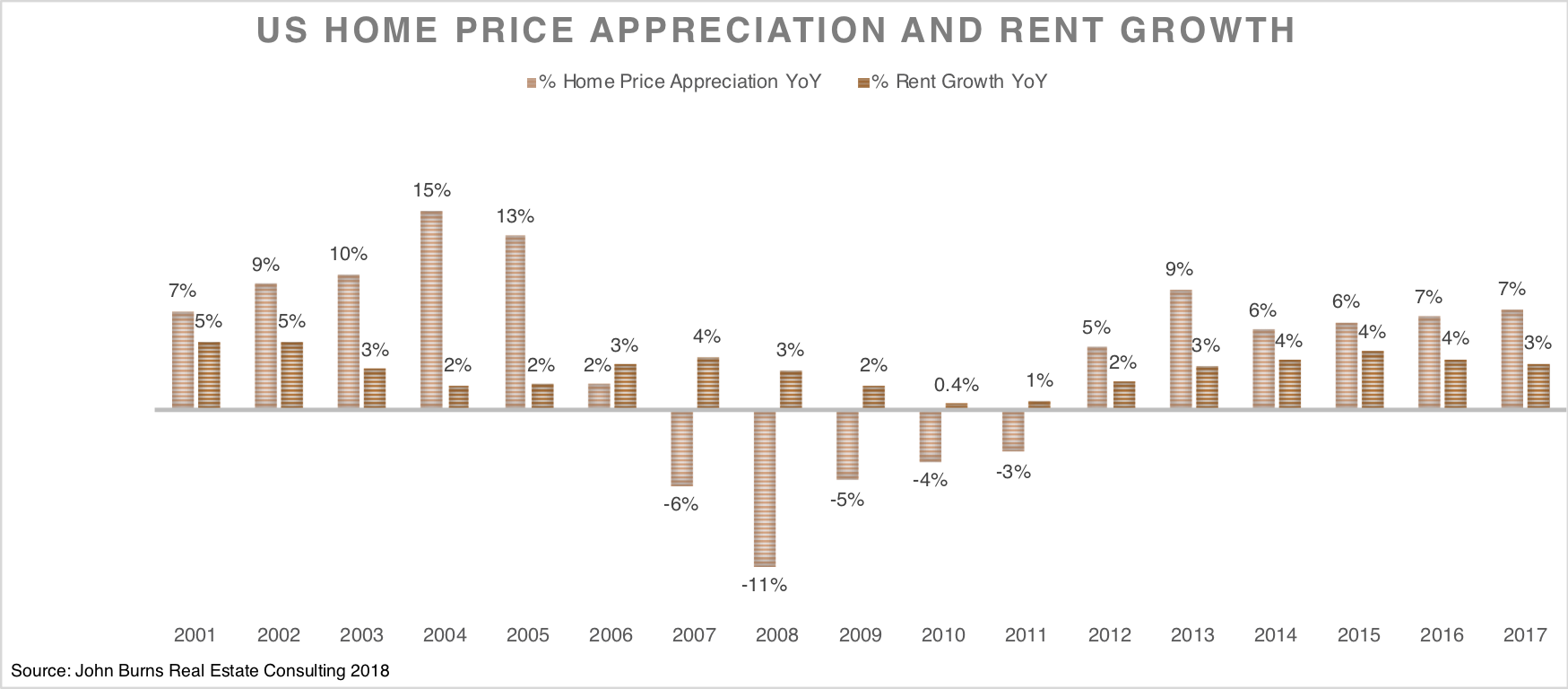 A number of factors make the SFR market attractive for investors who wish to build long-term wealth, establish a monthly income stream, take advantage of tax write-offs, and diversify from market volatility. Here are the top 5:
1. SFRs are the fastest-growing segment of the U.S. housing market
With a 30% annual growth rate in the number of SFR units, the segment has outpaced the creation of both new owner-occupied single-family (7%) and multifamily (15%) housing, according to 2017 data from the Urban Institute.
Below: The shift to rentership, driving rent growth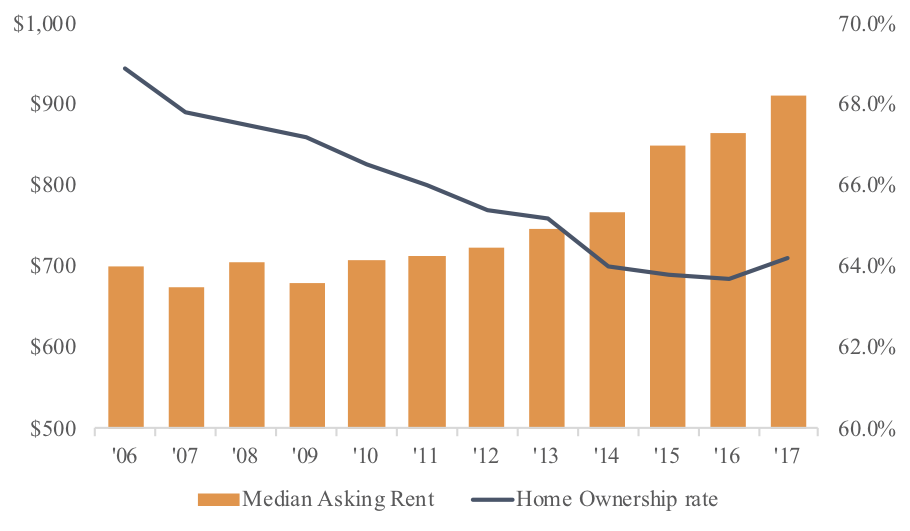 The 43+ million total renter households can be divided into two classes: those who have to rent and those who prefer to rent.
According to a recent study conducted by the Washington Post, millennials and boomers are opting out of home ownership for financial reasons and/or lifestyle preference. Both of these groups appreciate the greater flexibility, mobility and lower monthly costs of a renter lifestyle.

At the same time, they also prefer the privacy of a detached home and yard in a nice neighborhood to apartment living.
Those renters who would like to buy are finding another challenge: tightening credit. Stricter lending standards, rising interest rates and high home prices in many markets are keeping entry-level buyers out of the market.
The Pew Research Center predicts that millennials (the 74.5 million people born between 1981 and 1996) are projected to overtake boomers as the largest generational group in 2019 and are impacting the rental market by their sheer numbers. Currently aged 23-38, millennials are now forming households and starting families. Many don't have the resources to buy, yet they want a more spacious, traditional home in an area with good schools — and opt for a single-family home over an apartment.
Immigration is expected to average 1 million a year over the next decade, further augmenting the renter pool, according to the Pew Research Center.
2. The cost of owning a home has outpaced the cost of renting
Monthly costs of owning a primary residence rose more than three times faster than costs of renting between September 2017 and September 2018, according to realtor.com. Renting is less expensive than owning in 65% of the nation's counties, which is contributing to the ongoing demand for rental housing.
>>Related: The rising demand for single-family rentals
3. SFR renters are "stickier" than apartment renters
SFR renters tend to be older, have higher incomes and are more likely to be married with children than apartment renters, according to 2018 data from John Burns Real Estate Consulting.
For these reasons, they prefer to live in a detached house with yard in a good neighborhood vs. an apartment — and are likely to stay in that home longer.
>>Related: How to better understand renters of single-family houses
Tenant stability is important to rental property investors for practical and monetary reasons. Making a rental home ready for the next tenant takes time and money. With lost rent while the home is vacant along with fees from repairs, leasing and marketing, a typical "turn" can cost thousands of dollars. Less turnover will keep more of those dollars in the investor's pocket.
4. Rents have increased consistently for more than a decade
When measured over a long period, rentals have shown no correlation to the performance of the S&P 500 (see graph below). In fact, while we saw a sharp downturn in both financial markets and home prices during the 2008 recession, rents collected for single-family properties grew during that same timeframe, according to 2018 data from John Burns Real Estate Consulting. In the wake of this last housing crisis, 3.8 million new renter households were formed, which drove demand that has continued to fuel this increase.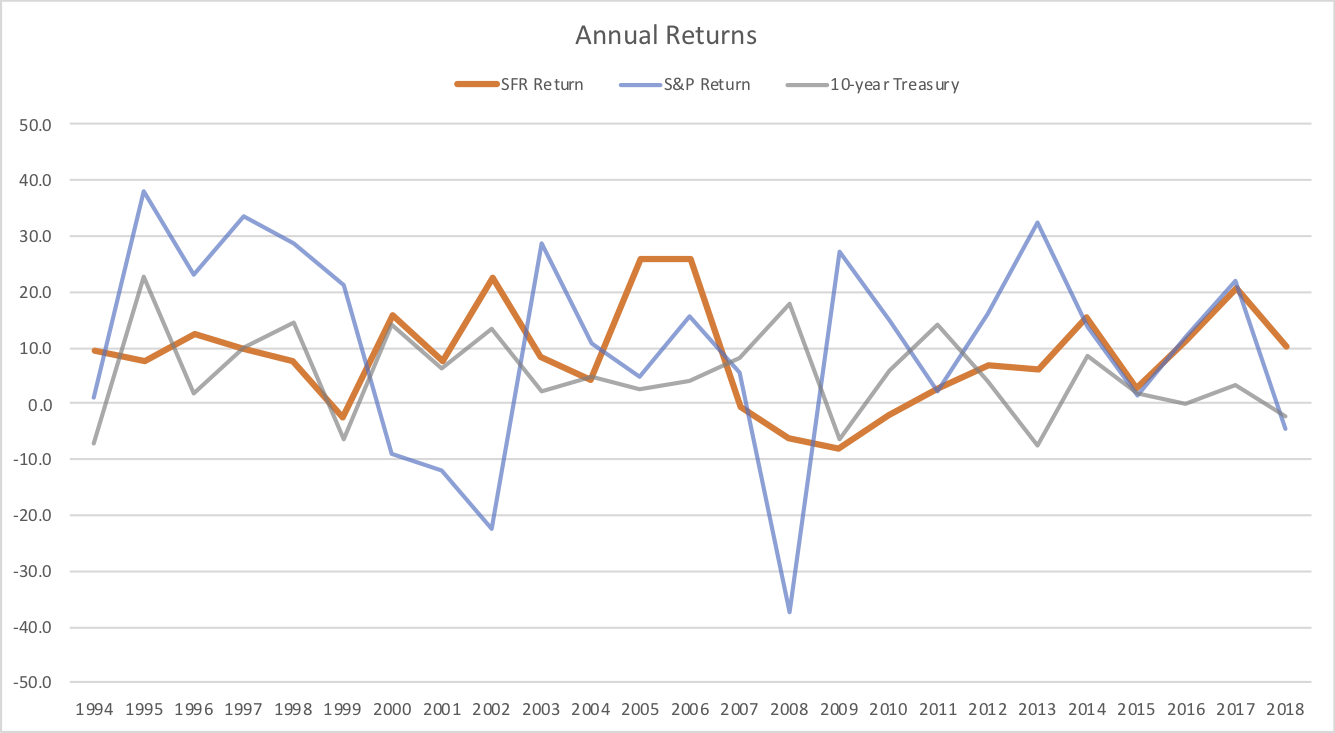 Source: Roofstock Data 2019
5. 2019 is great time for individual investors in the SFR market
It's estimated there are more than 16 million SFRs worth over $3 trillion in value, making this asset class almost as large as the market for large multi-family dwellings.
A main point of difference: The market for SFRs is much more fragmented and is not yet dominated by institutional players, leaving huge opportunities for individual investors.
Some things to consider:
With positive projections for SFRs, institutions are looking for opportunities and gradually accelerating their investments in the space. Their growing participation has legitimized the category, making financing more available. As a result, individual investors have improved access to the capital they need at lower rates to acquire and operate SFRs (check out our investment property financing cheat sheet).
Given where we are in the economic cycle — facing the prospect of a recession in the next two years — the timing is ideal to take advantage of growing rental demand while interest rates are still relatively low.
The power of compounding adds to the appeal of SFR investing. SFRs have the ability to generate their own earnings (cash flow, appreciation, and tax benefits that include write-offs and appreciation) which can be used for leverage and/or reinvested, compounding your returns. The sooner you get started, the faster you will be able to tap this financial power.
Whether you're buying your first investment property or your fourth, Roofstock makes it easy for individual investors to find and purchase single-family rental properties in strong rental markets across the country.