Last updated on December 12, 2022
If you've spent a little time searching investment homes, you've probably come across articles or forums that discuss the merits of turnkey properties. People are pretty passionate on both ends of the discussion.
In this article, I'm going to share my experience buying turnkey properties through two different types of companies, the pros and cons of each, and how to determine if this investment method makes sense for you.
First, let's quickly define what a turnkey property even is.
What is a turnkey property?
Definitions vary depending on who you talk to, but most people in the industry will agree that a turnkey property is one that is occupied or move-in ready, with appliances in working condition and no obvious structural or electrical issues. Although "turnkey" homes are not fixer-uppers, they may nonetheless require cosmetic upgrades or a refreshing.
Pros of turnkey properties
The property is in rent-ready condition. The process to get a tenant should be rather seamless.
There should be minimal repairs or renovations needed on the property.
In the first few years, it is possible that repair costs are low as some turnkey properties are recently renovated. This could result in strong cash flow for the first several years.
Cons of turnkey properties
Turnkey properties can be on the more expensive side in real estate investing, requiring more investment upfront. This is often driven by the high level of rehab and repair.
The higher price point of a turnkey property doesn't leave much, if any, additional equity beyond the down payment. This is often where you hear that there are "no deals" from some investors who prefer to fix properties themselves.
There are companies that specialize in turnkey real estate investments all around the country. I have found that the greatest concentration of properties seems to be in Midwestern and Southeastern cities, such as Indianapolis, Memphis, Birmingham and Kansas City — all markets in which Roofstock has properties for sale.
The two types of companies with turnkey properties
I have firsthand experience buying from a traditional turnkey company and buying a property on Roofstock.
I chose to buy turnkey properties because I live very far from the markets in which I wanted to invest. I was brand new to real estate investing, so it was important for me purchase properties that were going to be low maintenance and immediately rent-ready. My purchases with both Roofstock and the traditional turnkey company worked out well, so I wanted to share the two types of experiences I've had.
Experience 1: The traditional turnkey company
I've purchased a property through one of the larger and more traditional turnkey companies out there that focuses on a few key markets in the Midwest. There are two arms of the company:
One that handles the buying, rehabbing and selling of the property.
Another that handles the property management aspect, i.e. the leasing, turnover process and year-to-year general maintenance.
Here's how the process works:
The turnkey company buys fixer-uppers at below-market prices. Then they rehab the properties, which might include replacing significant systems, such as the roof, HVAC, electrical, plumbing, flooring, and major kitchen appliances. Lastly, they market and sell the revamped properties to investors looking for rent-ready homes. They also vet tenants and manage the property going forward.
In terms of budgeting expectations, turnkey companies typically operate in a specific price point of the market. Expect to find homes in the $100K, $125K and $150K brackets. If you plan on using financing, keep in mind that most lenders typically require a 20%-25% down payment for investment properties.
The property I chose was a three-bedroom, two-bathroom home for $125K, located in Memphis. I've found that a ~1500 square foot home with three bedrooms and two baths, renting between $1,000-$1,250 per month, is very appealing to renters. I've had no trouble keeping it occupied.
The actual buying experience was pretty smooth. Over a few months, as different properties were being renovated, the company would send me a digital booklet on each home. These booklets contained information such as sale price and suggested rent. I looked through about a dozen booklets before finding the right property. The closing process was very similar to the process I experienced with Roofstock, which I discuss in detail later on.
Experience 2: The marketplace with buyer safety nets
While not a turnkey company, marketplaces like Roofstock offer features that give buyers a similar peace of mind. One of the many benefits of purchasing an investment property through Roofstock is that connect buyers with a vetted local property manager.
One of the homes I purchased through Roofstock was at the $100K price point and located just outside of metro Atlanta. I was very impressed with Roofstock's buying process, which you can read all about just below.
While the cash flow for the Roofstock property has been comparable to the one I purchased through the turnkey company, the appreciation on the Roofstock property has been much higher. This is because the Atlanta real estate market has seen significant growth across home prices, rental rates and population.
Is a turnkey property right for you?
When it comes to this question, I've found that there are three main camps:
Those who prefer to handle the major renovations themselves to keep the purchase price as low as possible.
Those who are looking for a rental that is move-in ready. They are often short on time and have cash available to invest.
Those who are somewhere in the middle.
The first group might say that turnkey is too expensive. They're generally gung-ho about handling it all themselves or with their self-assembled team.
The second group might live very far away from profitable rental markets, as I do, or have their hands full with their primary job. For example, a busy professional in New York City might not be able to afford investing locally, but could afford a rental property in a market such as Indianapolis or Atlanta. And that same person's time might be better spent focusing on their work rather than laying new floors, tearing out walls, or installing toilets.
Everyone else tends to fall somewhere in the middle. They're interested in investing in real estate and they want to find a company that can help them achieve their rental property goals.
Turnkey properties are made for those who fall into the second and third groups.
This is where Roofstock came into play for me.
Roofstock's convenient buying process
Roofstock is not a turnkey company, but its online marketplace does offer a decent amount of due diligence.
If you navigate to the marketplace, you'll notice tons of filters to help you find the property you're looking for. One thing I like to do is search for properties that already have an inspection done. You can do this by selecting Exclude from the Inspection Contingency filter: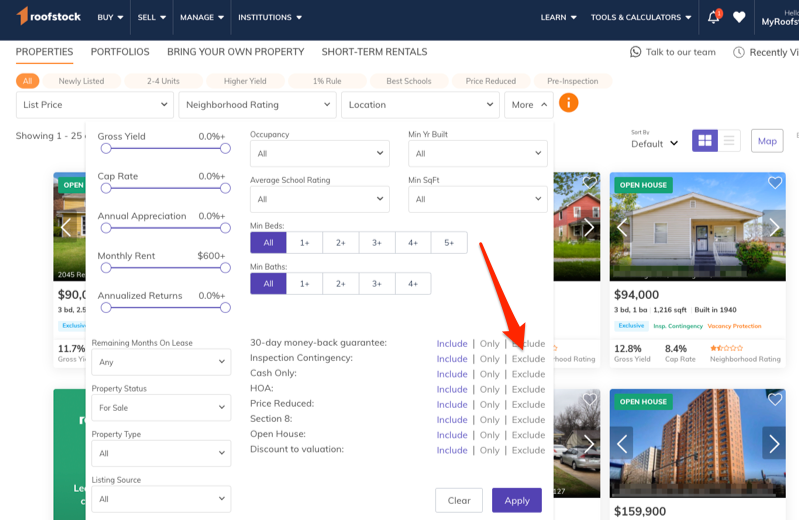 Once filtered, these properties are ones that I can view the inspection report for to see the level of repairs needed.
With Roofstock, the system is set up a lot like online shopping. Once you've researched the market, neighborhood, and home, you are ready to buy.
Take a look at this property that I found on the site recently: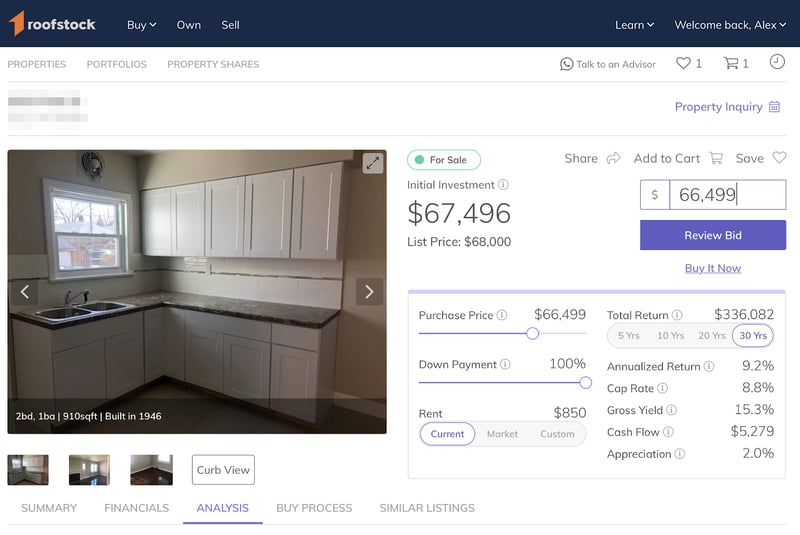 This Indianapolis home boasts modern features and an appealing look for renters. Let's say that you want to buy this property.

Type in your price (I entered $66,499, shown above) and let the offer fly. The seller will get back to you within a few days and accept, reject or come back with an alternate offer.


Buying rental properties on Roofstock is that easy. The team will guide you from start to finish, including recommending lenders, insurance providers, and property management companies — all of whom have been vetted by Roofstock.

I've personally gone through this process three times with Roofstock and can speak to the ease of transaction for each. (Find out what it's like to buy three investment properties in one day in my Roofstock review.)
Are you ready to buy a turnkey property?
Buying turnkey rental homes has been a big part of my investment success. Having a rental with very few issues for the first few years has been a great way to get my feet wet without feeling like I'm overwhelmed. The monthly returns and cash flow have been strong as well.
If you are ready to jump into real estate investing, the turnkey avenue could be a great route for you. Roofstock has a large selection of properties in a ton of markets that can help you reach your investment goals.
I want to leave you with this closing thought: I'm never going to claim that turnkey rental property is the No. 1 most lucrative way to invest in real estate. It is only one of many, many ways to invest. If you put together your own team, find the deal yourself, and like to swing a hammer, the return could be better.
For me, purchasing through Roofstock as well as the other traditional turnkey company has been a fantastic way to get started in real estate investing with minimal headaches.
Even though I live halfway around the world from my investments, I can sleep comfortably knowing that qualified local teams are managing these solid properties for me.
That is a pretty wonderful feeling.