The following review was independently published on August 1, 2017 on Fifty Week Vacation and is re-published here with permission from the author.
Alex, a real Roofstock customer, purchased three investment properties in one day. In his four-part review series, he details his experience and also answers a number of helpful questions from a buyer's perspective. Enjoy!
*****
Part I – What is Roofstock and how does it work?
First and foremost, I do not work for Roofstock, I am not affiliated with Roofstock, and Roofstock did not pay me to write this. I am writing about it from my knowledge, my experience, and with my thoughts on the process/company/ideas on investing so that others can better understand the company to make the choice to invest with them or not on their own. Let's begin!
Much has been said out there about Real Estate Investing or REI, and long time readers know that I am a big fan of investing in real estate. There are many, many ways to invest and a thousand avenues to get there.
Today I wanted to talk about one of those ways with Roofstock.com because many people have questions about the platform, what it is and is not, and generally seem confused on the company.
From our experience with them so far it has been great. We even found the process to invest was much easier than you might imagine.
So, let's dive in and see what it is all about.
This post in total will sit close to 8,500 words so we are going to break it up into 4 parts as follows:
This is our Roofstock story and review – the one where we bought three houses in one day from the other side of the globe.

Straight from their website:
Roofstock is the first online marketplace created exclusively for investing in leased Single-Family Rental homes that generate cash flow day one. Created by investors for investors, Roofstock provides research, analytics, and insights to evaluate and purchase independently certified properties.
Roofstock turns the old way of investing on its head, bringing transparency and efficiency to create a better way to transact. Buyers access vetted homes with current cash flow. Sellers market homes without lost income or disrupting tenants. Neighborhoods avoid signs in yards which could depress values. It's win-win all around.
They offer this all online through their platform and marketplace at Roofstock.com.
If someone asked me what that means, I would tell them that Roofstock is similar to a broker that provides a marketplace to buy and sell real estate specifically for investors. They are like that guy who can get the two sides together who otherwise would not connect easily or at all.
Case in point is that many homes were purchased by companies throughout the housing crash of the late 2000's. Today, their best strategy may be to sell off a portion of their portfolio because of this need to liquidate it, they might want to focus on another market, or they need to sell properties easily and affordably to raise cash. They might have 500 homes to sell, or they might have 5.
So how would you do this in the past?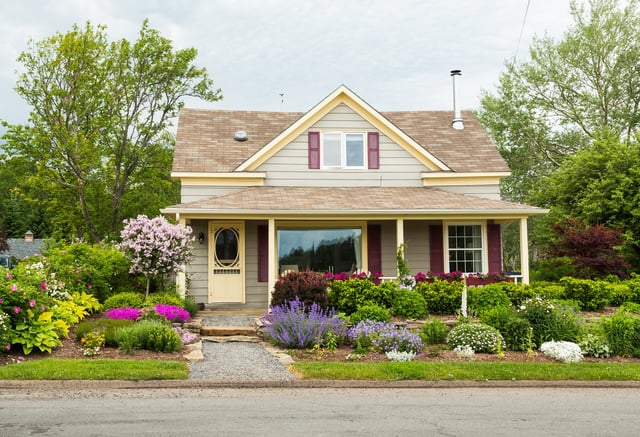 Historically, sellers did not have a great way to make this happen. They might need to get these 500 houses on the MLS and pay a realtor up to 6%. That can really eat into your returns.
Along with this, they would have to have a vacant home during this process. Investors know that every day an investment property is vacant costs you in potential rents. By the time it is all said and done they may have paid 6% of the sales price and lost 3 months' rent.
Here is an easy example of what it could cost to sell an investment property in the past. A $100k home that rented at $1,000/month would lose out on $9,000 total using out 6% sales commission estimate above.
6% sales commission = $6,000
3 month's rent = $3,000
Total = $9,000
$9,000 per home. I'll repeat, $9,000. Say they had 500 homes to sell? That would be $4,500,000.
Oh $h!t! No wonder a company like Roofstock was able to come along.
In the past on the other side, a buyer would need to locate a seller through their network, find a house on the MLS, or go through a turnkey company. Put bluntly, not everyone wants to do this.
Wait you say? I thought that Roofstock was a turnkey company?
No, they are not. They simply broker the sale through their online platform and marketplace. At no time do they actually have ownership of any property in the marketplace. This is probably the number one misconception of the company in my opinion.
Like any other innovative business out there, Roofstock fills the niche for creating a marketplace that brings together companies or individuals who want to sell their investment homes with people who want to buy them.
Here are some other reasons:
The buyer might be searching for rentals in another market than their own.
A buyer might be looking for a better price point than they can find in places like New York City, San Francisco, or Los Angeles.
They simply might be looking for someone else to do much of the heavy lifting for them on finding a potential rental home and tying it up into an easy to understand method.
Whatever the reason for the seller or buyer, Roofstock is bringing people together to make it happen. They can also make the sale happen while a tenant is living in the home which has been a huge source of frustration for buyers and sellers alike. In fact, more often than not the sale happens while tenants are in place with Roofstock!
That is pretty cool if you ask me, and hell yeah we enjoyed cash flow from the moment we signed the paperwork! Talk about awesomeness.
No longer does the seller need to wait for the tenant to move out, find a buyer to purchase, and in turn have the buyer locate a new tenant all the while costing all parties involved.

Nope, this is 2017.
The seller can now turn to Roofstock to get the property listed, certified, and sold on the platform in anywhere from roughly 15-30 days from when the buyer signs the Purchase and Sale Agreement. *(Unless otherwise agreed. Sometimes there are delays for external circumstances. For the most part, this should be the rough timeline.)
Now let's look at why it may be a good idea for both sides to use the marketplace at Roofstock by stepping back to a 30,000ft view:
Why might a

seller

use Roofstock?
They can market and sell the property while the tenant is in place. This saves them from absorbing the vacancy cost that is traditionally required when you list a property on the MLS. The seller gets paid rent until closing.
The costs are rather low to list on the Roofstock marketplace. The seller pays a marketplace fee of 2.5% of the home cost to list it on the platform. (The buyer will pay 0.5% of the cost). Using a traditional agent can cost 5-6% of the sale price.
Roofstock will help you figure out what the current valuation and sale price should be to attract buyers and investors.
Roofstock has the platform to match buyers and sellers, along with dedicated sales, marketing, and process management teams. This team helps to facilitate the sale which often has many moving parts, especially when financing is involved.
Why might a

buyer

use Roofstock?
From day one you can have a property that cash flows as most properties are occupied upon the sale closing.

I cannot stress enough on how awesome this is. You get paid from the moment you close if a tenant is in place and paying rent.
The platform allows you to simply and easily view properties that are in markets that you don't live in or do live in.

Most of us live in one place, right? There are a lot of other places out there that might be a good option to invest in as well. We are all busy and don't have the time to fly around the country to see the properties at each stage of the process, so this is a huge benefit to screening potential properties.
You pay only a 0.5% marketplace fee of the purchase price to Roofstock for the transaction. Many brokers, agents, etc. out there will charge significantly more.
Roofstock runs each property through their certification process which includes:

Inspection
Property Valuation
Estimates of major repairs and costs
Preliminary Title Report
Leasing information, terms, utilities, HOA, etc.
General tenant payment history information
Home disclosure such as crime rates, local schools, etc.
Property management options (See below)
Roofstock vets property management companies for you to find the best partners in the market you plan to invest. This is huge if you don't plan on managing the property yourself. I'm not into late night calls to fix a toilet, so property management is a must for us.
They also can connect you with financing companies and insurance for your REI if you so desire. You don't have to use these companies, but I've found they generally offer competitive rates.
These are just a couple of reasons that both the buyer and seller might use the platform. There are more, but this gets the idea across on the value proposition for the company. Again, not saying that it is the only choice or best choice for investing, it is simply A choice.
So, there you have it. The first part of the Ultimate Roofstock Review in our series. I hope that it helped to explain what Roofstock.com is, a general reason for why a buyer or seller might use the platform, and help to get you more familiar with the company if you have never heard of them before.
Click here to read Part 2 of the Ultimate Roofstock Review!
*I would be silly if not to note that this is solely my opinion, doesn't even scratch the surface on real estate investing, and that you need to do your own research. I am not a tax professional, I am not an accountant, I am not a financial planner, and you shouldn't listen to random people on the internet as a general statement. Should you choose to invest, you should consult the appropriate parties. Always do your own homework and thanks for stopping by! This is an opinion and should not constitute advice in any form.
See more reviews about Roofstock.
*****
Want to start browsing properties? Create your free Roofstock account to save your favorite listings and recieve notifications when we find great matches: