Favorite Roofstock Features
~Custom property search filters and alerts
~Full property inspection reports provided up front
---
Properties Purchased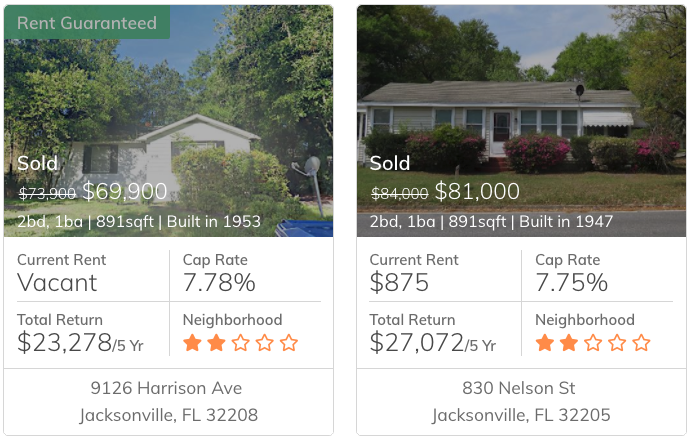 ---
Background
A native of Houston and a graduate of the University of Texas at Austin, Payton is currently an engineer for the oil and gas industry in the Houston area. Mainly an index fund investor, for several years Payton considered dabbling in real estate to diversify his portfolio outside of conventional investing.
The opportunity to beat market returns and the availability of cheap loans were key elements in his decision to enter the rental real estate market. He thought about investing in local homes, but considering that his job, family and home are all in Houston, he didn't want all his eggs in one basket.
Yet, he was aware that managing rental properties takes work.
"I don't feel like I have enough time to put together an off-market deal and get a place rented," he explained.
Solution
Payton first learned about Roofstock through a real estate investing podcast. After reading a few more articles, he realized a turnkey provider would allow him to branch out geographically and be more hands-off.
He'd considered this type of service before, but chose Roofstock over several competitors.
"A lot of these turnkey providers will give you a decent amount of information," he said, "but what I really liked about Roofstock was the transparency."
The full pro forma analysis (a cash flow projection that helps investors evaluate the potential profitability of a property), along with local market evaluations and other property data made his decision easy, not to mention Roofstock's inventory across a variety of markets.
"Geographically, they have a huge selection," Payton added.
Admittedly, the idea of purchasing a property he'd never seen in person made him hesitate. With Roofstock, however, "you know as much as you possibly can about the property without visiting it," he said.
"Roofstock makes it as comfortable as possible, and I feel like they really stand behind their properties."
The photos, inspection reports and due diligence that Roofstock provides up front gave Payton plenty of information to feel at ease about purchasing a rental investment property without seeing it in person first.
The other thing that gave him peace of mind was the first-year Lease Up Guarantee that Roofstock offers for some of its listings.
Payton had been researching markets for a while and narrowed down the ones that best fit his investing criteria and goals, including Jacksonville, Memphis and Atlanta. His main investment objective was cash flow and not appreciation. He also wanted an area with stable growth, job diversity, and working families. Roofstock's market reports helped him narrow down his area of choice: Jacksonville.
As he would approach any investment, he mainly looked at the numbers when choosing both of his investment properties. He sought rental homes that would maximize his rate of return, and found a number of reasonably priced listings that would help him achieve that goal. Roofstock allowed him to easily set filters to find his preferred properties. He started by setting filters for Jacksonville, then for gross rent yield and sorted the results by rate of return.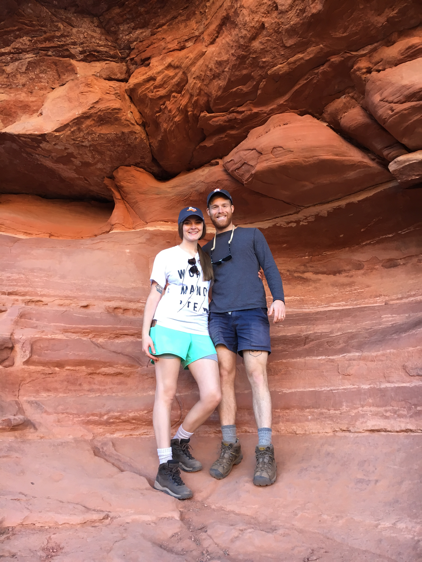 Payton Simpson pictured with his wife, Caitlin.
Speaking directly with Roofstock's advisory team about his investing goals, search preferences, and how the transactions actually work from start to finish gave Payton the added confidence to ultimately make a decision and pull the trigger. He had several phone calls with Roofstock's support team who walked him through the process and answered all of his questions.
He submitted an offer on five properties and ended up closing on two.
"I really liked that I could make a bid online," he added.
Payton thought it might be a challenge to own a property in another state, but says the experience has been very positive. One of his properties needed a few repairs to start, but the sailing has been smooth thanks to the certified local property manager that Roofstock set him up with.
"I've done a lot of repair projects on my own residence," he noted, "and this went a lot better than that. It was a lot easier and less stressful."
Bottom Line
Roofstock's transparent marketplace and the people behind it gave Payton the confidence to buy remotely and achieve his real estate investing goals with ease.
"A lot of the comfort I got was through conversations with people at Roofstock," he said.
*****
Create your free Roofstock account to save custom search filters and receive notifications when we have properties that match your investing criteria:
---
Read More Roofstock Customer Stories
---
Visit the Roofstock Blog!