Last updated on May 3, 2022
A growing number of investors are turning to real estate as an alternative to the stock market. Houses are real assets, can be a hedge against inflation, and have a low correlation to movements of stocks and bonds.
Oftentimes, passive investors look for turnkey property as a safer way to get into the real estate market.
In this article we'll discuss what turnkey real estate really means, the pros and cons of investing in turnkey rental property, and how to avoid common turnkey investment scams.
What is turnkey real estate?
The word "turnkey" in real estate means that the property is ready to move into, with appliances in working condition and no obvious structural or electrical issues. Sometimes, turnkey can also mean that the house is already occupied by a qualified tenant paying their monthly rent.
However, although "turnkey" homes are not fixer-uppers, they may nonetheless require some cosmetic upgrades or a refreshing.
How does turnkey real estate work?
Sellers offer turnkey real estate because it helps set them apart from the competition, especially if the market is slow. Even when a house for sale is in great condition and cash flowing with a strong tenant, investors can still find good deals.
That's because some sellers may be tired of being landlords, while others have built up enough equity in their property that they decide to cash out to diversify and scale up their own rental property portfolio.
In other words, a seller's turnkey home can be an investor's gain.
Why some investors love turnkey property
Turnkey single-family rental houses can be especially attractive to investors. You typically don't have to deal with negative cash flow month after month if the property already has a tenant in place.
Real estate that is turnkey is also perfect for the beginning investor still holding down a full-time day job, or investors who don't want to have to manage major rehab projects.
Experienced investors conducting a 1031 exchange are also attracted to turnkey property because it allows them to diversify their holdings from commercial real estate into residential rental property in different markets throughout the U.S.
The pros of investing in a turnkey rental property
The biggest advantage of investing in a turnkey rental property is that revenue can be generated the day the sale closes, or very quickly if there's not already a tenant in place.
Pros of investing in turnkey real estate include:
Income can be earned instantly, generating a bigger ROI
Valuable time and resources wasted searching for property are saved by buying a turnkey house
Long-distance or out-of-state real estate investing strategy is a better fit for turnkey single-family rentals
Rental real estate that is turnkey may already be handled by a qualified property management company, eliminating the need for investors to find leasing agents and trusted contractors
Hands-on investors can purchase turnkey rentals to scale up a property portfolio faster
Turnkey real estate can be a goof way for new investors to get into the real estate investing business who don't have the experience or desire to manage a major rehab/renovation project
Diving deeper on the last bullet point above, real estate that is turnkey can be an attractive alternative to buying foreclosure or distressed property. That's because the time and money spent dealing with contractors can add up.
In fact, some investors may find that the cost of fixing up a foreclosed property ends up being more than simply buying a turnkey rental house in the first place.
Cons of investing in a turnkey rental property
To be fair, buying a turnkey property isn't the right choice for every real estate investor. Some people prefer to have total control over the updates being made. In some cases, they enjoy being a weekend warrior making repairs and dealing with tenant issues.
Depending on your investment strategy, other potential cons of investing in a turnkey rental property could include:
Sellers of turnkey real estate in high value markets may try to charge more because houses are in demand and the property is turnkey
Investors have less control over the updates and appearance of the house, with items such as high-end appliances or fancy front yards being expensive to maintain while not returning enough additional income
Repairs and upgrades in a turnkey property may have not been done properly, quickly eroding the value proposition of buying a turnkey house
Buying a turnkey property doesn't mean skipping a professional home inspection. While the seller might say their place is turnkey, and while the house looks good, an inspector can find signs of poor workmanship or hidden defects.
For example, sometimes sellers doing their own work use the wrong type of paint on cabinets, so that they look great but quickly begin peeling. Or, there may be old cast iron plumbing or aluminum wiring that could cause health or safety hazards.

How to avoid getting scammed by turnkey sellers
Unfortunately, there are also "professional" turnkey house sellers out there who prey on unsuspecting buyers and out-of-town real estate investors by trying to sell sub-par property at an above market price.
Here's how to spot the dangerous sellers and protect yourself from making a bad turnkey real estate investment:
1. Turnkey sellers with no experience
"Turnkey" is a popular buzzword in the real estate industry today. It doesn't take a lot for a seller to figure out that if they claim their house is turnkey, they can probably sell it for a higher price, even if they have absolutely no experience with turnkey real estate.
The potential problem with buying what appears to be a turnkey property from an inexperienced seller is that they're learning the business with your money. Once escrow closes and title changes hands, any mistakes made on the seller's learning curve are now yours to deal with.
How to avoid this scam: Only purchase turnkey real estate from an experienced seller or using an online platform such as Roofstock which offers a money-back guarantee and vacancy protection.
2. Flippers marketing property as turnkey
On the other hand, there are some sellers who have a lot of experience in real estate – but not with turnkey property. Professional wholesalers and home flippers make their money on the spread between the below market price that they paid and the after repair value they sell the house for.
While buying this type of property can be a good deal when purchased properly, the profit incentives of a flipper aren't always lined up with yours. There isn't an industry standard for what turnkey means, and some wholesalers and flippers take advantage of this.
Generally speaking, a turnkey rental property is one that has been completely rehabbed with no signs of wear and tear. However, this isn't always the case when a house is being flipped as turnkey.
How to avoid this scam: Understand how the seller defines the word "turnkey" and ask for copies of paid receipts showing exactly what work was done and when.
3. Overstating rents to justify a higher price
Sometimes sellers will scam the buyer of a turnkey property by charging the tenant an above-market rent to make the house appear to be worth more than it really is.
Let's say you're looking at a house where the monthly rent is $1,200 and the market cap rate is 6%. The net operating income (gross rent minus operating expenses, but before the mortgage payment) is $600 per month.
Using the cap rate formula, the seller claims the turnkey house is worth:
Cap rate = NOI (annual) / Market value
Market value = NOI / Cap rate
$7,200 NOI ($600 per month x 12 months) / 6% cap rate = $120,000 house value
Unfortunately for the inexperienced buyer, the market rents in that area are really $1,000 per month while the operating expenses remain unchanged.
The true value of the turnkey house at the real market rent is:
$4,800 NOI ($400 per month x 12 months) / 6% cap rate = $80,000 true market value
What the seller has done is overstate the rent to justify a higher selling price. When the tenant's lease comes up for renewal, the tenant will either ask for a rent reduction or move somewhere where the rent is fair.
By inflating the rent, the seller increased the property price by $40,000 – or 50%. At the end of the tenant's lease, the buyer who fell for this turnkey seller scam runs the very real risk of having negative equity and negative cash flow.
How to avoid this scam: Always conduct thorough market research, crunch the numbers, and talk to other experienced investors.
4. Great property pictures, horrible location
Everyone knows that a picture is worth a thousand words. But, when it comes to selling turnkey real estate, a seller can easily add $10,000 or more to the sales price by making the house look better than it really is.
They're experts at taking beautiful pictures of the property without showing the bars on the windows, abandoned property down the street, or the high voltage power lines right behind the backyard. The seller may think they're creating a good marketing campaign, but tactics like these are extremely misleading, especially for a long-distance real estate investor.
How to avoid this scam: Both Zillow and Roofstock's Neighborhood Rating provide detailed information on neighborhoods and schools and offer satellite views that show investors the lay of the land. Another good resource for research is the local property manager, because the best turnkey houses with a tenant in place are already professionally managed.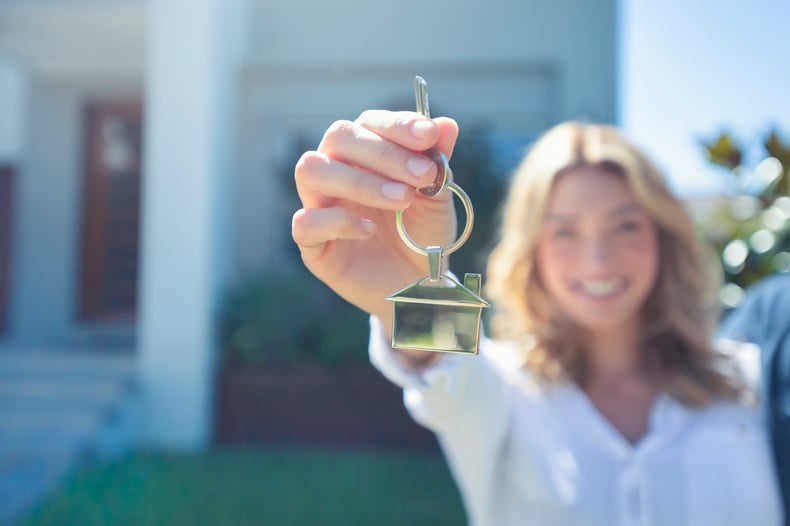 Final thoughts
Investing in turnkey single-family rental property can be a great option for long-distance real estate investors seeking rental income.
All of the "heavy lifting" work of rehabbing has already been done, and many turnkey rental houses already have a tenant in place so that the cash starts flowing when the deal closes.
If you're interested in finding your next rental property, check out Roofstock's marketplace here.