Last updated on June 1, 2018
The 6th Annual Single-Family Rental Investment Forum (East) took place last week in Miami, and team Roofstock returned with fresh industry insights (and maybe a sunburn or two).
This industry-leading event brought together key market participants including REIT investors, fund managers, aggregators, fix and flippers, note buyers and many more for 2.5 days of discussion and thoughtful debate.
Looking for your next investment opportunity?
Check out a few highlights from the keynote address, which focused on the economy and state of the single-family rental industry.
Key takeaways
Housing demand is through the roof, and supply is not keeping up
"Home ownership" still matters, but the definition has evolved
Millennials aren't the only ones driving rental housing demand
Leaders and innovators in the SFR real estate investment industry have a significant role to play in addressing housing solutions in the U.S.
By the numbers
Gross domestic product in the U.S. is up 2% year-over-year for the first quarter
More than 2.4 millions jobs are projected to be added in 2018
The unemployment rate as of April 2018 was 3.9%
College and tuition fees have grown by 127% since 1978
Medical care has grown by 673% since 1978
As of May 2018, 30-year mortgage rates are at 4.55%
One in nine homes in the U.S. are now single-family rental properties
From 2000 to Q3 2009, home ownership tenure hovered at around four years, give or take. It has since doubled, hovering at just above eight years in Q1 2017. This is due to a variety of reasons including lack of equity, inability to move up, and less attractive financing.
Sources: Bureau of Economic Analysis, Bureau of Labor Statistics, Federal Reserve, BEA, Dept. of Education, Commonwealth Fund, Attom Data Solutions
Emerging themes
Housing demand is "through the roof," and supply is not keeping up.
Lack of inventory and climbing demand dominated the discourse during the keynote address at the SFR Investment Forum, as well as many panel discussions. With economic, job, household and population growth all "on fire" but not enough housing stock, SFR leaders discussed the impact on long-term home ownership in the U.S.
People don't wake up every day saying 'I want a mortgage.' They wake up every day saying 'I want a quality place to live.' - Gary Beasley, Roofstock CEO/co-founder
Most people still want to buy homes, but they're waiting longer to buy. In turn, there's less of a stigma today around renting than in previous time periods. Single-family rentals are providing a product that meets that need.
There aren't enough entry-level, single-family homes to go around, and it's not getting any easier to add them either. Cost of land, permitting and environmental issues present many challenges.
The shortage of housing, in particular workforce housing, presents opportunity to add supply that's freshly renovated with professional property management in place.
While millennials are taking longer to move out, get married and start families, "I still sense a high degree of confidence among millennials in the housing market," noted Gregory Rand, CEO of OwnAmerica. "While they want to stay mobile and flexible and not tie themselves down, on the other hand they recognize the value of accumulating equity in the housing market over the long haul."

Jeff Tennyson, CEO of Lima One Capital, echoed Rand in this sentiment.

"In a recent study we did, 97% of millennials said they want to own a home," he said. "So the goal of homeownership is not something they don't want to do anymore there, it's just a timing of when... And in some regard, we [the SFR] industry created an acceptance of this lifestyle of renting... I think that's a positive, particularly in an era where there's not a lot of inventory."
"Home ownership" still matters, but the definition has evolved.
New solutions in lending and real estate tech are making it easier than ever for people to partake in "fractional" home ownership and grow their net worth.
I would say that home ownership matters enormously, but I just don't define it as owner-occupied home ownership… I think people are recognizing that residential real estate is the backbone of the economy... The ways people can shift their capital into home ownership without actually being an owner-occupant are everywhere now. - Gregory Rand,

OwnAmerica

CEO
Proptech and fintech are giving millennials other ways to scratch the itch of being a homeowner without being a traditional homeowner. For example, more than 50% of the real estate investors on Roofstock are currently renting their primary residence.
Whether buying or renting, consumers of today are accustomed to "one-stop" solutions and have a much different expectation for their housing experience than they did 10, 20 or 30 years ago. This presents new opportunities for leaders in the single-family rental industry to unlock hidden value by providing more "wrapped" services.
If you look at other countries where real estate prices are extremely expensive, like Australia for example, this idea of fractional, click-button ownership is not new. - Andrew Flahive,

President, Amherst SFR
It's not just millennials who need rental housing.
Baby boomers are now starting to leave the workforce in record numbers, and this should be factored into overall rental housing demand.
When it comes to the housing shortage and challenges to homeownership, there is another overlooked demographic. While the spotlight tends to shine on millennials, Hispanic and Latino Americans—which make up the largest ethnic minority in the U.S.—historically have "not had the opportunity to have access to credit in this country," noted Tim Reilly, President of Green River Capital. "I don't see that changing overnight... That leads to need for more rentals."
Leaders and innovators in the SFR industry have a significant role to play in addressing housing solutions in the U.S.
Not enough houses are being built, and most new construction is catering to the "move-up" buyer and not entry level buyers. With a lack of workforce housing, the discussion shifts to what happens next, and whether rents will continue to rise or hit a wall.
"Our sector is being looked at very favorably in Washington, D.C. right now as part of the solution to affordable housing and workforce housing... While it used to be all about home ownership, now it's all about affordability and getting people into good quality housing… We're well positioned as an industry to be part of the housing solution and I think that's a good thing." - Gary Beasley, Roofstock CEO/co-founder
Institutional capital is moving to the SFR asset class "in a meaningful way," more so than any other time before the financial crisis of 2008. More capital flowing into rental housing will create more supply, and could help control rents.
If there's not enough rental housing being built at lower price points, "then there will be," Rand said. "If the demand is there, the supply will show up."
As the SFR asset class continues to grow, "we're going to have to police ourselves through this because there's not a definitive housing policy that's come out,"

added R

eilly. "We are

going to have to ensure that we have the right checks and balances to have healthy growth because essentially a lot of what we're doing is really the new normal where we're serving folks who don't have access to credit."
Cool tech & smart services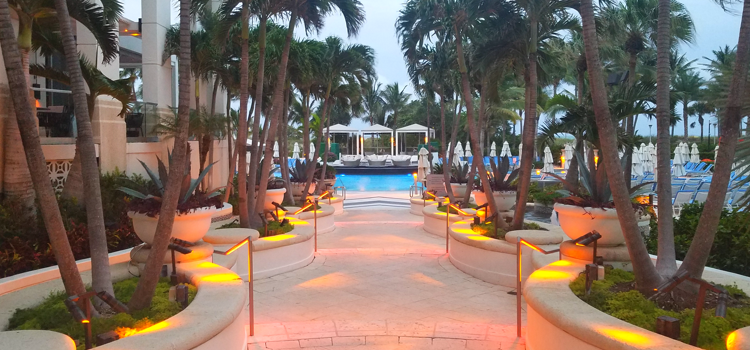 One of our favorite things to do at industry events is cruise the exhibit hall and check out cool tech and on-demand services that improve operational efficiencies in the single-family rental sector—whether it's for investors, property managers or tenants. Here are just a few names that caught our eye.
VirtualKEY: Lets landlords and property managers r

emotely manage access for their rentals without giving anyone a real key.

WeatherCheck: Immediately notifies property managers and owners about bad weather before it hits, so they can take take precautions and mitigate damages. After the weather event, if there are any damages, WeatherCheck also provides the "ground truth" information needed to file a successful insurance claim. It can even help with finding reputable repair services and financing deductibles.
PropertyMeld: A cloud-based property management maintenance solution that streamlines and automates the maintenance process.
Homee: A

n on-demand property maintenance service that provides customers with instant access to electricians, plumbers, HVAC technicians and handymen.

PointCentral:

Enterprise-scale smart home automation solutions that enable property managers to improve operations and enhance the appeal of the properties that they manage.

RentManager:

A powerful property management software tool that combines all the features needed run a real estate business in one integrated software.

FilterEasy:

S

olves the frustrations that come with keeping indoor air clear by delivering HVAC air filters exactly when they're needed.

Rently Keyless: Provides managers and residents with the most advanced smart home technology available to single-family, multifamily and vacation rental operators on the market.
Searching for your next investment property? Check out our portfolios or visit our marketplace.