Last updated on July 1, 2022
The real estate market in Dayton and Montgomery County saw a "record shattering year" in 2021, according to one local news report. In fact, the number of home sales at the end of last year were four times higher than sales in 2011. Prices are very affordable, cash flow from single-family rental property is strong, and the real estate market favors buyers.
Last year, Dayton ranked as one of the few smaller markets with the highest rent increases in the country, a trend that's expected to continue this year. The Dayton Realtors association predicts another "banner year," even as sales prices begin to slightly decline.
Dayton is located in the southwestern part of Ohio and is part of the Miami Valley region just a little north of Cincinnati. Although small in size, Dayton boasts a dynamic and diverse economy driven by a wide variety of industry sectors including manufacturing, logistics, aerospace engineering, military, and government.
The city is the birthplace of Orville Wright, who along with his brother created the first motor-powered airplane and is known around the world for its numerous inventors and patents.
Keep reading to learn more about the opportunities that lie ahead in 2022 for the Dayton real estate market.
>>Explore Roofstock's Dayton properties here.
Population growth
Suburban communities around Dayton within an easy commute of Wright-Patterson Air Force Base have witnessed the largest population growth over the past 10 years, according to a report from the Dayton Daily News. While Montgomery County and the city of Dayton barely grew, cities such as Huber Heights and Fairborn posted population gains of 7% or more.
Key Population Stats:
City of Dayton is home to more than 137,000 residents with over 814,000 people living in the four-county metro area.
Population growth in Dayton declined by 0.15% year-over-year.
Dayton is the 6th-largest city in Ohio and the 4th-largest metropolitan area in the state.
Counties in Metropolitan Dayton are Greene, Miami, Montgomery (where Dayton is located), and Preble.
"Miami Valley" is used to describe the Greater Dayton metro area.
Job market
The unemployment rate in Dayton has dropped to 3.3% (as of April 2022). According to the U.S. Bureau of Labor Statistics (BLS), employment sectors showing the fastest signs of growth include construction, manufacturing, professional and business services, and government.
Key Employment Stats:
GDP of Dayton MSA is nearly $35.4 billion, according to the Federal Reserve Bank of St. Louis, and has grown by more than 7% over the past 10 years.
Job growth in Dayton is 1.1% year-over-year, while median household incomes increased by more than 3.6% over the same time period.
The Dayton metro area has seen 60 consecutive months of year-over-year payroll growth between October 2013 and September 2018, prior to the pandemic.
Unemployment rate is 3.3%.
Dayton ranks second among similar sized markets for the number of new economic development projects including the expansion of the Conagra Brands plant and the F-35 fighter jet sustainment program at Wright-Patterson Air Force Base.
Target industries in the Dayton metro area include aerospace and defense, agriculture and food processing, automotive, bioscience, cyber technology, and logistics and distribution.
Numerous companies have their corporate headquarters in Dayton, including Reynolds and Reynolds, CareSource, Kettering Health Network, and Standard Register.
Premier Health Partners, Kettering Health Network, Montgomery County, Sinclair Community College, and University of Dayton are the top five employers in Dayton.
Wright-Patterson Air Force Base in the Dayton Region is the largest single-site employer in the State of Ohio.
Dayton has a high concentration of people holding advanced degrees in the STEM fields (science, technology, engineering, mathematics) helping to fuel the region's reputation as a STEM powerhouse.
Major colleges and universities in Metropolitan Dayton include University of Dayton, Wright State University, Sinclair Community College, Antioch University, and the Air Force Institute of Technology.
Over 31% of the residents in the Dayton Region hold a bachelor's degree or advanced degree.
Interstate highways I-70 and I-75 pass through Dayton, putting the region within a one-day drive of 60% of the population in the U.S.
CSX and Norfolk Southern provide freight rail service in Dayton.
Dayton International Airport (DAY) serves as a regional air freight hub for FedEx Express, UPS Airlines, and the USPS, with commercial passenger service provided by American Airlines, Delta, and United Express.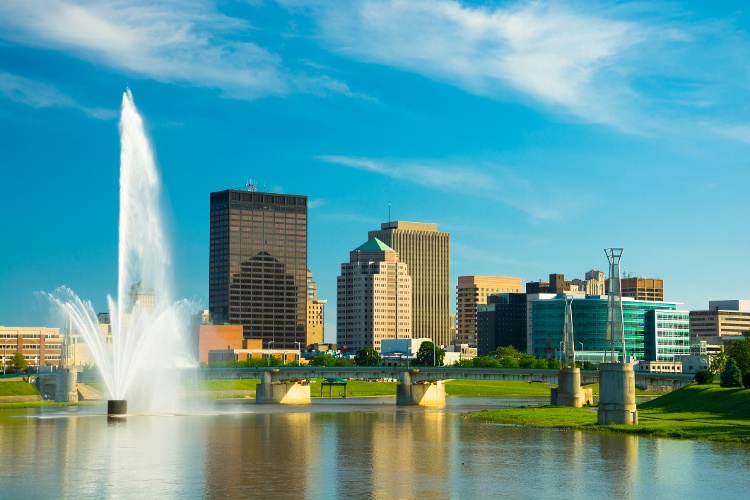 Real estate market
Conditions in the Dayton real estate market appear to be favoring rental property investors this year. Housing inventory is tight and there isn't a lot of affordable housing available for first-time buyers, which may be one reason why more than half of the households in Dayton are occupied by renters.
There's plenty to like about the real estate market in Dayton. Listing prices are less than $100 per square foot, and the area is moving into a buyer's market, meaning that the supply of homes is greater than the demand for homes.
Key Market Stats:
Zillow Home Value Index (ZHVI) for Dayton is $109,386 through May 2022.
Home values in Dayton have increased by 22.7% over the last year.
Over the past five years home values in Dayton have increased by 114%.
Median list price of a single-family home in Dayton is $129,900 based on the most recent research from Realtor.com (April 2022).
Median listing price per square foot is $99.
Days on market (median) is 44.
Median sold price for a single-family home in Dayton is $169,100.
Sales-to-list price ratio is 100%, which means homes in Dayton are selling for asking price on average.
Dayton is rated as a buyer's market by Realtor.com, which means there are more homes available for sale than there is demand.
Of the 63 neighborhoods in Dayton, Pheasant Hill is the most expensive with a median listing price of $285,000.
Most affordable neighborhood in Dayton for buying a home is Southern Dayton View where the median listing price is $52,500.
Strong renters' market
Dayton is one of the top cities in the country where a Social Security check can easily pay for the rent, according to MarketWatch.
Median home prices are low, and the price-to-rent ratio is on the rise. This winning combination creates the perfect opportunity to invest in rental property that generates significant cash flow.
Key Market Stats:
Median rent in Dayton is $1,000 per month for a 3-bedroom home based on the most recent report from Zumper (June 2022).
Rents in Dayton have increased by 3% year-over-year.
Over the past 3 years, rent for a 3-bedroom place in Dayton has increased 17%.
Renter-occupied households in Dayton account for 52% of the total occupied housing units in the metro area.
Neighborhoods in Dayton with the lowest rents include Southern Dayton View, Wesleyan Hill, and Westwood where rents are less than $750 per month.
Neighborhoods in Dayton with the highest rents include Gateway, University Park, and Phaesant Hill where rents range between $1,375 and $1,650 per month.
Historic price changes & housing affordability
Two key sets of data that buy-and-hold real estate investors should always review when selecting markets for rental property purchases are the historic price changes in the local market and the affordability of housing.
Changes in property price over the long term can be a good indicator of the potential for future appreciation and equity increases. Housing affordability index (HAI) is also one indicator of how strong the demand for rental property may be in a given market, everything else being equal.
However, simply because housing is affordable doesn't always mean that more people will buy than rent. In Dayton for example, even though housing is relatively affordable there are actually more people who rent than own.
Each month Freddie Mac releases up-to-date data on the change in home prices for all markets across the U.S. The most recent FMHPI report from Freddie for the Dayton MSA shows.
April 2017 HPI: 112.2
April 2022 HPI: 180.6
5-year change in home prices: 60.9%
One-year change in home prices: 14.3%
Monthly change in home prices: 1.2%
The Housing Affordability Index is calculated by comparing median family income to the median price of an existing single-family home. When creating the index, researchers assume that purchases are made using a conventional loan with a 20% down payment.
The HAI uses 100 as a baseline affordability index number. The greater a market's HAI is above 100, the more affordable a market is.
Based on the Home Town Locator's latest report, the HAI for the Dayton MSA was 162 in July 2021. This means that the median family has about 1.6 times the annual income needed to purchase a median priced, single-family resale home in the Dayton metro area.
Quality of life
The Dayton Business Journal recently reported that Dayton is climbing the list of one of the best places to live in the U.S. Cost of living is well below the national average and the city is filled with historic neighborhoods and districts. Outdoor lovers have plenty to choose from among the 20 different metro-area parks and more than 300 miles of biking trails.
Key Quality of Life Stats:
Forbes gave Dayton high marks in cost of doing business, education and job growth, and names the city as one of the best places for business and careers in the U.S.
Cost of living in Dayton is 14% below the national average.
Niche.com awards Dayton "B-" ratings for nightlife and cost of living.
U.S. New & World Report lists Dayton among the top places in the U.S. to live and to retire, with strong rankings for value, job market, and quality of life.
Climate in Dayton is humid continental with hot muggy summers and cold dry winters.
Although Dayton is small in size, the city boasts a surprising number of things to do and places to visit.
Dayton Art Institute helps the city rank as an arts destination, while the Dayton Philharmonic Orchestra, Dayton Opera, and Dayton Ballet all host performances in the Schuster Performing Arts Center.
Wright State Raiders and Dayton Flyers are two NCAA Division I teams in Dayton.
Miami Valley Hospital and Kettering Medical Center are the two top hospitals in Dayton, Ohio.
Get out the map
Where to begin your search? Roofstock created a heat map of Dayton based on our Neighborhood Rating, a dynamic algorithm that enables you to make informed investment decisions by measuring school district quality, home values, employment rates, income levels and other vital investment criteria.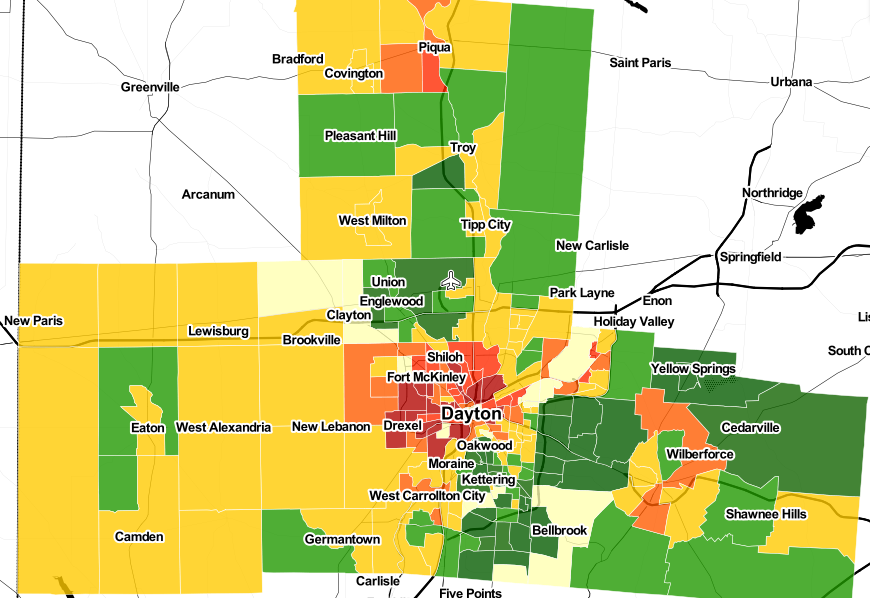 DARK GREEN: 4-5 star neighborhood
LIGHT GREEN: 3.5-4 star neighborhood
YELLOW: 2.5-3 star neighborhood
ORANGE: 2 star neighborhood
RED: 1 star neighborhood
Ready to invest in the Dayton housing market? If you haven't already done so, create your free Roofstock account and set up alerts. We'll notify you when we have a Dayton investment property that matches your search criteria.