Team Roofstock recently returned from the National Association of Real Estate Editors (NAREE) Spring Conference, an annual gathering of journalists and writers covering the residential and commercial real estate sectors.
The conference featured three days of expert-led educational sessions about the biggest trends impacting the sector. Browse some of our favorite soundbites for a quick glimpse at this year's top real estate topics and issues.
Quick links
Annual State of the Nation's Housing Report
Every year at NAREE, the Joint Center for Housing Studies at Harvard University releases its annual State of the Nation's Housing report. Here are a few key takeaways, according to Managing Director Dr. Chris Herbert:
Nearly a third of U.S. households (38.1 million) paid more than 30% of their incomes for housing in 2016

More than half (20.8 million) are renters.

Approximately 80% of renters and 63% of owners making less than $30,000 are extremely over-leveraged
Herbert also noted that immigration policy will be a strong driver of housing demand moving forward.
"We expect 3.6 million immigrants to enter the country over the next six years," he said. "This demographic trend will provide important direction regarding where the housing market will go."
Topic: New Landlords and Cutting-Edge Investors
Speakers on the "New Landlords and Cutting-Edge Investors" panel examined how the single-family rental (SFR) market impacts the economy, how the sector has evolved and where there are new opportunities for real estate investing.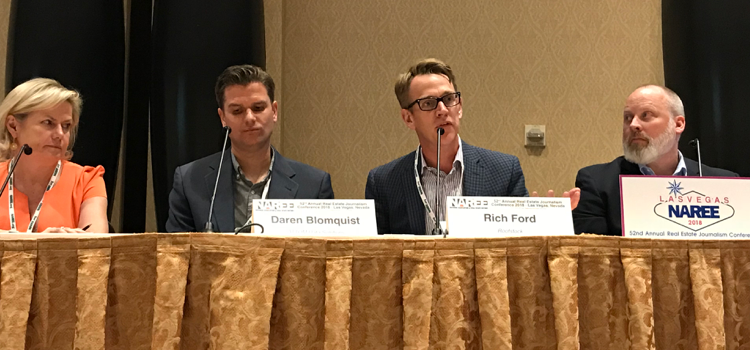 "As the single-family rental sector continues to mature, and the demand for housing remains strong, there will be more of a focus on single-family than multifamily housing because it (SFR) constitutes one-third of the U.S. housing stock right now." - Rich Ford, Chief Development Officer & Co-Founder
"The vast majority of single-family rental (SFR) owners are mom & pops. There were 19 million SFR homes, including condos in 2016, and that number jumped to 22 million in 2017, an increase of 12% YOY." - Daren Blomquist, Attom Data Solutions
"There's a great need for folks to invest in this (SFR) asset class, and REITs are one way to do it, but we need to create other ways for people to invest in housing outside of the publicly traded markets." - Rich Ford, Chief Development Officer & Co-Founder
Topic: The Missing Middle — The Search for Attainable Housing
One of the hottest topics at NAREE 2018 was the issue of "missing middle housing." There is a shortage of 2- to 4-unit small-scale housing in major metros nationwide for the middle class. From a production standpoint, the share of all building permits in this category has decreased from about 9% of new homes in 1981 to about 3% as of 2017, according to Ralph McLaughlin of Veritas Urbis Economics.
"Everyone wants to be building middle-income housing but what does it mean for specific areas of the country? Everyone seems to love middle-income housing, but we don't seem to be building enough. Why is that?" - Laura Kusisto, real estate reporter, Wall Street Journal
"Ninety percent of zoning codes are tremendous barriers. Zoning is now 100-plus years old and hasn't changed much over 30 years. We feel pretty strongly that the planning and zoning laws in this country need a complete overhaul. -
Dan Parolek, Opticos Design
"As it gets harder and harder to deliver 'missing middle housing' – how do we do it in an affordable way? A triplex is one answer: Three housing units, but it acts like clustered (denser) housing." - Dan Parolek
"Even when you look at locations in middle America, like Iowa and Nebraska, there isn't a single city in the country where someone earning minimum wage can afford to rent a two-bedroom apartment. - Mark Wolf, AHV Communities
"People that already live in suburban or ex-urban areas adjacent to major markets want to protect what's in their own backyard. We are all saying we need affordable, middle-class housing, but nobody wants to provide it." - Mark Wolf
"Our big cities are really our largest economic drivers, and there isn't enough housing. We need to provide housing in places where there are jobs. Houston, Dallas and Austin have approved more housing than the entire state of California in the past few years." - Ralph McLaughlin, Veritas Urbis Economics
Topic: Disruptors — Home Buying in the New World Order
The Disruptors panel explored how companies like Opendoor, which aims to make home buying a "one-click" process, are utilizing technology to improve the real estate industry.
"Live agents will be replaced by Alexa. A voice-enabled Alexa who can respond to someone who says, 'I want to find a house where I can have a horse in my backyard.' In essence, a robot will show you the house." - Ilyce Glink, author, financial journalist and radio personality of ThinkGlink
Topic: Mid-Year Economic Forecast
During this panel, leading real estate economists shared their outlook on the state of the U.S. housing market. The conversation focused heavily on the current barriers to home ownership—the main culprits being unattainably high prices, historic lack of supply and rising mortgage rates.
"Mortgage rates are up 0.7% and home prices are up 6% in the Core Logic Home Price Index (HPI). We are expecting mortgage rates to rise further over the next 18 months – 5.1% at the end of 2019, the highest in 10 years. That illustrates some of the affordability challenges we see in the market. This is much more acute for someone looking to buy a home for the first time. The erosion of affordability continues." - Frank Nothaft, CoreLogic
"Most economists expect the recession to start in 2020, and 32% of the metro areas CoreLogic surveyed look like they're in a bubble." - Frank Nothaft, CoreLogic
"There's a shortage of housing inventory: We are about 3,000 homes short of where we should be. Prices are at record highs, while listing prices are up 8% YOY." - Danielle Hale, Realtor.com
Catch up on more current trends: