Last updated on May 5, 2022
While there are plenty of people who have become millionaires by investing in real estate, you don't need 7 figures to own an investment property.
If you live in a city where home prices are high, saving money for a down payment may seem like an impossible dream. But the good news is that there are a lot of areas where home prices are still affordable if you know where to look.
Let's look at some of the best real estate markets for buying investment property under $200,000.
---
Key takeaways
Purchasing an investment property under $200,000 typically requires a 20% down payment of $40,000.
Buying rental property under $200,000 can be a good way to start investing in real estate sooner rather than later.
Real estate markets where home prices are less than $200,000 and economic growth is strong include Birmingham, Cleveland, and Detroit.
---
Benefits of buying an investment property under $200,000
There are several benefits to buying an affordable investment property.
Jump-start your real estate investing business
Rapidly rising housing prices in some markets can make getting into the rental property business cost-prohibitive. For example, the median listing price of a single-family home in San Jose is $1.2 million. A real estate investor in San Jose would spend more than $200,000 on the down payment alone, assuming 20% down.
The good news is that real estate investors today don't have to invest in their own backyards.
If you live in a city where the cost of living is high and are pulling down a high 6-figure income, that's great. But when it comes to looking for affordable investment real estate, looking for rental property in another city or state could be an excellent way to get started in real estate investing sooner rather than later.
Diversify your investment capital
Buying investment property under $200,000 makes it easier to diversify your investments using financing instead of paying all cash. By making a standard down payment of 20%, you would need around $40,000, plus a little extra money for closing costs and capital reserves.
Looking for investment properties under $200,000 lowers the barrier to entry and makes the goal of saving money for a down payment more achievable.
Generate higher potential returns
Properties with lower price points may not always offer high levels of appreciation, but they can be great for generating solid monthly cash flows and cash-on-cash returns. "Cash cow" rental properties are homes that can generate a significant amount of money compared to the purchase price and cost of ownership, similar to owning a stock with an annual dividend payment.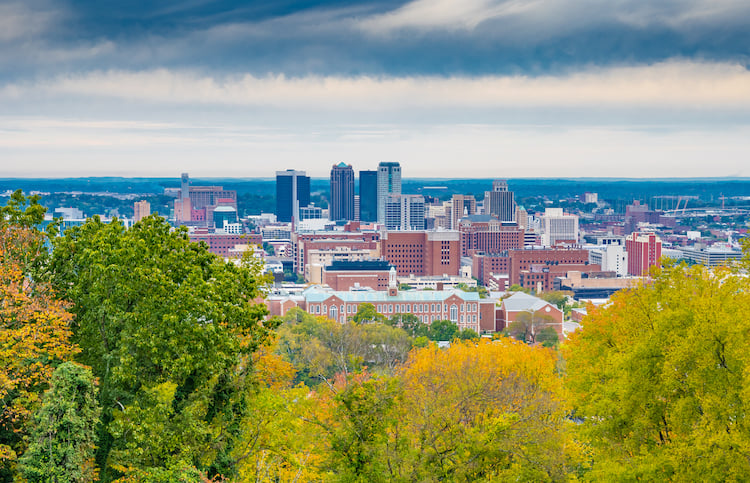 Where to find investment properties for under $200,000
Here are 5 real estate markets that have homes for sale for $200,000 or less with good rental potential.
Birmingham, AL
Birmingham is the most populous city in Alabama, with a steadily growing population. The metro area is home to over 1 million residents, many of whom rent their homes.
According to Zumper, 49% of households in Birmingham are occupied by renters, and median rents for 3-bedroom homes have increased by 13% year over year. Home prices in Birmingham are still affordable, with a median listing home price of $150,000.
>>Browse Birmingham properties.
Cleveland, OH
Cleveland, Ohio, is another good city for finding investment property priced well under $200,000. Home to just over 2 million residents, Cleveland has one of the largest economies in the country and affordable real estate.
Median listing home prices in Cleveland are $110,000, according to Realtor.com. Even though home prices are low in Cleveland, 55% of housing units in the metro area are occupied by renters. Over the past year, median rents for 3-bedroom homes in Cleveland increased by 18%, based on the most recent report from Zumper.
>>Browse Cleveland properties.
Detroit, MI
Detroit is the most populous city in Michigan and home to a diverse economy, with companies including General Motors, Quicken Loans, and Little Caesar's headquartered in the metropolitan area.
Even though median listing home price in Detroit is $78,000, the city is popular with renters. Over 40% of residents rent their homes, and median rents in Detroit for 3-bedroom homes grew by 10% year over year.
Gary, IN
Gary, Indiana, is located less than 30 miles from downtown Chicago and often is considered one of the more affordable suburbs in the Chicagoland area. Median listing home prices in Gary are just $98,000, according to Realtor.com. Zumper reports that median rents for 4-bedroom homes in Gary grew by 39% year over year, and 45% of the households are occupied by renters.
Little Rock, AR
Little Rock is the capital of Arkansas and the most populous city in the state. Located along the shore of the Arkansas River, Little Rock is home to large companies, including Dillard's Department Stores, Windstream Communications, and Fidelity National Information Services.
Median listing home prices in Little Rock are right in the $200,000 range, and Realtor.com ranks the real estate market here as a buyer's market, meaning the supply of homes is greater than the current demand. Median rent prices in Little Rock for 3-bedroom homes have increased by 8% year over year, and 42% of the housing units are occupied by renters.
Tips for buying investment property under $200,000
Depending on the local real estate market and neighborhood, less expensive homes could have a higher risk profile. Here are 3 things to consider when buying cheaper rental property, along with tips for minimizing risk and increasingpotential rewards.
1. Tenant turnover
Lower-priced properties sometimes experience higher tenant turnover, depending on the location and condition of the home and how thorough tenant screening is. Turning tenants over every year can lead to periods of negative cash flow because bills need to be paid even when no rental income is coming in.
Here are 3 ideas for reducing tenant turnover to keep rental income flowing:
Thoroughly screen prospective tenants: It's much easier to avoid problem tenants by not renting to them in the first place. A thorough tenant screening system includes requiring a rental application, running a credit and background check, pulling a rental history report (to learn if an applicant has ever been evicted), and speaking with an applicant's references.
Hire a property management company: Property management companies typically don't collect their monthly fees if a property is vacant, which keeps their interests aligned with yours. It's in a property manager's best interest to take care of the property and tenant so that rent is paid in full and on time. All landlords eventually have to look for new tenants, and a good manager knows how to market a vacant home and screen for qualified tenants to get the property re-rented as quickly as possible.
Purchase an investment property on Roofstock: Rental properties on Roofstock are often either already rented or come with vacancy protection. If tenanted, properties for sale on the Roofstock Marketplace include the current tenant lease, tenant details, and payment history, which gives you a better idea of what to expect.
Here are other tips for keeping great tenants in your rental property, even if you live far away.
2. Due diligence
Affordable homes may require more repairs and maintenance than pricier properties or newly built houses, including potentially roof or heating, ventilation and air conditioning (HVAC) replacement, a paint job, or new appliances.
While it's a good idea to perform due diligence and financial analyses, it can be even more critical when buying an investment property under $200,000. Take the time to think through any required maintenance issues and renovations, and factor those extra costs into the initial purchase price.
Roofstock gives real estate investors peace of mind by providing transparent due diligence up front to avoid unpleasant surprises after the transaction closes:
An inspection report is available for each property listing, or there is an inspection contingency.
Purchase and sale agreements may be contingent on a professional inspection paid for by Roofstock. After reviewing the report, you can proceed with the transaction or cancel your offer.
A complete financial analysis is available, including interactive tools for visualizing return and cost estimates based on adjustable assumptions.
3. Market trends
All real estate markets are different, and it's essential to understand the dynamics and quirks of the local market no matter where you invest. While the potential financial performance of different $200,000 investment properties might look good on paper, other external factors affect the overall return.
For example, one market might have strong population and job growth and a high percentage of renter-occupied households, while another could have high vacancy rates and rent prices that are barely growing year over year.
Here are ways to better understand local market dynamics and trends:
Dive into the ZIP code. BiggerPockets forums are good resources for this. Search for "best ZIP codes in [the name of the city you're interested in]" to get the perspectives of active, local real estate investors.
Contact local property managers. There's nothing better than speaking to someone in the market already managing rental properties like the one you're considering buying. A good property manager will have their finger on the pulse of the local real estate market and also know which neighborhoods are hot and which ones are not. Roofstock has vetted hundreds of property managers around the country and can connect you with one directly.
Use the Roofstock Neighborhood Rating to learn the risks and rewards of investing in different neighborhoods. Roofstock uses a proprietary algorithm to assess neighborhood-specific risks and benefits based on key attributes such as home values, school district quality, and more.
Review market reports: Helpful resources for getting up-to-date market data and local housing market trends include Roofstock, Forbes, Curbed, Realtor.com, ATTOM Data Solutions, CoreLogic, Zumper, and the RENTCafé Market Snapshots.
Speak with an Agent: A real estate agent can provide information about rental markets. Roofstock can refer purchasers to licensed, experienced agents in local markets through its Certified Agent Network.