Last updated on December 29, 2021
Orlando has seen annual listing prices rise by 20% over the past year, making the metro one of at least 5 areas that saw an annual listing price of 18% or more, according to USA Today.
One of the biggest reasons why the Orlando real estate market here is so hot is inbound migration from high-tax and high cost of living areas like California. People and businesses are looking for less dense areas where the cost of living and doing business is lower and real estate prices are still affordable.
There are several reasons why investors love Orlando too.
Nearly 70 million people visit Orlando each year, drawn by the area's world class theme parks like Disney World and Universal Orlando, dozens of golf courses, and premium shopping outlets. As the pandemic is brought under control and the economy begins to recover, these iconic resorts are likely to benefit from pent-up demand from visitors around the globe.
While tourism and conventions are big business in Orlando, the city is about a lot more than just fun and games. Orlando is a major industrial and high-tech center with one of the largest research parks in the country.
Economic growth in the region leaves many cities across the U.S. in awe. Other parts of the country watch enviously as people come to Orlando for the seemingly endless opportunities and great quality of life that can only be found in Central Florida.
Read on to learn why Orlando can be a smart investment to consider in 2022 and beyond.
>>Explore Roofstock's Orlando investment properties here.
Population growth
Orlando's growth rate is the 2nd fastest of the 30 largest cities in the U.S., with the region welcoming more than 1,000 new residents each week. As Orlando.org reports, new residents aren't just snowbirds – newcomers are highly educated, diverse, and flocking to Florida from slow growth states.
Key Population Stats:
The City of Orlando is home to nearly 308,000 people while about 2.4 million residents live in the metropolitan area of Orlando.
Population growth in the Orlando metro area was over 1.4% last year alone.
Since 2010 the population of Orlando has increased by nearly 69,300 people, according to the most recent census.
Four counties make up the Orlando metro area: Orange, Seminole, Lake, and Osceola.
Orlando Economic Partnership estimates the Orlando region will add 1,500 people each week and reach a population of 5.2 million by 2030.
Job market
Forbes ranks Orlando, Florida as the 23rd-best place for business and careers and the 6th-best place in the country for job growth.
According to U.S. News & World Report, the average annual salary in Orlando is below the U.S. average due to the high number of low-paying service and hospitality jobs. That's good news for investors, because these types of jobs help keep the demand for rental property high as the economy begins to recover.
Key Employment Stats:
GDP of Orlando (including the neighboring cities of Kissimmee and Sanford) is more than $144 billion, increasing by more than 53% over the last ten years.
Employment sectors in Orlando showing the fastest signs of growth in 2021 include leisure and hospitality, construction, education and health services, and professional and business services, according to the BLS.
Unemployment rate in Orlando is down to just 4.4% (as of Oct. 2021).
The Orlando Business Journal reports that over the three years prior to the pandemic, job growth in Orlando was 11% with nearly 129,000 new jobs added to the economy.
Average employment in Orlando is projected to grow by 19% by 2030, nearly double the rate of the U.S.
In fact, over the next ten years, about 500,000 new jobs are forecast to be created in the Orlando metro area, based on research by the Orlando Economic Partnership.
Metro Orlando is home to the seven-million-square-foot Orange County Convention Center with nearly 480,000 sq. ft. of meeting rooms and more than two million sq. ft. of exhibition space, making it the second-largest convention venue in the U.S.
Fastest-growing employment sectors in the Orlando region over the next ten years include home and healthcare services, manufacturing and construction, engineering and transportation, and computer systems design.
Largest engineering, manufacturing, and aerospace companies in Orlando include Lockheed Martin, General Dynamics, Mitsubishi Power Systems, Siemens, AT&T, and Boeing.
Defense employers in metro Orlando include United States Army Research, National Center for Simulation, Patrick Air Force Base, and Cape Canaveral Air Force Station.
Disney's Magic Kingdom, Universal Studios, Disney's Hollywood Studio, SeaWorld Orlando, Disney's Animal Kingdom, and Disney's Epcot are a few of the top rated entertainment centers and theme parks in the Orlando-Kissimmee area.
Creative Village Innovation District is a 68-acre mixed-use development on the west side of downtown Orlando providing residents with paths to education and housing while giving businesses a place to expand with a quality workforce.
The 1,027-acre Central Florida Research Park is adjacent to the University of Central Florida and home to more than 100 companies employing thousands of people.
Major colleges and universities in Orlando include University of Central Florida, Florida A&M University, Florida State University, and Valencia College.
89.1% of the residents in Orlando are high school graduates or higher, and 33.3% hold a bachelor's degree or an advanced degree.
Interstate 4 is Orlando's main Interstate Highway, while SunRail provides commuter train service throughout the four-county Orlando metro area.
Orlando International Airport (MCO) is the second-busiest in Florida with airlines including Frontier, JetBlue, Lufthansa, and Virgin Atlantic providing service to nearly 50 million national and international passengers each year.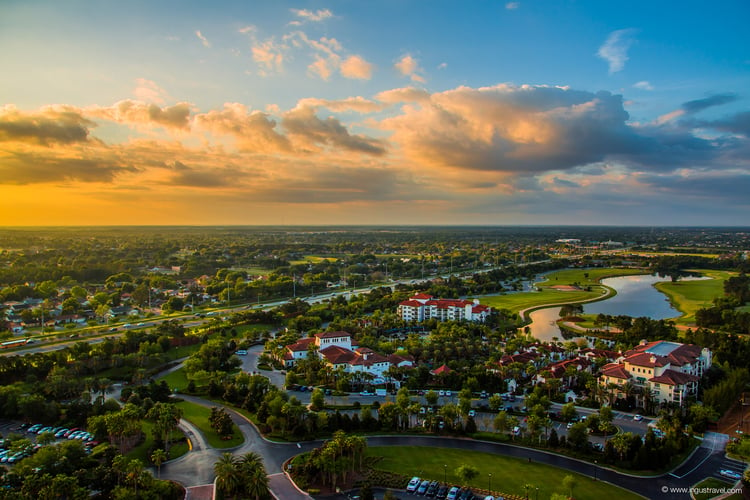 Real estate market
Home sales recently spiked by nearly 25% in Orlando, with homes going under contract less than 30 days after they are listed for sale. As the Orlando Regional Realtor Association reports, there are nearly 42% fewer homes available for sale compared to the same time last year (October 2020 vs October 2021), with tight inventory helping median sale prices to rise by over 20%.
Key Market Stats:
Zillow Home Value Index is $328,854 for the typical home in Orlando (as of October 2021).
Home values in Orlando rose 19.7% over the last year.
Median listing home price in Orlando is $330,000 based on the most recent report from Realtor.com (October 2021).
Per square foot listing price of a home for sale in Orlando is $198.
Median sold home price in Orlando is $328,500.
Days on market (median) is 49.
Sales-to-list price ratio is 100%, meaning that homes are approximately selling for the asking price.
Of the 98 different neighborhoods in Orlando, Baldwin Park is the most expensive with a median home listing price of $634,500.
South Semoran is the most affordable neighborhood in Orlando with a median listing price of $139,500.
Attractive renters' market
Orlando was ranked as one of the best places to buy rental property in 2021, based on key investment criteria such as cash flow, affordable property prices, and a growing population and job market. Looking at the recent statistics in the marketplace, it looks like that trend will continue this year.
To make the market even more attractive, Florida has no state income tax and plenty of warm weather. Those are just two of the many reasons why so many people and businesses are relocating to Orlando from other urban areas with taxes and the cost of living are sky high.
Key Market Stats:
Median rent in Orlando is $2,150 per month for a 3-bedroom home, according to Zumper (as of December 2021).
Rents in metropolitan Orlando increased by 23% over the last year.
55% of the housing units in Orlando are occupied by renters.
Neighborhoods in Orlando with the lowest rents include Carver Shores, Spring Pines, and Rosemont North where rents are less than $1,200 per month.
The most expensive neighborhoods in Orlando for renters are North Orange, Kirkman South, and South Eola with average rents as high as $3,888 per month.
Historic price changes & housing affordability
The Freddie Mac House Price Index (FMHPI) report is used by real estate investors in Orlando to anticipate future changes to home prices.
The most recent FMHPI for the Orlando-Kissimmee-Sanford MSA reveals:
October 2016 HPI: 170.8
October 2021 HPI: 278.9
5-year change in home prices: 63.3%
One-year change in home prices: 20.4%
Monthly change in home prices: 1.5%
Kiplinger also analyzes the affordability of housing in Orlando and the other top 100 U.S. markets:
Since the last real estate cycle market peak in May 2006, home prices in Orlando have decreased by 13.5%.
Since the last real estate cycle market bottom in March 2012, home prices in Orlando have increased by more than 102.0%.
Orlando has an affordability index of 7 out of 10, meaning the metro area is one of the least affordable places to own a home in the U.S.
Quality of life
When Niche.com asked 1,800 residents of Orlando how they liked living in the city, an astounding 86% rated Orlando as an "excellent" or "very good" place to live. The truth is, almost everything about Orlando makes it the perfect place for living, doing business, and investing in real estate.
Key Quality of Life Stats:
Orlando is ethnically diverse due to strong inbound migration from both inside and outside of the U.S.
Education is a priority in Orlando, with about 29,000 new teachers needed by 2030 due to the region's soaring population growth.
Film, television, gaming, and entertainment industries in Orlando guarantee there's always something new to see and do.
Some of the top attractions in Orlando include Universal's Island of Adventure, Universal Studios, and the nearby Kennedy Space Center.
Orlando Premium Outlets, The Mall at Millenia, the food and cultural hub East End Market, and the local boutiques along Winter Park Avenue offer some of the best shopping experiences in Orlando.
Get out the map
Where to begin your search? Roofstock created a heat map of Orlando based on our Neighborhood Rating, a dynamic algorithm that enables you to make informed investment decisions by measuring school district quality, home values, employment rates, income levels and other vital investment criteria.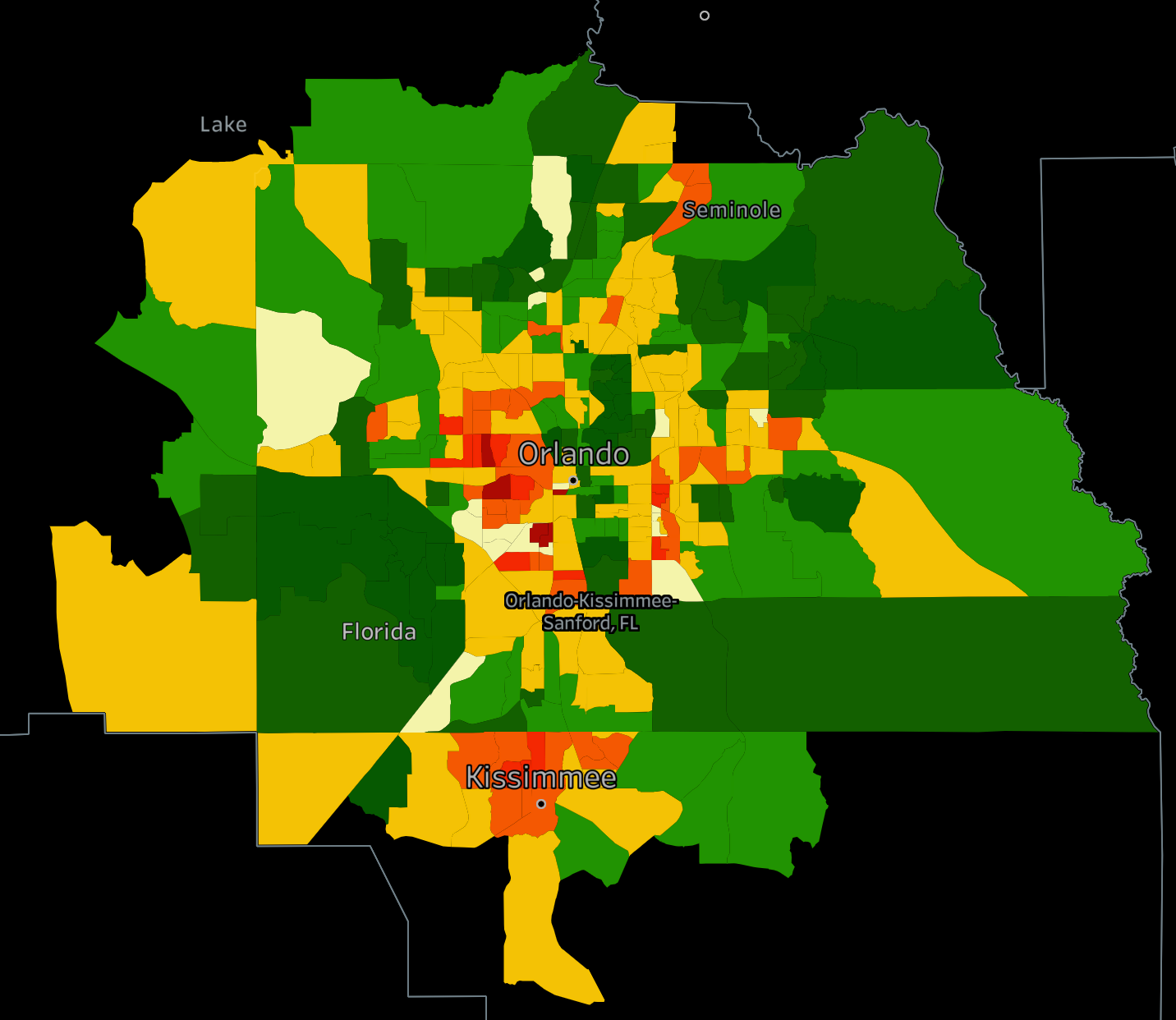 DARK GREEN: 4-5 star neighborhood
LIGHT GREEN: 3.5-4 star neighborhood
YELLOW: 2.5-3 star neighborhood
ORANGE: 2 star neighborhood
RED: 1 star neighborhood

Ready to invest in the Orlando market? If you haven't already done so, create your free Roofstock account and set up alerts. We'll notify you when we have an Orlando investment property that matches your search criteria.