Last updated on June 21, 2018
The millennial generation is considered a little enigmatic in marketing circles, and a considerable amount of research has been conducted to understand how they think, what they buy and how they live. The real estate industry is taking serious notice as well.
Key takeaways:
At 75.4 million strong, millennials have now surpassed baby boomers as the largest generation alive, according to the U.S. Census Bureau. However, with 57 being the median age of today's homeowner, millennials still fall behind boomers when it comes to homeownership.
The Typical American Homeowner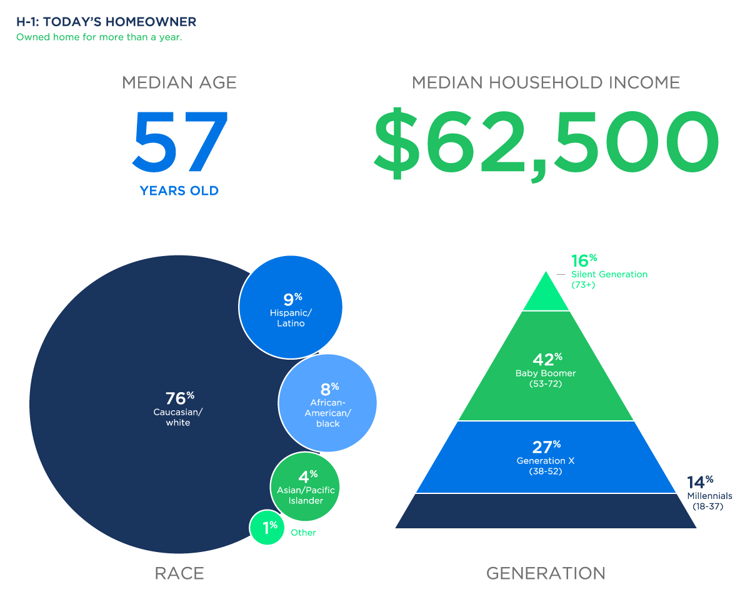 Source: Zillow Group Consumer Housing Trends Report 2017
The millennial segment of the population, roughly aged 20 to 36, faces several challenges when it comes to entering the housing market. Rising interest rates, low inventory and escalating home prices "leaves few options for millennials, a huge generation just entering the market that genuinely wants to become homeowners, but can't find anything to buy," Zillow recently pointed out in its 2018 real estate predictions.
Still, the largest generation in history is "particularly motivated to buy." Realtor.com forecasts that by the end of 2018, millennials could account for 43% of those taking out a mortgage.
On the flip side, 50% of the largest generation in history is still driving rental demand. Millennials represent roughly half of all households rented within the past year, according to the Consumer Housing Trends Report 2017 from Zillow.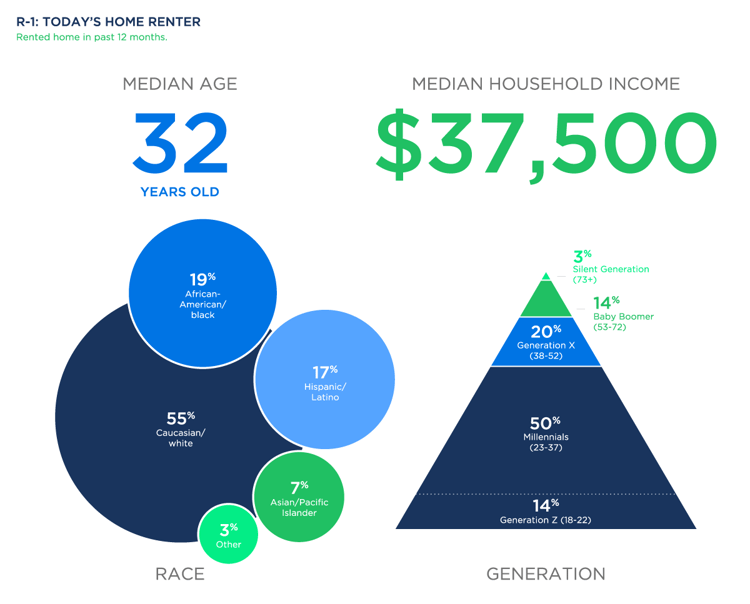 Source: Zillow Group Consumer Housing Trends Report 2017
So what do shifting tides in real estate's newest power generation mean for the industry? One thing is certain: Whether buying, renting, or investing in real estate themselves, millennials are a true force in today's housing market.
Roofstock co-founder Gregor Watson recently sat down with video network Cheddar to discuss some of these trends and the state of the millennial housing market. Watch the interview now or continue reading our blog post below.
Key Drivers in the Millennial Housing Market
Jobs
Though it might seem obvious, proximity to career centers is the first priority of the millennial housing search.
"Jobs are number one," Watson said in the Cheddar interview. "That's why San Francisco is such a big driver. You're seeing more and more millennials wanting to get into technology."
Recent polls reveal 87% of millennials say career opportunities and ongoing professional growth are important to them. Combine that with another study showing this generation tends to "job-hop," switching jobs an average of four times in their first 10 years after college (compared to two times for the previous generation), and here you have a group that prefers areas with many employment options.
Affordability
"Another thing that they're looking for is cheap housing," Watson said.
Because many in the millennial generation are still paying off student debt and confronted with stiff competition in a low-inventory housing market, affordability is key. The median age of today's renter is 32, and most (60%) make less than $50,000, according to 2017 research data from Zillow.
Of the millennials who are looking to buy homes, research from Zillow indicates many are bypassing the concept of the starter home and looking for larger homes that fit into their budgets.
"It's so hard to buy a home that the idea of buying a home just to move five years later doesn't seem like a viable option," Skylar Olsen, Zillow's senior managing economist, told Business Insider.
While perennial locations such as San Francisco and New York are still popular with young people, more and more millenials are attracted to cities that strike the balance of relative affordability (compared to San Francisco and New York City) and diverse job opportunities. A few examples include Portland, Nashville, Austin, Dallas and Pittsburgh.
Experiences
Gregor Watson points out another unique millennial characteristic: "Millennials are looking to spend more money not on stuff but on experiences."
Cities making investments in downtown renovation, public space, transportation, dining and entertainment will attract millennials looking to buy homes near places to gather with friends, eat, drink and exercise outdoors.
Pittsburgh, for example, is experiencing a revival of its downtown, including new bars, restaurants, galleries and music venues. Similar cities that have experienced an economic downturn in the past can help re-attract young residents by adding these types of amenities to their neighborhoods.
"If you build it," Watson said, "they will come."
Room to grow
Will millennials stay in these urban environments forever? Though they are having children later than previous generations, more are beginning to start families. This supports a growing migration to the suburbs, which offer more space and affordability.
"As the millennial generation ages into adulthood, they are choosing the suburbs over urban neighborhoods, skipping the traditional starter home and staying in the same city when they move," Zillow noted in a March 2017 press release.
More recent 2018 real estate predictions from Zillow back this up, pointing out that more affordable entry-level homes will likely be farther from urban job cores. As a result, millennials and first-time home buyers will flock to the suburbs for a greater variety of homes at relatively lower prices, the report states.
What about millennials who want to invest in rental property?
For millennials who want to become rental property owners but live in expensive areas such as San Francisco, New York and Los Angeles, they're actually focusing on cheaper, higher-yield cities in the Midwest and Southwest, such as Atlanta and Dallas.
This trend, which we call remote investing, is becoming more feasible than ever. Thanks to new technology that's breaking down geographic barriers to real estate investing, a growing number of buyers are branching out and confidently purchasing investment properties in markets far from where they live.
What do millennials want in a neighborhood?
Finding markets that hit the sweet spot between entry price and market rent is just one factor to consider when searching for a rental investment property.
Whether you're targeting millennial renters or homebuyers, consider neighborhood attributes such as:
Safety and crime rates
Local school ratings
Supply/demand balance
Strong rental demand

Nearby amenities (public parks and spaces, transportation hubs/systems, shopping plazas, restaraunts, sports complexes, etc.)
Tip: Did you know? Millennials comprise the largest segment of pet owners and as well as renters.
Conclusion
If you want to buy rental property in a real estate market that appeals to millennials, look for cities that strike the balance of relative affordability and diverse job opportunities. Consider expanding your search to single-family homes in the suburbs, which offer more space for growing families. And do some reconnaissance on desirable neighborhood amenities.