Last updated on May 5, 2022
Investing in single-family rental (SFR) property can be a great way to diversify an investment portfolio, generate extra income, and profit in the long term with equity appreciation. However, not all real estate markets are created equal, and it's crucial for real estate investors to know where to look.
To help you fine-tune your search for SFR property, we've put together this list of SFR markets in the country today.
---
Key takeaways
The benefits of investing in SFRs include increasing rent prices and home values, reasonable property taxes compared to commercial real estate, and an investment alternative to stock market volatility.
The metrics used to rank SFR markets can include home-building prospects, rent growth, price-to-rent ratio, and cash flow and appreciation opportunities.
The single-family markets with the highest year-over-year rent growth include Austin, Greensboro, and Phoenix.
Investors looking for rental property with solid cash flow and appreciation may want to give real estate markets like Atlanta, Birmingham, and Orlando a closer look.
---
Why invest in SFRs?
The demand trends for single-family real estate from now to 2030 will be "forged in a simmering cauldron of demand for shelter, constrained by an inadequate supply of new development and construction," according to the Emerging Trends in Real Estate 2022 report by PwC and the Urban Land Institute (ULI).
With an endorsement like that, it's easy to understand why so many investors, from mom-and-pop buyers to institutional investors and family offices, are investing in SFR property.
Some of the most significant benefits of investing in the SFR market for buy-and-hold investors include:
Potential for recurring income, equity from appreciation over the long term, tax benefits, and alternatives to stock market volatility
The likelihood of increasing median home values over the long term, according to the Federal Reserve
Rent prices and home values that typically increase faster than the rate of inflation, often described as an inflation hedge for owners
Generally lower property taxes on residential real estate than on multitenant apartment buildings and commercial properties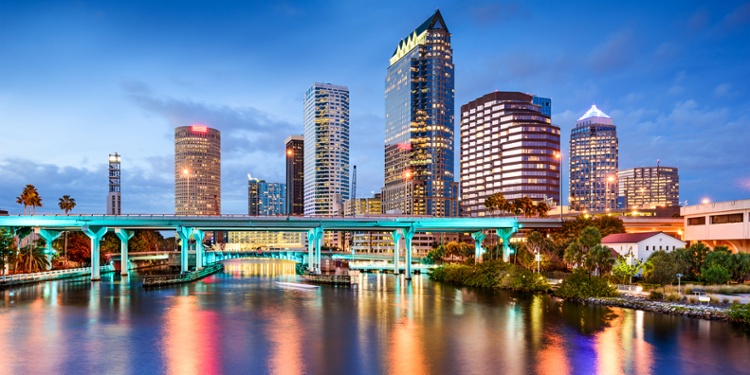 Examining SFR markets
Here are some popular real estate markets, based on research from ULI, Motley Fool, Forbes, RealWealth, and Realtor.com.
ULI: Top 10 home-building markets
Emerging Trends in Real Estate 2022 describes the single-family asset class as the tail that wags the dog. The report notes that high demand plus scarce supply will lead to high home prices, turning SFR homes into "housing's sexiest phenomenon."
These are the top 10 markets with the best home-building prospects, based on criteria including job and population growth and available land for new development:
Raleigh/Durham
Tampa/St. Petersburg
Phoenix
Dallas/Fort Worth
Denver
Charlotte
San Antonio
Washington, D.C./Northern VA
Motley Fool: Top 5 markets for rent growth
In a recent report, Motley Fool issued a rare "all-in" buy alert for rental property in 2022. While rental rates in the U.S. grew by 17.8% year over year, some markets had even higher rates for rent growth.
These are the 5 rental property markets with the highest year-over-year rent growth, according to Motley Fool:
Greensboro, NC
Greensboro, North Carolina, offers affordable home prices with an economical entry point into rental real estate and strong rent growth. Median home prices are $215,000, median monthly rental rates are $1,385, and year-over-year rent growth is 23.2%.
Austin, TX
Located in central Texas, near San Antonio, Austin is the state capital and home to one of the hottest job markets in the U.S. Rent prices in Austin grew by 24.3% last year, with median rental rates at $1,820 and median home prices at $625,000.
Boston, MA
Boston has been a major metro area for centuries, dating back to 1630. Although median home prices in Boston are $709,900, the metro area should continue to attract residents going forward. Median rental rates in Boston are $2,140, and rent growth is 25.7% year over year.
Phoenix, AZ
Phoenix was among the fastest-growing cities in the U.S. between 2010 and 2020, with the population of Maricopa County (where Phoenix is located) soaring by nearly 16%. Rent growth in Phoenix was the second highest on the list, increasing by 27.9% year over year. Median home prices in Phoenix are $415,000, and median rental rates are $1,490 per month.
Tampa, FL
Tampa ranks #1 on the list of cities with the highest rent growth year over year. Median rent prices are $1,760 per month and increased by 31.4% over the past year. Although Tampa is among the fastest-growing housing and rental markets in the country, median home prices are $350,000, the second lowest on this list.
Forbes: Top SFR markets
A recent article on Forbes analyzed SFR markets where the home price/annual rent ratio is favorable to real estate investment.
The price-to-rent ratio is a metric used to determine whether it is cheaper to rent or own a home. As a rule of thumb, a price-to-rent ratio of 21 or higher means it is typically better to rent.
Here are 10 of the top SFR markets with a price-to-rent ratio greater than 20:
| | | | |
| --- | --- | --- | --- |
| Market | Avg home price | Avg price increase | Price/rent ratio |
| Kansas City, MO | $270,300 | 16% | 22 |
| Columbia, SC | $245,700 | 15% | 22 |
| Oklahoma City, OK | $234,900 | 13% | 22 |
| Akron, OH | $218,500 | 15% | 22 |
| Gary, IN | $250,800 | 16% | 22 |
| Little Rock, AR | $222,800 | 12% | 22 |
| Grand Rapids, MI | $261,400 | 18% | 22 |
| Virginia Beach, VA | $320,600 | 14% | 22 |
| Houston, TX | $309,600 | 12% | 21 |
| Greensboro, NC | $237,900 | 17% | 21 |
RealWealth: Best markets for cash flow and appreciation
RealWealth analyzed the best places to buy a rental property for cash flow and appreciation in 2022.
According to the report, the best cities have 3 things in common: job growth, population growth, and a low cost of living. When a market has all of these characteristics, it's likely that a rental property will both cash-flow and appreciate.
Here are 5 cities to consider, according to RealWealth:
Atlanta, GA
Although Atlanta is the third-largest metro area in the Southeast, prices are relatively affordable, with an average home price of $330,218. Average monthly rents are $1,875, and one-year home price growth is 17.4%.
Birmingham, AL
Birmingham's average home prices are $215,449, about 32% below the national average. However, population and job growth keep the demand for rental property and housing strong and steady. Average monthly rents in Birmingham are $1,312, with one-year home price growth of 23.5%.
Dallas, TX
Dallas is ranked as one of the best SFR markets due to the metro area's rapid population and job growth, combined with relatively affordable home prices. Average home prices in Dallas are $338,194, about 7% above the national average. One-year home price growth is 20%, about 4% above the national average, and average rents are $1,696 per month.
Huntsville, AL
RealWealth ranks Huntsville as a good market for investors looking for rental property with solid appreciation. Over the past year, home prices in Huntsville have increased by 23.6%, with average home prices in the metro area at $267,895. Monthly rents in Huntsville are $1,525, a little less than the national average.
Orlando, FL
Although the demand for housing in the suburban area is steadily increasing, finding relatively affordable rental properties in Orlando is still possible. Average home prices in Orlando are $332,633 and have increased by 21.3% year over year. Rents in Orlando are $1,850 per month, about 6% below the national average.
Realtor.com: Hottest housing markets
The most recent Hottest Housing Markets report from Realtor.com (February 2022) accounts for market demand as measured by unique viewers per property on Realtor.com and the median number of days a listing remains active.
By design, the report lists areas where homes sell fastest, have a lot of potential buyers, and are a mix of highly desirable markets, places where homes are more affordable, and high-priced Western markets.
Here are the top 10 hottest housing markets, according to Realtor.com:
| | | | |
| --- | --- | --- | --- |
| Metro | Hotness rank | Days on market | Median listing price |
| Manchester-Nashua, NH | 1 | 12 | $439,900 |
| Santa Cruz-Watsonville, CA | 2 | 20 | $1,243,250 |
| Raleigh, NC | 3 | 20 | $430,000 |
| Springfield, MA | 4 | 25 | $317,250 |
| Topeka, KS | 5 | 28 | $184,950 |
| Rochester, NY | 6 | 23 | $225,000 |
| Boulder, CO | 7 | 21 | $851,742 |
| Portland, ME | 8 | 33 | $522,000 |
| Salinas, CA | 9 | 30 | $909,000 |
| Vallejo-Fairfield, CA | 10 | 20 | $593,500 |
Final thoughts
There are dozens of good markets in which to look for rental property based on key metrics such as cash flow, average monthly rent, appreciation, and rent growth. One of the best ways to find SFR property for sale is the Roofstock Marketplace.
Every home listed for sale includes pictures, valuations, interactive tools for estimating costs and potential returns, and current lease and payment information if a home is already rented to a tenant.