Last updated on July 7, 2022
Even though home prices in Houston are reaching record highs, investors are still snapping up properties almost as quickly as they are listed. According to the Houston Association of Realtors (HAR), sales volume of single-family homes is up over 4% year to date, with the lack of affordable housing creating more demand for rental property.
While a hot real estate market like Houston can be frustrating for homeowners, it can be ideal for single-family rental property investors. That's because the strong job market in Houston is attracting more people, and when the housing market is tight they rent instead.
With all the buzz surrounding Texas real estate markets like Dallas and San Antonio, you might overlook Houston. If so, you might want to look again: The "Bayou City" offers real estate investors outstanding value and accessibility to a major U.S. housing market.
For many people, moving to Houston is a no-brainer. The area's low cost of living, job growth, affordability and amenities present limited barriers to entry and provide a place to call home for the long haul.
We did a little research into why the Houston market is performing so well and where it might be headed. Here's what we found.
>>Explore Roofstock's Houston properties here.
Population growth
The 3-county region of Houston added 1 million residents over the past 10 years and accounted for a quarter of the population growth in Texas. Between 2010 and 2020, the population of Harris County (where Houston is the county seat) grew by 15.6%, while adjoining Montgomery and Fort Bend counties grew by 36.1% and 40.6% respectively.
Key Population Stats:
Houston is home to over 2.3 million people in the city and more than 7.1 million residents in the metropolitan area.
Population of the City of Houston grew by nearly 10% over the last decade, gaining more than 205,000 residents, according to the most recent census.
Houston is the most populous city in Texas and the 4th most populous in the U.S.
Major counties in Houston include Harris, Ford, and Montgomery counties and accounted for one-fourth of Texas' population growth between 2010 and 2020.
Both domestic and international migration are driving population growth in Houston.
Population of Houston is expected to continue surging this decade, adding more than 1.2 million new residents through 2029.
Per capita income in Houston is $35,125 and median household income is $69,328.
Job market
Metropolitan Houston created 31,000 jobs in May 2022, coming in well above the 20-year/pre-pandemic average. In fact, job growth in Houston has come in above the pre-pandemic average for 9 of the past 12 months.
According to the Greater Houston Partnership, nonfarm payroll employment is over 3.2 million, the highest that is has ever been. Employment in Houston exceeds pre-pandemic levels in 11 sectors, including scientific and technical services, arts and entertainment, and professional services.
Key Employment Stats:
GDP of the Houston-The Woodlands-Sugar Land, TX MSA is over $455 billion, according to the Federal Reserve Bank of St. Louis, and has grown by more than 18% over the last 10 years.
Since the pandemic began in 2020, Houston has added about 400,000 jobs and is now home to more than 3.2 million employees.
Median household incomes in Houston grew by 5.8% year-over-year while median property values increased by 7.03% over the past 12 months.
Unemployment rate in Houston is currently 4.1% (as of April 2022) with the mining, manufacturing, trade and transportation, professional and business services, and leisure and hospitality sectors showing the fastest signs of growth (BLS).
Target industries in Houston include aerospace and aviation, advanced manufacturing, energy, life sciences and biotechnology, headquarters, and transportation and logistics.
Largest employers in Houston include Memorial Hermann Health Systems, University of Texas MD Anderson, United Airlines, The Methodist Hospital System, and Exxon Mobil Corporation.
Houston ranks #4 among U.S. metro areas in Fortune 500 headquarters with a pro-growth government, low costs and regulations, and no corporate or personal income tax at the state level.
Houston is home to dozens of universities and colleges including Texas A&M University-College Station, University of Houston, Sam Houston State University, and the Lone Star College System.
84.3% of the residents of Houston are high school graduates or higher, while over 33.6% hold a bachelor's degree or advanced degree.
Transportation infrastructure in Houston includes three major interstate highways, freight rail service, METRORail light-rail system, two major airports, and the Port of Houston.
George Bush Intercontinental Airport (IAH) is the 15th busiest airport in the U.S.
Real estate market
Home prices in Houston are continuing to rise at double-digit rates, according to the Greater Houston Partnership. The median sale price of a single-family home in Houston recently topped $350,000 (May 2022), an increase of over 40% compared to two years ago. As home prices in Houston keep rising, more people are turning to renting a home instead of buying one.
Key Market Stats:
Zillow Home Value Index (ZHVI) for Houston is $266,964 through May 2022.
Home values in Houston increased by 21.7% over the last year.
Over the last five years home values in Houston increased by over 54%.
Median sales price of a single-family home in Houston is $314,000 according to the Houston Association of Realtors (May 2022).
Median single-family home prices in Houston have increased by 16.0% year-over-year.
Year-to-date sales of single-family homes in Houston are up 4.4% compared to the same time last year.
Days on market that it takes the average home in Houston to sell decreased to 29 days.
Inventory of homes for sale in Houston is only 1.6 months.
Of the 89 neighborhoods in Houston, Neartown-Montrose is the most expensive with a median listing price of $635,000, based on the most recent report from Realtor.com.
Most affordable neighborhood in Houston to buy a home is Greater Inwood, where the median listing price is $195,000.
Attractive renters' market
Massive bidding wars with multiple offers on homes that hit the market are becoming the norm in the Houston real estate market. Robust sales activity in the Houston housing market combined with fewer homes for sale is driving single-family home prices higher and increasing the demand for rental property.
According to CoreLogic, single-family rents in Houston increased by nearly 10% year over year (April 2022), with the median rent for a single-family home now $1,742 per month.
When people can't afford to buy they rent instead, which is why the rental market in Houston is so strong. In fact, in the Houston metropolitan area, 52% of the households are occupied by renters.
Key Market Stats:
Median rent in Houston is $1,742 per month for a single-family home (April 2022), according to CoreLogic.
Rents in Houston have increased by 9.8% year-over-year.
Over the past 3 years, rent for a 3-bedroom place in Houston has increased by about 11%, according to Zumper.
Renter-occupied households in Houston account for 52% of the total occupied housing units in the metropolitan area.
Most affordable neighborhoods in Houston for renters include El Dorado-Oates Prairie, George Bush International Airport, and Pleasantville Area where average rents are $1,158 per month or less.
Most expensive neighborhoods in Houston for renters include Greenway-Upper Kirby, University Place, and The Museum District where average rents range between $4,175 and $7,233 per month.
Historic price changes & housing affordability
Two ways that real estate investors can forecast the potential demand for rental property in Houston are by reviewing the historic price changes and the affordability of housing in the metropolitan area.
Each month Freddie Mac publishes a house price index report (FMHPI) that updates the short- and long-term trends of home prices in all major markets in the U.S.
The most recent FMHPI from Freddie for the Houston-The Woodlands-Sugar Land, TX MSA reveals:
April 2017 HPI: 187.4
April 2022 HPI: 267.2
5-year change in house prices: 42.5%
One-year change in house prices: 17.0%
Monthly change in home prices: 1.8%
Experienced real estate investors looking for Houston hard money lenders also research housing affordability to help forecast the current and future demand for rental real estate. Affordability compares the amount of annual income needed to purchase a median-priced home in Houston.
Business forecast and personal finance publication Kiplinger publishes a housing affordability report for the top 100 metropolitan areas in the U.S. The firm ranks affordability on a scale of 1 to 10, with 1 representing the most affordable markets and 10 the least affordable.
Kiplinger's analysis of housing affordability in Houston reports:
Since the last real estate cycle market peak in May 2006, home prices in Houston have increased by 37.1%.
Since the last real estate cycle market bottom in March 2012, home prices in Houston have increased by 69.5%.
Houston has an affordability index of 4 out of 10, meaning that housing affordability in the market is mid-range and helps to explain the high percentage of people renting in Houston.
Quality of life
Houston keeps luring more residents and business from around the globe with its mix of cultural activities, vibrant communities, and low cost of living. Affordable housing prices combined with not having a city or state income tax helps keep the population growing and the city vibrant.
Key Quality of Life Stats:
Cost of living in Houston is less than other cities in Texas including Dallas and Austin, according to NerdWallet's cost of living calculator.
Forbes ranked Houston as one of the best places for business and careers in the U.S.
Houston receives an overall "A-" grade from Niche.com with high ratings for public schools, housing, and nightlife.
Niche also ranks Houston as a city with one of the lowest costs of living and one of the best places to live in the U.S.
U.S. News & World Report agrees, ranking Houston among the best cities to live and to retire.
Some of the best neighborhoods to live in the Houston area include Memorial, Clear Lake, Kingwood Area, and Astrodome Area.
The Houston Museum District is home to 19 museums and galleries and attracts over seven million visitors each year.
Sports fans in Houston have plenty to cheer about with the NFL Houston Texans, MLB Houston Astros, and the NBA Houston Rockets.
Get out the map
Where to begin your search? Roofstock created a heatmap that color-codes the city based on our Neighborhood Rating, a dynamic algorithm that enables you to make informed investment decisions by measuring school district quality, home values, employment rates, income levels and other vital investment criteria.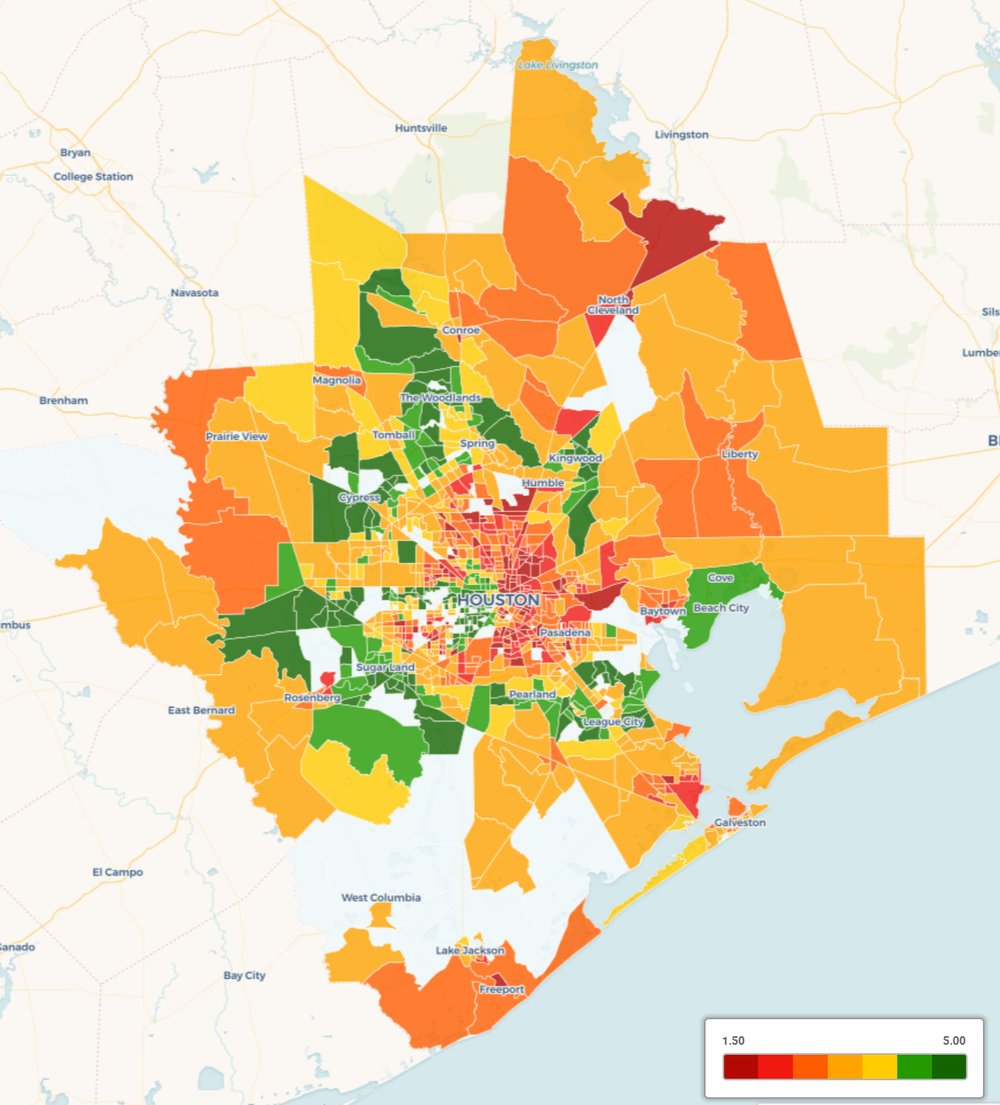 DARK GREEN: 4-5 star neighborhood
LIGHT GREEN: 3.5-4 star neighborhood
YELLOW: 2.5-3 star neighborhood
ORANGE: 2 star neighborhood
RED: 1 star neighborhood
Ready to invest in the Houston real estate market? If you haven't already done so, create your free Roofstock account and set up alerts. We'll alert you when we have a Houston-area investment property that matches your search criteria.