Last updated on August 22, 2022
According to Statistic, in 2019 there were 14.5 households and 44 million residents renting single-family houses in the U.S., and Urban.org is predicting there will be a 21% increase in new rental households between 2020 and 2040.
While investing in single-family rental property may often provide strong, stable cash flow, owning rental real estate can require a lot of time and hard work.
In this article, we'll discuss how to buy rental property in five steps, and explain some of the pros and cons of investing in real estate.
---
Key takeaways
Five steps to becoming a landlord include obtaining financing, understanding rental property performance metrics, finding a rental property, tracking income and expenses, and, for some, hiring a property manager.
Tips for buying a good rental property include investing for the long term, and choosing real estate markets with the best potential for rental property investments.
---
Looking to buy your first rental property in some of the hottest markets across the country? Check out Roofstock's marketplace, the #1 platform for remote real estate investing. Supporting over $5B in total transactions, we have the resources to help you invest with confidence.
Is rental property the right choice?
We'll cover the basic steps to buy rental property in just a minute. First, it's important that you consider whether buying a rental property is the right investment for you.
Earning rental income may be categorized by the Internal Revenue Service as a "passive" activity, but real estate investments often require active involvement-- as well as a willingness to accept a certain amount of risk in exchange for a higher level of potential reward.
Even real estate investors who hire a local property management company may still need to remain involved in the oversight of their investments. For example, investors may be asked to authorize certain improvements or repairs and to regularly review monthly and year-end financial statements, such as the income statement and net cash flow report.
Despite best tenant screening processes, an investor may end up with a tenant who pays the rent late or needs to be evicted. Lost rental income and the added cost of an eviction can quickly eat away at potential profits and overall returns, and overseeing an eviction process can be time consuming.
Notwithstanding the associated responsibilities, a good investment property can provide the perfect trifecta of recurring rental income, long-term appreciation in property value, and tax benefits through deducting operating and owner expenses, and depreciation.
But savvy investors always think through the potential risks and rewards of investing before making their move.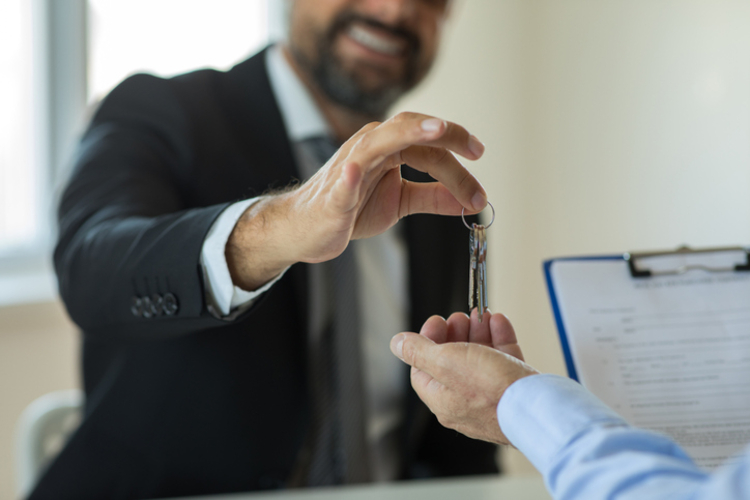 How to become a landlord and buy your first rental property in 5 Steps
After deciding that owning rental property is the right investment, there are five basic steps to follow:
1. Arrange financing
Financing a single-family rental property works a little differently than applying for a mortgage on a primary residence. Down payments are bigger, lender fees and interest rates are slightly higher, and there are different requirements to qualify:
Down payments generally range between 20% - 25% of the property purchase price, and with some investors refinancing their residence to raise cash for a down payment.
Credit score of 720 or higher is required for the best loan terms, according to Experian although it's possible to purchase an investment property with lower credit.
Borrower documents include copies of tax returns, bank statements, and proof of income (similar to applying for a loan on a primary residence).
Lenders may require up to six months of mortgage payments held in a reserve account if periodic income is less or expenses are higher than projected.
Although there may be more hoops to jump through when arranging financing on a rental property, the good news is that there are a lot of options available. Conventional lenders, such as banks and credit unions, offer loans backed by Fannie Mae or Freddie Mac, while other investors obtain rental property financing through private lenders or by forming a joint venture.
A good place to begin looking for a rental property loan or refinance is the Stessa Mortgage Center. Simply answer a few simple questions online, and they will recommend a lender for you to consider who will provide a competitive mortgage quote.
2. Understand rental property returns
Return on investment (ROI) is a financial metric that real estate investors use to help determine how potentially profitable an investment property might be. To calculate the ROI of a property, an investor needs to know:
Estimate annual rental income -- including tenant rent and additional income like pet rent
Estimate annual operating expenses including repairs, property management fees, insurance, and taxes
Forecast annual cash flow by subtracting expenses from income
Determine down payment and other upfront cash (such as needed repairs)
Calculate ROI by dividing annual cash flow by the total amount of cash invested
For example, assume a rental property produces an annual rental income of $18,000, operating expenses are 50% of income, and the annual mortgage payment is $6,000 (principal and interest only).
If an investor makes a down payment of $37,500 the ROI would be 8%:
Annual cash flow = $18,000 rental income - $9,000 operating expenses - $6,000 mortgage payment = $3,000 before-tax cash flow
ROI = Before-tax cash flow / Total investment
$3,000 Before-tax cash flow / $37,500 Total investment = 8.0%
You can use the free rental property analyzer in this article to forecast the potential return of a property. Simply enter some information to view projected key return on investment (ROI) metrics, including cash flow, cash-on-cash return, net operating income, and cap rate.
3. Find a rental property
Some of the key factors to consider when choosing the right rental property and the best real estate markets include:
Job and population growth
Percentage of renter-occupied households
Rising rent prices and declining vacancy rates
Historic change in home values may lead to long-term appreciation
Neighborhood rating, including school district quality and employment rates
Potential for a turnkey single-family rental property with a tenant already in place (or a home that is rent-ready) helps to reduce investment risk for first-time buyers
Property tax rates can vary dramatically from one city and state to the next, and impact potential ROI
There are a lot of places online to look for a home for sale, including Zillow, Trulia, and Realtor.com. However, most of the listings are for individuals seeking a primary residence.
That's why a growing number of investors looking for single-family rental homes and small multifamily property begin their search for a rental property on the Roofstock Marketplace. In less than six years, investors have used the global reach and technology advantage of Roofstock to complete more than $3 billion in single-family rental transactions.
Roofstock helps purchasers perform due diligence on rental properties by helping to secure a property inspection, ordering a preliminary title report, and other key documents such as the tenant lease agreement and rent roll to give buyers the confidence to buy a property sight unseen.
4. Hire a property manager (if not self-managing)
Being a landlord can be more time consuming than it might appear. Finding and screening tenants, collecting the rent, and taking care of repairs are only some of the duties required for successfully managing a rental property.
Owners also need to comply with local and state landlord-tenant laws, the Fair Housing Act, conduct periodic property inspections, run regular rent comparables, and obtain the best prices from qualified vendors to help keep operating expenses under control and rental property returns growing. New investors can learn how to be an effective investor and landlord by attending the Roofstock Academy-- a training program specifically designed to help real estate investors succeed.
Those who are not interested in -- or simply don't have the time to dedicate to being -- a landlord often hire a local property manager. Hiring a property manager may allow an investor to enjoy the benefits of owning a rental property while avoiding the hassles of being a landlord. The best rental property managers take care of day-to-day details so that investors can focus on growing passive income streams by buying rental property in the best markets for the best returns.
You can find recommended property managers through Roofstock. All Roofstock Preferred Property Managers are carefully vetted to examine:
Necessary license in good standing
Historical portfolio performance
Length of time in business
Reporting and data capabilities
Fee and pricing structure
Preferred pricing for Roofstock customers
5. Track income and expenses
Even for experienced real estate investors, keeping track of rental property income and expenses can quickly become overwhelming. Common income and costs that affect the return on a rental home include:
Rental income
Security deposit
Other income (pet, storage, laundry, roommate, etc.)
Leasing fees
Property management fee
Repairs and maintenance
Landscaping
Pest control
Utilities (sometimes found with small multifamily properties)
Mortgage payments
Insurance
Property taxes
HOA fees
Depreciation expense
Owner expenses (such as traveling to an out-of-state property)
While it's possible to keep track of income and expenses using post-it notes, cocktail napkins, or a series of spreadsheets, savvy real estate investors often opt for software specifically designed for rental property owners. Stessa offers real estate investors a free, robust property financial management tool that can be used online or through its mobile application. Stessa is designed by real estate investors, for real estate investors.
After signing up for a free account, simply enter the rental property address, connect business banking and mortgage accounts quickly and securely, and run reports such as the income statement, net cash flow, and capital expenses.
With Stessa, investors can easily maximize rental property profits through smart money management, automated income and expense tracking, and personalized recommendations for maximizing revenue based on unique portfolio and investment strategies.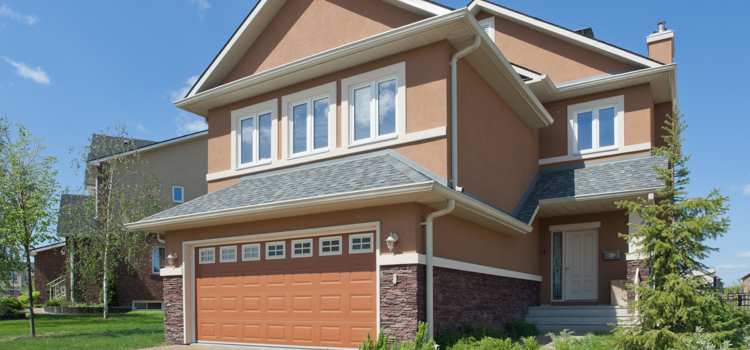 Tips for buying a great rental property
Robert Kiyosaki, founder of the Rich Dad Company, once said "Real estate investing, even on a very small scale, remains a tried and true means of building an individual's cash flow and wealth."
While that may be true, not every home makes a good investment. Some tips for buying a great rental property include:
Investing in real estate requires a long-term view.
Learn the financial metrics of rental property investing such as ROI, cash flow, cap rate, and cash on cash return. This guide can help you learn how to analyze real estate deals.
Analyze each real estate market carefully before deciding what and where to buy a rental property.
Alternative strategies for buying your first rental property
As housing prices continue to rise, finding funds to make a big down payment to buy a rental property is becoming more difficult in some real estate markets. Fortunately, there are several alternative strategies for buying a rental property that require less money:
House hacking or renting out a room in home, then using the extra income to pay down the existing mortgage to raise money for a down payment.
Using an FHA multifamily loan to buy a small duplex or triplex to live in one unit and rent the remaining units out.
Live in a primary residence before eventually turning it into a rental property, remembering that the house must work as a home and a rental property later.
Partnering with a fellow real estate investor to purchase a rental property as a joint venture can also reduce the amount of cash needed to purchase a rental property.