Last updated on January 20, 2023
We all know that real estate is about location, location, location. But the important question for real estate investors is, exactly which location is best for investing?
The truth is, there is no one single best location to invest in real estate. If that were the case, every investor would be piling into the same place and quickly diminish the potential returns of investing there.
With that being said, in this article we'll help you answer that question by reviewing the top markets for this year, how to select a market based on investment strategy, and some potential places that could be ranked as the best cities to invest in real estate as we make our way through 2022.
Looking to buy a rental property in many of the cities mentioned in this article? Check out Roofstock's marketplace, the #1 platform for remote real estate investing. Supporting over $5B in total transactions, we have the resources to help yo invest with confidence.
Review: Top 10 markets over the past 24 months
Gary Beasley is the CEO and Co-Founder of Roofstock. A little over 2 years ago, he wrote an article for Forbes titled "Secondary Cities Make Up The 10 Trending Single-Family Rental Markets For Investors In 2019."
Using an analysis of data from the U.S. Census Bureau and Zillow Research, Gary suggested smart investors watch these markets through the second half of 2019:
Las Vegas:

Record levels of convention business and tourism have helped the population of Vegas grow by 2.5% with rent prices increasing by over 10%.

Orlando:

Tourism and job market growth in leisure and hospitality are creating a large share of renter households with population growth at 2.4% and household growth at 3.4%.

Atlanta:

High-tech and financial services employers like Google and BlackRock are expanding thanks to Atlanta's business-friendly climate, helping single-family homes to appreciate by more than 13% in one year.

Charlotte:

High quality of life and business-friendly environment are helping the population grow by 1.9% with forecasted household growth of 2.4%.

Phoenix:

One of the top job markets in the country last year, rent growth in single-family homes is expected to increase by 9% with the population growing by more than 2%.

Dallas-Fort Worth:

The #1 metro area for job growth last year, with single-family home values appreciating by 10.6% and a population growth of 1.7%.

Jacksonville:

An international trade seaport and city infrastructure improvements boosted economic growth, with rent rising by 3.7% last year and households expected to grow by 2.1% this year.

San Antonio:

Strong local economy in the 2

nd

-largest city in Texas helped to drive rent growth of 4.2% in 2018.

Indianapolis:

Affordability is attracting people from high-priced markets like New York and San Francisco, with single-family home appreciation in Indianapolis growing by 12.8% and rents increasing by 4.1% last year.

Fort Lauderdale:

Steady population growth and retirees with discretionary income helped real estate investors in this Florida city earn gross rental yields of nearly 10% last year, with household growth expected to reach 2.1% in 2019.
Fast forward to 2022 and Gary's predictions include many metros that have seen impressive growth. Every single one of these top real estate markets from two years ago have outperformed, and were among the best real estate markets to watch in 2021.
What are the top 10 real estate markets for 2022?
With the new year just beginning, smart single-family home investors are asking which cities will be best for real estate heading in 2022.
Every year the Urban Land Institute and global consulting and tax firm PwC list the top housing markets for the upcoming year. According to the 113-page report on Emerging Trends in Real Estate 2022 the top 10 markets with the best overall prospects for real estate in 2022 are:
Nashville,

Tennessee

Raleigh/Durham,

North Carolina

Austin, Texas
Tampa/St. Petersburg,

Florida

Charlotte, North Carolina
Dallas/Fort Worth,

Texas

Seattle
Boston
Realtor.com took a deeper look at these emerging real estate trends and created a list of the top housing 10 markets for 2022 based on year-over-year sales growth and price growth for real estate investors to watch in 2022.
Homebuilding prospects
Markets with the best homebuilding prospects are those that have enough affordable land for new development and growth as the community attracts more people and jobs:
Raleigh/Durham
Tampa/St. Petersburg
Phoenix
Dallas/Fort Worth
Austin
Denver
Charlotte
San Antonio
Atlanta
Washington, DC – Northern VA
Magnet markets
Cities in the magnet category are those that are growing more quickly than the U.S. average, acting as magnets for both people and companies:
Atlanta
Austin
Boise
Charlotte
Dallas/Fort Worth
Denver
Fort Lauderdale
Jacksonville
Miami
Nashville
Phoenix
Portland, OR
Raleigh/Durham
Salt Lake City
San Diego
Tampa/St. Petersburg
The establishment
These markets are "tried and true," with established economic, government, and cultural powerhouses that have been providing real estate investment, development, and redevelopment opportunities over the years. Establishment markets include large metro areas, cities with specialized economies, and suburbs that are ascending:
Boston
Chicago
Los Angeles
New York-Manhattan
San Francisco
San Jose
Washington, DC - District
Inland Empire
Long Island
Orange County
Northern New Jersey
Westchester, NY - Fairfield, CT
Niche markets
Niche markets are not necessarily large or economically diverse. Instead, they have a dominant economic driver that supports stable economic growth over the long term:
Backbone markets
Backbone markets don't usually rank high in the national surveys. However, they are great places to live and work, and often offer good opportunities for real estate investment and development. Although growth is slower, housing and business costs are more affordable than many other real estate markets in the U.S.:
Albuquerque, New Mexico
Sacramento
Birmingham, Alabama
Kansas City, Missouri
Louisville, Kentucky
What makes a real estate market attractive for investors?
In the next part of this article we'll discuss how to find markets and single-family rental property based on the three main real estate investment strategies:
Cash flow
Appreciation
Balance of cash flow + appreciation
But before we do, let's talk about what makes a real estate market "good" to begin with.
What does "good" really mean?
You see, the word "good" is a pretty subjective term.
"Good" pizza, "good" beer, "good" movie . . . everybody has their own opinion of what's good and what's not. But when you're investing money in real estate, it's important to understand exactly what separates good real estate markets from average, not-so-good, and even downright terrible.
Here are 7 factors that help make a real estate market good for investors:
Job creation above the national average.
Current and expected future population growth, also above the national average.
Building permits pulled, current construction activity, and forecasted growth in real estate development.
Government planning on both the state and local level, and whether or not the municipality you're considering investing in is pro-growth or is over-burdened with red tape and regulations.
Housing affordability by using the price-to-rent ratio to compare median home prices to median rents.
Absorption rate, or the time that it takes for new housing that is brought to the market to be purchased or rented.
Vacancy rate, comparing the average in your target market to the overall average vacancy rate for similar markets.
Cash flow real estate markets
Real estate investors looking for homes that provide a return quickly focus on cash flow markets. Cash flow real estate generates a steady and predictable income stream through the holding period of the investment.
How to find cash flow property
There are two financial metrics used to identify property with strong cash flow:
Cash-on-cash return

on a single-family rental house measures the annual before-tax income generated by the property divided by the total cash invested.

Cap rate

compares the NOI (net operating income before mortgage payment) to the price of the house.
The higher the cash return and cap rate, the better the property is for cash flow real estate investors. The Roofstock Marketplace makes it easy to locate rental property with these metrics.
By searching for properties with a higher yield, then sorting by cash-on-cash return, you'll typically find hundreds of rental properties to choose from: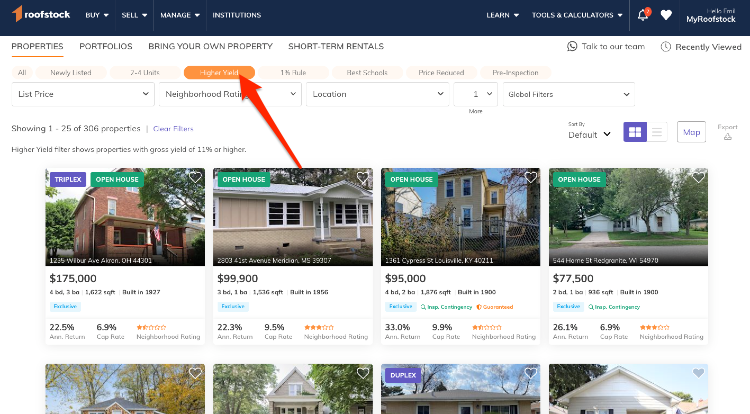 Real estate markets with good appreciation potential
Real estate investors who are looking for a healthy increase in property values over the long term focus on real estate markets with good appreciation. Population and job growth are two factors that help the market value of single-family homes increase year after year.
How to find markets with strong appreciation
Zillow Research is a good resource for sifting through home appreciation data for every market in the U.S. However, why spend valuable time crunching the numbers when Roofstock has already done the heavy lifting for you?
On the properties section of the Roofstock Marketplace, click the "More" dropdown, set the appreciation filter to be 3% or higher and click "Apply":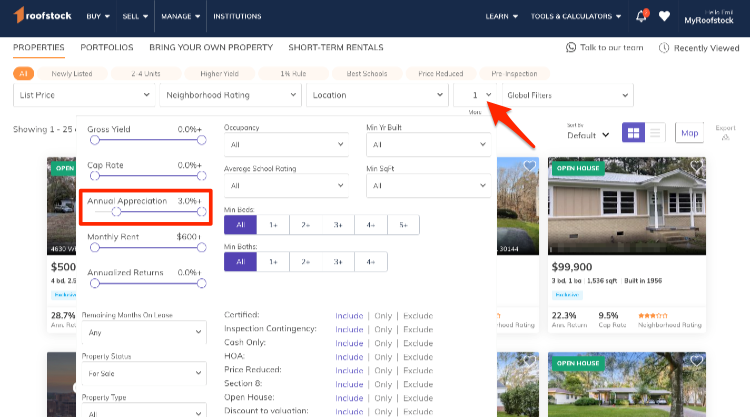 Best of both worlds: Cash flow + appreciation
Investors in single-family rental property can have the best of both worlds by owning property with solid cash flow and solid appreciation. This balanced approach focuses on strong long-term appreciation plus steady cash flow income.
After you've set appreciation to 3%+, sort by cash-on-cash return on the Roofstock Marketplace: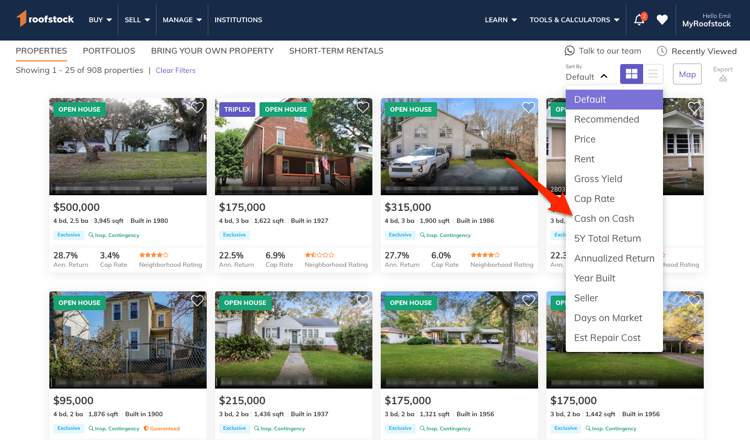 Best real estate markets for 2022 and beyond
In Gary's article for Forbes, he noted that while "the world is truly an investor's oyster, deciding where to invest can feel like a herculean task."
Fortunately, Roofstock simplifies the task of finding rental property to match any investment strategy. Whether you're focusing on cash flow, appreciation, or a balanced approach to both, Roofstock makes real estate investing radically accessible, cost-effective, and simple.
Top 10 real estate markets for 2022 include Austin, Dallas, Nashville, and Atlanta.
Factors that give a real estate market good investing potential include population and job growth, business-friendly government, high absorption and low vacancy rates.
Real estate markets can be good for cash flow, appreciation, or a balanced approach of both investment strategies.