Last updated on February 25, 2021
The housing market as a whole has bounced back since the bubble burst in 2007, but not all regions have recovered equally. While home values are soaring in cities like Los Angeles (where the county-wide median home price is at an all-time high) and San Jose (where 98.7% of homes have regained or exceeded their pre-recession value), other areas are still playing catch-up.
As the market continues to improve, some areas that have lagged behind are starting take off. We all want to invest in real estate markets that are on the rise at exactly the right moment, but short of consulting a psychic, where can investors look for signals that a market is on the upswing? While no specific research can work like a crystal ball, we've gathered some of the best indicators — including some often overlooked strategies — to help you identify a real estate market with growing potential.
Quick links:
Traditional indicators you need to know
Population growth
This one is pretty straightforward. If a market's population is growing, it's going to increase the housing demand and ultimately strengthen the market over time. You can look up year-over-year population estimates for cities throughout the U.S. on the Census Bureau's American FactFinder website.
For an overview of the fastest, and slowest, growing cities in the nation, check out the list that the financial news site 24/7 Wall St. compiled using Census Bureau data for 382 metro areas. The Census Bureau also released a chart this spring that ranks the 15 fastest-growing large cities in the country.
It should be noted that growth isn't always a steadfast metric. When examining population growth, you also need to think about market affordability (which we look at below).
>>Related: 30 Real estate submarkets to watch in 2018
Existing home sales
The Existing Home Sales metric is compiled monthly by the National Association of Realtors (NAR). It breaks down sales trends in four major regions of the country: the West, South, Northeast, and Midwest. This is a helpful metric to watch because it offers insight into the health of markets around the country and the demand for housing in each area. An increase in sales can potentially indicate an area is emerging or coming back.
Keep in mind, Existing Home Sales is a high-level metric that groups a lot of areas and cities together. It's important to dive deeper into the particular markets where you're interested in purchasing real estate. Use Zillow's tool to drill down by city or zip code and look at median sale prices, and which way they are trending.
Rising rental rates
If rents are climbing steadily year-over-year, this is a sign of healthy housing demand and a favorable indicator for real estate investors. To get your hands on the data, check out Zillow's rent index — a seasonally adjusted measure of the median estimated market rate rent across a given region and housing type.
New residential construction index
The New Residential Construction Index is provided by the U.S. Census Bureau and is made up of two surveys: the building permits survey and the survey of construction. The building permits survey looks at the number of permits that are given out for new homes each month. The construction survey looks at how many homes are started and completed each month. Both are indicators of an area's potential for real estate price growth.
"Looking at building permit trends and how much land is available for construction addresses possible supply constraints that might lead to an increase in home prices," explains Matt Mullin, Director of Broker Services for Roofstock. "If there is a lot of developable land and building permit trends are rising — and possibly even outpacing population growth trends — that may weigh on future price growth potential."
U.S. foreclosure statistics
Foreclosure rates are a solid metric for evaluating overall market health. It's not a good sign if you're in a market with a high or increasing foreclosure rate. Luckily, across the U.S., the foreclosure rate is now at its lowest since 2005.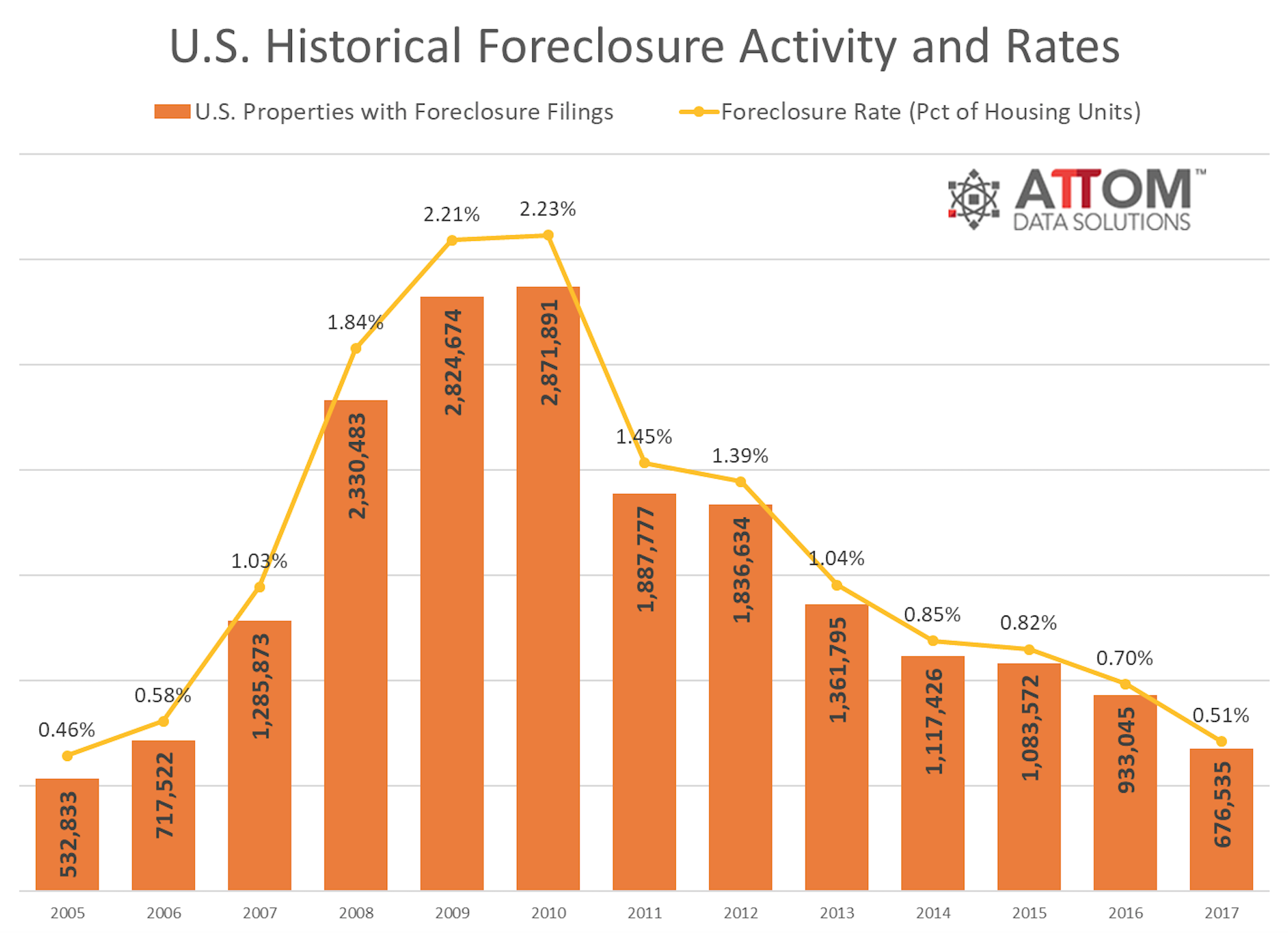 Unconventional signs to watch
Follow announcements from big companies
Announcements from major corporations can provide a lot of insight into which markets are on the rise. If a company announces a new office location, or maybe a second headquarters (hello, Amazon!) this is huge news for the real estate market.
"These big companies have done their research," notes Thomas Poe, Roofstock Account Executive. "They're not likely to put a new facility or hire thousands of people in a place they don't believe in. You can get some very useful intel by following business news."
Tip: Our "Market Spotlights" (a regular feature here on the Roofstock blog) are an excellent starting point when considering a new investment location such as Pittsburgh, Memphis or Phoenix. There you can find up-to-date advice from local experts, relevant statistics and data, and a compilation of region-specific business news to fuel your research.
Look at supply and rate of sales
When assessing impending price growth, two frequently overlooked indicators are months of supply and how quickly that inventory is selling.
"Economists suggest that five- to six-months' supply indicates a balanced real estate market," Mullin says. "When you have significantly more than that, there is typically downward pressure on prices. When you have significantly less than that, there is upward pressure."
Looking at the average number of days on market can also help. When properties are selling in less than 30 days on average, there is opportunity and an indication that prices may be heading up soon. This means there are more people looking to buy than there are listings available, and multiple offers on properties regularly create upward momentum on prices.
Tip: You can view data for months of supply and median days on market on Redfin's data center.
See if the market is affordable to locals
This simple but often overlooked step is an excellent way to determine if a market is headed for an uptick.
"Compare median income growth to housing costs to make sure that pricing is reasonable given the economics of the community," Mullin advises. "In other words, can the average family, making an average income, afford to purchase an average priced home? When it costs more to rent than to buy, and the average home price can easily be afforded on an average income, there is an opportunity and upside potential."
>>Related: Top rental markets millennials move to faster than anywhere else
Common myths about identifying new markets
You can find all the information online
When it comes to identifying up-and-coming markets, you can and should do as much independent research as possible. But ultimately, leveraging a reputable partner who knows the local area — such as a property manager, turnkey provider or real estate agent — can help you make a more informed purchase decision. At Roofstock, our analysts perform extensive research and data analysis before expanding into a new market. We also partner with vetted property managers in every market to offer investors a truly local perspective.
You can time the market
As one of our favorite sayings goes, "don't wait to buy real estate — buy real estate and wait."
You can make educated guesses regarding the market you're looking to invest in, but you can't see into the future — nobody can. Don't agonize over timing your purchase perfectly. Talk to professionals and do your research so that you make the best choice with the information available.
>>Related: The 10 highest-growth real estate markets of 2018
*****
At the end of the day, whether you're looking for a long-term hold or a short-term flip, you will need to pick a market you believe in, and one that aligns with your investment strategy. In addition to our easy-to-use marketplace, the "Markets" tab on Roofstock's blog is a great springboard, from its analysis of nationwide trends to this list of markets to watch in 2018.
Next up: