Last updated on August 8, 2018
Millennials are the biggest generation the world has seen. In the U.S., they tally more than 75 million people. With that, they will become the biggest renting population of all time. A study released in January 2018 from the Brookings Institution shows this generation will have massive cultural, economic and political impact on America.
Why Investors Need to Pay Attention to Millennials
Millennials are in an interesting spot as a generation. They are, on average, more educated than previous generations. This is important, because higher levels of education are tied to higher future earnings and quality of life. The Brookings Institute claims more than 33% of millennials aged 25-34 completed some form of higher education in 2015. This is up nearly 8 percent compared to the same age group measured in 1980.
Not only does this generation bring more competition to the workforce, they also bring more competition to the housing landscape in top rental markets with growing economies.
That's good news for real estate investors.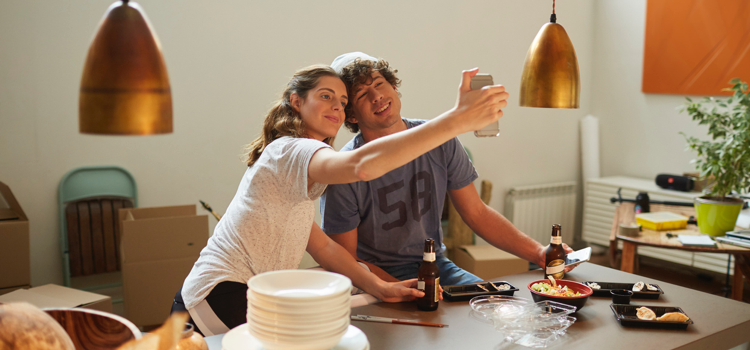 >>Related: What investors should know about the millennial housing market
There is another side to this equation for millennials, however. While they are educated and have a higher earning potential over the long run, they currently have many financial barriers boxing them out of home ownership.
According to research from the U.S. Department of Housing and Urban Development, the majority of the millennial workforce entered the labor force shortly after the housing bust, when there was a tightening of credit—thus making it harder to purchase. Not to mention, the massive decline in real estate value across the country during the financial crisis of 2007-2008 may have caused many millennials to view real estate as a riskier investment as opposed to previous generations. Couple that with rising mortgage rates in 2018 and the ongoing shortage of starter homes, it's no wonder many millennials may view renting as the more practical option.
With increased earning potential but a tougher path towards home ownership, many millennials have turned to renting or moving back in with family.
How This Impacts Real Estate Investors
This affects real estate investors in several ways. First, in emerging markets it strengthens any current investments as more millenials moving to those areas causes an uptick in housing demand. Second, it helps with tenant quality in general.
As America turns to becoming a nation of renters, owning investment property becomes an even better opportunity.
What are the Top Rental Markets Experiencing the Biggest Influx of Millennials?
Millennials will move to cities for several reasons including low cost of living, economic opportunity and general quality of life. The following U.S. metropolitan areas had the highest and lowest young adult growth in 2010-2015, according to the Millennial Generation report which was released by the Brookings Institution in January 2018. Each of the 10 fastest-growing areas below—with growth rates exceeding 10 percent—is located in the South or West.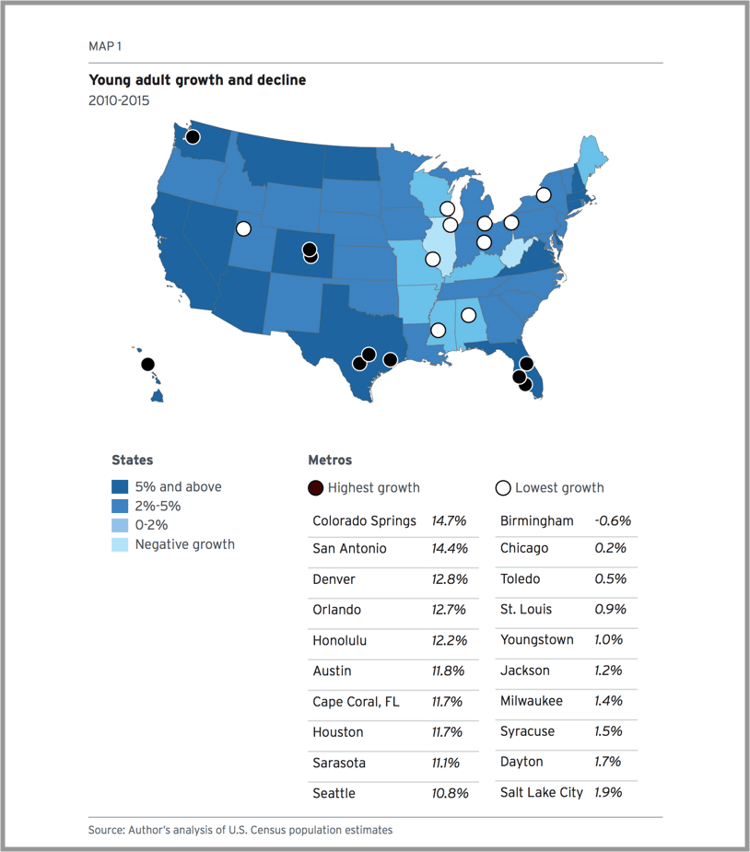 Graphic courtesy of the Brookings Institution.
1. Colorado Springs (+14.7%)
The low cost of living, coupled with major culture and lifestyle appeal, makes Colorado Springs an attractive destination for millennials. In Colorado Springs—the largest city by area in Colorado—just over a quarter of all people fall into the millennial category. With the highest growth rate in the country, this is a place to keep an eye on.
2. San Antonio (+14.4%)
Is San Antonio the next millennial hotbed in Texas after Austin? The numbers seem to make us think so. The city is filled with coffee shops, craft breweries and a great local feel. Not to mention, it's very affordable to live in. As millennials look at some of the top rental markets across the U.S., San Antonio is intriguing—not only as a place to rent but as a place to buy eventually. For investors, this is a positive sign.
3. Denver (+12.8%)
Denver continues to be the cool kid on the real estate block, especially after Zillow declared it a top housing market for 2018. The area is growing and quickly turning into one of the major tech hubs of North America. With the amount of job creation taking place and the work-life balance Colorado is known for, it's no surprise Denver is seeing more and more millennials call the Mile High City home.
4. Orlando (+12.7%)
There's more to Orlando than Walt Disney World. Seeing nearly 13 percent growth in millennials, the city has a lot of positives going for it. While the tourism industry has been the rock behind Orlando's growth for many years, recent developments in the greater metro area and surrounding neighborhoods like Winter Garden have helped make this city more appealing to millennials. When compared to other areas across the country, the cost of living in Orlando is 5% lower than the national average. This is attractive for millennials seeking affordability in their rentals.
5. Honolulu (+12.2%)
Millennials are increasing the rate at which they move to Honolulu, despite the fact that it's still one of the most expensive places in America to purchase a home. According to research by Abodo, it takes an average 24.7 years to save enough money for a downpayment in Honolulu. Taking this into consideration, if you can enter this market it will be full of people renting for some time to come.
6. Austin (+11.8%)
Though Austin saw the 6th highest growth rate for millennials, it sits at 2nd overall for population density (27.2%). With the high cost of living in places like San Francisco, Los Angeles, Seattle, New York and Boston, Austin has established itself as the place to be for up-and-coming tech startups. It's highly progressive culture, exploding food scene and affordability are making it one of the coolest cities in America to call home—and millennials are catching on.
T-7. Cape Coral, FL (+11.7%)
Affordability, affordability, affordability! That's what is causing millennials to move to an area that many thought was reserved for retirees. The low cost of entry into Cape Coral is attracting millennials who are closer to starting a family as it gives them an opportunity to put down some roots.
T-7. Houston (+11.7%)
Houston couples affordability with being one of the biggest cities in America. This big-town allure combined with affordability has attracted millennials to the city at a fast rate. Although the area was hit hard by Hurricane Harvey, the market is still continuing to grow.
9. Sarasota (+11.1%)
Much like Cape Coral, Sarasota is growing at a rapid rate. The city has a lot of momentum, attracting younger people back to Manatee County. The city has several young professional organizations with the main focus of engaging and fueling more millennial engagement in the local economy and government.
10. Seattle (+10.8%)
Home to Amazon, Microsoft and countless other technology companies, Seattle has solidified itself as an economic powerhouse moving forward. The Emerald City continues to attracts millennial talent from not only the country but worldwide, and its housing market has soared past pre-recession levels. While Seattle is experiencing a serious inventory crisis—fueled by the fact that no one is selling—real estate investors might want to keep eye on surrounding spots like Bothell, Redmond and South Tacoma. Areas outside Seattle city limits are experiencing growth as millennials look for affordable homes within driving range of their employment. Additionally, a long-time local realtor from Eastern Washington even told us Spokane is seeing an influx of "financial refugees" who are relocating from Seattle and Portland to work remotely and live in a much more affordable city.
Whether or not you've been paying attention to millennials and their habits, there is no question they will have a lasting impact on the real estate market moving forward.
*****
Looking for your next investment property? Browse and save your favorite turnkey rental investment properties on Roofstock: