Last updated on March 21, 2018
Top Single-Family Rental Markets
Today's top Single-Family Rental (SFR) markets are broadly located in the Southeastern, South and Western portion of the United States. In the top 20 largest markets, SFR makes up 15 – 30% of all single family homes and between 20-50% of all rental properties. SFR has grown tremendously and much of that has been driven by significant growth in the top markets. For example, in Orlando, SFR homes only accounted for 16% of all single-family homes and 31% of all rental properties just a few years ago, where as today those percentages have jumped to 23% and 39%, respectively.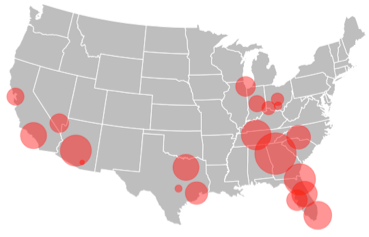 Largest 20 US SFR Markets (Ranked by size):
| | |
| --- | --- |
| · Dallas, TX | · Miami, FL* |
| · Denver, CO | · Riverside–San Bern, CA* |
| · San Antonio, TX | · Salt Lake City, UT |
| · Orlando, FL* | · Las Vegas, NV* |
| · Nashville, TN | · Indianapolis, IN |
| · Houston, TX | · Jacksonville, FL* |
| · Tampa, FL* | · Cincinnati, OH |
| · Atlanta, GA* | · Raleigh – Durham, NC |
| · Charlotte, NC | · Columbus, OH |
| · Phoenix, AZ | · Chicago, IL |
*Markets currently available to invest in via Roofstock
Looking ahead, according to John Burns Real Estate Consulting, LLC, Denver, Riverside, CA, Phoenix, Indianapolis and Raleigh-Durham are expected to become the top five markets, driven by low-single digit HPA and mid-single digit rent growth.
Largest Owners in the Single-Family Rental market
As SFRs have become an institutional asset class on their own, large players have entered the market capturing significant single-family market share over the past five years. It's estimated that the largest players (those with portfolios greater than 500 properties), own roughly 200,000 homes throughout the United States, translating to nearly $50B invested by institutional owners! Despite the large quantity of homes, the large institutions only own 1.2% of all SFR properties. Some of the largest players are public REITs (Real Estate Investment Trusts), while more than half of the largest companies remain private.
The largest SFR owner is Invitation Homes (IH) who is owned by Blackstone. IH owns nearly 50,000 properties throughout 14 markets in the United States. Other large owners include American Homes 4 Rent (a public REIT with nearly 40,000 homes), Starwood Waypoint Residential Trust/Colony America (a public REIT with over 30,000 homes), Progress Residential (a private company with approximately 12,000 homes owned), and Silver Bay Realty Trust (a public REIT with nearly 10,000 homes).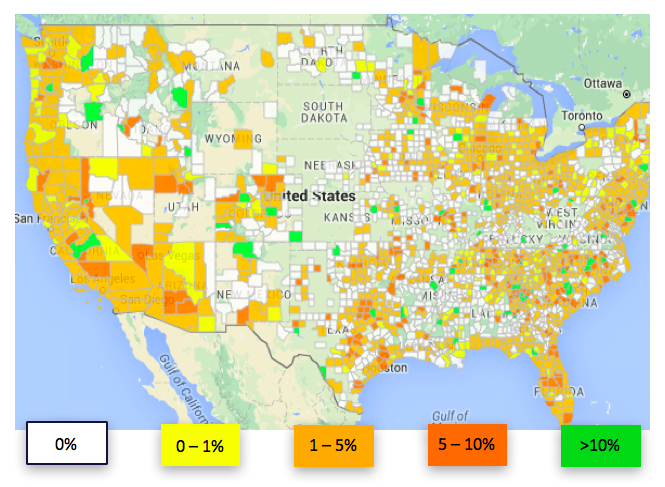 Takeaway
The Single-Family Rental market is a growing sector of the greater US real estate market, with several markets poised to see significant growth in the coming years (as indicated by research from JBREC mentioned earlier). SFRs have seen significant growth as an institutional asset class since the recession, when real estate values hit record lows in many major markets. As home prices have continued to stabilize in recent years, the sector has attracted more attention from individual investors looking to diversify their holdings beyond stocks and bonds. Combining advancements in technology that enable investors to analyze properties in distant markets with third-party property managers, a sector that has typically relied on knowledge of local markets is becoming increasingly accessible to individual investors nationwide.