Zillow recently named its top 10 hottest real estate markets for 2018. The results offer a revealing snapshot of where Americans are moving and why, along with a breakdown of specific factors that catapult markets onto Zillow's "hot" list.
Tech hubs San Jose, San Francisco, Seattle and Denver round out the top 10, along with several southeastern cities boosted by the finance, research and healthcare industries.
Charlotte
and
Dallas
—both Roofstock markets—made the cut based on their thriving economies and population growth.
"Charlotte and Dallas are strong markets for us and we continue to see high demand for single-family rental (SFR) investment properties in those areas," observed Roofstock CEO Gary Beasley. "Looking ahead, I think other noteworthy markets for SFR investing include the Las Vegas, Tampa and Atlanta metro areas. These markets are forecasted to perform well in 2020 in terms of rent and home price growth."[1]
Zillow's Top 10 Hottest Real Estate Markets for 2018
San Jose, Calif.
Raleigh, N.C.
Seattle
Charlotte, N.C.
San Francisco
Austin, Texas
Denver
Nashville, Tenn.
Portland, Ore.
Dallas
Whether you're eyeballing investment properties in one of Zillow's hottest real estate markets or looking at other areas with similar attributes (income, rent and population growth, low unemployment, etc.), market appeal ultimately depends on your personal investing criteria, according to Beasley.
When searching for an investment property location, always know your investing objectives and don't limit your search to where you live. - Gary Beasley, Roofstock CEO & Co-Founder
"It's great if you already own property in areas with extremely high rental demand such as San Jose, Seattle or Denver. But for the average investor seeking real estate exposure, list prices upwards of $300,000 pose bigger barriers to entry," he explained.
"Depending on your budget and investing goals, the 'perfect' market for you could be a place that hits the sweet spot between entry price and market rent, such as Indianapolis and Birmingham, for example. When searching for an investment property location, always know your investing objectives and don't limit your search to where you live."
Savvy real estate investors should also pay attention to other markets—or exciting areas within larger markets—that possess similar attributes to those on Zillow's list, advises Paul Kidwell, VP of Research and Development at Roofstock.
For example: In 2017, Tampa's home price growth and rent growth were very close to that of Dallas and Nashville, at 11% and 4-5%. Atlanta, similarly, experienced very strong 2017 rent growth on par with Dallas and is expected to see continued high rent growth upwards of 10% into 2020.[1]
To identify 2018's hottest real estate markets, Zillow used the following variables:
Current and estimated home values
Current and estimated rents
Job openings per person
Income growth
Population growth
Unemployment rate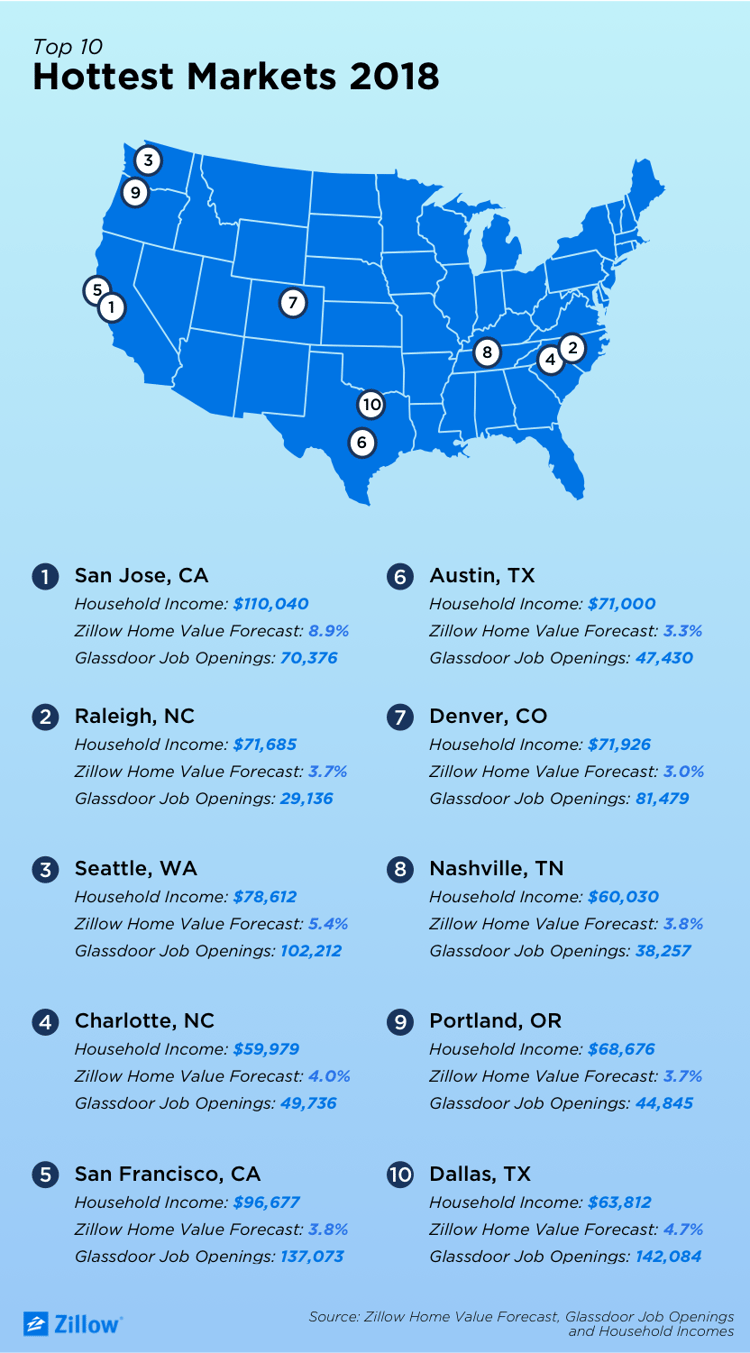 In San Jose, home values gained 17.4% during the last year—the fastest among the nation's largest metro areas. Since 2003, its home values increased 78%, and its average home value of $1.13 million could grow by 8.9% this year, according to Zillow's numbers.
This list shows that just because a market is smaller or more affordable doesn't mean it isn't dynamic. - Aaron Terrazas, Zillow Senior Economist
As thousands of new residents are attracted each year to tech-dominant markets such as Seattle, Denver and the Bay Area, the higher cost of living in these areas is offset to a large degree by well-paying tech jobs, according to Zillow senior economist Aaron Terrazas.
That said, Zillow's hot list also includes markets in North Carolina, Dallas and Nashville that could be slightly easier for investors to break into.
Browse investment properties in the Dallas and Charlotte metro areas
"This list shows that just because a market is smaller or more affordable doesn't mean it isn't dynamic," Terrazas pointed out. "Growing cities in the Sun Belt, places like Raleigh, Charlotte and Nashville, offer plenty of job opportunities in healthcare and finance, while providing a less expensive, but still convenient, alternative to the larger and pricier markets in the Northeast."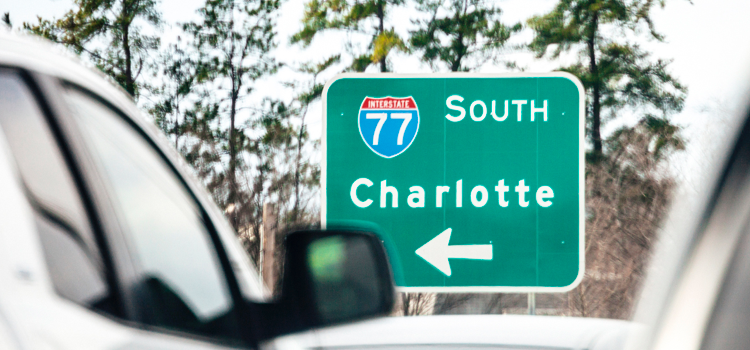 Digging a little deeper, the numbers reveal which markets are leading the pack in fundamental categories that drive real estate demand:
Austin, Texas has the highest population growth at 2.8%
Nashville and Denver have some of the lowest unemployment rates in the country, at 2.2% and 2.6%
Seattle has the highest forecasted rental appreciation, with rents in the metro expected to increase 3.5 percent during the next year
Charlotte saw its income levels rise approximately 9.5 percent in the last year—one of the strongest on the list
Last fall we learned that more than half of U.S. homes have rebounded to peak pre-recession values. The millennial generation—roughly aged 20 to 36—now comprise the largest group of homeowners and renters, and are basing their housing searches mainly on proximity to career centers and affordability.
In nine out of 10 markets on Zillow's list, home values are expected to rise at a faster pace than the nation overall, with the exception of Denver. Nationally, Zillow expects home values to appreciate 3.2% over the next year.
Looking for turnkey, cash-flowing rental investment properties? Browse certified properties on the Roofstock marketplace and buy directly online:
[1] John Burns Real Estate Consulting